Greatest Comeback Victory in Each NFL Team's History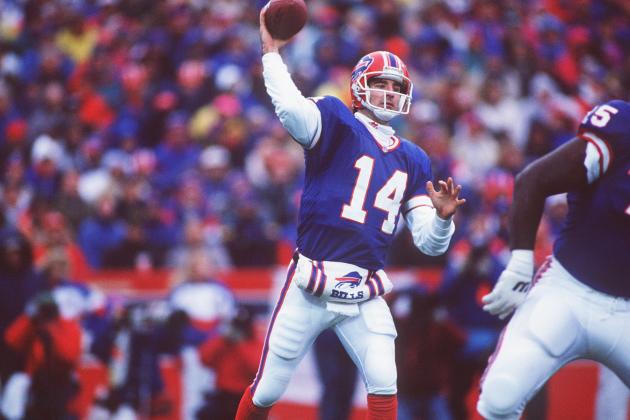 Rick Stewart/Getty Images

It's simply a matter of semantics.
The title "Greatest Comeback Victory in Each NFL Team's History" would seem to strongly insist that we are referring to each club's largest deficit in a game overcome to win.
Not so fast.
Be it winning after trailing big or prevailing via a memorable drive, the emphasis here is comeback, meaning the team was losing during the game and eventually rallied to win.
And when it comes to great, you may be hard-pressed to top some of the important games and pivotal moments ahead. You will notice a lot of playoff contests on this list that includes some fantastic finishes.
Just remember to call it a comeback.
And thanks to the magic of pictures and video, we're going to let a lot of those images speak for themselves when available.
So sit back, start clicking and enjoy.
And here's hoping you'll come back and enjoy the memories again and again.
Begin Slideshow

»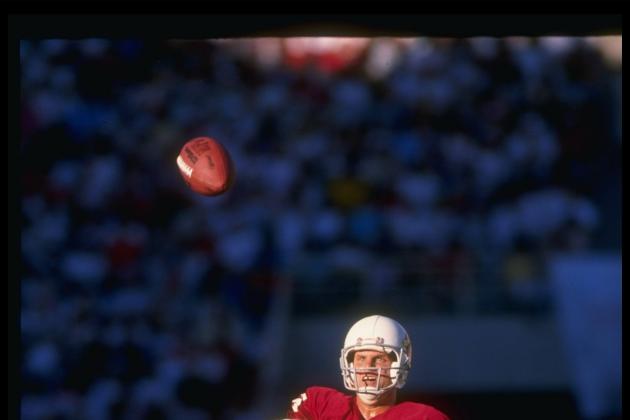 Mike Powell/Getty Images

The 1987 season wasn't a particularly good one for the Tampa Bay Buccaneers.
And a November visit to Busch Stadium to face the then-St. Louis Cardinals proved to be a memorable experience…for the Cardinals.
Buccaneers quarterback Steve DeBerg threw three touchdown passes and helped give his team a 28-3 lead early in the third quarter.
But led by signal-caller Neil Lomax, who finished with 314 yards passing and three scores (one interception), the Cards came all the way back. The Bucs watched as St. Louis scored 28 unanswered points, all in the fourth quarter, for a remarkable 31-28 victory.
Ironically, the Cardinals wouldn't be coming back to St. Louis after the season. The franchise made its move to Arizona in 1988.
Given current quarterback Matt Ryan's track record when it comes to pulling out games in the final minute, perhaps it's just a matter of time before one of his comeback wins for the Atlanta Falcons is on this list.
However, the focus here is a Week 12 meeting with the San Francisco 49ers back in 1983.
In a back-and-forth affair at Fulton County Stadium, the Niners took an early 14-0 lead and would eventually own a 24-21 lead when quarterback Joe Montana ran 11 yards for a touchdown with 1:10 to play.
But Falcons quarterback Steve Bartkowski and his team would have the final laugh. Via a 47-yard touchdown pass to wideout Billy "White Shoes" Johnson (with an assist or two) on the final play of the game, Atlanta came away with a 28-24 win.
Later in 1983, the Atlanta Falcons would spot the visiting Green Bay Packers a 21-0 lead, only to rally for a 47-41 overtime victory. But Johnson' heroics vs. the 49ers do remain a fabled part of Falcons' history.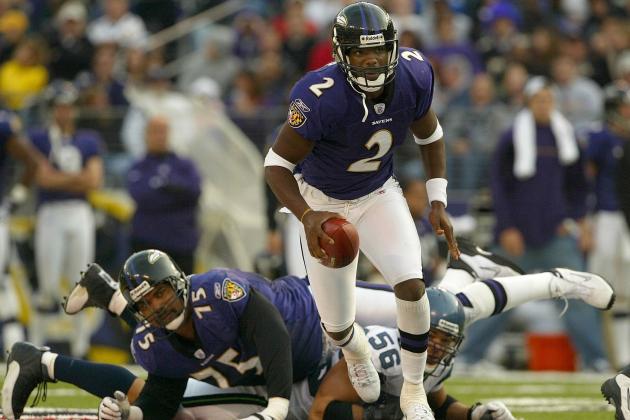 Doug Pensinger/Getty Images

It would be a case of the Wright place at the Wright time.
Thanks to quarterback Matt Hasselbeck's fifth touchdown pass of the afternoon, the Seattle Seahawks owned a 41-24 over the Baltimore Ravens less than a minute into the fourth quarter.
But things started to happen fast as the game wore on.
A second-year safety named Ed Reed blocked a punt and then returned it 16 yards for a touchdown with less than seven minutes to play. About five minutes later, Ravens quarterback Anthony Wright and wideout Marcus Robinson connected for a score for the fourth time on the day.
On the final play of regulation, placekicker Matt Stover booted a 40-yard field goal to send the game into overtime.
Later in the extra session, Stover would boot a 42-yarder, and head coach Brian Billick's Ravens would claim a 44-41 victory en route to an AFC North title that season.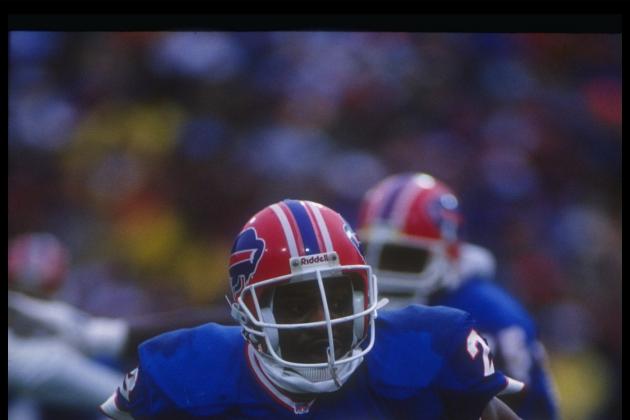 Rick Stewart/Getty Images

Statistically speaking, it's the greatest comeback in any game in the 93-year history of the National Football League.
And no matter how you break it down, it's still pretty amazing.
The two-time AFC champion Buffalo Bills hosted the Houston Oilers in the 1992 Wild Card Game minus starting quarterback Jim Kelly. The future Hall of Famer was injured the week before against these same Oilers in the Astrodome.
So enter backup quarterback Frank Reich, who watched as Oilers quarterback Warren Moon carved up the Buffalo secondary in the first half. And when Reich was picked off early in the third quarter by safety Bubba McDowell and the interception was returned 58 yards for a score, head coach Marv Levy's Bills had dug themselves a 35-3 hole.
Then the unthinkable happened. A touchdown run by Kenneth Davis was followed by four Reich touchdown passes, and with just over three minutes to play, Buffalo took a 38-35 lead. The Oilers would force overtime with a late field goal.
Houston won the toss and elected to receive in the extra session, but on the first possession, Moon was picked off for the second time on the day. Moments later, Bills placekicker Steve Christie completed the comeback with a 32-yard field goal, and the Buffalo's 41-38 win is now a part of NFL lore.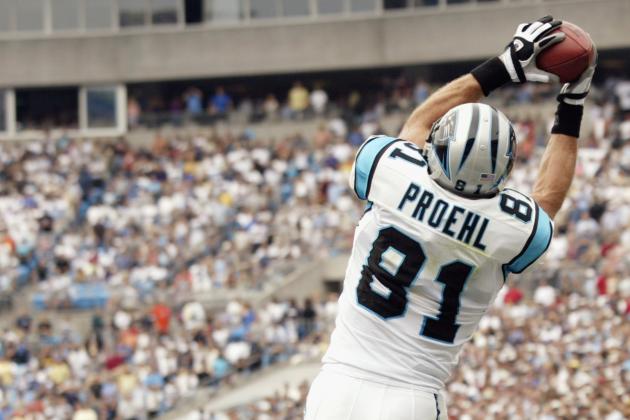 Craig Jones/Getty Images

Keep in mind that the Carolina Panthers have only taken the field since 1995.
There was one moment that stood out when it came to a comeback. And it involved a player who didn't come back.
In the 2003 season opener, the Panthers and starting quarterback Rodney Peete hosted the Jacksonville Jaguars, (who also debuted in 1995). But this catfight was going the way of the visitors, who opened up a 14-0 halftime lead and led 17-0 in the third quarter.
Panthers head coach John Fox sat down Peete at halftime and inserted Jake Delhomme, who would finish the afternoon with a pair of interceptions, but also threw three touchdown passes, the final score with 16 seconds to play was to wideout Ricky Proehl as Carolina prevailed, 24-23.
It would prove to be a significant move by the Panthers, who would eventually finish the season in Super Bowl XXXVIII vs. the New England Patriots and came up just a bit short.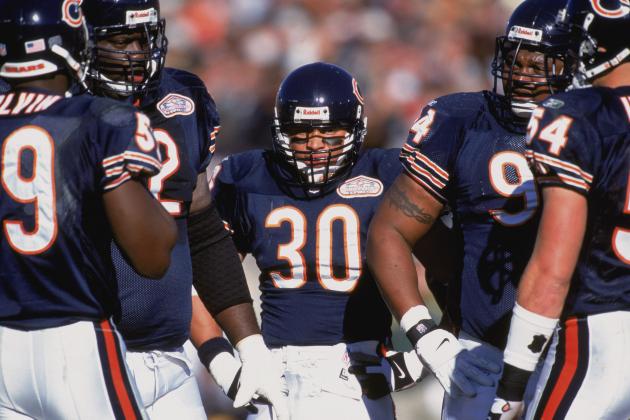 Jonathan Daniel/Getty Images

In their storied history, the Chicago Bears have always been known for their defensive prowess and physical nature. The franchise isn't usually associated with high-scoring games.
However, that afternoon in 2001 against the San Francisco 49ers, the Bears got a little of both when it counted most.
And a lot of it came from quarterback Shane Matthews, the team's opening-day starter that year who had given way to Jim Miller in September when the former was injured. Now Miller was hurt midway through the second quarter of this game vs. the Niners, and it was Matthews turn again.
It would get worse before it got better. Down 14-9 at halftime, Chicago would eventually dig themselves a 19-point hole after Matthews was picked off by 49ers safety Zack Bronson, who returned the interception 97 yards for a score.
Still, it was Matthews to the rescue. Now down 31-23 with less than three minutes to play, he drove his team downfield and would throw a touchdown pass to wide receiver David Terrell with 33 seconds to play. Then-running back Anthony Thomas ran for the two-point conversion and it was off to overtime…which didn't last long.
Bears safety Mike Brown picked off a deflected pass by Niners quarterback Jeff Garcia and raced into the end zone for the game-winning score in a 37-31 win.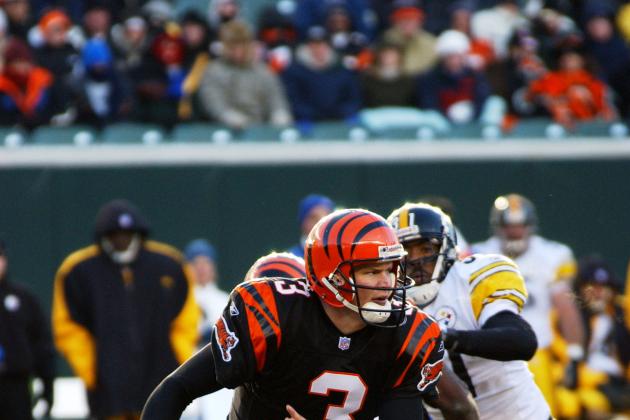 Mark Lyons/Getty Images

The Cincinnati Bengals have had their ups and downs as a franchise. However, unlike a few other teams they have had their Super Bowl chances.
Obviously, they need to find another team to play in that game other than the San Francisco 49ers.
That's a topic for another time.
This December afternoon at Paul Brown Stadium, the Pittsburgh Steelers were in town and winners of their last seven games. The Bengals had dropped seven in a row. And when Bill Cowher's team opened up a 23-10 lead in the third quarter and still owned that advantage late in the fourth, it appeared both streaks would continue.
But Cincinnati and head coach Dick LeBeau weren't finished. Steelers quarterback Kordell Stewart would throw four second-half interceptions, helping keep Cincinnati's hopes alive. Bengals quarterback Jon Kitna threw a six-yard touchdown pass to wideout Ron Dugans with 2:51 to play and after Neil Rackers connected on the PAT, Pittsburgh's lead was 23-17.
The Bengals successfully recovered the ensuing onside kick and Kitna was at it again, connecting with one-time Steelers draft choice Danny Farmer for an 18-yard score with 45 seconds to go. With victory in their grasp, the Bengals watched Rackers PAT attempt hit the right upright and the game was destined for overtime.
The teams traded possession in the extra session but it was the Bengals who went home happy when Rackers connected on a 31-yard field goal late in overtime for a 26-23 win.
Otto Greule Jr/Getty Images

It was there for the taking for the New York Jets.
And the Cleveland Browns would be the team to take it…eventually.
Down 20-10 with less than five minutes to play at home in the 1986 divisional playoffs, the Browns and quarterback Bernie Kosar (with a little help from Jets defensive end Mark Gastineau) managed to forge a tie in regulation, thanks to a pair of short scoring drives.
The second drive resulted in placekicker Mark Moseley's 22-yard field goal with seven seconds remaining in regulation.
Kosar, with tight end Ozzie Newsome and wide receivers Webster Slaughter, Reggie Langhorne and Brian Brennan at his disposal, finished the game by throwing for an NFL postseason record 489 yards, a mark that still stands today.
The then-second-year quarterback also watched Moseley miss a 23-yard field goal early in the first overtime before the veteran kicker connected on the game-winner (27 yards) 2:02 into the sixth quarter. The Browns were now set for the AFC title game, and a week later, would host the Denver Broncos and quarterback John Elway.
The Browns would wind up playing a little extra football that weekend as well.
Perhaps, no franchise has had more stirring and memorable comebacks in their somewhat-brief history than the Dallas Cowboys.
And many of those came courtesy of Hall of Fame quarterback Roger Staubach. From the team's 30-28 win over the San Francisco 49ers in the 1972 playoffs (after trailing 28-13) to a 35-34 home win in 1979 over the Washington Redskins (down 34-21 in the fourth quarter), "Captain Comeback" earned his name.
So the choice here is the NFL's original "Hail Mary" pass in the 1975 divisional playoffs at Metropolitan Stadium.
Staubach's 50-yard strike to wide receiver Drew Pearson with 24 seconds to play in the game wiped out the Minnesota Vikings 14-10 lead and gave Dallas a stunning 17-14 triumph.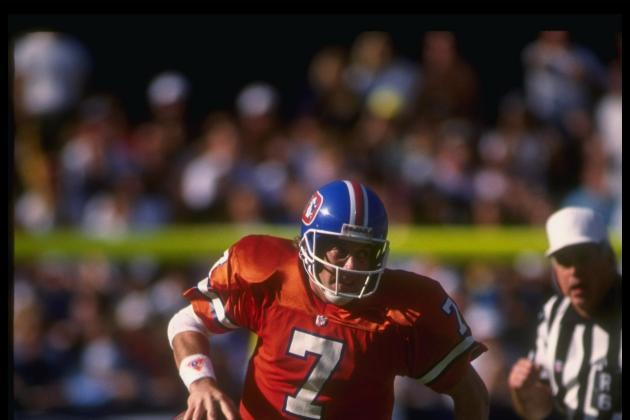 Stephen Dunn/Getty Images

No mention of "The Drive?"
A mention, yes. But John Elway's heroics that day in the 1986 AFC title game at Cleveland were better known for that 98-yard march that would send that game into overtime, and eventually, the Denver Broncos to Super Bowl XXI.
The choice here is one of the team's and Elway's most memorable moments and involved a much bigger deficit.
Before the Houston Oilers were busy blowing 32-point playoff leads to the Buffalo Bills, they were warming up for such a collapse a year earlier at Mile High Stadium.
But give credit where credit is due. And part of that goes to Denver Broncos quarterback John Elway, who brought his team all the way back from a 15-point, second-quarter deficit in the 1991 divisional playoffs.
Oilers quarterback Warren Moon threw touchdown passes on each of his team's first three possessions, but his team was shackled for the rest of the game after that. Still, Houston owned a 24-16 lead in the fourth quarter.
However, Elway would lead his team to the final 10 points of the game courtesy of a pair of 12-play drives, both covering 80-plus yards.
The key moment came with 59 seconds left when on 4th-and-10 at his own 35-yard line, the Broncos signal-caller connected with wide receiver Vance Johnson for 44 yards. And with 16 seconds to play, placekicker David Treadwell's 28-yard field goal gave Denver a 26-24 win.
It remains one of the biggest comebacks in NFL postseason history and a springboard to an NFL crown.
Unfortunately for the Detroit Lions and their fans, it was the last time their team won a league championship.
Before besting the Cleveland Browns, 59-14, for the 1957 title, the Lions had to get past the San Francisco 49ers in a divisional playoff contest made possible because both teams finished 8-4 during the regular season.
And Detroit looked all but finished when the host Niners opened up a 27-7 third-quarter lead.
But head coach George Wilson watched his club score the final 24 points of the game, which included a pair of touchdown runs by Lions running back Tom Tracy in the Lions' 31-27 win.
You know how you're always hearing about that frozen tundra of Lambeau Field? This was as frozen as you were going to get.
For the second straight year, the Dallas Cowboys and Green Bay Packers would meet in the NFL title game. The Packers had won the previous year, 34-27, on the way to Super Bowl I.
Vince Lombardi's club looked like it would duplicate that feat this day in Green Bay, where the game-time temperature was minus-13 degrees. A pair of touchdown passes from Bart Starr to Boyd Dowler gave the Packers a 14-0 second-quarter lead.
But in the fourth quarter, it was the Cowboys who owned a 17-14 lead. Starr and his team took over on their own 32-yard line with less than five minutes remaining. The 12-play drive would culminate in a one-yard touchdown sneak by Starr over guard Jerry Kramer on third down with just 13 seconds to play, and the Packers had survived "The Ice Bowl" with a 21-17 victory.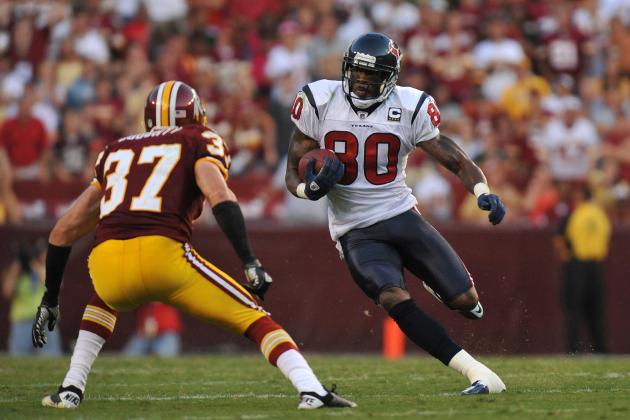 Larry French/Getty Images

The Houston Texans have only been playing for 11 seasons. And given the fact that they've only been a playoff team the last two years, there haven't been a ton of memorable moments.
Ironically, this comeback came in 2010 in what proved to be a very disappointing season for the team. Off a 9-7 finish in 2009, big things were expected for the Texans.
Things didn't look good when Gary Kubiak's club found itself down, 27-10, late in the third quarter against the Washington Redskins. Quarterback Donovan McNabb was in the midst of carving up the Texans' defense for 426 yards through the air.
But Houston's Matt Schaub was en route to 497 yards passing and would lead his team all the way back. His 34-yard score to wideout Andre Johnson (and the PAT) would tie the score at 27-all with 2:03 to play.
In overtime, Redskins placekicker Graham Gano (who had a 29-yard field-goal attempt blocked in the fourth quarter) missed a 52-yard try. And on their second possession of the extra session, the Texans went home 30-27 winners when Neil Rackers connected on a 35-yard kick.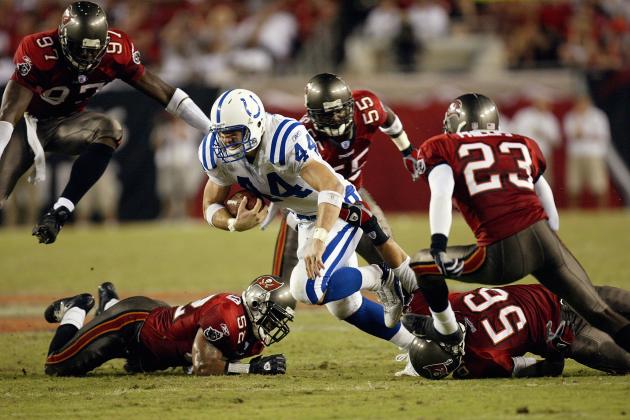 Eliot J. Schechter/Getty Images

Why not choose the Indianapolis Colts 38-34 win in the 2006 AFC title game? It was a contest in which the team trailed the New England Patriots, 21-3, in the second quarter before rallying to win, 38-34.
While that comeback was huge, the choice here is something far more unlikely in terms of the odds.
So here was former Tampa Bay Buccaneers' head coach Dungy and his Colts trailing the now-defending Super Bowl champions, 35-14, with just over five minutes to play. The Bucs' latest score had just come when cornerback Ronde Barber ran back an interception by Peyton Manning for a 29-yard touchdown.
Then things got interesting. A 90-yard kickoff return by Brad Pyatt set up a James Mungro three-year touchdown run. The Colts recovered the onside kick and six plays later, Manning found Marvin Harrison for a 28-yard score. After a three-and-out by the Bucs, a Manning-to-Harrison 52-yard connection would set up Ricky Williams' one-yard touchdown.
Three scores and three PATs and the game was tied with 38 seconds to play.
Then it was the kickers' turns. Tampa's Martin Gramatica had a 62-yard attempt blocked at the end of regulation. The Colts' Mike Vanderjagt missed a 40-yd field goal in overtime. But the latter got a second chance when the Bucs were called for unsportsmanlike conduct.
Vanderjagt didn't miss from 29 yards out, and Dungy and company walked away with an unlikely 38-35 win.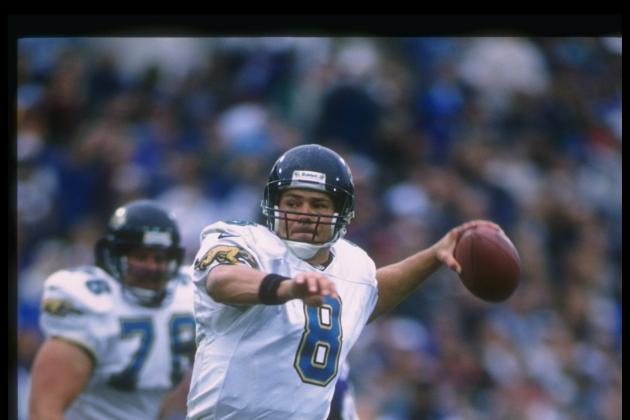 Al Bello/Getty Images

In 1996, the Jacksonville Jaguars were in just their second year of existence. That same season, the Cleveland Browns became the Baltimore Ravens.
And in those days, both teams were part of a division known as the AFC Central. And on this day, Tom Coughlin's second-year club trailed the Ravens at Baltimore, 25-10, entering the fourth quarter.
But Jaguars quarterback Mark Brunell would throw touchdown passes to tight end Pete Mitchell and wide receiver Willie Jackson in the final quarter, the second a seven-yard strike with 1:24 to play. Brunell ran for the tying two-point conversion, and we would be headed to overtime.
After going three-and-out in the extra session, the Jaguars watched as Baltimore drove down the field. But linebacker Kevin Hardy forced an Earnest Byner fumble, and Coughlin's team had life. Mike Hollis' 34-yard field goal soon afterward gave the Jaguars a 28-25 victory.
The win was the first of five straight for Jacksonville, who would finish 9-7 and carry that late momentum into playoff wins at Buffalo and at Denver before losing to the New England Patriots in the AFC title game.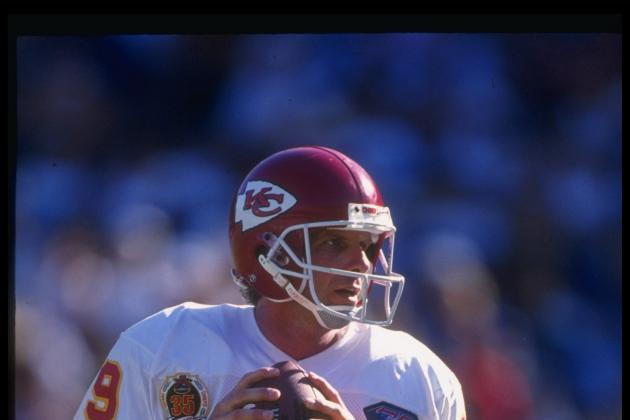 Al Bello/Getty Images

The Kansas City Chiefs had not won a game at Denver since 1982.
Marty Schottenheimer had not beaten the Broncos in Denver in seven tries as a head coach, including a loss in the 1987 AFC title game while he was with the Cleveland Browns.
It seemed like the perfect storm. And both trends looked like they would continue on a Monday night at Mile High Stadium in 1994 when John Elway ran four yards for a touchdown with only 1:29 to play to give the Broncos a 28-24 lead.
But who better to lead a comeback than quarterback Joe Montana. Nine plays, 75 yards, 1:21 elapsed. Montana's eight-yard touchdown toss to wide receiver Willie Davis (who did a great job getting inside the right pylon) gave Kansas City a thrilling 31-28 win.
It proved once again (for Chiefs fans) that all bad things must come to an end.
It was "The Fake Spike."
Occasionally imitated but rarely duplicated, the Miami Dolphins used it to perfection to win a football game.
But what is often overlooked is that head coach Don Shula and his team trailed the New York Jets, 24-6, in the third quarter at Giants Stadium in 1994.
That was before Dolphins quarterback Dan Marino really made his mark. As in wide receiver Mark Ingram, who would catch all four of Marino's touchdown passes this day.
But it was the fourth score that made an impression in more ways than one. Now down 24-21 in the closing minutes, the Dolphins looked like they would be settling for a game-tying field goal. But on 1st-and-10 from the Jets' 8-yard line, Marino pumped as if he was intentionally grounding the ball to stop the clock.
Instead, the Hall of Fame signal-caller whipped a pass to Ingram on the right side of the end zone.
Pete Carroll's club had been had, and Miami had a 28-24 win.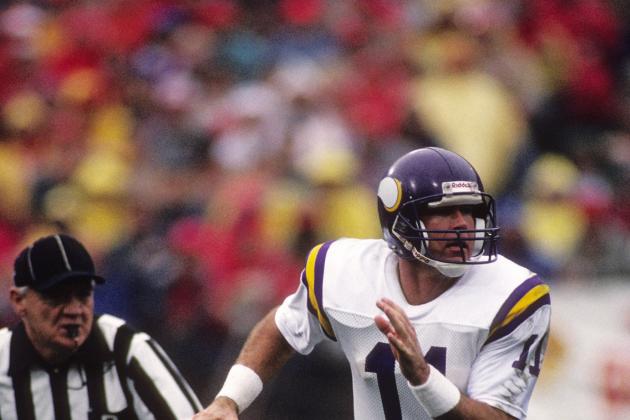 George Rose/Getty Images

Follow if you can.
In Week 12 of 1985, the Philadelphia Eagles led the Minnesota Vikings, 23-0, after three quarters of play.
Vikings quarterback Wade Wilson, the starter that day, left in the third quarter and returned in the fourth quarter.
Apparently, the Eagles didn't bother to come back when Wilson returned. Minnesota scored 28 points in the final 8:27 of the game to stun the Birds, 28-23, at Veterans Stadium.
Wilson completed just 13 of 27 passes for 187 yards. But his scores covered seven, 36 and 42 yards. Those final two touchdowns both came with less than four minutes to play, and both were thrown to wide receiver Anthony Carter.
Yes, Vikings fans will recall the team's 28-27 win over the San Francisco 49ers in 1977 after trailing 24-0 in the third quarter. But this afternoon in Philadelphia had a bit more flair for the dramatic.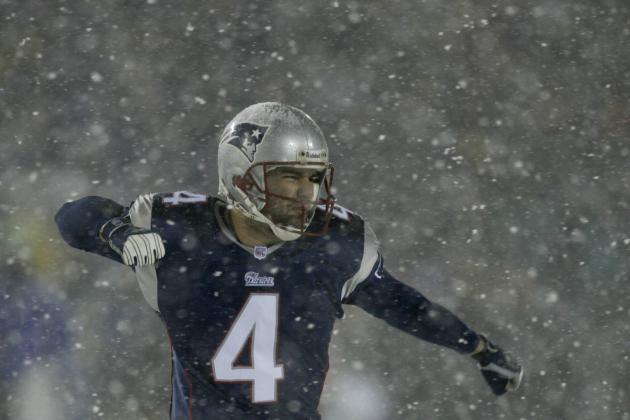 Al Bello/Getty Images

No mention of any of the New England Patriots' Super Bowl wins?
Well, none of the three victories really fit the criteria needed here. Quarterback Tom Brady and placekicker Adam Vinatieri's game-winning heroics came in Super Bowls XXXVI and XXXVIII when the Patriots were tied, not trailing.
But New England doesn't get to that Super Bowl vs. the St. Louis Rams without a little "tuck."
Bill Belichick's club trailed the Oakland Raiders, 13-3, in snowy New England with less than two minutes to play in the third quarter in the 2001 AFC divisional playoffs.
Thanks to a Brady touchdown run, a non-Brady fumble, and later, a memorable 45-yard field goal by Vinatieri with 27 seconds to play, the Patriots and Raiders were headed to overtime.
Vinatieri would connect from 23 yards away in the extra session, and New England was Super Bowl-bound.
It was a different kind of a comeback for the New Orleans Saints and the Superdome in 2006.
Hurricane Katrina had devastated the city in 2005, and the Saints would play their games in various venues, even playing host to the New York Giants in September…at Giants Stadium.
But on a Monday night, the Saints were coming back to New Orleans. And a 23-3 win over the rival Atlanta Falcons was only part of the story.
A story better left said by pictures and the citizens of the Crescent City that evening.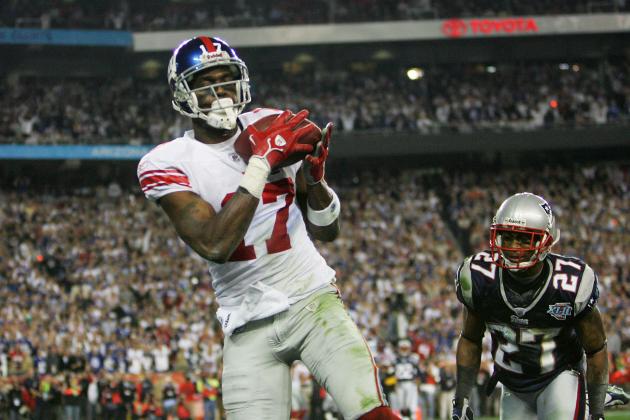 Streeter Lecka/Getty Images

It was to be a coronation in Arizona on this February afternoon in Super Bowl XLII.
Instead, perfection was not to be for the New England Patriots in 2007.
Bill Belichick's club had marched through the regular season 16-0, and in the process, scored an NFL-record 589 points. They vanquished the Jacksonville Jaguars and San Diego Chargers in the playoffs and were expected to dispose of the New York Giants, whom they had defeated in the regular-season finale, 38-35.
But a shootout turned into a slugfest. Still, the Giants would trail the Pats, 14-10, with just 2:39 to play, and with the ball on their own 17-yard line. And that would prove to be the magic number.
Quarterback Eli Manning would connect with No. 17 in Plaxico Burress for a 13-yard score with 35 seconds remaining to eventually give Tom Coughlin's club a 17-14 win.
But not before a little help from wide receiver David Tyree, who proved to be the headiest player this day.
The New York Jets and Miami Dolphins have staged some wild games throughout their history.
Perhaps, none was as unpredictable as the outcome of their Monday night tilt in 2000 at Giants Stadium.
Both teams were under the guise of new head coaches in Al Groh and Dave Wannstedt, who had replaced Bill Parcells and Jimmy Johnson, respectively.
It looked like it would be a great night for the Dolphins, who took a surprising 30-7 into the fourth quarter. And as time wore on, so did attendance at the Meadowlands.
But those who stayed saw one of the greatest comebacks ever. When the evening/morning ended, the Jets had come away with a 40-37 overtime win.
Don't believe it? Just go to the videotape.
Spoiler alert: You'll see that it was only appropriate that one of the biggest plays of the game was made by someone nicknamed "Jumbo."
It was a classic rivalry that featured its share of Hall of Fame players and incredible moments.
Simply put, the Pittsburgh Steelers and Oakland Raiders weren't very fond of each other during the decade of the 1970s.
With Pittsburgh coming off back-to-back Super Bowl wins, Chuck Noll's club headed to Oakland for the 1976 opener. And the defending champions looked every bit the part in owning a 28-14 lead in the final minutes of the game.
But Raiders quarterback Ken Stabler and friends led the team on a furious rally and got plenty of help from their defense and special teams as well. When it was all said and done, the Raiders escaped with an improbable 31-28 win that's well-documented in the video.
By season's end, the Raiders and Steelers would meet in the playoffs for a fifth straight year (still an NFL record) and in the AFC title game for the third consecutive season. Only this time, the Silver and Black prevailed, 24-7, on their way to winning Super Bowl XI.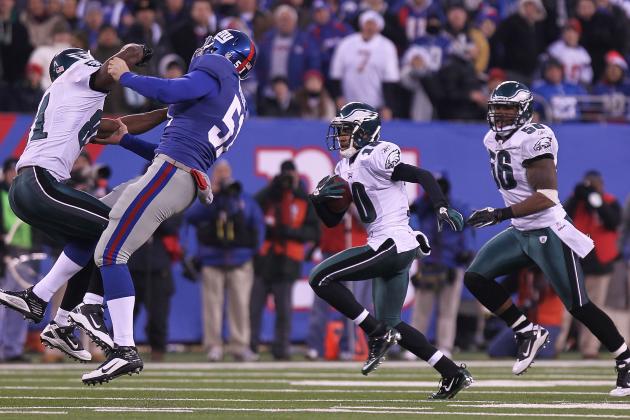 Nick Laham/Getty Images

It may have been a different building, but it was still the swamps of New Jersey.
And from the team that have brought you "The Miracle of the Meadowlands" Parts No. 1 (1978) and No. 2 (1988), the Philadelphia Eagles were at it again.
Down 31-10 in the fourth quarter with just over eight minutes to play, Andy Reid's team got a pair of touchdown passes and a touchdown run from quarterback Michael Vick in a relatively short span and tied the game with 1:16 to play on a toss to Jeremy Maclin.
The stunned Giants went three-and-out on their next possession, meaning a punt for rookie Matt Dodge. The kick would wind up in the hands of speedy DeSean Jackson, and the rest is…well, take a look...
Eagles 38, Giants 31.
What do you get someone for their 40th anniversary?
How about arguably the greatest (or most memorable) play in football history?
Since the merger in 1970, no team has won more games and more Super Bowls than the Pittsburgh Steelers.
But on December 23, 1972, at Three Rivers Stadium, the Steelers were still looking for their first postseason win in what was the franchise's 40th campaign.
In what was a fierce defensive battle that featured a scoreless first half, the Oakland Raiders had just taken a 7-6 fourth-quarter lead with 1:13 remaining. Quarterback Ken Stabler stunned Pittsburgh's defense by escaping the pocket and running 30 yards for a touchdown.
Moments later, with 22 seconds to play, Pittsburgh faced 4th-and-10 from its own 40-yard line. As all may well know by now, Steelers quarterback Terry Bradshaw's pass was deflected by either teammate Frenchy Fuqua or Raiders safety Jack Tatum.
In any case, the ball wound up in the hands of running back Franco Harris, who snared the ball before it hit the ground and crossed the goal line with five seconds to play. The subsequent PAT gave Pittsburgh a 13-7 victory.
To this day, the controversy over the play continues. In 1972, Harris' catch would have been illegal had the ball touched Fuqua and not Tatum. But it was ruled that that the ball had struck Tatum and the play was good.
The Steelers' first-ever playoff win became legendary. And two years later, in what proved to be the first of four Super Bowl championships in a six-year span, so did that team.
One year earlier, the Dallas Cowboys had humbled the Los Angeles Rams, 28-0, in the 1978 NFC title game at the L.A. Coliseum.
Earlier in the 1979 season, Tom Landry's talented team had humbled the Rams, 30-6, on a Sunday evening at Cowboys Stadium.
And with Dallas owning a 19-14 fourth-quarter lead in this divisional playoff meeting, it looked like the Cowboys were getting ready to end the Rams' season for a second straight year.
But Los Angeles quarterback Vince Ferragamo, a midseason replacement after starter Pat Haden was lost, fired a pass over the middle that was deflected slightly and fortunately into the hands of teammate Billy Waddy. The play would cover 50 yards, and the score paved the way for a 21-19 victory.
A week later, the Rams shut out the Tampa Bay Buccaneers, 9-0, and were on their way to their first Super Bowl appearance.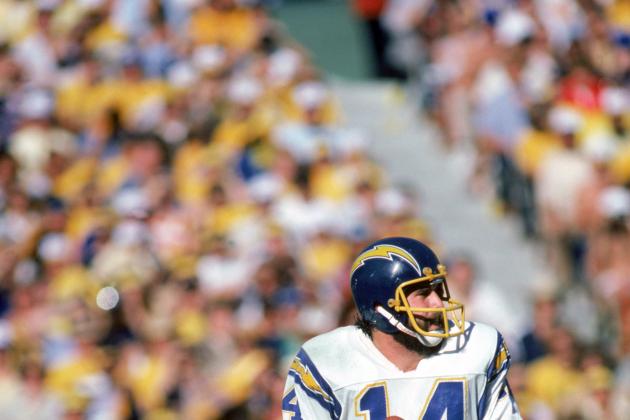 Getty Images/Getty Images

Wait a minute?
How did this shootout make the list?
And didn't the San Diego Chargers open up a 24-0 first-quarter lead at the Orange Bowl against the Miami Dolphins in the 1981 divisional playoffs?
Indeed they did. But led by backup quarterback Don Strock, who replaced starter David Woodley, the Dolphins staged their comeback, spearheaded by one of the most memorable plays in NFL history.
And early in the fourth quarter, Miami had indeed taken a 38-31 lead over Don Coryell's Chargers. But the really late heroics would come via Hall of Famer Dan Fouts, who led his team on a 10-play, 82-yard drive in the final minutes. Fouts' nine-yard touchdown pass to running back James Brooks with 58 seconds to play and the ensuing PAT sent the game into overtime.
Both teams had their chances in the extra session. The Chargers would miss a field goal and lose a fumble. But on their fourth possession of overtime, they put Rolf Benirschke in position for a 29-yard field goal, and San Diego's 41-38 triumph propelled them to the AFC title game.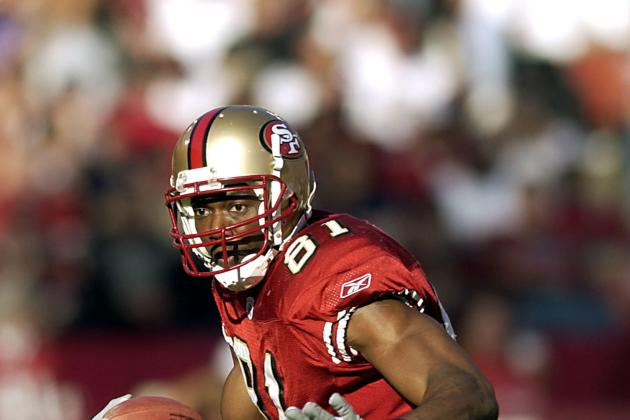 Steve Grayson/Getty Images

It should be noted that when it comes to the regular season, the San Francisco 49ers own the league record for the biggest deficit overcome to win a game.
In 1980, the Niners spotted the New Orleans Saints a 35-7 lead only to rally for a 38-35 overtime victory.
But more than two decades later, the 49ers would face one of their biggest playoff rivals in the New York Giants…and promptly fell behind, 38-14.
But this postseason blowout turned into the Jeff Garcia/Terrell Owens show. When the smoke cleared, the 49ers' quarterback led his team to 25 consecutive points, throwing a pair of touchdown passes (one to Owens and the other to Tai Streets), teaming with Owens on a pair of two-point conversions while running for another touchdown.
San Francisco would hold on for the 39-38 win when a bad snap on a potential game-winning field goal by the Giants went awry in the closing seconds.
Even then, New York tried to make something out of the mishap, but a pass attempt after the kicking miscue failed as well (despite possible interference on the play).
Patrick McDermott/Getty Images

Is this a classic case of being a prisoner of the recent moment?
Not really.
But let's remember that the Seattle Seahawks were down 14-0 in the first quarter to the host Washington Redskins in last season's wild-card playoffs.
And thanks to then-rookie quarterback Russell Wilson and running back Marshawn Lynch, Pete Carroll's club scored the final 24 points of the game for a 24-14 victory.
Ironically, if it weren't for a stunning rally by Atlanta Falcons quarterback Matt Ryan one week later at the Georgia Dome, the Seahawks would have pulled off one of the greatest comebacks in NFL postseason history.
Down 27-7 at Atlanta, Wilson led the team to three straight touchdowns to take a one-point lead with 31 seconds to play. But as mentioned, Ryan's heroics would lead to a 30-28 Falcons' win.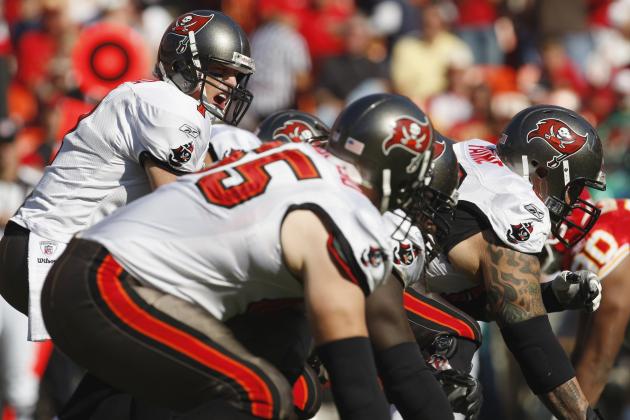 Jamie Squire/Getty Images

Great comebacks have not been big part of the history of the Tampa Bay Buccaneers.
However, there was an afternoon at Arrowhead Stadium in 2008 that proved to be the biggest in the franchise's brief history.
Jon Gruden's Bucs would fall behind, 24-3, in the second quarter. But thanks to the special teams and quarterback Jeff Garcia, Tampa managed to close the gap.
Down 27-19 with time running out in the fourth quarter, Garcia would find wideout Antonio Bryant for a 24-yard score with 19 seconds to play. And Garcia's two-yard conversion pass to Alex Smith would send the game into overtime.
Kansas City would never see the ball again. The Bucs won the toss, elected to receive and Matt Bryant's field goal in overtime gave Gruden and company a huge 30-27 victory.
But the win eventually proved to be bittersweet. While it was the first of four straight victories that gave Tampa a 9-3 record, the team dropped its final four games and finished out of the playoffs.
Let's just cut to the chase. And that's exactly what the Buffalo Bills failed to do when it was all said and done.
The Tennessee Titans, the artist formerly known as the Houston Oilers, were playing their first season in their new duds and under a new name. And they were hosting the Bills, who were making their 10th playoff appearance in the last 12 years.
The Titans would open up a 12-0 lead, but the Bills were just getting warmed up. Led by quarterback Rob Johnson (and not Doug Flutie), Buffalo would eventually take a 13-12 lead early in the fourth quarter.
After Tennessee regained the lead (15-13), Johnson again drove his club and teammate's Steve Christie's 41-yard field goal with 16 seconds to play gave the Bills a 16-15 lead.
It proved to be a short-lived advantage indeed.
With an assist from both Lorenzo Neal and Frank Wycheck, second-year wide receiver Kevin Dyson would return the ensuing kickoff 75 yards for a touchdown against the seemingly stunned Bills.
And the Titans 22-16 "Music City Miracle" proved to be just that.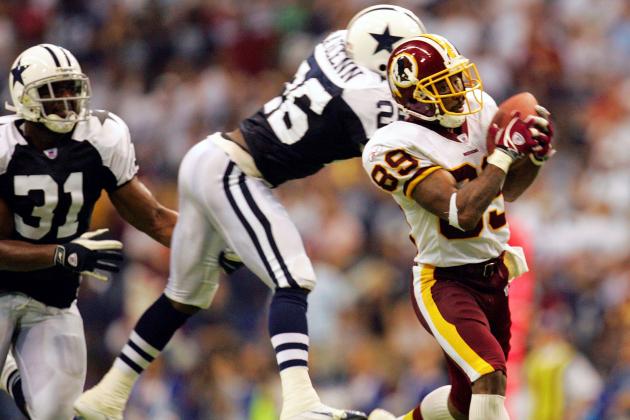 Ronald Martinez/Getty Images

The Washington Redskins certainly have a long and storied history. But here's a look at something a little more recent when it comes to a comeback.
This Monday night tilt at Texas Stadium between these longtime divisional rivals lacked a lot of excitement for most of the evening.
Then suddenly, a snoozer of a game between the Washington Redskins and Dallas Cowboys turned into a thriller.
The Cowboys owned a 13-0 advantage after tacking on a field goal with less than six minutes play. But the next two times the Redskins had the ball, quarterback Mark Brunell found wide receiver Santana Moss for scores of 39 and 70 yards. And the stunned Cowboys would fall at home, 14-13.
Just further proof that many a secondary have had issues gathering this Moss.