Stock Watch for Superstars in 2013 NHL Playoffs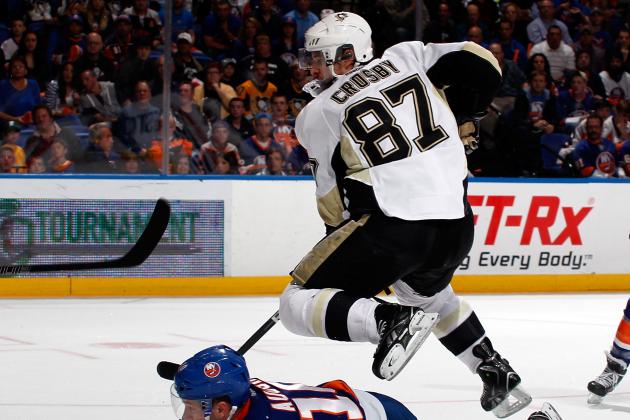 Paul Bereswill/Getty Images

The quest for a Stanley Cup centers on team cohesion and consistency. Each squad is only as good as the sum of its parts.
But when the outcome of a momentum-swinging game is hanging in the balance, superstars must rise to the occasion. It's a requirement that comes with the moniker.
A first round filled with tightly contested series, featuring 17 overtime outcomes, left eight teams standing on hockey's greatest stage. Some star players helped propel their organization one step closer to a title, while others were left by the wayside wondering what went wrong.
Here, we put the focus on 10 captivating players who entered the postseason with the weight of a city's hopes on their shoulders. It's time to assess how these franchise cornerstones have fared under immense pressure.
Begin Slideshow

»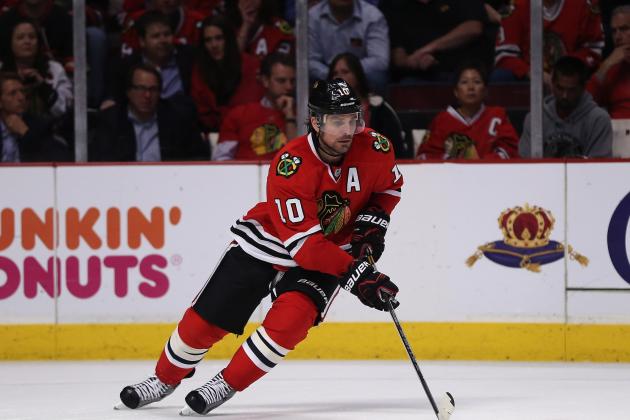 Jonathan Daniel/Getty Images

Sharp has been an exception to an overall slumping group of Chicago Blackhawks headliners. Don't get me wrong, the Blackhawks are taking care of business as a team this postseason, playing like a squad deserving of the top seed, but numerous familiar names have faded in the scoring column during this six-game span.
Patrick Kane and Jonathan Toews haven't registered a single goal combined but Sharp has been spectacular. The center has six goals and three assists, leading Chicago in points and rating (plus-six).
He tallied two goals in both Game 2 and Game 4 victories over the Minnesota Wild. Sharp opened the Western Conference semifinals in scintillating fashion, picking up a goal and two assists in a 4-1 win over visiting Detroit.
The 31-year-old posted 21 points during the Blackhawks' 2010 Stanley Cup title run and seems to be on a similar trajectory this spring.
Stock: Up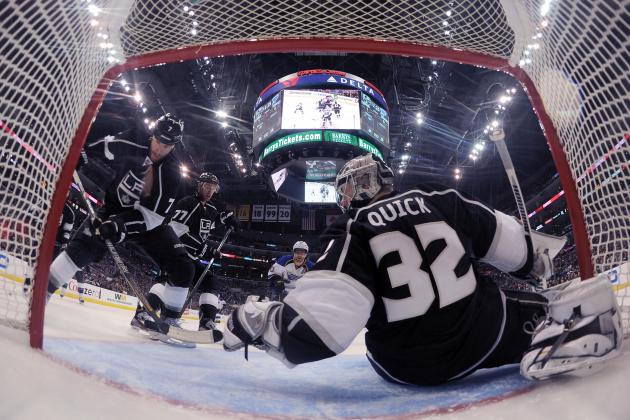 Harry How/Getty Images

Quick has been a revelation for Los Angeles during these past two playoff runs. Like a storyline stolen from a Hollywood script, he's quickly evolved from a 4-8 playoff goaltender (his record before 2012) to a legitimate dominant force.
The 2012 Conn Smythe Trophy winner allowed just six St. Louis Blues goals in the Kings' four consecutive victories in the first-round series. He opened the Western Conference semifinals against San Jose with his sixth career postseason shutout.
Quick stopped the first 51 shots he faced against the San Jose Sharks, blanking them for 89 minutes before surrendering three goals in a Game 2 victory. Few goalies take chances beyond the crease like Quick does, and it's fun to watch him operate.
There's no denying he's a prime-time performer at this point.
Stock: Up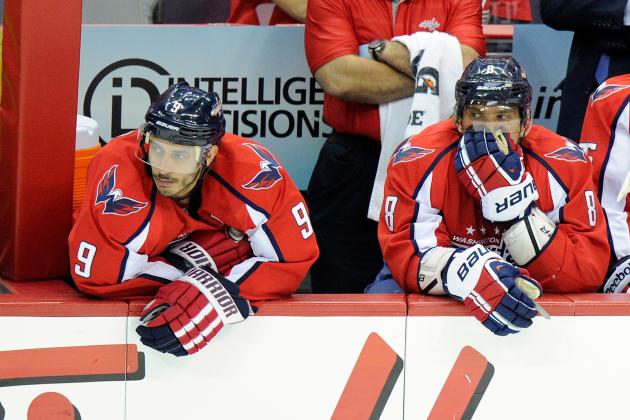 Greg Fiume/Getty Images

The haters were out in full force after Ovechkin's squad went down in flames against the New York Rangers in Game 7 of a first-round showdown. Perhaps the heckling will subside slightly after news emerged that he played Games 6 and 7 with a fractured left foot.
Still, the left winger and former No. 1 overall draft pick continues to add to his penchant for postseason misery. Ovechkin led the NHL in regular-season scoring for the third time in his career, notching 32 goals in the shortened campaign.
However, he absolutely stalled after tallying two points in the first two games combined. Ovechkin was shut out for the remainder of the Rangers series.
The Russian icon still hasn't enjoyed a signature Stanley Cup playoff run despite six straight postseason appearances. It's the second straight year Ovechkin failed to register a double-digit point total and carried a minus-two rating in the playoffs.
Though he continues to rack up individual accolades, Ovechkin has earned a frustrating reputation as a guy who struggles to bring his best to the ice while the spotlight shines brightest.
Stock: Down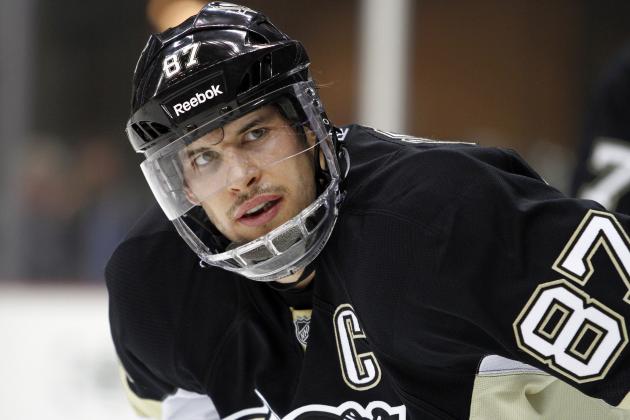 Justin K. Aller/Getty Images

Sid the Kid certainly has a flair for the dramatic.
His heralded NHL entrance captivated hockey fans across the country. At the tender age of 21, the prodigious center helped a previously downtrodden Pittsburgh Penguins organization secure the 2009 Stanley Cup.
And of course there's the "Golden Goal" he notched to top Team USA during the 2010 Winter Olympics. Now Crosby is proving he can provide one heck of a comeback story as well.
The Hart Trophy finalist missed the final 12 regular-season games and sat out of the Penguins' playoff opener after fracturing his jaw. Crosby returned with protective head gear and didn't waste time reacquainting himself a division rival.
He accumulated nine points (three goals, six assists) in five games against the New York Islanders. Crosby set up Chris Kunitz on an overtime game-winner that propelled Pittsburgh to a 2-1 series advantage.
The Penguins escaped the opening round for the first time since 2010, and Crosby's fast start is a sign his squad could be destined for a long postseason run. He managed four shots on goal in Game 1 against Ottawa but was held pointless.
Stock: Up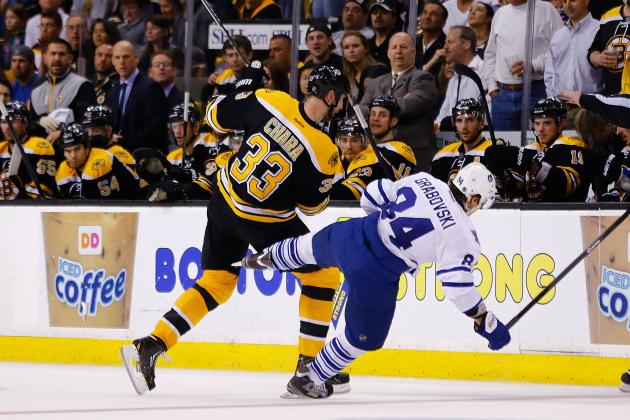 Jared Wickerham/Getty Images

Chara has reigned supreme among defensemen due to his immensely well-rounded skill set. The former Norris Trophy winner has provided a major offensive impact from the blue line this postseason.
The Boston Bruins captain supplied his standard intimidation on defense against the Toronto Maple Leafs in the first round, but he also racked up plenty of points. Chara scored a goal and added six assists, including a four-assist performance in a Game 4 victory.
That effort established a new single-game playoff assist record for a Bruins defenseman. The 6'9" specimen also set a monstrous screen to set up Patrice Bergeron's game-tying goal in a thrilling Game 7 win.
The Boston stalwart has continued to do damage in the second round. He registered a goal and an assist in a series-opening overtime victory over the Rangers.
Stock: Up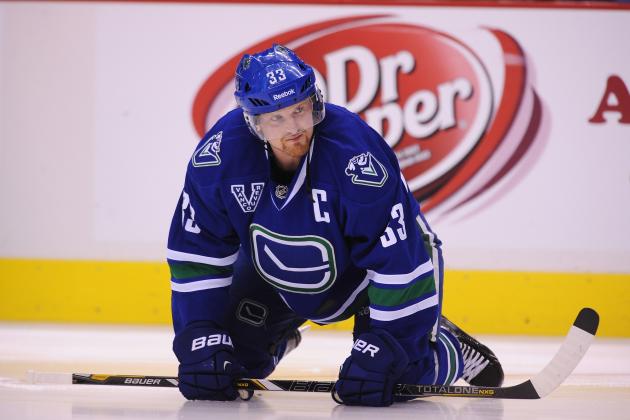 Derek Leung/Getty Images

Both Sedin brothers were held scoreless as the San Jose Sharks swept aside the Vancouver Canucks in first-round action. The third-seeded Canucks appeared primed to potentially duplicate a 2011 Western Conference title run, but things fell apart in a hurry against the Sharks.
Henrik Sedin led Vancouver in assists (34) and points (45) during the regular season, ranking among the game's great playmakers yet again. Against San Jose, the Swedish center was stunningly ineffective.
He managed just three assists and was held scoreless in the playoffs for the first time since 2001. Sedin sent only five shots on goal, again his lowest total in 12 years.
There are plenty of questions swirling around this franchise following Vancouver's swift exit from the postseason. The Canucks' captain must take some of the brunt.
Stock: Down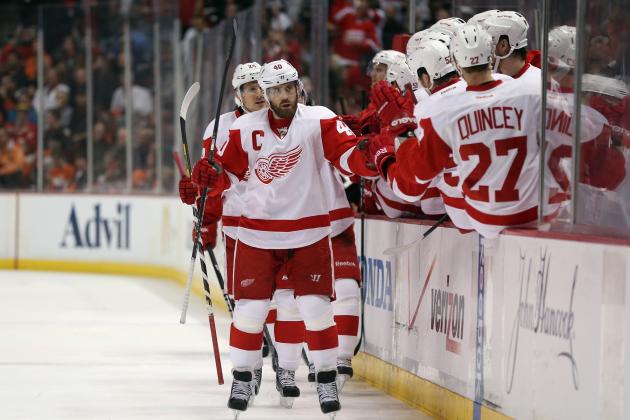 Jeff Gross/Getty Images

The Detroit Red Wings captain has been on point in the playoffs. Zetterberg became the team's leader when franchise stalwart Nicklas Lidstrom retired, and he continues to respectably carry the mantle.
The 32-year-old center stepped up late in a highly contentious first-round series against the Anaheim Ducks. Zetterberg was held scoreless through five games before erupting for three goals combined in Games 6 and 7.
He sent the series to Game 7 with a game-winning goal in overtime, saving the Red Wings' season in the process. Detroit survived and advanced in the first test of its 22nd straight playoff appearance and Zetterberg deserves plenty of credit for the feat.
He was held scoreless on four shots in Game 1 against Chicago in the Western Conference semifinals.
Stock: Up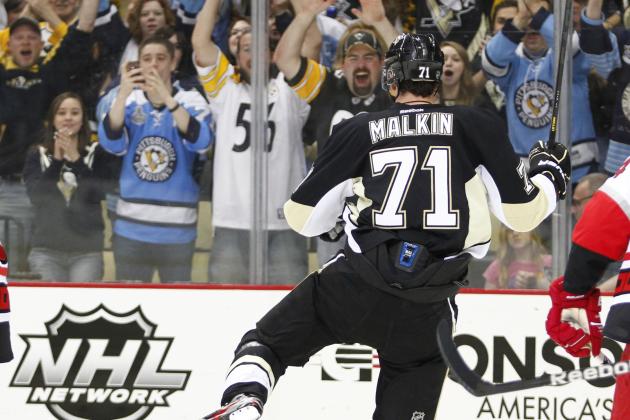 Justin K. Aller/Getty Images

Michael Jordan had Scottie Pippen. Sidney Crosby has Evgeni Malkin.
Both Pittsburgh stars are capable of taking over a game when called upon. The Russian forward ranks second in the NHL with 13 playoff points, highlighted by a league-high 10 assists.
Malkin is a savvy and instinctual playmaker. He's the kind of athlete who skates onto the ice expecting to score every shift and relentlessly attacks without hesitation.
He had his hands full with Hart Trophy finalist John Tavares in the first round but kept Pittsburgh rolling offensively with excellent puck distribution and routinely established himself as a force early in games.
Malkin may be the hottest offensive force in the playoffs right now. He opened the Penguins' second-round series against Ottawa with a goal and an assist.
A second Conn Smythe Trophy could be in the cards if Malkin continues his offensive onslaught and Pittsburgh keeps picking up wins.
Stock: Up
Jonathan Daniel/Getty Images

The Blackhawks' captain has been held scoreless through six playoff games. It took until Game 5 against Minnesota for Toews to tally his first points of the postseason with a pair of assists.
This isn't an indictment of Toews' all-around game. The star forward is an exceptional defender and really frustrated Minnesota star Zach Parise in the first round.
However, there's a lot more to be desired from a guy who accumulated 48 points in 47 games while registering a team-best plus-28 rating. As loaded as Chicago's lineup is, it's still hard to see this squad hoisting the Stanley Cup without Toews lighting up the lamp.
His leadership is unquestioned within the Blackhawks organization, but the team needs him to break out of an ill-timed scoring slump. Toews accounted for 29 points during Chicago's 2010 title run.
Stock: Down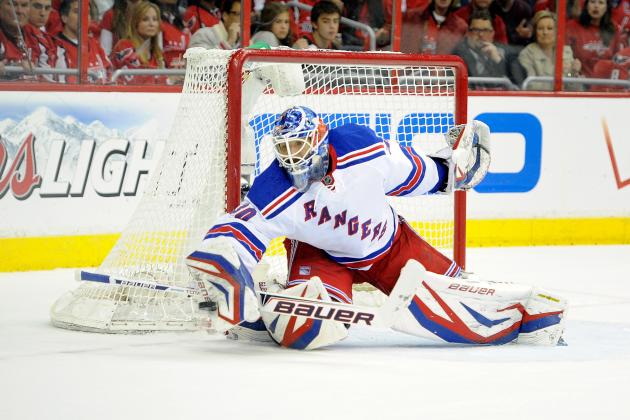 Greg Fiume/Getty Images

Lundqvist allowed an overtime game-winner against Boston on Thursday night in the opening bout of an Eastern Conference semifinal showdown. But keep in mind, there's no chance New York is still playing this late in May without the heroics of its outstanding netminder.
The reigning Vezina Trophy winner is a candidate for the award again and continues to prove his worth. Lundqvist logged two straight shutouts to seal the deal against Washington in the first round.
He blanked one of the league's most intimidating offensive attacks in Games 6 and 7 to spur New York into the second round. The Rangers aren't nearly as dangerous on offense as the squad's roster suggests, so Lundqvist truly is the key to the franchise's fortunes.
Stock: Up