Why the 2013-14 Season Will Be Arsene Wenger's Last Chance at Arsenal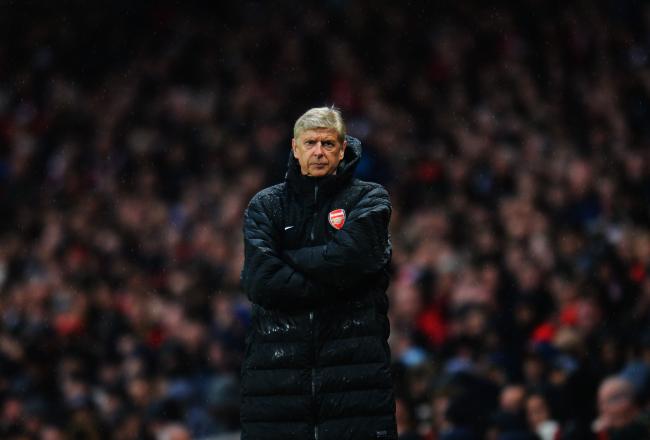 Shaun Botterill/Getty Images
Arsene Wenger faces the biggest challenge of his career at Arsenal next season. The 2013-14 Premier League campaign will be the most important for him since the league began all the way back in 1992.
It will be the first time that Wenger leads his team into battle without a Sir Alex Ferguson-led Manchester United. David Moyes has swapped Everton and Merseyside for Old Trafford. The Daily Mail is reporting Chelsea will also have a new manager, most probably in the guise of Jose Mourinho.
Where will Arsenal finish in 2013-14?
Manchester City, the 2011-12 EPL champions, have just sacked Roberto Mancini and, according to the Daily Mail, expect to replace him with Manuel Pellegrini.
Of the top-six teams in the Premier League only Arsenal and Tottenham Hotspur have not changed their manager.
That might change if Real Madrid focus their sights on Andre Villas-Boas. Real, according to the Irish Independent, have had their initial attempt to poach Carlo Ancelotti from Paris Saint-Germain FC rebuffed.
In short, Arsenal, by default, are now the most settled club in the upper echelons of the English Premier League. By that definition alone, next season becomes the Gunners' best chance to progress, and possibly challenge for the title, in almost a decade.
Wenger has already sensed the expectation among Arsenal fans. Le Prof has already fallen in line by echoing their thoughts and hopes for next year.
The Daily Star quotes the Gunners boss as saying:
"Finishing fourth is the minimum required. Is it enough? No. We want more."
This small but significant line is a far cry from Wenger's argumentative volley during the Arsenal AGM with the Arsenal Supporters Trust last October (h/t Arsenal.com). Wenger seems to have learned his lesson in how to deal with fans.
Between fan protests, poor results, falling to 10th place in the English Premier League for the first time since 1994, calls for his head and the club's AGM in October being hijacked by irate fans, to say that 2012 was been a tough year for the Arsenal boss would be the understatement of the footballing year.
Coming under fire for a lack of trophies in recent, years Wenger had this to say at the time:
I would like to come back to one thing. We speak about trophies. For me, there are five trophies - the first is to win the Premier League, the second is to win the Champions League, the third is to qualify for the Champions League, the fourth is to win the FA Cup and the fifth is to win the League Cup.
Rather than sate Arsenal's fans, this statement actually incensed them further as it showed the clubs primary focus was to finish in the top-four.
Next season, that simply will not do.
Wenger knows this, and Arsenal's fans know this too.
He has already assured fans he will not leave before the end of his contract in 2014. Speaking to beIN Sport, Wenger had this to say (h/t Setanta Sports):
I've not had any contact with PSG.

I won't leave Arsenal like a thief in the night. I'll respect my contract through to 2014,

As for me, I have a contract with Arsenal, where I've been for 17 years, and I don't see myself leaving the club like a thief and not respecting my contract.
Wenger knows that, even considering Ferguson's shock departure from Manchester United, Arsenal are in prime position to strike in the coming seasons.
Speaking to BBC Sport ahead of the Gunners' recent win over Queens Park Rangers, Wenger told the awaiting media;
Everything is here to have a great future.

We have a good fan base, we have now a strong financial situation, we have good young players and a squad with a bright future with the quality of the young players we have.

It is just to manage it well now.
Arsenal's and Arsene Wenger's transfer policy since 2004 has blighted the club like an ugly scar. To return to where they were in the halcyon days of the Invincibles and Double-Double's, the Gunners need to sign a number of top-class players to revive their ills.
The Emirates Stadium-based club needs to improve their squad radically if they are to challenge the perceived leaders of Manchester United, Manchester City and Chelsea.
Their current squad is short on talent and requires major surgery in all areas if Arsenal are to be considered as title challengers. Signing three or four top talents would make a massive difference to the Gunners' chances of winning a trophy for the first time since 2005.
Depending upon who you read, Wenger has either £70 million, £150 million or £35 million to spend in the summer. Whichever way you look at it, the Gunners need to spend and spend fast to improve the team.
The pressure in on.
Wenger has already signalled that qualification to the Champions League is no longer enough. The failure to win a trophy since 2005 has brought its own problems, and Le Prof is now questioned at every corner like never before.
This summer may be the most important transfer window of all time.
Every club senses weakness in their rivals after seismic management shifts, and in the rubble only Arsene Wenger has been left standing.
If he can sign the right players during the summer, everything is set for a memorable season.
If he signs the wrong players, Arsene Wenger might not even get the chance to see out his contract.
Bleacher Report's Premier League coverage has been nominated in the 2012-13 EPLTalk awards. Cast your vote here.
Which veterans do you think will move on this summer and still contribute at the highest level?
Leave your comments, suggestions, thoughts and predictions in the section below!
You can follow me on Twitter @WillieGannon and listen to me here, on the award-winning Hold the Back Page soccer podcast.
This article is
What is the duplicate article?
Why is this article offensive?
Where is this article plagiarized from?
Why is this article poorly edited?

Arsenal: Like this team?