10 Bold Predictions for 2nd Round of the NHL Stanley Cup Playoffs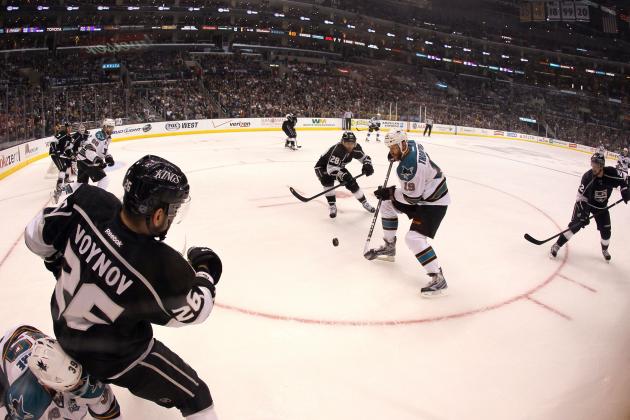 Victor Decolongon/Getty Images

After the Boston Bruins and New York Rangers advanced to the second round with Game 7 victories, the 2013 NHL conference semifinal matchups became set. There will be barely any time between the two rounds, as action is set to resume on May 15, less than 24 hours after the end of the Rangers win over the Washington Capitals.
That leaves a small window of opportunity to make some predictions, but we've got you covered.
There's plenty to like in this round, and there will be something to like for everyone—especially fans of Original Six teams. The Detroit Red Wings are set to face the Chicago Blackhawks in a "fare thee well" series for the ages, while the San Jose Sharks and L.A. Kings battle for California supremacy.
Out East, the Pittsburgh Penguins and Ottawa Senators will revisit their playoff rivalry, while the Boston Bruins and New York Rangers have at it in the playoffs for the first time in several decades.
Who's ready for Round 2?
Begin Slideshow

»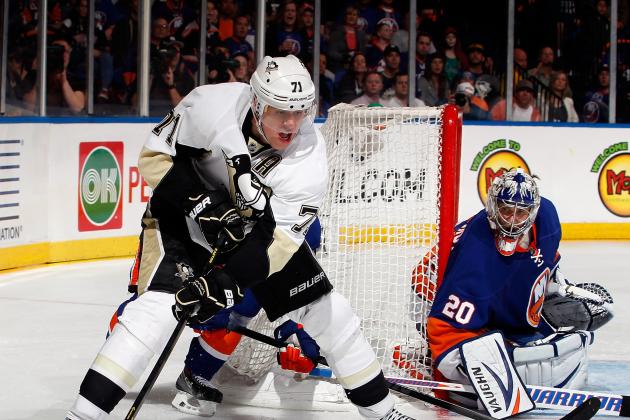 Paul Bereswill/Getty Images

Both the Chicago Blackhawks and Pittsburgh Penguins were outstanding during the regular season. Coming into the playoffs, they were among the favorites to go to the Stanley Cup Final, and hockey fans would love to see two top-notch teams do battle for the ultimate prize.
It isn't going to happen though.
The Detroit Red Wings and Ottawa Senators will prove to be much sterner tests than the Minnesota Wild and New York Islanders. And one of them will eliminate their top-seeded opponent.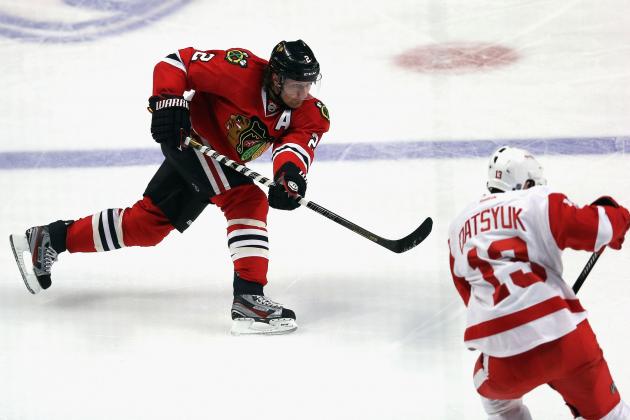 Jonathan Daniel/Getty Images

After the 2013 NHL season is over, the Detroit Red Wings are being put on a lift and moved out to the Eastern Conference, away from their longtime Chicago Blackhawks rivals. A four- or five-game series just wouldn't be a fitting end to this divisional confrontation.
Both the 'Hawks and Wings are loaded with talent and have what it takes to push each other to a Game 7. Henrik Zetterberg, Pavel Datsyuk, Patrick Kane, Jonathan Toews, Marian Hossa...the list goes on.
Chicago might be heavily favored because of its regular season, but no one gave Detroit much of a chance against the Anaheim Ducks either. This series has the makings of an instant classic and should be one to remember as the Wings ride off to the Eastern Conference.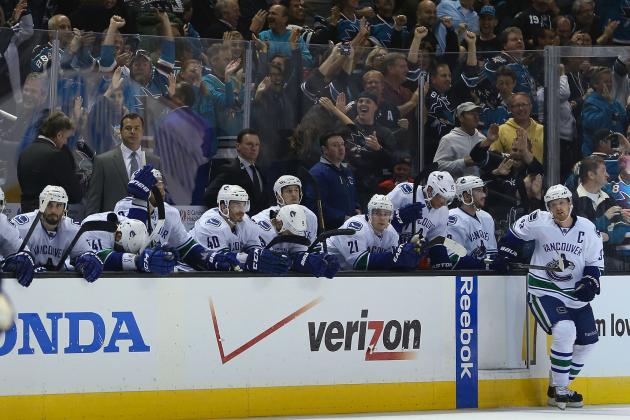 Christian Petersen/Getty Images

I made this same prediction at the start of the playoffs, stating that there would be no sweeps in the playoffs at all. If the Vancouver Canucks hadn't melted down against the San Jose Sharks, the call would have been right on track.
After the closeness and intensity of the first round, there's little doubt that all of the teams currently left standing are capable of winning at least one game.
Almost all of the goaltenders left can steal a game on their own, and there's plenty of scoring depth spread out—enough to prevent another sweep from happening in the second round.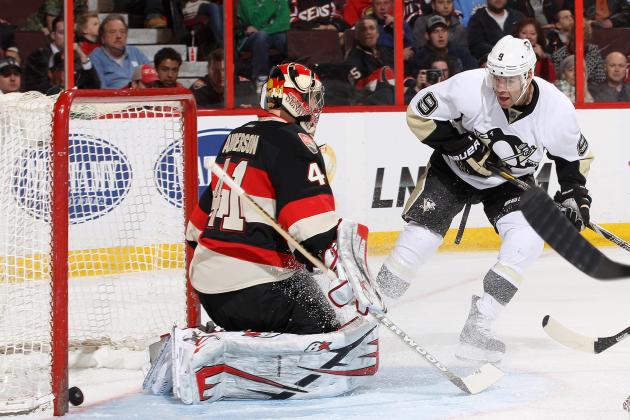 Jana Chytilova/Freestyle Photo/Getty Images

There were three Game 7s in the first round and two series that were decided in six games. The Chicago Blackhawks, San Jose Sharks and Ottawa Senators will be the most well-rested teams heading into the second round, but this year that isn't a good thing.
After playing only half of a normal regular season, guys have way more gas in the tank than usual as the playoffs progress, meaning that downtime is more likely to create rust while activity is less likely to create battle fatigue.
Several of these teams have been in playoff mode for more than a month now. Those squads will have an easier time engaging early, having had only one or two days off between games.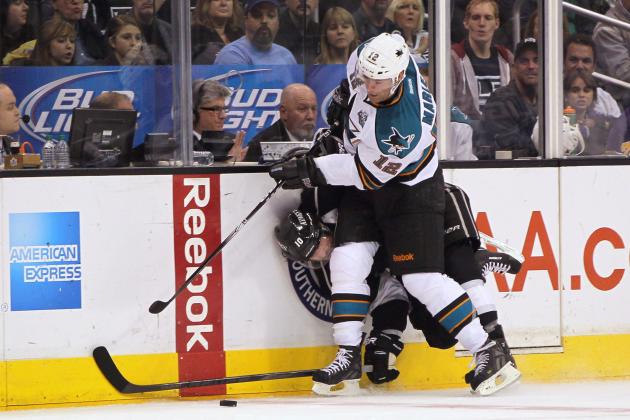 Victor Decolongon/Getty Images

This prediction is less bold than it is awesome.
Look at these matchups and try to convince yourself that any one of them won't be rough-and-tumble:
The Detroit Red Wings taking on the division-rival Chicago Blackhawks.
The San Jose Sharks playing against their hated neighbors in the L.A. Kings.
The Boston Bruins and New York Rangers are no strangers to the rough stuff, and the Pittsburgh Penguins and Ottawa Senators have enough recent playoff history to suggest that it won't be an easy-going series either.
Fans of the physical St. Louis Blues and Kings series will find a lot of hockey to love in the second round.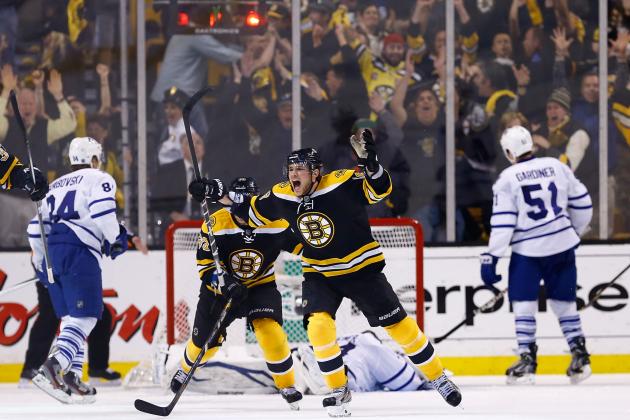 Jared Wickerham/Getty Images

Nathan Horton, Milan Lucic and David Krejci have been cold-hearted killers for the Boston Bruins. Beyond that trio though, there hasn't been a whole lot of help. While one attacking line might be enough to squeak by the Toronto Maple Leafs, it won't fly against Henrik Lundqvist and the New York Rangers.
Tyler Seguin has been a shooting machine through seven games, but has yet to be a factor on the score sheet. Brad Marchand has zero goals. Ditto for Jaromir Jagr.
These three guys will need to step up in big ways for the Bruins to advance further than the second round. The Rangers have the opposite problem; their big guys aren't stepping up while their depth is killing it.
Seguin, Marchand and Jagr are too talented and are getting too many chances to not start cashing in soon.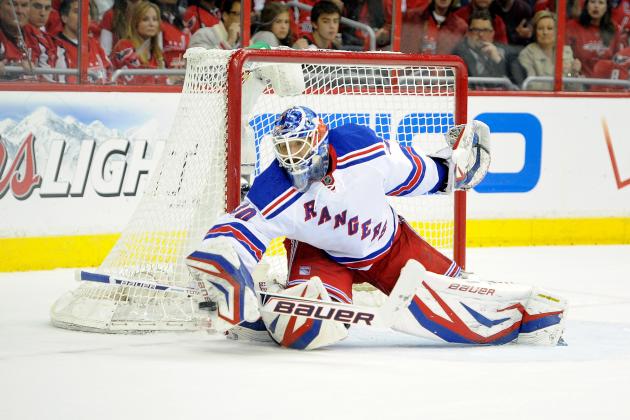 Greg Fiume/Getty Images

Henrik Lundqvist put the New York Rangers on his back and carried them into the second round. While the five-goal outburst in Game 7 was good news for the offense, King only needed the first marker, and it would have been the same outcome.
He's been playing out of his mind so far in the playoffs, and there's little reason to think he won't hit yet another gear against the Boston Bruins.
They have some big forwards who will inevitably score some goals in this series, but when Lundqvist gets hot like he was at the end of the Washington series, he becomes impenetrable.
Expect Lundqvist to blank Boston two times in a row.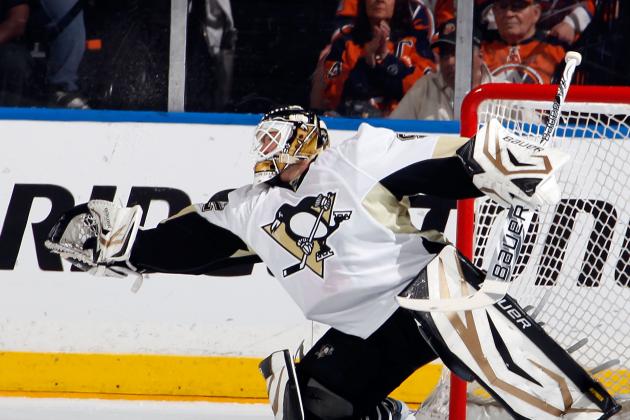 Paul Bereswill/Getty Images

The Pittsburgh Penguins might have lost their opening-round series to the New York Islanders if not for the steadying influence of Tomas Vokoun. Marc-Andre Fleury was awful in the four games that he played, allowing the Isles to push back when many didn't think they were talented enough to give Pittsburgh a scare.
New York gave the Pens all they could handle, and it was Vokoun who was the difference-maker.
Statistically, Fleury has been one of the worst netminders in the playoffs and will be left to work on his confidence in practice while Vokoun tries his hand at leading the Penguins to the Stanley Cup Final.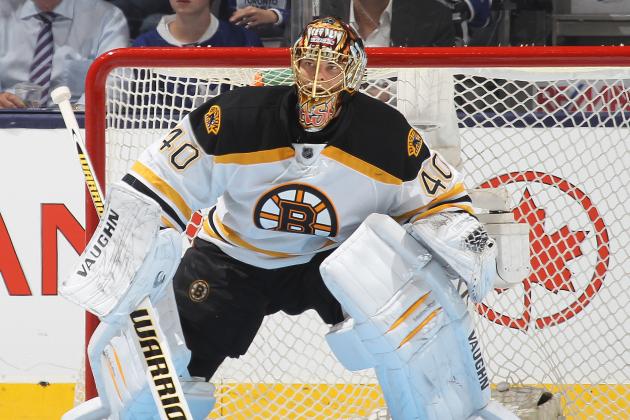 Claus Andersen/Getty Images

Tuukka Rask, Henrik Lundqvist, Craig Anderson, Jonathan Quick, Jimmy Howard, Antti Niemi and Corey Crawford were all outstanding throughout the first round. Out of all the teams that advanced, only the Pittsburgh Penguins experienced any kind of goaltending hiccups.
The rest of these guys have been ridiculous.
Lundqvist and Niemi are both finalists for the Vezina Trophy, while some feel that Rask and Howard were snubbed in the nomination process. Quick has been his usual outstanding self in the playoffs, and Crawford has removed any doubt that he's an outstanding NHL netminder.
Then there's Anderson, who likely would have been a Vezina finalist if he didn't miss time during the regular season.
Goals will be hard to come by in the second round. No doubt about it.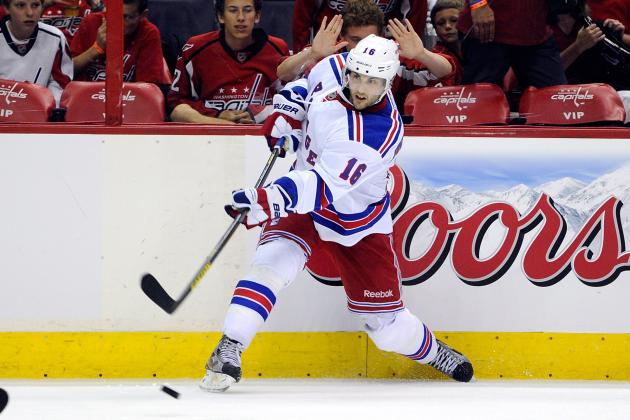 Greg Fiume/Getty Images

Who would have thought that Derick Brassard would be outscoring Rick Nash and Brad Richards with one round completed? He was outstanding against the Washington Capitals and is currently rounding out the top-five playoff point producers.
Henrik Zetterberg, Patrick Sharp and Joe Thornton are just a few of the guys whom Brassard is currently outpacing.
It isn't a fluke that he's a top-five scorer right now either. Pucks aren't just popping into the goal off of his body like he's Dan Cleary. He's flying up and down the ice and producing quality chances on a nightly basis.
Nash and Richards can take their time heating up as long as Brassard continues to play the way that he is.