How Far Away Are the Dallas Mavericks from Being Playoff Regulars Again?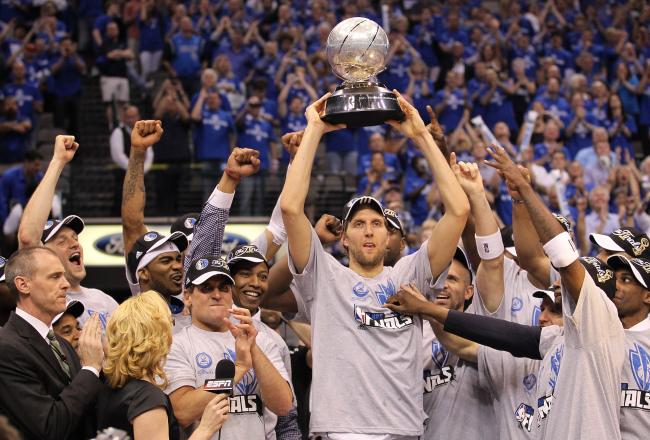 Ronald Martinez/Getty Images
After a 41-41 season, the Dallas Mavericks found themselves in an unfamiliar place in 2013—out of the postseason.
Dallas's .500 record would have been good enough had they played in the Eastern Conference, but in the deep West, all they could manage was a tenth-place finish.
That meant that the Mavericks 12 year playoff streak, the second-longest active one in the NBA behind the San Antonio Spurs, had come to a close, and the franchise would have to find a way to pick up the pieces and try to start a new streak come next season.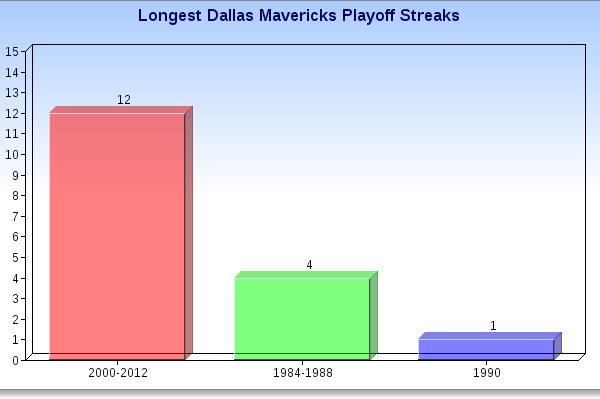 However, things in Dallas are much different now than they were 13 years ago when the team last missed the NBA playoffs.
Back then, Dirk Nowitzki was just a second-year player from Germany who was still trying to find his rhythm at the NBA level.
Mark Cuban had just taken over as owner from Ross Perot Jr., and he hadn't had the opportunity yet to implement his offseason strategies that would make the Mavericks playoff regulars.
Also, the team had been a laughing stock all throughout the 1990s, never making the playoffs from 1991-2000. When Dallas finally made it in 2000-2001, it was to break a playoff drought, as opposed to breaking a playoff streak like they did when they missed the postseason this year.
The Mavericks run of consistent excellence in the 2000s and early 2010s has made the organization one of the most respected in the NBA.
This year, however, with a team that missed the playoffs, Dirk Nowitzki will now be 35 when the next season begins, and many are now questioning the tactics of Mark Cuban after dismantling an NBA Championship team piece by piece. The team has also failed to bring in the superstar that they so desperately desire to play alongside Nowitzki for the remainder of his career.
So just how far away are the Mavericks from being a consistent NBA playoff team like we have gotten accustomed too over the last 12 years?
For starters, throughout their playoff run, Dallas had a capable core of players that they could rely upon year after year.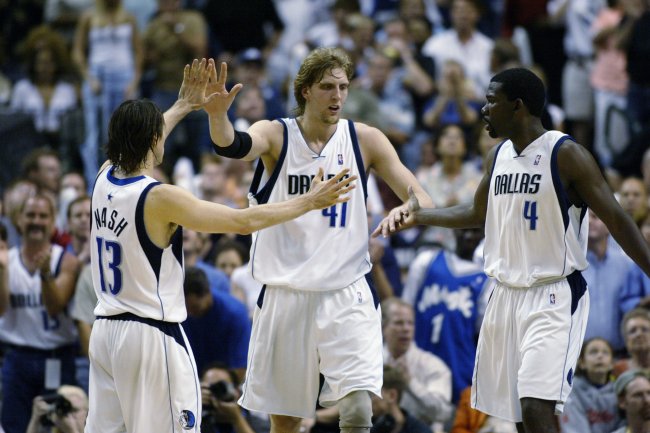 Ronald Martinez/Getty Images
First, it was Steve Nash and Michael Finley who complemented Nowitzki, then it was Jason Terry and Josh Howard. In their title run Terry was joined by the likes of Jason Kidd and Tyson Chandler.
With the exception of Chandler, all of those other players were long time Mavs. The franchise did an excellent job of bringing in top players who fit the Mavericks system and kept them around for as long as they possibly could to play with Nowitzki.
Right now, however, the Mavericks simply don't have that. Other than Nowitzki, Shawn Marion and Rodrigue Beaubois, no Maverick has been around longer than two seasons, and the team has 10 players who finished the year on the roster that will now become free agents.
There is no doubt that the constant turnover has hurt the team over the last two seasons. The Mavericks have to do a better job of bringing in players who are going to be there for the long-haul.
You rarely see a team make the playoffs when they bring in eight new players in the offseason to one-year contracts. The Mavericks have to secure a core group of players that they believe in to go along with Nowitzki.
The team also has to get younger overall. It's arguable that the team's three best players this past season were Nowitzki, Marion and Vince Carter, who all are in their mid-thirities.
If it was ten years ago, a trio like that could have easily won multiple championships, but the fact of the matter is that Carter and Marion, while valuable role players, should not be the second and third best players on your team. Even Dirk is getting to the point in his career where he should be more of a second-option.
It's no fault of theirs, and they should be commended for their great play this season, but the team needs to bring in some more capable young players who can help take the load off of the veterans.
Furthermore, the Mavericks have to get better defensively. As I explained earlier this week,the Mavs have several areas defensively that they need to improve, and the team won't be in the playoffs until they do so.
Ranking 27th out of 30th is not going to get it done if the Mavericks want to be a consistent playoff team. While much of the focus seems to be bringing in a superstar, teams like the Indiana Pacers and Memphis Grizzlies have shown in recent years that if you excel on defense, you don't necessarily need one or multiple superstars to have success.
If the Mavericks were smart, they would focus their attention this offseason to building a core, getting younger and getting better defensively instead of putting all of their eggs in the superstar basket.
We have seen over the last two offseasons that this plan has been unsuccessful. We may very well see a day in the near future when an NBA superstar wants to come to Dallas, and when that time comes, the organization can make the necessary adjustments to make that happen.
However, if the team tries to bring in a star player and fails once again, they could miss out on an opportunity to better themselves in other areas that need improving, which would bring them closer to being a constant in the NBA playoffs for years to come.
This article is
What is the duplicate article?
Why is this article offensive?
Where is this article plagiarized from?
Why is this article poorly edited?

Dallas Mavericks: Like this team?