Ranking the 5 Best Trades in Edmonton Oilers History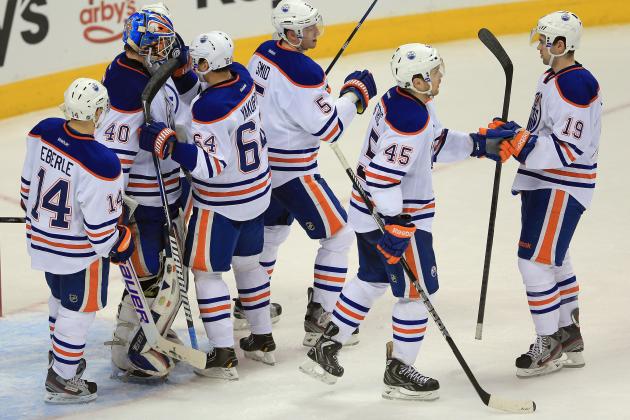 Doug Pensinger/Getty Images
Edmonton Oilers in 2013
With Edmonton Oilers GM Craig MacTavish focused squarely on the 2013-14 season, and with at least one if not more potential blockbuster trades happening in the coming months, assessing the organization's best trades makes sense.
In the salary cap era, it is not always easy to make multi-player trades. But for several seasons, the Oilers operated under a self-imposed salary cap under different ownership groups, despite there not being a league-imposed ceiling.
The Oilers have never been a free-spending organization. But under current owner Daryl Katz, the purse strings appear to be as loose as they have ever been.
If the Oilers can find willing trade partners, this offseason may be one of the busiest in recent history as the Oilers have a number of forwards that many teams will be interested in obtaining.
The following five trades, in ascending order, are the best in Oilers history.
Begin Slideshow

»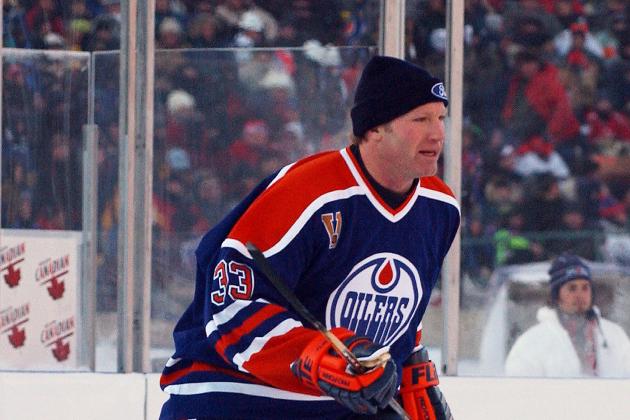 Dave Sandford/Getty Images
Marty McSorley
In 1985, the Oilers traded goaltender Gilles Meloche to the Pittsburgh Penguins for Marty McSorley, Tim Hrynewich and future considerations.
The future considerations turned out to be steady defenseman Craig Muni. Muni and in particular, McSorley became very important parts of the mid-'80s Oilers.
McSorley blossomed in Edmonton and became a much better hockey player by the time he left along with Wayne Gretzky in what remains, arguably, as the biggest trade in NHL history.
Gretzky insisted that McSorley be included in the deal to the Los Angeles Kings, and McSorley became a key part of some successful teams in Southern California.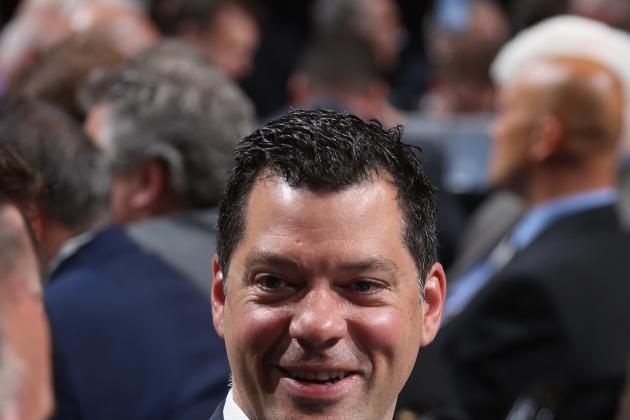 Bruce Bennett/Getty Images
Bill Guerin
In early 1998, the Oilers traded the much maligned Jason Arnott along with Brian Muir to the New Jersey Devils for Valeri Zelepukin and power forward Bill Guerin.
The talented Arnott had fallen into disfavor with Oiler fans, and there weren't really any other options than to trade him. The key player in the deal, from an Oilers' perspective, was Bill Guerin.
Guerin enjoyed a number of great seasons in Edmonton and along with Doug Weight, formed one of the better scoring duos in the organization's history.
Guerin played a power game with skill, speed and a physical edge that made him one of the best power forwards in the entire league during his tenure in Edmonton.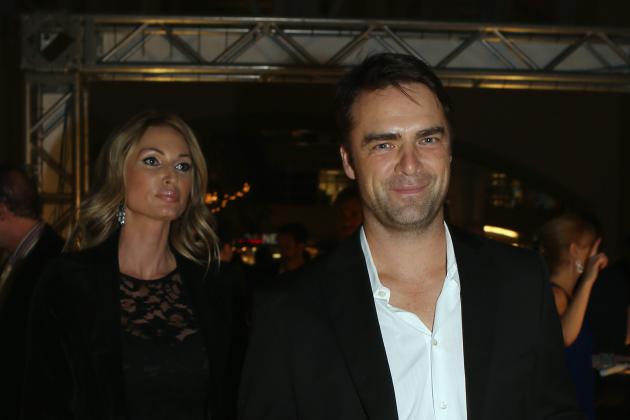 Bruce Bennett/Getty Images
Former Oiler, Curtis Joseph
In August of 1995, the Oilers traded two draft picks to the St. Louis Blues for goaltender Curtis Joseph and the rights to winger Mike Grier.
Joseph played some of the best hockey of his career in Edmonton and backstopped them to some modest playoff success.
Winger Mike Grier proved to be a valuable third-line player in Edmonton. One of the more underrated checking wingers in Oilers history, he was a superb penalty killer in teaming with Todd Marchant on many nights.
The Oilers had some great series with both the Dallas Stars and Colorado Avalanche with Joseph and Grier in the lineup. Both players made significant contributions in making these playoff battles the classics they became.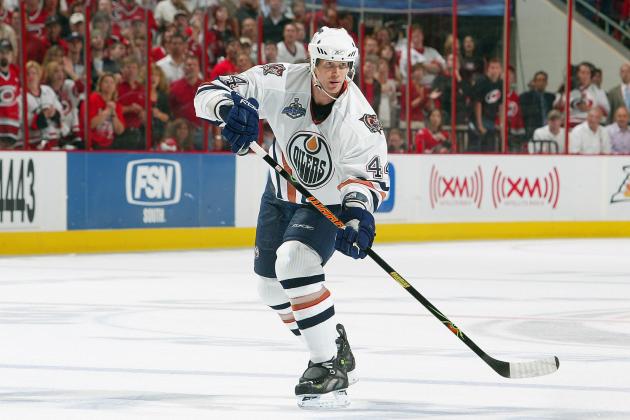 Jim McIsaac/Getty Images
Chris Pronger
It was a midsummer's day dream for Oiler fans when Kevin Lowe announced that the Oilers had traded for Chris Pronger in exchange for Eric Brewer, Doug Lynch and Jeff Woywitka.
While Pronger played only one season in Edmonton, it was the most successful season in the past 20 years for the Oilers, as they came within one game of winning the Stanley Cup.
Goaltender Dwayne Roloson, among others, played a pivotal role in the team's playoff success in 2006, but unquestionably, the Oilers were led by Chris Pronger.
Pronger made everyone around him bigger, stronger and faster. There have been few defensemen in the past two decades who have been more valuable to their teams than this Hart and Norris Trophy winner.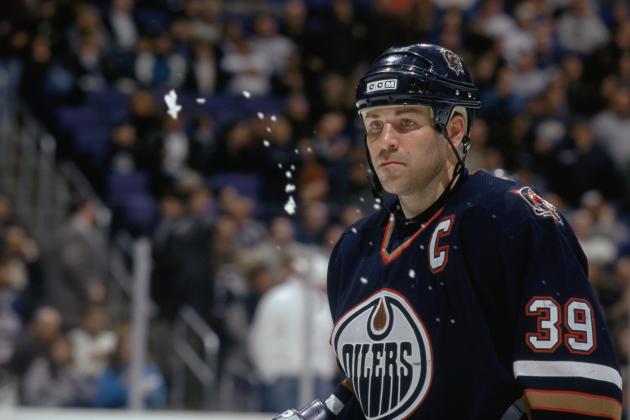 Kellie Landis/Getty Images
Captain Doug Weight
In 1993, the Oilers traded Esa Tikkanen to the New York Rangers for center Doug Weight.
Tikkanen had some wonderful seasons in Edmonton and along with Jari Kurri and Wayne Gretzky, formed one of the best lines in NHL history.
By 1993, Tikkanen's career had already peaked, while Doug Weight's best years were ahead of him.
Weight had nine very productive seasons in Edmonton, led the team in scoring during his time with the copper and blue and served as team captain from 1999-2001.