Ranking the 10 Savviest General Managers in the NHL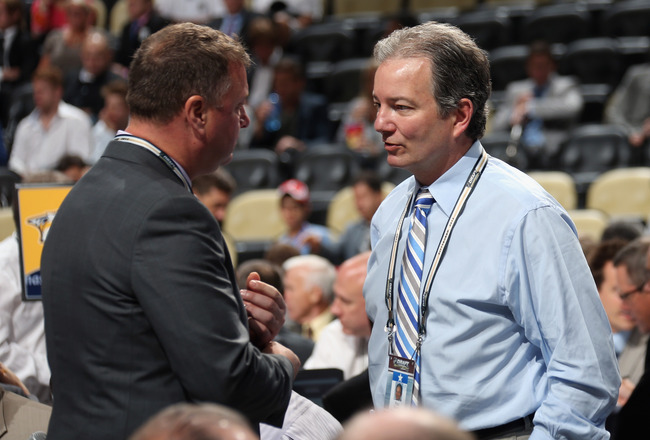 Shero understands the art of the deal.
Bruce Bennett/Getty Images
The role of an NHL general manager is one of the toughest in sports, but savvy executives like Ray Shero, Glen Sather, Dean Lombardi and Ken Holland appear to handle the job with ease. General managers are responsible for building teams through the draft and trades, and their decisions impact their various NHL teams.
With that in mind, here are the 10 savviest general managers in the NHL today.
10. Bryan Murray, Ottawa Senators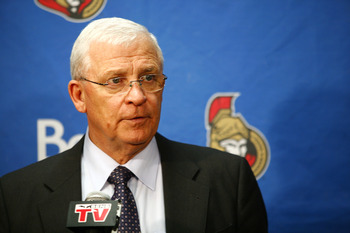 Murray is a GM with a ton of experience.
Phillip MacCallum/Getty Images
Bryan Murray has had a solid tenure with the Ottawa Senators, and he has made some decent moves as the team's general manager. Murray has acquired players such as Filip Kuba, Robin Lehner, Milan Michalek, Sergei Gonchar, Marc Methot, Kyle Turris and Craig Anderson.
He also drafted Erik Karlsson, Jakob Silfverberg, Jared Cowen, Mark Stone, Patrick Wiercioch and Mika Zibanejad. These players represent the future of the Senators, and they are a testament to Murray's effort to build for the future.
When you look at Murray's overall tenure, he comes across as a smart general manager with a ton of experience.
9. David Poile, Nashville Predators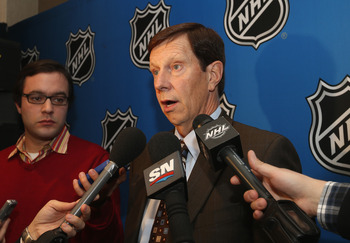 Bruce Bennett/Getty Images
David Poile had the tough task of taking over an NHL expansion team, and during his tenure, he has done a solid job as general manager of the Nashville Predators.
He drafted franchise players Shea Weber and Pekka Rinne, forwards David Legwand and Patric Hornqvist and defensemen such as Jonathon Blum and Roman Josi.
He did lose Ryan Suter to free agency, but he was able to add players like Filip Forsberg and Mike Fisher to the roster in very savvy trades. Poile has done some good things with the Predators, and a lottery pick this year should help him strengthen his roster.
8. Peter Chiarelli, Boston Bruins
Chiarelli was an assistant GM in Ottawa before going to Boston.
Bruce Bennett/Getty Images
Peter Chiarelli has made some solid moves as general manager of the Boston Bruins, and he is one of the best in the business today.
Chiarelli's best move to date is the trade of Phil Kessel for drafts pick that turned into Tyler Seguin and Dougie Hamilton.
Other top moves Chiarelli has made during his tenure in Boston include the hiring of Claude Julien, the signing of Dennis Seidenberg and the acquisition of Nathan Horton, Chris Kelly and Rich Peverley.
Chiarelli has done a good job thus far, and he has a strong roster to contend with for the next few years.
7. Lou Lamoriello, New Jersey Devils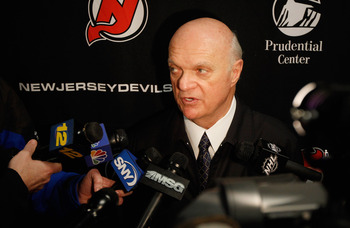 Lou has been in charge since 1987.
Mike Stobe/Getty Images
Lou Lamoriello is a tenured general manager and executive for the New Jersey Devils, and despite some questionable moves in recent years, he is still a savvy executive.
He is the architect of three Stanley Cup teams, he has drafted young talent such as Martin Brodeur, Patrik Elias, Adam Henrique and Adam Larsson, and he did sign a legitimate superstar in Ilya Kovalchuk.
Lamoriello would be higher on the list if he had wisely forfeited the No. 29 pick in the 2012 NHL draft and if he had signed players to help replace Zach Parise, but he is still one of the savvier general managers in the NHL today.
6. Doug Wilson, San Jose Sharks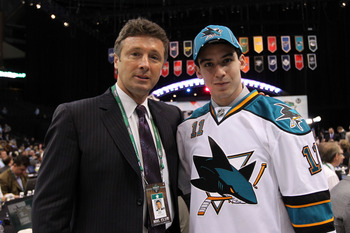 Bruce Bennett/Getty Images
Doug Wilson has been general manager of the San Jose Sharks since 2003, and during his tenure, he has made many smart deals.
Some of Wilson's high-profile moves include the acquisition of Joe Thornton, Brent Burns and Dan Boyle, the drafting of Logan Couture, Marc Edouard Vlasic and Joe Pavelski and the signing of Antti Niemi and Brad Stuart.
With the way the Sharks are currently playing, this may be the year the team finally realizes their potential.
5. Glen Sather, New York Rangers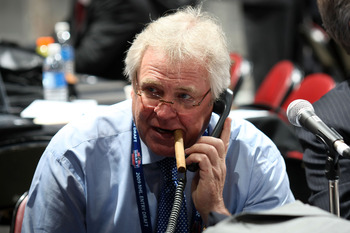 Sather has been an NHL executive for over 30 years.
Bruce Bennett/Getty Images
Glen Sather is a knowledgeable general manager who has made many good trades during his tenure in New York with the Rangers. He has signed some bad contracts, but he has been able to get out of them without compromising the Rangers' salary cap.
Key moves for Sather include the acquisition of Ryan McDonagh, John Moore, Derick Brassard, Ryane Clowe and Rick Nash. Sather also signed Marian Gaborik in 2009, and the skilled scorer produced well during his time in New York. Gaborik was dealt this season, but Sather was able to get a very solid return for an asset that was declining in value for the team.
Sather is a veteran executive and one of the greatest coaches in NHL history, and he is still one of the most cunning general managers in the NHL today.
4. Ken Holland, Detroit Red Wings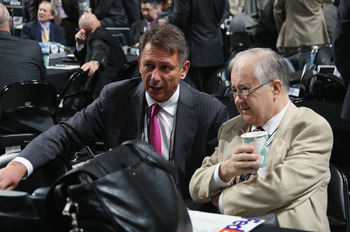 Holland is one of the NHL's top GMs.
Bruce Bennett/Getty Images
Ken Holland is one of the longest-tenured GMs in the NHL, and he has left an indelible mark on the Detroit Red Wings.
Holland has been able to maintain a core group of players consisting of Pavel Datsyuk, Henrik Zetterberg, Jimmy Howard, Valtteri Flippula and Niklas Kronwall among others, and for that, he should be commended.
Although Holland has not made many trades, he deserves credit for maintaining the Wings' roster for multiple years at an affordable rate that allows him to add other pieces if the opportunity arises.
3. Doug Armstrong, St. Louis Blues
Armstrong won GM of the Year in 2012.
Bruce Bennett/Getty Images
Doug Armstrong is one of the savviest GMs in the league because of his subtle moves that have paid huge dividends to date. Some of Armstrong's smarter moves include trading for Kevin Shattenkirk, Chris Stewart and Jaroslav Halak, the signing of Brian Elliott and the drafting of Vladimir Tarasenko.
Armstrong also made some moves that helped solidify the Blues' roster at the deadline, and the acquisition of Jay Bouwmeester could pay huge dividends in the future. His tenure with the Blues has been very successful to date, and they are a legitimate contender in the Western Conference
2. Dean Lombardi, Los Angeles Kings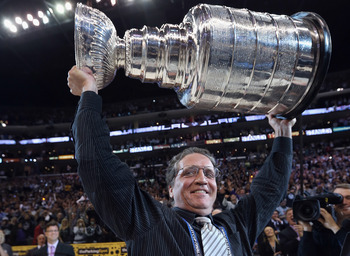 Lombardi did a good job making changes last season.
Bruce Bennett/Getty Images
Dean Lombardi is an executive with tons of experience, but he has had his greatest success as the general manager of the Los Angeles Kings. Since arriving in 2006, Lombardi has drafted Trevor Lewis, Alec Martinez, Drew Doughty, Slava Voynov and Jonathan Bernier, and all are key parts of the Kings' current roster.
Lombardi has also made an impact via trade and free agency by adding players such as Jeff Carter, Mike Richards, Rob Scuderi and Justin Williams. The Kings won the Stanley Cup last year, and Lombardi deserves credit for his deadline deals and the hiring of Darryl Sutter, because the moves were a catalyst for change for the organization.
1. Ray Shero, Pittsburgh Penguins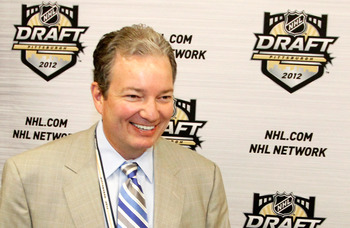 Shero has a solid track record.
Justin K. Aller/Getty Images
Ray Shero is the savviest general manager in the NHL today, because of the multiple moves he has made with the Pittsburgh Penguins. Shero has built his team through trades, free agency and the waiver wire, and here is a list of some of his smartest moves.
| | | |
| --- | --- | --- |
| Year | Player | Method of Acquisition |
| 2009 | Chris Kunitz | Trade |
| 2009 | Craig Adams | Waivers |
| 2010 | Paul Martin | Free Agency |
| 2011 | James Neal | Trade |
| 2013 | Jarome Iginla | Trade |
| 2013 | Brenden Morrow | Trade |
Shero also gets credit for the hiring of Dan Bylsma as the head coach of the WB-Scranton Penguins in 2008, and then for Bylsma's promotion to head coach of the Penguns in 2009. The Penguins' core may have all been drafted before Shero's arrival, but he has done a good job bringing in additional talent to balance out the roster.
Keep Reading