NHL Playoff Power Rankings: Breaking Down the Field Midway Through Round 1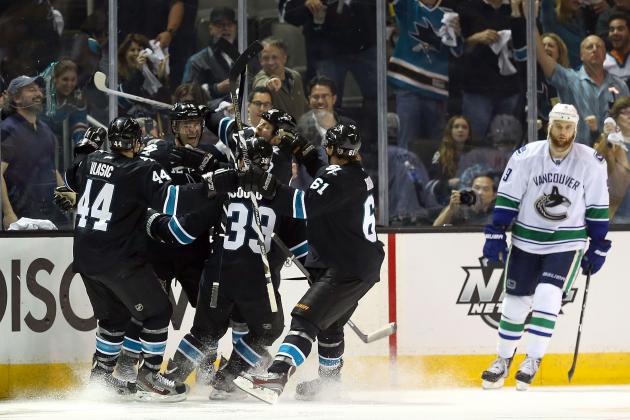 Christian Petersen/Getty Images

We're about halfway through Round 1 of the Stanley Cup playoffs, and already, there have been a few surprises.
The Pittsburgh Penguins have not been as formidable as they appeared to be. Many people thought the Pens would blow through the Eastern Conference, only facing a challenge from Alex Ovechkin and the Washington Capitals.
Instead, the New York Islanders are giving Pittsburgh a scare in the first round.
The Montreal Canadiens slowed down toward the end of the season, but nobody thought they were going to collapse in the playoffs. Right now, a grittier Ottawa Senators team is showing them up.
Out West, the San Jose Sharks have a 3-0 lead on the Vancouver Canucks, who eliminated them in the Western Conference Finals two years ago.
This looked like the "window closing" matchup: Patrick Marleau and Joe Thornton vs. the Sedin twins. Instead, it is Logan Couture's Sharks against, um, an underwhelming Canucks team.
Finally, the St. Louis Blues and Los Angeles Kings series has proven to be the best matchup so far. Both teams are talented and physical.
One caveat before I go on with the power rankings: Keep in mind that the Rangers/Capitals and Bruins/Maple Leafs series have only had two games so far. That may unfairly affect them in the standings, but that's just the nature of the beast right now.
Begin Slideshow

»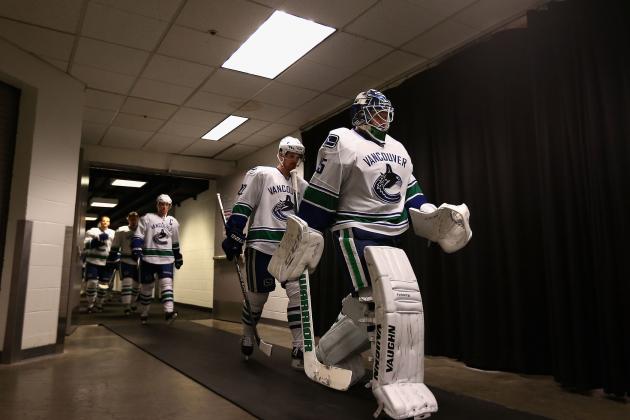 Christian Petersen/Getty Images

Game 1: Lost 3-1
Game 2: Lost 3-2 OT
Game 3: Lost 5-2
Like Kid Cudi, the Vancouver Canucks look down and out.
No, they are not officially eliminated from the playoffs, but it's hard to see the Canucks climbing back into this one. Not only have they lost two games by a multi-goal margin, but they also dropped their first two games at home.
We all know the Canucks won't go down without a fight, but it looks like Logan Couture and the Sharks are going to get the best of them.
Without a doubt, this has been the most surprising development of the playoffs so far.
Jana Chytilova/Freestyle Photo/Getty Images

Game 1: Lost 4-2
Game 2: Won 3-1
Game 3: Lost 6-1
It looks like Montreal's slow finish has caught up with it in its first-round matchup.
Nobody can take away the fact that this team went from awful to outstanding in one year, but it limped into the postseason and drew a matchup with a hungrier Ottawa Senators team.
I'm not convinced the Senators are significantly less talented than the Habs; in fact, I think they're pretty even.
What Montreal had to do to win this series is suffocate them with their defense and beat them up physically.
Instead, the Canadiens gave up the first game and were bullied in the third. Ottawa is in the driver's seat right now. The Senators have Game 4 at home, and they just need to keep executing the same game plan.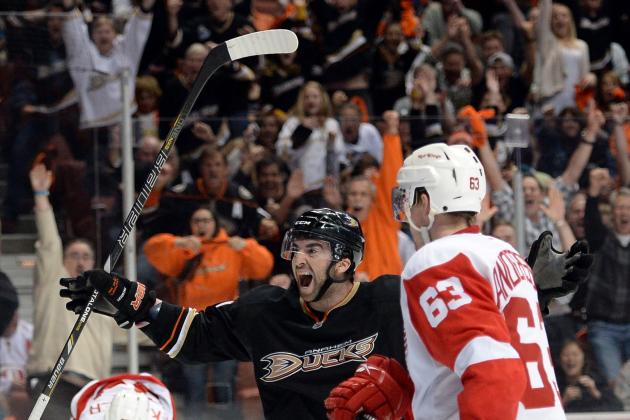 Harry How/Getty Images

Game 1: Lost 3-1
Game 2: Won 5-4 OT
Game 3: Lost 4-0
This should be expected of the Red Wings: All year long they have been a Jekyll and Hyde team. One night they are on and look like the Wings of old, the next night they get blown out.
Anaheim has been good all year long. The one leg up Detroit had was its playoff experience, but the Red Wings have recently lost Nicklas Lidstrom and Tomas Holmstrom while the Ducks have guys like Ryan Getzlaf, Corey Perry and Teemu Selanne that have succeeded in the playoffs before.
The Ducks should close out the Wings in six games at most.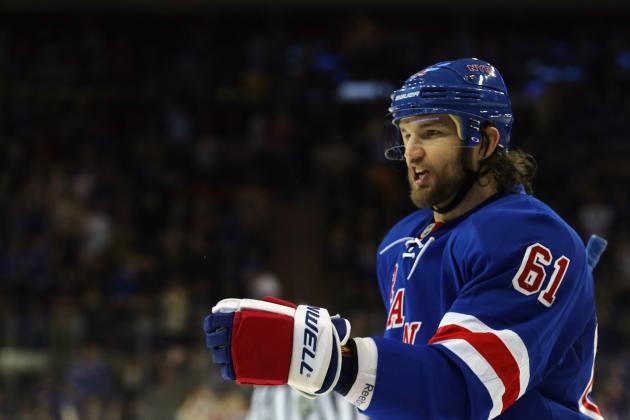 Bruce Bennett/Getty Images

Game 1: Lost 3-1
Game 2: Lost 1-0
The Rangers are the first team on this list that have only played two games.
Maybe it is unfair to judge them based off a poor Game 1 and a close Game 2, but they just don't look in sync right now. The poor power play really stands out, and where are guys like Brad Richards and Rick Nash?
Your best players have to be at their best in the postseason, and nobody is stepping up for the Blueshirts.
This has to change now that the series has moved to Madison Square Garden, or the Rangers, a preseason Stanley Cup favorite, are toast.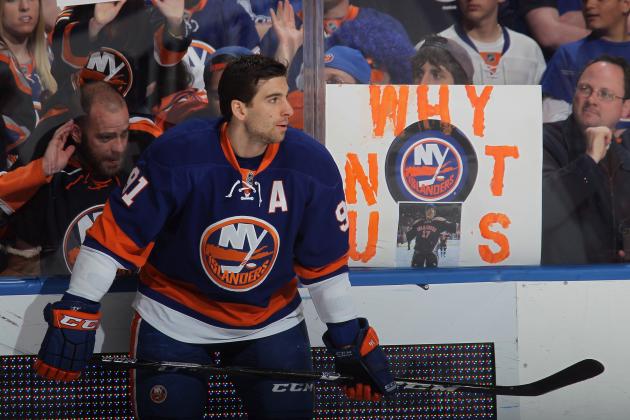 Bruce Bennett/Getty Images

Game 1: Lost 5-0
Game 2: Won 4-3
Game 3: Lost 5-4 OT
Islanders fans are going to be irate that I have their team here, especially after they came from behind to beat the mighty Penguins in Game 2…on the road…ruining Sidney Crosby's return…and barely lost Game 3…and John Tavares and Kyle Okposo are playing like studs…
I get it, I get it: A diehard fan can come up with a million reasons why the Islanders are going to pull off the upset.
It's not going to happen.
The Penguins are deeper, more talented and more experienced than the Islanders.
In the end, this is great experience for the youngsters on the Islanders and is the first step in creating a culture of winning for this franchise once again.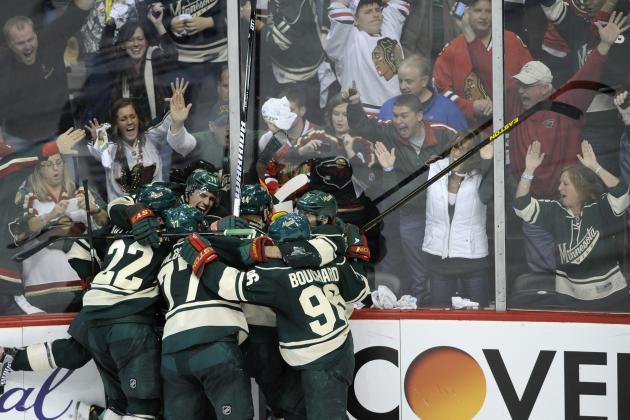 Hannah Foslien/Getty Images

Game 1: Lost 2-1 OT
Game 2: Lost 5-2
Game 3: Won 3-2 OT
The Wild are putting up a good fight without Dany Heatley, Jason Pominville and Niklas Backstrom, but this team isn't ready to beat the Blackhawks just yet.
Minnesota made its bed by winning only one game in April and now is sleeping in it. The Wild will have to get past this team to get to the Stanley Cup, and it's not bad to be faced with this challenge right away in Year 1 of the Parise/Suter era.
Jim Rogash/Getty Images

Game 1: Lost 4-1
Game 2: Won 4-2
It's really hard to tell where the Leafs are right now for three reasons:
They looked awful in Game 1.
They looked way better in Game 2.
I'm not sure how they will play at home.
Right now, I've placed them in the middle. I think Toronto could be kind of a "team of destiny" and pass the mighty Bruins, a team that looked like a Cup contender at the beginning of the year.
They could also freak out in front of their own fans and lose this series in five games once it returns to Boston.
Let's just see what happens in Game 3.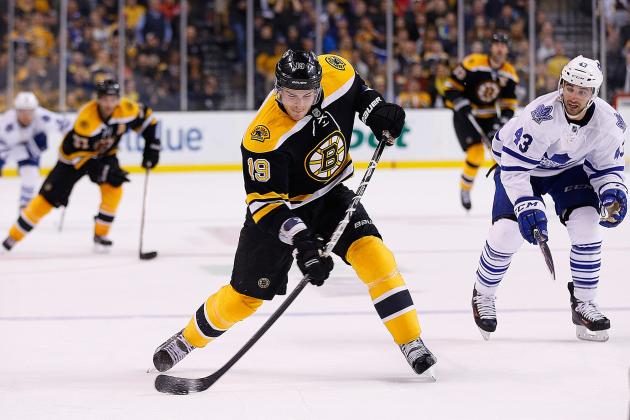 Jim Rogash/Getty Images

Game 1: Won 4-1
Game 2: Lost 4-2
Boston really should be better than this.
Right now, it looks like the Bruins should win this series given that their players have a lot more experience in the playoffs and, really, they are a lot more talented.
Unfortunately, this team relinquished the Northeast crown even though Montreal wasn't (and still isn't) all that hot and has given hope to a Leafs team that had not made the playoffs since the 2004-05 lockout.
There are people that are going to feel that Boston should be lower than Toronto at this point, but the Bruins are the superior team and the Leafs haven't proven that they can handle the pressure of playing at home in the playoffs just yet.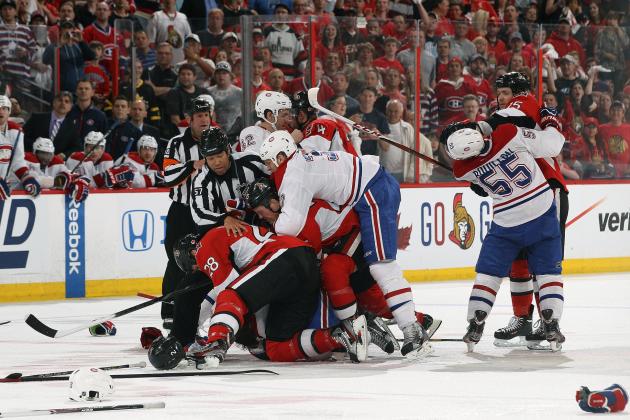 Jana Chytilova/Freestyle Photo/Getty Images

Game 1: Won 4-2
Game 2: Lost 3-1
Game 3: Won 6-1
If it wasn't enough for Leafs fans to see Boston placed above their team, seeing the No. 7 seed Senators placed two slots ahead of them is going to drive them nuts.
Ottawa has earned respect in these playoffs…well, respect is a strong word for a team that calls a timeout in the final seconds of a blowout. Still, the Senators have shown they can beat Montreal and may even be a threat to their second-round opponent.
The Senators no longer are that fancy-schmancy, puck-dangling, twine-tapping team that could skate circles around their opponents and rack up video-game scores. This team is willing to battle in the tough areas and answers the bell physically.
It's crazy to say this, but this version of the Senators is actually kind of intimidating, and that's downright scary come playoff time.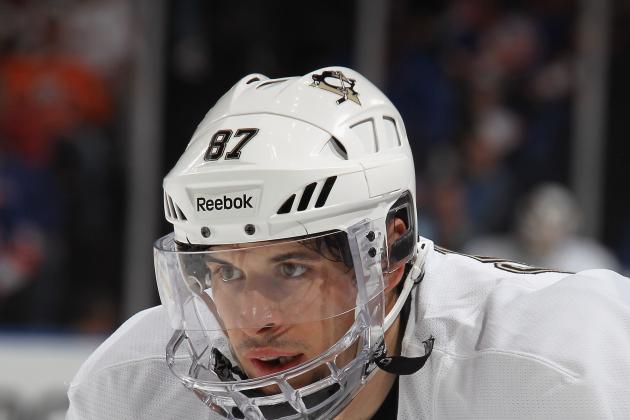 Bruce Bennett/Getty Images

Game 1: Won 5-0
Game 2: Lost 4-3
Game 3: Won 5-4 OT
Pittsburgh should be either No. 1 or No. 2 on this list right now (depending on what you think of the Blackhawks), but instead, the Pens have given hope to a very young Islanders team.
There are familiar names from the 2009 Stanley Cup team—Sidney Crosby, Evgeni Malkin, Kris Letang, etc.—and there is no reason that Pittsburgh shouldn't have swept the Islanders in Round 1 (or at least still win in five).
Instead, they crush them 5-0, get Crosby back and…lose? Then give up a lead to the Islanders and have to win on overtime?
Pittsburgh cannot take the Islanders for granted and right now they are.
It's playoff hockey—anything can happen. And even a team like the Penguins can be toppled in Round 1.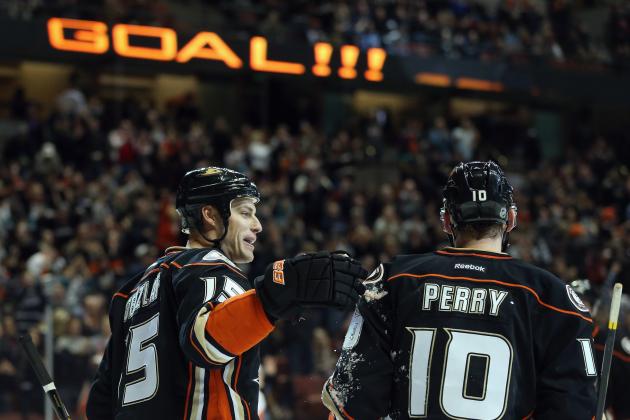 Jeff Gross/Getty Images

Game 1: Won 3-1
Game 2: Lost 5-4 OT
Game 3: Won 4-0
The Ducks have done exactly what they needed to do: assert their dominance.
Yes, I realize they lost the second game in overtime, but the Ducks have to be pleased with their scoring punch.
Detroit probably has one more good game left in it, but Anaheim is in good shape. Remember, the Ducks still have players from the 2007 championship team who know how to close out an opponent.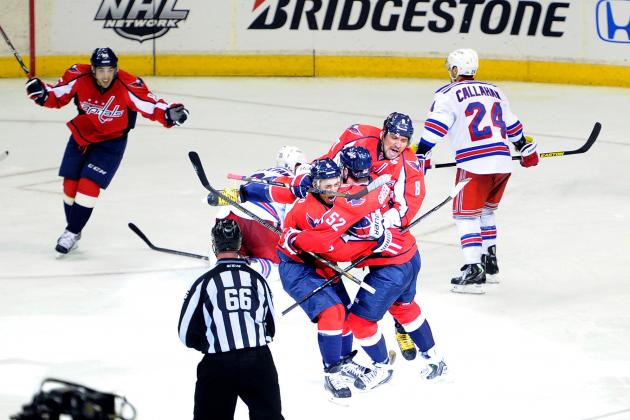 Greg Fiume/Getty Images

Game 1: Won 3-1
Game 2: Won 1-0 OT
The Capitals went from a "get in by default" team to a bona fide contender in the latter part of the season. And, consequently, the Rangers went from "Yeah! We drew the No. 3 seed"—which looked like a harmless Southeast team—to a legit Capitals team.
Alex Ovechkin is doing his thing. Mike Green is doing his thing. Nicklas "Don't call me Niklas" Backstrom is doing his thing.
Braden Holtby is outplaying Henrik Lundqvist. A team from the Southeast is beating a team from the mighty Atlantic Division. John Tortorella admitted to the media that he never liked Marian Gaborik.
OK, the last thing didn't happen, but some crazy (stuff) is going down in this series and Washington is all the better for it.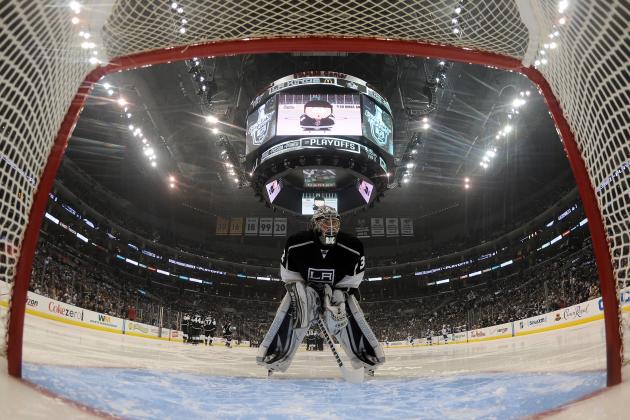 Harry How/Getty Images

Game 1: Lost 2-1 OT
Game 2: Lost 2-1
Game 3: Won 1-0
Yes, the Kings are down in this series, but it's really, really, really close. Like thisclose.
This is a classic battle between a star-studded Hollywood team (Anze Kopitar, Drew Doughty, Jonathan Quick) versus a squad of lesser-known players that just play great team hockey. I know it's a simplistic way of putting things, but its true.
On paper, this Kings team should sweep away the Blues just like they did last year. They have more offensive talent, a name-brand goaltender and suffocating defensive players—all with championship rings on their fingers. But St. Louis has matched their play on the ice.
This series will likely go seven games.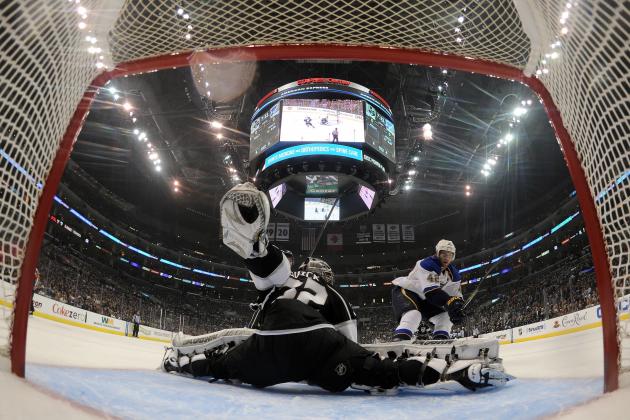 Harry How/Getty Images

Game 1: Won 2-1 OT
Game 2: Won 2-1
Game 3: Lost 1-0
OK, maybe it's not 100 percent true to say that St. Louis doesn't have stars. David Backes is pretty good. So is T.J. Oshie. And last I checked, Brian Elliott isn't all that bad, either.
It's just that the Kings have name-brand, homegrown players like Kopitar, Doughty and Quick. And Mike Richards and Jeff Carter from the Flyers. And Justin Williams. And Jarret Stoll. And…you get the picture.
In the end, I see St. Louis winning this series for two reasons:
They are less reliant on superstars.
Yes, everyone needs their most talented players to step up in the postseason, but this is probably the best "team"—as in how they play the game, not how much talent they have—in the league right now.
2. They have Game 7 in Missouri.
In a series that is going to come down to who can get an edge here and there, having the final game at home is a huge, huge deal.
Hannah Foslien/Getty Images

Game 1: Won 2-1 OT
Game 2: Won 5-2
Game 3: Lost 3-2 OT
Chicago is going six, or maybe seven in this matchup.
The Wild are a talented team, even with their recent injuries, and are capable of giving the mighty Blackhawks a run for their money. Minnesota almost stole Game 1 and did, in fact, rob the Hawks in Game 3.
Those are not the only two games that are going into overtime.
That 5-2 win suggests that Chicago has the more talented team, but we all knew that. What people were wondering was whether Minnesota could play some gritty, low-scoring games.
So far, they've made things interesting. The biggest difference between the two teams is that the Blackhawks' best players have already won championships and their depth players are a little older.
The Wild's youth and lack of Stanley Cup playoff experience is going to continue to show as the series goes on, and Chicago's past experience will help them when things get tight—as they most definitely will.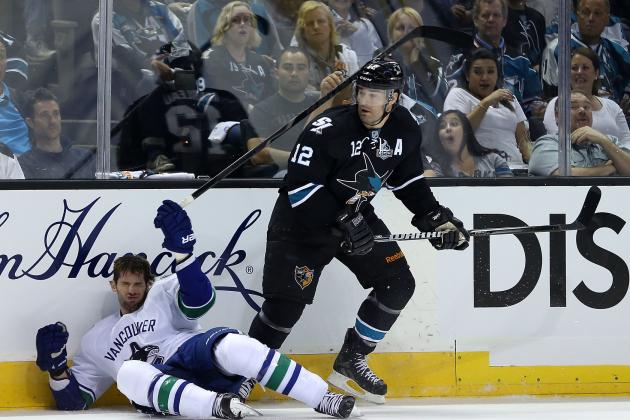 Christian Petersen/Getty Images

Game 1: Won 3-1
Game 2: Won 3-2 OT
Game 3: Won 5-2
The Sharks claimed the top spot simply by beating up on a Canucks team that not only is in win-now mode but also eliminated them from the playoffs two years ago.
The simplest way to look at this is that Patrick Marleau and Joe Thornton (i.e., "San Jose's old dudes") have outplayed Henrik and Daniel Sedin ("Vancouver's old dudes") and Logan Couture (i.e., "San Jose's future") has outplayed Ryan Kesler ("Vancouver's future").
Joe Pavelski decided to get in on this action, even though he doesn't fit neatly into any of those categories, but hey, San Jose's all the better because of it.
Revenge is sweet, baby! If you're from the Bay, that is.
Tom Schreier covers the NHL for Bleacher Report and writes for TheFanManifesto.com. Visit his Kinja blog to see his previous work.