Ranking the 10 Best Locker Room Guys in the NHL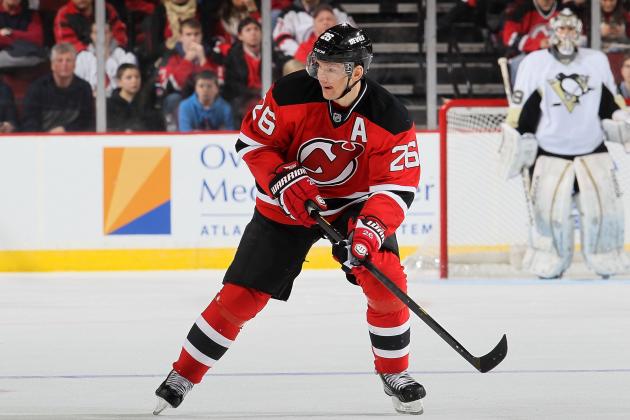 Jim McIsaac/Getty Images
Patrik Elias has spent his entire career with the New Jersey Devils.
Leadership is very important in professional sports, and especially in the NHL. Teemu Selanne, for example, is a respected veteran locker room leader. Captains are often looked at as the team's leader on the ice, but having good locker room guys is very important, and it was evident with the Chicago Blackhawks.
Not every captain in the NHL is vocal, so having some veterans in the locker room can be important for team chemistry.
These players are veterans, team leaders or they lead by example with their work ethic and are just great in the locker room. Here are the 10 best locker room guys in the NHL and what makes them great.
To be fair, this list will give other players a chance, so those who wear the "C" will be excluded.
Begin Slideshow

»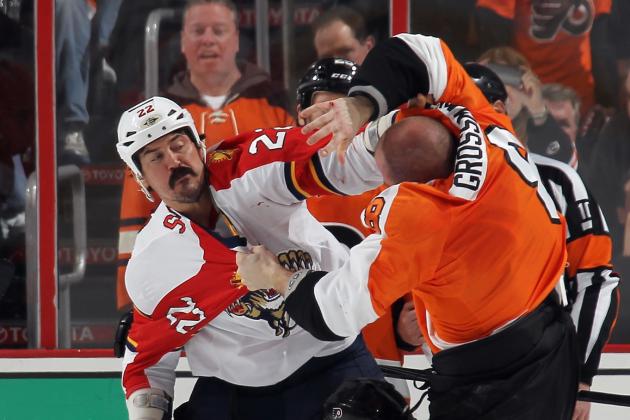 Bruce Bennett/Getty Images
George Parros never shies away from dropping the gloves.
George Parros is considered an enforcer for the Florida Panthers, but he's more than just that. Parros is an educated individual who graduated from Princeton, and he was a member of the NHLPA delegation during the lockout. According to the Miami Herald, Parros is also a veteran voice in a young locker room that is having a rough year.
When you consider that Parros has his NHLPA brothers' best interests in mind and that he'll go above and beyond to stick up for his teammates, he is a great player to have in the dressing room.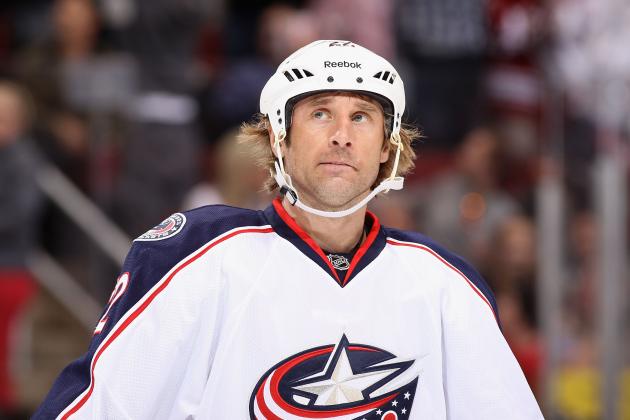 Christian Petersen/Getty Images
Prospal is a journeyman who is known for his leadership.
Vinny Prospal has been an NHL journeyman throughout his career. During his time in New York with the Rangers, Prospal was described by coach John Tortorella in an interview with the NY Daily News as "a player that adds enthusiasm to the locker room, he's an important guy for us."
Prospal is currently with the Columbus Blue Jackets. His experience and attitude is important in a locker room that includes many young players.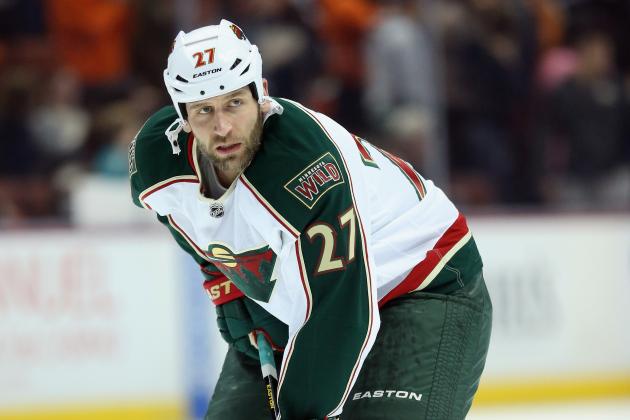 Jeff Gross/Getty Images
Rupp joined the Wild after a trade earlier this season.
Mike Rupp is a veteran forward with the Minnesota Wild who brings a ton of experience.
He won a Stanley Cup with the New Jersey Devils in 2003, and he also skated for the Pittsburgh Penguins and New York Rangers. During his time with the Rangers, Rupp was a respected and important voice in the locker room, and that was evident during HBO's 24/7 series.
According to the Star Tribune, the Wild traded for Rupp because of his leadership ability, his toughness and his energy. The move has worked out pretty well for them this season.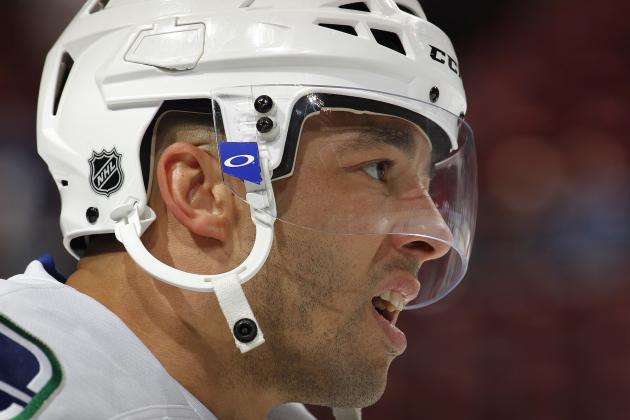 Joel Auerbach/Getty Images
Malhotra is known for his defensive abilities.
Manny Malholtra is a veteran defensive-center who is currently sidelined because of vision problems, but he is an important part of the team in the locker room. When Malholtra returned to the lineup during the 2011 Stanley Cup Final, it was a huge lift for the Vancouver Canucks because of what he meant to the team.
Malholtra's experience and ability to play in multiple situations made him a versatile player for the Canucks. His extended injury has really impacted the lineup, especially in the faceoff department.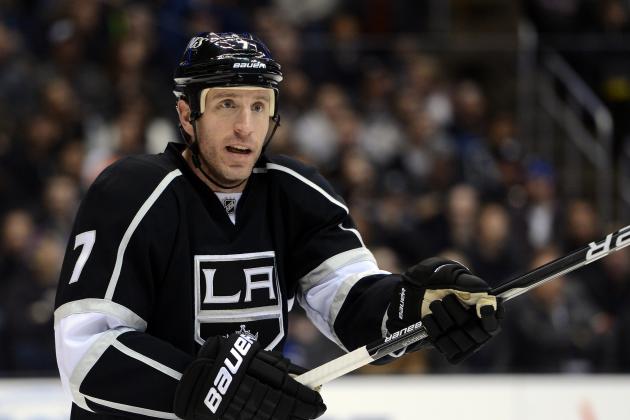 Harry How/Getty Images
Scuderi is a two-time Stanley Cup champion.
Rob Scuderi is a veteran blueliner for the Los Angeles Kings and has been an important cog on two Stanley Cup teams. "Scuds" has always been a leader, and he has taken that role this year. A profile on Scuderi for LA Kings Insider featured why and how he is a leader. Scuderi said,
I've been playing the same ugly but effective game since I was 18. If you pulled up college video of me, you'd be seeing me doing the same exact thing. Although I know I'm the oldest guy here, it's not something I think about or dwell on. I just try to enjoy myself and play the game hard and try to be a good leader for everyone else.
His teammates have noticed and recognized that he has been a leader for the team, and that is going to be beneficial for the Kings going forward.
Ronald Martinez/Getty Images
Ray Whitney has had an impressive NHL career.
Ray Whitney is one of the NHL's most respected veterans. He has a track record of success. He is a Stanley Cup champion, he has had a successful offensive career and he has been a great teammate. Whitney joined the Dallas Stars in free agency, and early on it was evident that he was a great locker room guy.
Stars beat writer Mike Heika noticed that early on in the year and had this to say about Whitney.
Ray Whitney has already made a huge impression on the Stars' locker room.

He's an intense presence, and he holds a high bar for himself and his teammate, and that should make him an important player over a 48-game season. Despite being 40, he could be one of the most physically fit players on the Stars.
Whitney is also great at mentoring young players.
When you look at his credentials, it isn't hard to see why Whitney is respected and is considered a valuable voice in the Stars' locker room.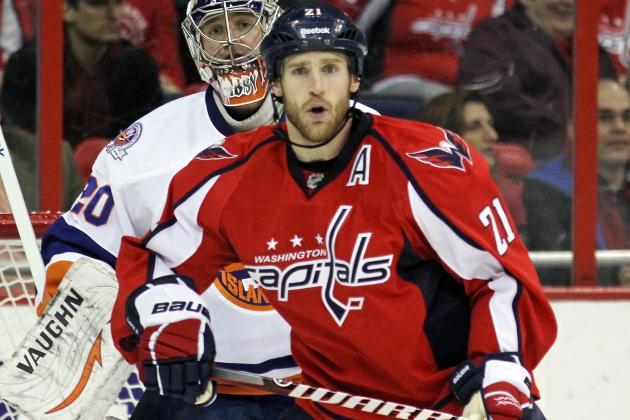 Bruce Bennett/Getty Images
Laich is a rugged forward who represents his team well on the ice and in the dressing room.
Brooks Laich is a great locker room guy for the Washington Capitals. He's one of the team's alternate captains. Laich plays in all situations for the Capitals, and he has earned respect from his teammates in the locker room for putting his body on the line every night.
Laich's return to the lineup this year was expected to provide a huge spark for the Capitals according to the Washington Times. His return has added depth to the lineup.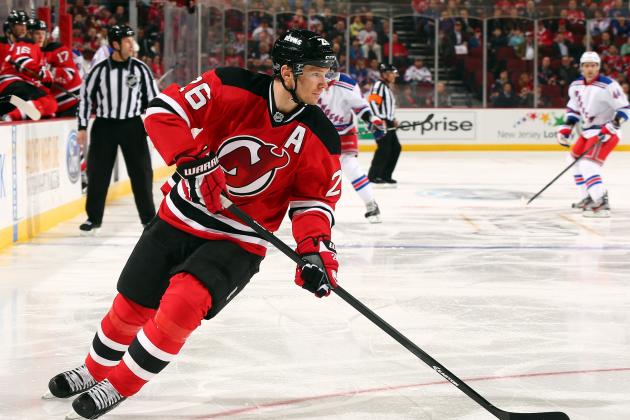 Elsa/Getty Images
Elias holds many New Jersey Devils team records.
Patrik Elias has spent his entire career with the New Jersey Devils, and he's a very vocal player in the locker room.
Even though he isn't the team captain, he addresses the media on behalf of the team. His voice is well respected by his peers because of what he has accomplished for the franchise.
Elias has consistently produced throughout his career and pulls his weight. Despite the Devils' massive losing streak, Elias has kept a calm demeanor and said all the right things like a true locker room leader.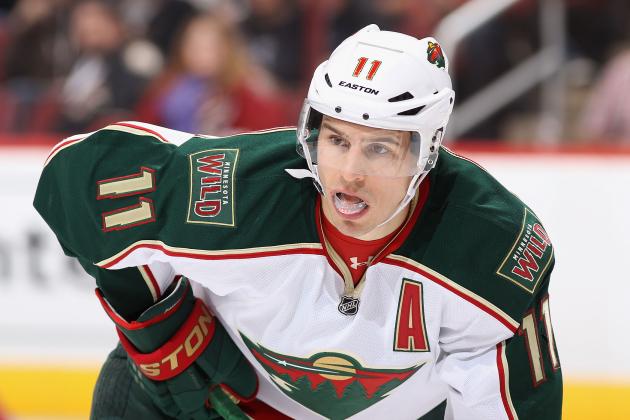 Christian Petersen/Getty Images
Parise was a sought-after UFA this past summer.
Zach Parise has led by example his entire career. There was a reason why he was a leader for Team USA during the 2010 Olympics. He was known for his work ethic and his demeanor in the locker room when he was with the New Jersey Devils (according to NJ.com), and he has kept it up with the Minnesota Wild
When Parise signed with the Wild, head coach Mike Yeo looked to him to be a locker room leader. For most of the season he has been one. The Wild are currently in the middle of making a playoff push, and Parise has been a big part of that.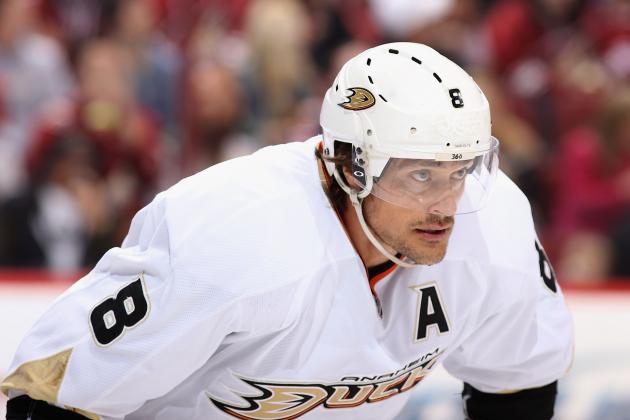 Christian Petersen/Getty Images
Selanne is an all-time great scoring forward and future Hall of Famer.
The 42-year-old Teemu Selanne has had an amazing NHL career, and he is one of the league's most respected players. Selanne has spent the majority of his career with the Anaheim Ducks, and he has been a leader on and off the ice.
Part of what makes Selanne a great locker room guy is the fact that he gives a consistent effort every night, even though he is skating against players almost half his age.
When Selanne leaves the NHL, it will be a sad day.