Ranking the NHL's 10 Fastest Skaters in the Last Decade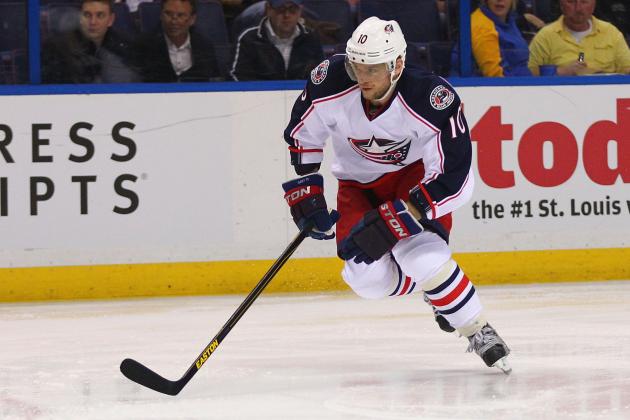 Dilip Vishwanat/Getty Images

When the NHL returned from the lockout in 2005, it wanted to do a better job of showcasing speedy, talented players. The obstruction rules were added and enforced, and suddenly, quickness was the key to victory for many teams around the league.
There have always been remarkably fleet-footed players in the NHL, however, and some of the fastest guys to ever play the game have played over the last decade.
From Pavel Bure's ridiculous acceleration to Phil Kessel's untouchable north-south quickness, there's no shortage of speed killing defenses around the NHL.
Winning the fastest skater competition is all well and good, but the focus of this list will be on game-speed and abilities. Anyone can fly around a rink, doing laps at top speeds. But only the best players in the world are capable of performing at the highest level while skating quickly.
The difference between the 10th guy on this list and the first guy on this list is incredibly small and, as always, it's totally subjective. Think a player was left off the list? Feel free to make your case down in the comments section.
Begin Slideshow

»
Scott Niedermayer may spend his days as an assistant coach for the Anaheim Ducks, but for 18 years he possessed the most fluid and effortless skating stride in the NHL.
Watching him skate during warm-ups was typically worth the cost of a ticket alone, but he wasn't a guy that was fast but couldn't make things happen at top speed. His passes were always crisp, and Niedermayer always knew when to jump up on a play.
He will most likely be inducted into the Hockey Hall of Fame at some juncture thanks, in no small part, to his smooth stride and speed. Niedermayer won the NHL's fastest skater competition twice during his career and was one of the best skaters in the league until he retired after the 2009-10 season.
Few players in the NHL are faster than Marian Gaborik when it comes to outright north-south speed. He seems to utilize his skating on nearly every play that he makes, pushing defenders back with his wheels and creating gaps with his agility.
Few defensemen in the league are going to be able to catch Gabby if he gets a step on them, and his main weapon is his supersonic skating.
He's won the NHL's fastest skater competition once and is always able to use his quickness in games to score piles of goals.
He may not have any fastest skater competition wins under his belt yet, but Phil Kessel is undoubtedly one of the most gifted skaters that the NHL has seen in quite some time. Like Marian Gaborik, Kessel excels with his north-south skating and has some outstanding edges to boot.
Once he gets going through the neutral zone, he can be hard to stop, as he has a roadrunner-type mentality on most plays. Paired with a lethal wrist shot, few players in the NHL are as dangerous on the rush as Kessel.
Not many players in the NHL have the top gear that Patrick Marleau does. He's deceptively quick and turns defenders around in a hurry. A classic "if he's even, he's leavin'" skater, the longtime San Jose Shark has outstanding acceleration and blazing speed.
He's never won an NHL fastest skater award, but that doesn't take away from the overall body of work Marleau has pieced together over his impressive 14-year career in San Jose.
Marleau is the Sharks' all-time leader in just about every major offensive category, in part because of his agility with the puck and ability to pull away from defenders.
The fastest skater in 2011, Michael Grabner may not garner the same amount of press as some of the other guys on this list, but that doesn't make him any less speedy.
The 25-year-old New York Islander has been mildly inconsistent with his play since entering the league in 2009-10, but when he's putting up points, it's usually because he's using his hasty skating to create chances.
The current reigning and undisputed fasted man in the NHL, Carl Hagelin broke Mike Gartner's 16-year-old record by a hair to become the quickest skater to have ever taken laps at an NHL All-Star competition.
While that's all gravy, some of the swiftest skaters over the last decade haven't competed in this contest, as it's usually an event left to youngsters and new players. That doesn't change the fact that Hagelin is bat-out-of-hell fast, and if he figures out how to use his speed on a more consistent basis at the NHL level, he could climb a spot or two higher on this list.
If the Hockey gods have any good will at all, they will return Erik Karlsson to hockey fans fully healed and with the same speed he had prior to his season-ending injury on February 13. His recovery is going well according to all reports—great news for NHL fans and those who cheer for the Ottawa Senators (per the National Post).
Karlsson's skating and offensive abilities remind onlookers of Paul Coffey and Scott Niedermayer—and with good reason.
The smallish defender has wings for skates, and his acceleration is among the best in the business. He's learned to use his wheels on both sides of the puck, which directly led to winning the Norris Trophy as the league's best defenseman last season.
The pull-away speed that Steven Stamkos possesses is nearly indefensible. While he may score a majority of his goals with his nasty one-timer, Stammer is also one of the fastest players in recent memory and was drafted first overall because of his wheels in particular.
Whether he's breaking between a pair of defenders or chasing down a loose puck, few players in the NHL can match Stamkos and his wicked skating abilities.
On top of his natural talents, he's also one of the hardest-working guys around and should continue to increase his speed and agility as he gets older. It's scary to think that Stamkos is only 23.
There's a small group of players who have played in the NHL that are untouchable because of their speed. The only way defenders could hope to play on the same ice as Pavel Bure was by hooking and holding and tripping and doing whatever they could to prevent him from getting into gear.
Once he got going—and he accelerated in a hurry—he was usually into open space alone with the puck on his stick. A fearless skater and player, Bure played in an era that didn't necessarily reward the most talented players at all times.
If he played in the NHL today, there's little question that he'd be among the top goal scorers on a yearly basis.
Sergei Fedorov will be remembered for a lot of things. One could argue that he's the best two-way player to have ever laced up skates in the NHL, and his name belongs in the same sentence as some of the greatest players ever.
More than anything, though, Fedorov will be remembered for his beautiful skating stride and ridiculous gait and swiftness.
Whether he was on offense or defense, he was capable of doing just about anything a man can do on ice skates.
It's a close call between Fedorov and Bure, but the nod goes to the former.