Should the Washington Capitals Be Buyers or Sellers at the NHL Trade Deadline?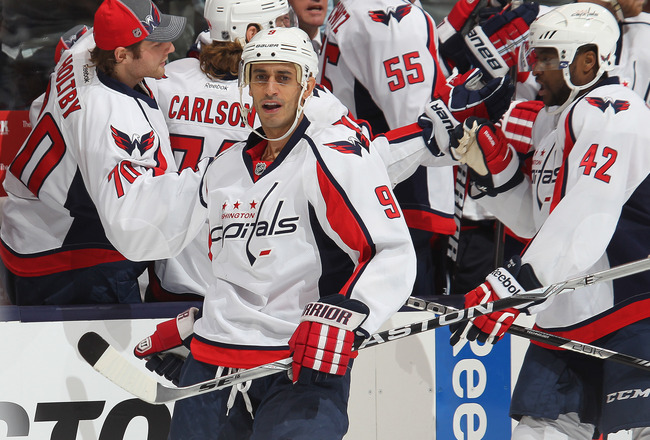 Claus Andersen/Getty Images
Heading into the NHL trade deadline, the Washington Capitals are at a crossroads.
Should George McPhee be burning the midnight oil in search of a complementary piece that would help the Caps continue their climb back into the postseason picture, or is he better off dealing the team's most marketable assets for returns that will pay dividends in the future?
It's a complicated matter to say the least, and it's only become more complex since Washington rallied to go 6-3-1 in its last 10, but time is running out on McPhee to make a decision.
With the Caps just one point outside of a playoff berth heading into Monday night's games, McPhee has to make a judgment call: Does he believe this team is talented enough as is to make a meaningful postseason run, or is it yet another Capitals team that will be hitting the golf course by the time the Eastern Conference Finals stars?
Here's a full breakdown of what McPhee's thought process should be like going into Wednesday.
Sell: Michal Neuvirth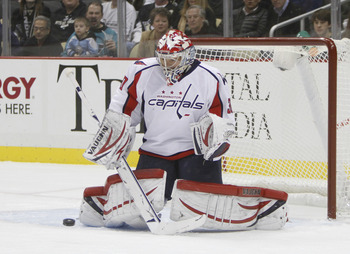 Justin K. Aller/Getty Images
Heading into the season, one had to figure that Michal Neuvirth was going to be the Capitals' insurance plan in net, because after Braden Holtby stole the show during the postseason against the Bruins in 2012, the starting job was his to lose.
Now that Adam Oates has clearly thrown his support behind Holtby, Neuvirth is the odd man out, and at 25, the Czech stopper is certainly growing tired of being relegated to wearing a baseball cap on the bench.
But all might not be lost for Neuvirth, who will be in need of a new contract on July 1st.
He's still a promising young goalie, one who already has a playoff series win to his credit, and that will be enough for another team to take a flier on him.
If McPhee gets an offer for Neuvirth that's any better than a fourth-rounder, he should do what's best for both the team and player and enable him to get a shot somewhere else.
Buy: Mike Ribeiro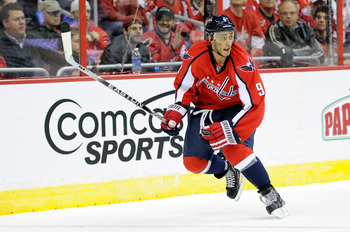 Greg Fiume/Getty Images
This is a tough one.
Until roughly 10 games ago, Mike Ribeiro had been the Capitals' most consistent player, and though he's cooled off slightly as of late, the silky pivot is still the team's leading scorer and most dangerous catalyst on the power play.
But with his contract up in July, the Caps have a pressing decision to make with regards to Ribeiro's future.
He's coming off a five-year, $25 million contract, but at 33, how long is too long for the former All-Star?
Well, at least according to the star center, anything less than three seasons is too short (via The Washington Post).
Earlier this week Mike Ribeiro told local reporters he is in search of a long-term contract that will provide stability for himself and his family, preferably a four- or five-year deal.

So it wasn't all that surprising when RDS's Renaud Lavoie reported Wednesday night that the veteran center had turned down Washington's first offer of a three-year, $14 million contract. Ribeiro said previously that he considers a three-year deal short term.
Ribeiro is a dynamic playmaker, and though he'll cost the Caps a pretty penny for the next four (or five) seasons, he's worth it.
Washington has searched high and low for a legitimate No. 2 center, and now that they've got one, there's no point in letting him go.
He's earned this contract, so McPhee should give it to him, unless it's going to cost him more than $4.5 million a season.
Sell: Wojtek Wolski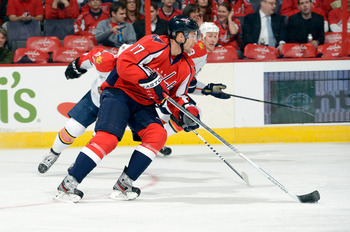 Greg Fiume/Getty Images
It's too bad that the Wojtek Wolski hasn't worked out in Washington, because he has put forth effort during his brief stint with the Capitals.
Unfortunately, Wolski simply isn't dynamic enough offensively, nor is he gritty enough defensively to merit a spot in the lineup on a consistent basis.
Yes, Wolski has been a serviceable complementary player for the Caps when needed, but eight points in 25 games is not enough for a relatively one-dimensional player.
He's still capable of being a cost-effective top-nine forward, and for a team in need of some offense in the short term, Wolski's worth a look.
But since Brooks Laich returned to the lineup, there's no room for Wolski, so unless McPhee would prefer to have him hanging out in the press box, shipping him out for a mid-level pick would be his best course of action.
Buy: Veteran Defenseman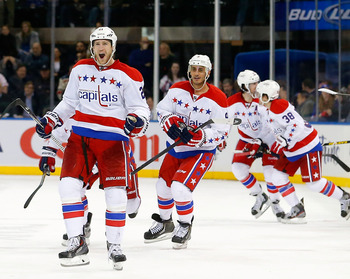 Paul Bereswill/Getty Images
This has been an ongoing theme for the Caps in recent years: Washington's got a talented defense corps, but at least for the time being, there's not enough toughness on the back end.
Yes, Steve Oleksy's emergence has been encouraging, but if he's the team's toughest customer, how much sandpaper do the Capitals really have?
It's true that for McPhee to deal a pick or a prospect in order to get a rental of a veteran rearguard, he's got to be relatively certain that the Caps are headed for the postseason.
But if the team's recent performances are any indication, Washington will still be playing hockey in May.
Keep Reading

Washington Capitals: Like this team?