7 NHL Games You Can't Miss for Week Starting March 17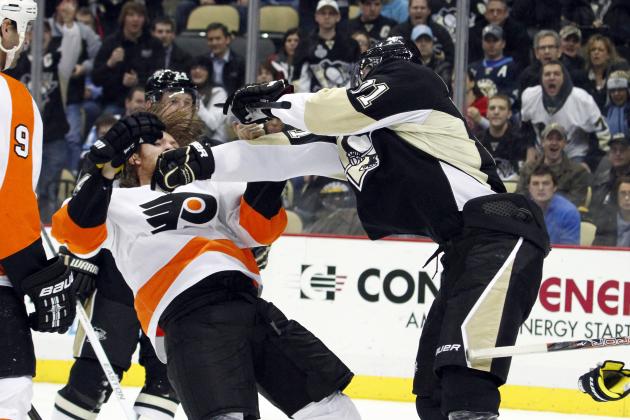 Justin K. Aller/Getty Images

No matter where you are from, you should be able to find an intriguing matchup this week.
Vancouver and Los Angeles will play each other in a contest that is becoming a bona fide rivalry game. The new realignment will put these two Pacific coast teams in the same division next year.
If you're a Midwesterner, Minnesota and Detroit face off to determine which hockey-crazed state is the most dominant force in the Midwest.
And, if you live out east you can't miss the Flyers-Penguins matchup on Sunday. Those two teams can't stand one another.
Even hockey fans in the South can see how the Hurricanes fare against the Devils, an East Coast foe.
Regardless of whether you live in the Midwest, South or either coast, it's a great week to be a hockey fan.
Begin Slideshow

»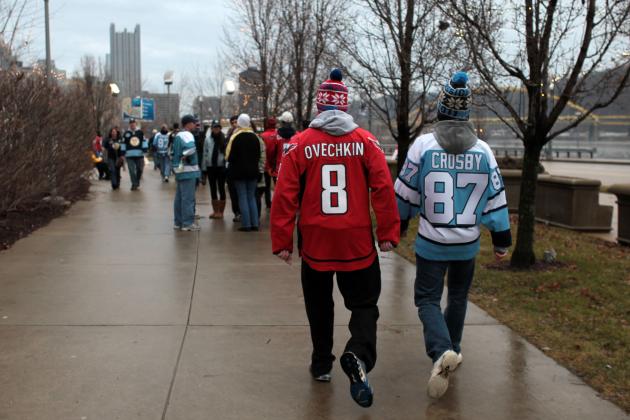 Jamie Squire/Getty Images

Time: 7:30 pm Eastern
TV: NBC Sports Network
Alex Ovechkin vs. Sidney Crosby used to be an outstanding matchup. Unfortunately, this game might remind us just how far Ovie has fallen and how well Sid the Kid is playing right now.
Prediction: Capitals 1, Penguins 4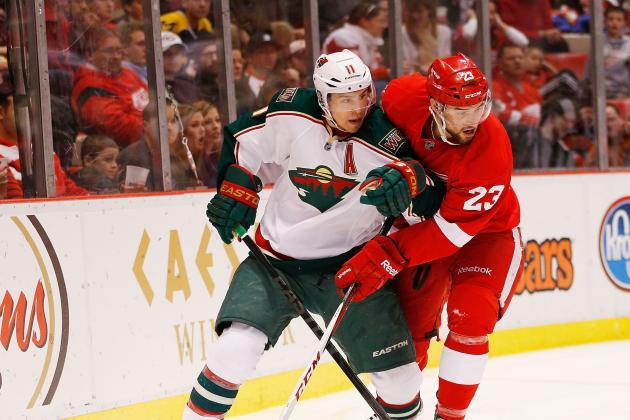 Gregory Shamus/Getty Images

Time: 7:30 pm Eastern
TV: NBC Sports Network
It's the State of Hockey vs. Hockeytown: Minnesota and Michigan are two cities that love their hockey and produce a lot of hockey players.
Can the Elderly Men of the Winged Wheel hold off the upstart Wild or will Minnesota assert itself as the premier "hockey state" in the Midwest?
It's always hard to win in Motown, but Minnesota looks tough to beat right now.
Prediction: Minnesota 3, Detroit 2 (OT)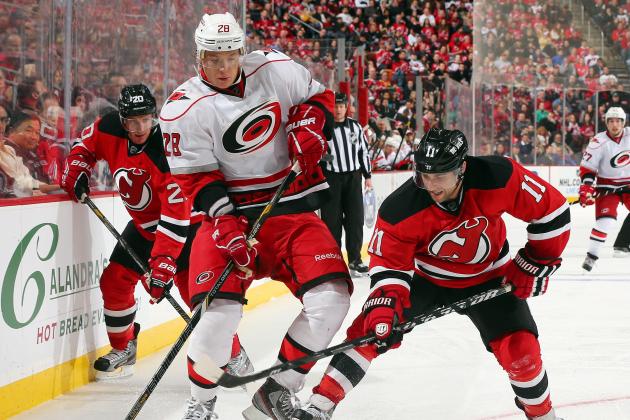 Elsa/Getty Images

Time: 7:00 pm Eastern
TV: NHL Network
In the only game Carolina will get on national television this week, the Hurricanes will take on a Devils squad that has struggled recently.
Have the Devils turned things around? Can the Hurricanes, a Southeast Division team, beat an East Coast club? Is this a potential No. 3/No. 6 matchup in the Stanley Cup Playoffs?
Carolina is not great at home, but New Jersey has run into trouble away from the Prudential Center.
Prediction: Carolina 3, New Jersey 2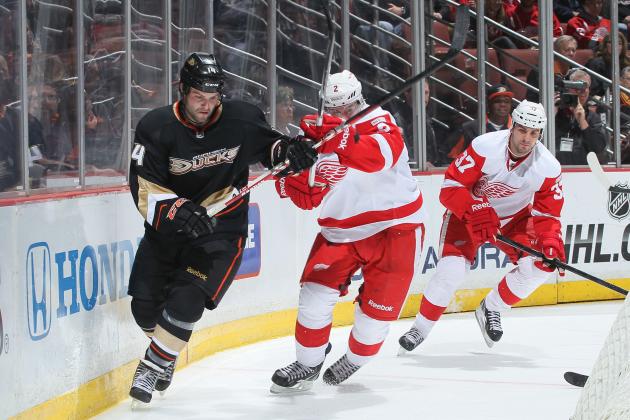 Victor Decolongon/Getty Images

Time: 7:00 pm Pacific
TV: NHL Network
A matchup pitting one team on the rise and another established powerhouse, this game will probably tell us more about Detroit than it will Anaheim. The Red Wings will make the playoffs (they always do), but if they want to make a run, they probably have to go through Anaheim.
The Ducks are virtually unbeatable at home, and the Wings struggle on the road. I see Anaheim taking this game in the OC.
Prediction: Detroit 1, Anaheim 4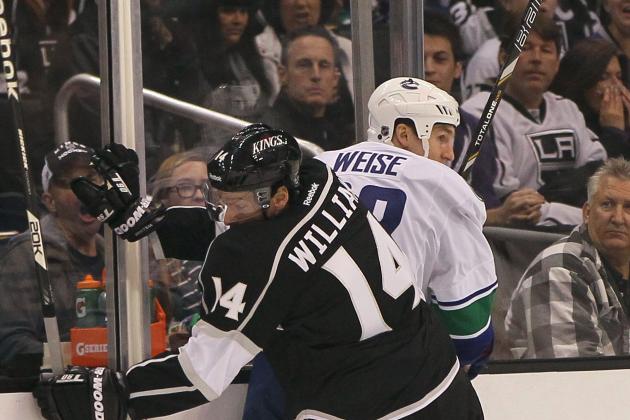 Victor Decolongon/Getty Images

Time: 1:00 pm Pacific
TV: NHL Network
With the new realignment that will put the Canucks and Kings in the same division (finally!), this could become a big-time rivalry.
These two teams have both had their fair share of success in this league and are no strangers in the playoffs.
This is a can't-miss matinee for hockey fans.
Prediction: Vancouver 2, Los Angeles 3 (OT)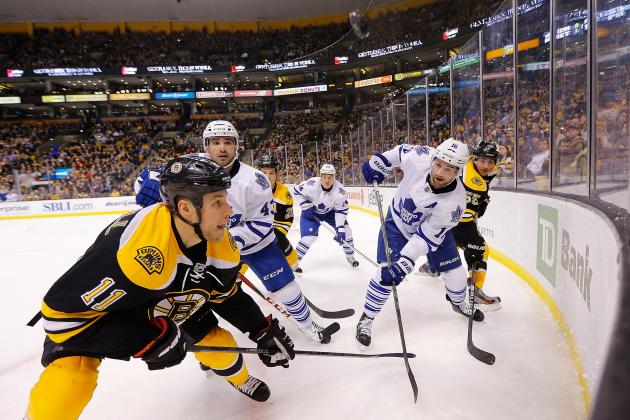 Jared Wickerham/Getty Images

Time: 7:00 pm Eastern
TV: NHL Network
Along with the Montreal Canadiens and Pittsburgh Penguins, the Bruins are the cream of the crop in the Eastern Conference. Toronto appears to have turned a corner and is in position to make the playoffs this year.
In a battle of two O6 teams, the Leafs, a team that has struggled at home, will have to prove that they can compete against the elite in the East.
Prediction: Boston 3, Toronto 2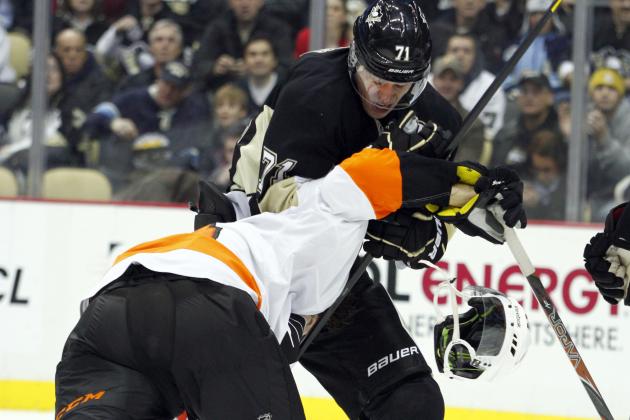 Justin K. Aller/Getty Images

Time: 7:00 pm Eastern
TV: NBC Sports Network
This game is always fun to watch, no matter how either Pennsylvania team is doing. The Flyers and Penguins absolutely don't like each other, and this is a meaningful game even if Philadelphia is not doing so well this year.
Prediction: Philadelphia 0, Pittsburgh 4
Tom Schreier writes a weekly column for TheFanManifesto.com and contributes to Hockey's Future and Stadium Journey.