NHL Trade Speculation: An Early Look at Names That Will Be in Play at Deadline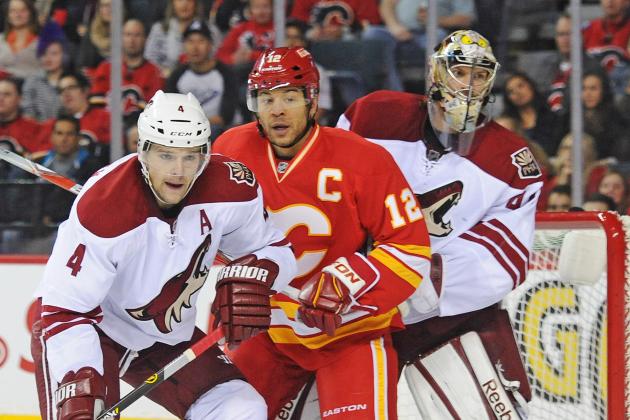 Derek Leung/Getty Images

The NHL trade deadline.
A day in the NHL that creates more buzz over less results than the trade deadline before it.
This year could be different.
But due to the shortened schedule where everyone can make the playoffs, fans might find themselves again disappointed.
But don't fear, speculation still remains.
Here are eight players who could find themselves in play by the April 3 trade deadline this season.
Begin Slideshow

»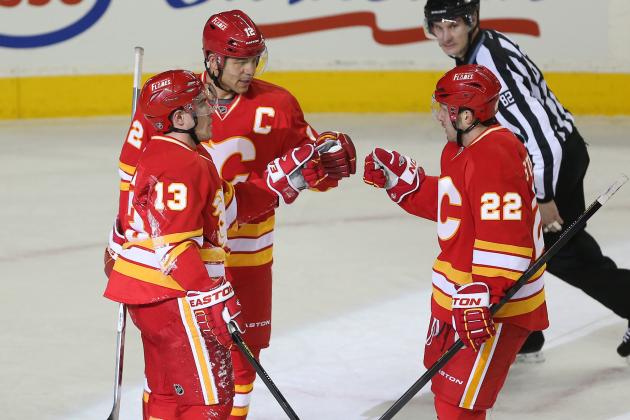 Tom Szczerbowski/Getty Images

There's a big elephant in the room in Calgary.
That elephant is the future of Jarome Iginla with the Calgary Flames.
NHL.com's Adam Kimelman quoted Iginla's agent as saying that Iginla and the Flames are "not currently in negotiations" in regards to a new contract, but obviously there is no rush going forward if Iginla is intent on staying in Calgary.
Iginla does hold the keys in this situation as, per CapGeek.com, he has a no-movement clause in his contract that the 35-year-old would have to waive in order to complete a possible trade.
Will the Flames finally ask Iginla to waive his no-movement clause?
Will Iginla ask for a trade?
A lot depends on the Flames' ability to get out of the basement of the Western Conference standings and make a push to qualify for the playoffs this season.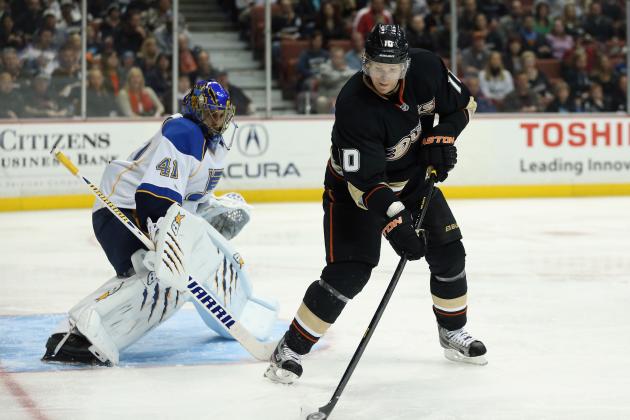 Jeff Gross/Getty Images

Corey Perry and Ryan Getzlaf signed matching contracts before the 2008-09 season.
These contracts were five years at a $5.325 million cap hit.
Recently, Getzlaf was locked up for the long term, with an eight-year, $66 million contract.
Including this season, Perry has put up 330 points since his contract started, while Getzlaf has 324 points since his last contract.
While the Ducks could lock up Perry for the same contract, this would give the Ducks only about $10 million in cap space to work with.
This sounds like a lot of money until one realizes that the Ducks also have to re-sign (or replace) players like Kyle Palmieri, Teemu Selanne, Saku Koivu, Toni Lydman, Ben Lovejoy and others.
Not all of these players will be re-signed, and a few may retire.
The bottom line for the Ducks is in fact the bottom line.
Will they have enough cap space?
Furthermore, with the Ducks dominating the Western Conference with a 19-3-3 record (just four points back of the Chicago Blackhawks with a game in hand), do the Ducks risk tampering with the lineup for the sake of getting something back for Perry instead of letting him walk for nothing during free agency if they cannot re-sign him?
Decisions, decisions.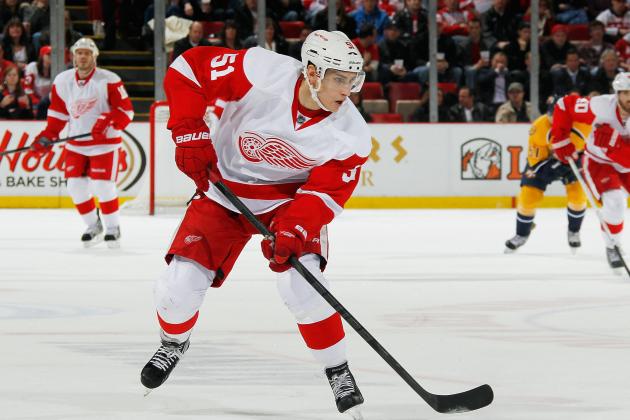 Gregory Shamus/Getty Images

A great second-line winger or center when healthy, Filppula finds himself in a contract year.
Filppula's current cap hit is $3 million, but he will likely want a sizable raise after his 66-point season last year.
Will that season be a one-off for Filppula in an otherwise average career?
He has yet to prove otherwise, as he has been injured this season.
Filppula could go at the trade deadline if the Red Wings could get a second-line player (or top-four defenseman) to replace him, as they have been holding down a playoff spot in his absence.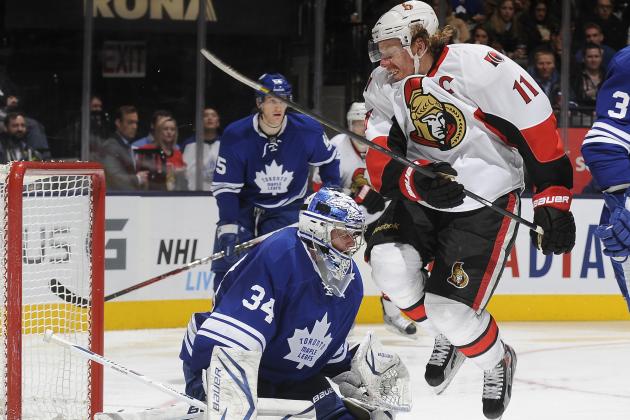 Abelimages/Getty Images

Daniel Alfredsson has played his entire career with the Ottawa Senators.
Alfredsson is in the final year of his contract with the Senators, and his contract does not have a no-trade clause.
The team seems to be getting younger around Alfredsson and he has never won a Cup with the team.
He has just 13 points this season, but he is still capable of contributing on the first or second line with a contender.
While the Senators have shown that they are still able to win without Jason Spezza and Erik Karlsson, who last season led the team with 84 and 78 points respectively, the Senators could likely still get a quality player (or maybe a prospect) back for Alfredsson.
The better the Senators play, however, the less likely that Alfredsson will be traded.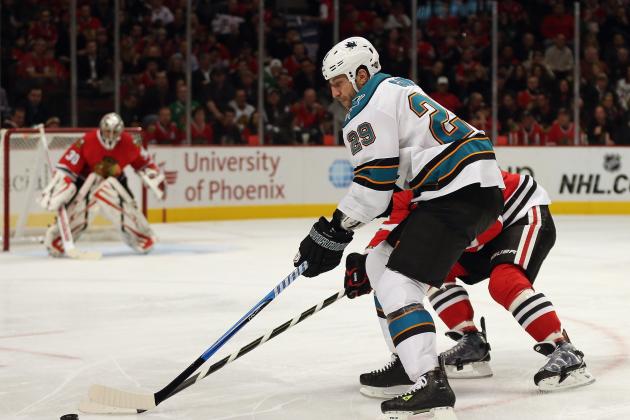 Jonathan Daniel/Getty Images

With only eight points (all assists) in 23 games, a general manager wouldn't make a trade offer for Ryane Clowe based on his offense.
But Clowe is one tough player to play against.
Clowe's Newfoundland heritage means that he grew up playing a gritty game.
He will not back down from anyone in a fight, but needs to pick his spots to jump in better as he already has two game misconducts this season.
When Clowe is at his best, he is a solid net-front, goalie-bothering presence that any team would love to have in their lineup.
As a pending unrestricted free agent, the first question for the Sharks is what they could get in return for him?
The second, and perhaps more important question is whether the Sharks want to trade Clowe at all.
He would be a good fit on most playoff-bound teams, but at this point any team can still be "playoff bound."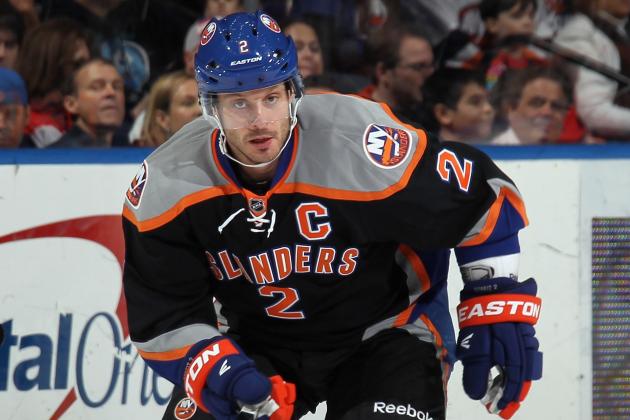 Bruce Bennett/Getty Images

Mark Streit was not drafted until he was 26, but that hasn't stopped him from being a leader on the ice and the power play.
Now at age 35, the Islanders' captain is in the final year of his contract.
It would be a no-brainer to turn the captaincy over to John Tavares after this season if Streit is traded or departs via free agency.
The question is, will GM Garth Snow pull the trigger on a deal for Streit?
It seems like the Islanders are always selling in some form, so don't be surprised if Streit gets dealt for a prospect or a pick before the trade deadline.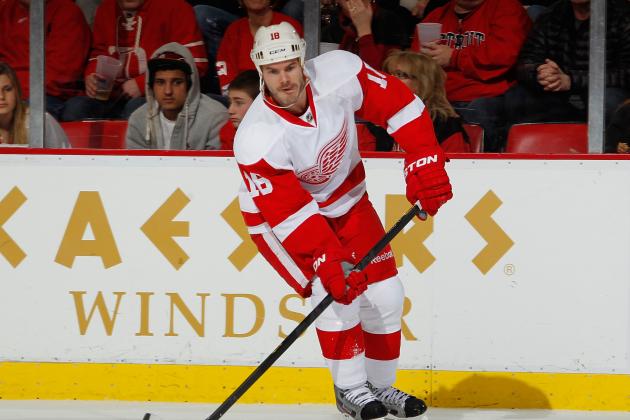 Gregory Shamus/Getty Images

How does one tell a player that they will be a healthy scratch for six straight games.
Leave it to the player that beat that player out for ice time.
Ian White sat for six straight games before finally cracking the lineup against Columbus on March 10.
It isn't that White has lost his touch, it is simply that he has been beaten out by other third-pairing defensemen for his job.
With White being one of nine—yes, nine—NHL defensemen on the Red Wings, he could move before the deadline as the Red Wings try to pick up some grit and a net-front presence.
According to Ted Kulfan of the Detroit News, White has not asked for a trade yet due to the lack of ice time, but he may not have the say in where he ends up playing this season.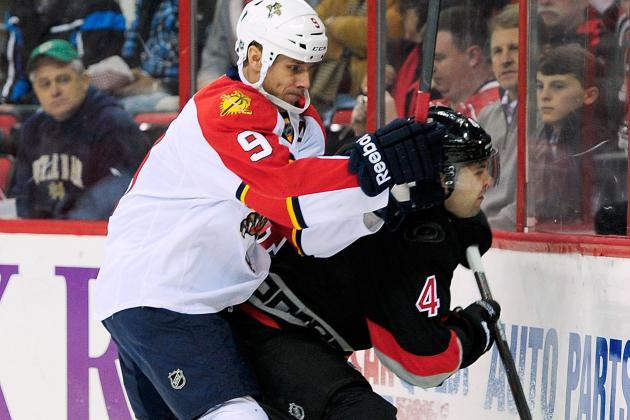 Grant Halverson/Getty Images

With 394 points in 654 games, the 29-year-old Stephen Weiss has plenty of gas left in the tank.
Just not for this season.
Weiss will undergo season-ending wrist surgery according to Harvey Fialkov of the Sun Sentinel.
Weiss could end up being traded before the trade deadline to try and negotiate a contract with a new team before he becomes an unrestricted free agent in July.
This trade would work both ways.
In Florida's case, the Panthers get something in return for Weiss so that he doesn't walk into the balmy skies of free agency alone.
For the team retaining Weiss' rights for the moment, they get a player that could be a second-line center on almost any team in the NHL.
Just not this season.
For more article updates, Follow @isaacesmith91