Power Ranking the NHL's Top 25 Players at Midseason in 2013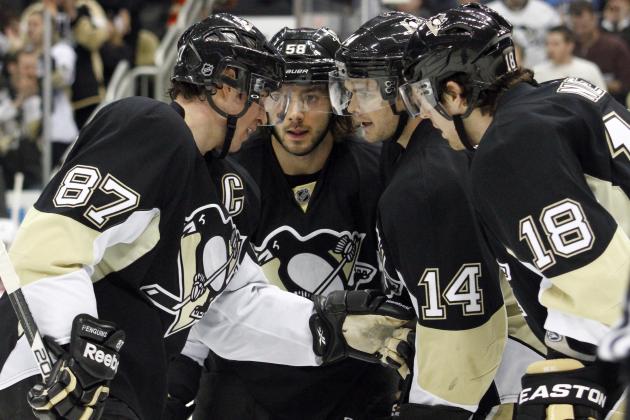 Justin K. Aller/Getty Images

With a Tuesday-night visit to the Pittsburgh Penguins, the Boston Bruins became the last team to reach the halfway mark of their 48-game schedule in this compressed NHL season.
It ought not to come as a surprise that the battle of the black and gold boasted many of the higher picks for the best performers so far in 2013. Many of them answer at least one of the questions that usually attain validity at or near the 24-game mark even in a full-length, 82-game season.
Among those questions: Who has been hot? Who has been consistent since opening night?
Who has thrived and clearly made their team thrive in the process? Who has excelled in spite of their team's struggles?
Which rookies are breaking out and standing out in the freshman class? Which veterans are dishing up pleasant surprises with career output that also eclipses the majority of their peers?
From those excellent exceptions to not-so-thrilling team trends to specialists who are bolstering strong defensive fortresses to prolific point-getters on the scoresheet and in the standings, the NHL's top 25 players up to this point are as follows.
Unless otherwise indicated, all statistics used for this slideshow were found on nhl.com and are through games of Monday, March 11.
Begin Slideshow

»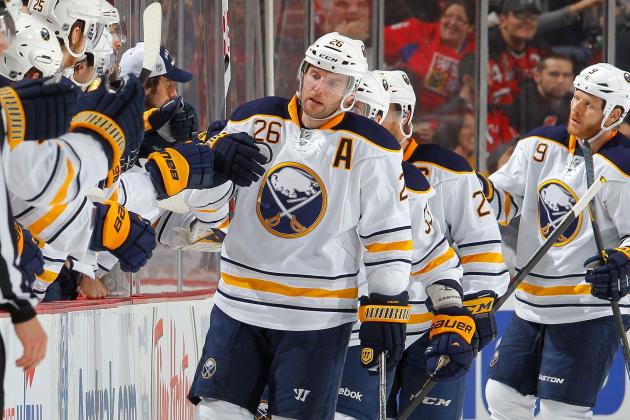 Jim McIsaac/Getty Images

Save for a pair of three-game scoreless skids, Vanek has been a consistent contributor to a besieged Buffalo Sabres team. He has tallied more than half of his team's power-play goals (six of 11) and has had a hand in 29 out of 67 overall.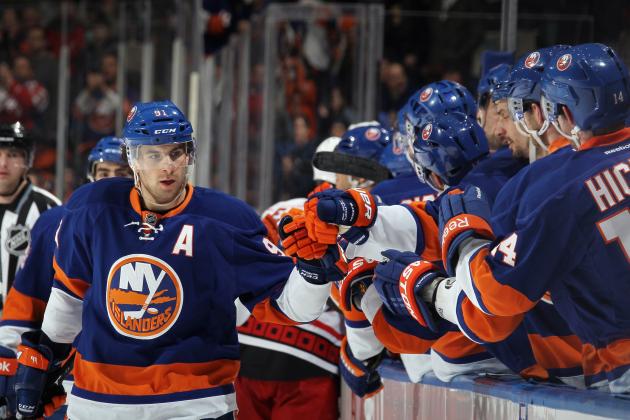 Bruce Bennett/Getty Images

Have Vanek's 13 goals and 16 assists switch columns and you get Tavares' scoring log at the 26-game mark for the New York Islanders.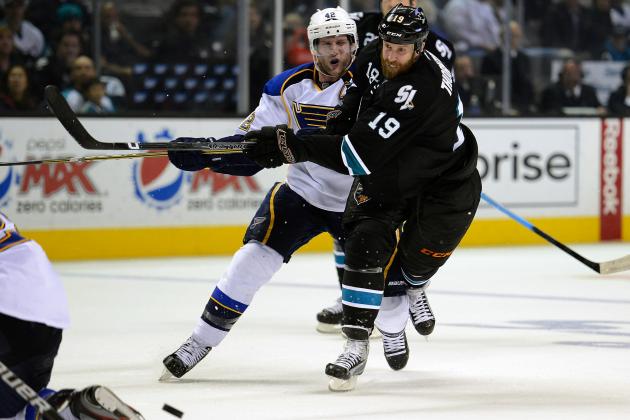 Thearon W. Henderson/Getty Images

Despite playing on the second-worst offensive team in the league, Thornton is averaging exactly a point per game at the halfway mark of the San Jose Sharks' schedule. He has had a hand in 24 of San Jose's first 52 goals, including 19 assists.
If this were a conventional, 82-game season, Thornton would be on pace for 64 helpers and 81 points, which would be his best totals since 2009-10.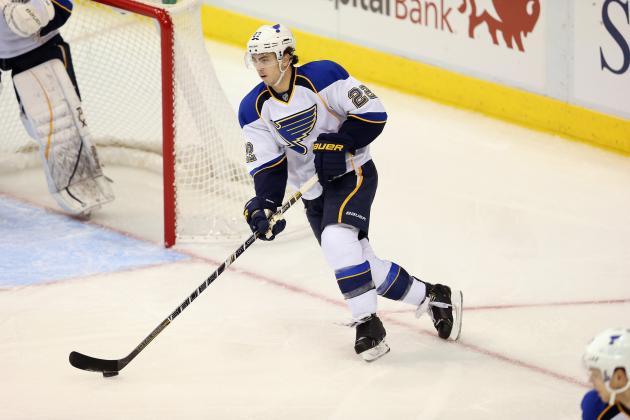 Ronald Martinez/Getty Images

The Blues have struggled defensively, allowing 3.04 goals per night to put them at No. 25 on the league leaderboard.
But Shattenkirk, an inherently offensive blueliner, has possessed the puck and brought it onto opposing property enough times to throw out a relatively consistent and doubtlessly generous sprinkling of 15 helpers and 17 points.
Furthermore, if not for one minus-three outing last Tuesday in Los Angeles, Shattenkirk would be among the few St. Louis skaters with a positive rating on the year.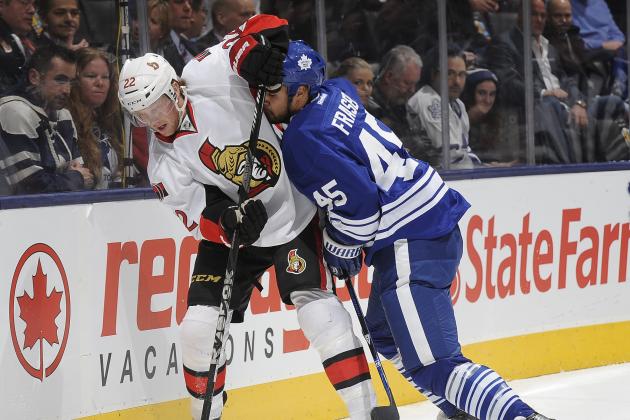 Abelimages/Getty Images

He is tied with two Anaheim Ducks in Francois Beauchemin and Sheldon Souray for the plus/minus lead among defensemen. But unlike those two, Fraser has sculpted and sustained a plus-17 rating by way of indirect involvement when the Toronto Maple Leafs score and by keeping opposing strikers in check.
All the more impressive considering he has only five points (all assists) and three other Buds blueliners are a plus-two while the rest are in the red. Fraser has only been on duty for 15 opposing goals, including five on the Leafs' penalty kill, in 348:23 of ice time, which translates to a 2.58 GAA, lower than the team total of 2.65.
Jim McIsaac/Getty Images

The seemingly ageless St. Louis is one of only two players to have averaged more than one assist per game, tallying 27 in his first 25 this season. He has gone without one on merely six occasions.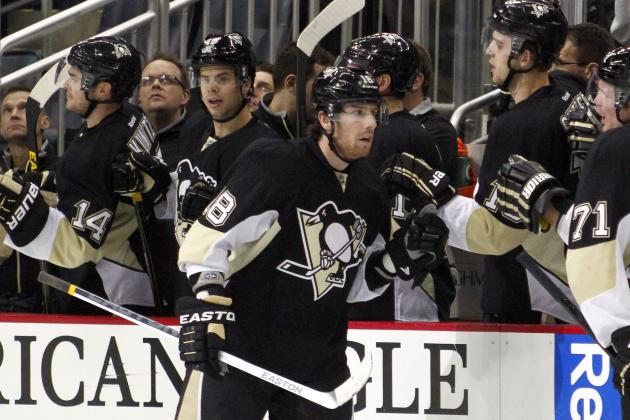 Justin K. Aller/Getty Images

With eight power-play conversions and five game-winning goals, Neal has packed arguably the league's largest combination of momentum-swingers. He will make the opposition pay for a lack of discipline, which is always timely, and will tune the mesh in a timely manner regardless of manpower in the deciding phases of the game.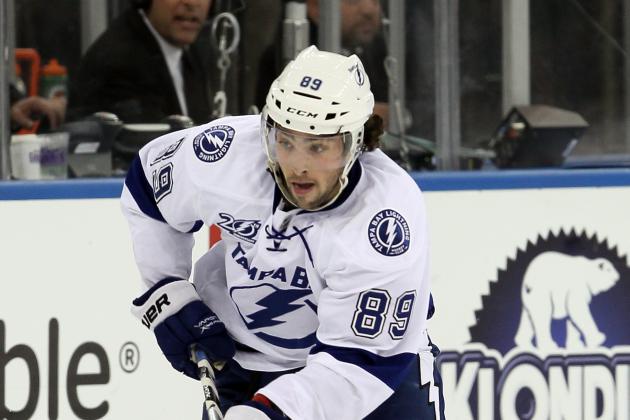 Elsa/Getty Images

Conacher is smoothly translating his AHL success to the next level and making a case to claim his second trophy named after the NHL's first president in as many years. The pilot of the 2012 Calder Cup champion Norfolk Admirals is a can't-miss candidate for the Calder Trophy as rookie of the year with 20 points in 25 games, including two clinching goals, for the Lightning.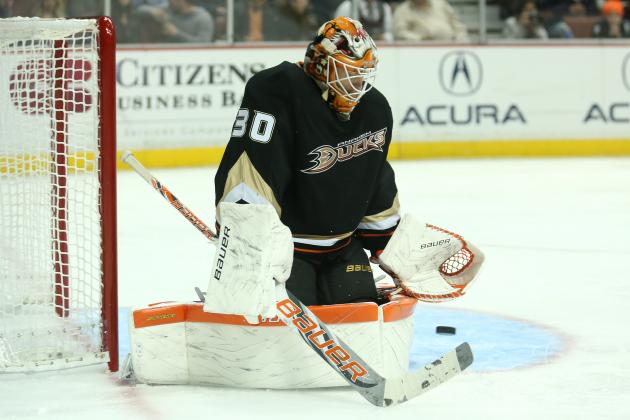 Stephen Dunn/Getty Images

While his surprise eight-game winning streak to start the season was recently broken up, the 10-1-1 Fasth still boasts impressive numbers (a 1.92 goals-against average and .929 save percentage) along with resilience.
His streak ended with four goals against in a 5-2 regulation loss to Los Angeles on Feb. 25. He responded by charging up another win two nights later with 20 saves on 21 shots faced against Nashville.
In his first start following a shootout loss to Phoenix that saw him allow four goals, and with six days off in between, he shut out the Calgary Flames with 29 saves.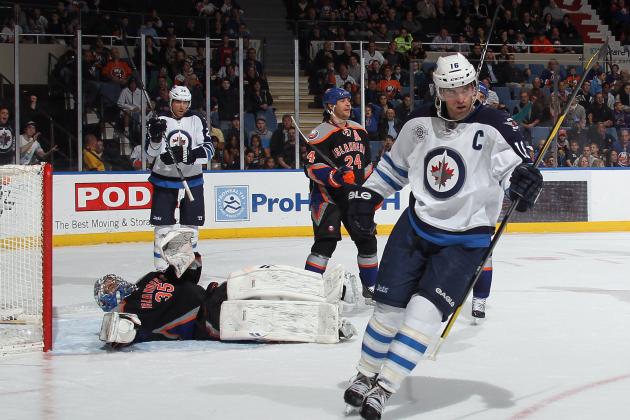 Bruce Bennett/Getty Images

The Winnipeg Jets captain has yet to go consecutive games without a point, logging 24 overall through 25 games.
Ladd is No. 12 among qualified leaders in the league with a 21.7 shooting percentage, having inserted 13 goals, including three clinchers, on 60 tries. Those 60 shots on goal are the fifth-most among the top 20 players on that percentage leaderboard, meaning he makes the most of his accuracy on a consistent basis.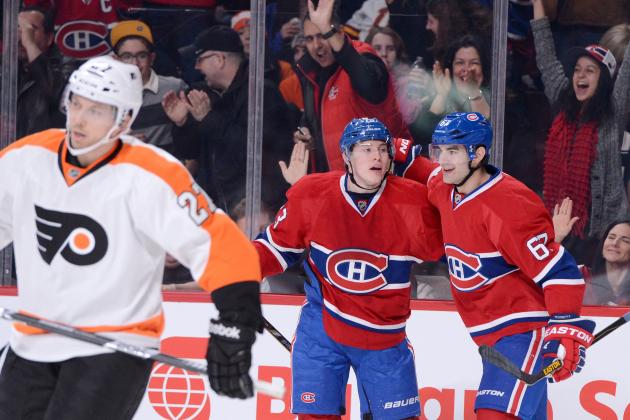 Richard Wolowicz/Getty Images

Though a little less productive (15 points) than his fellow rookie Conacher, Gallagher has played three fewer games, scored one more game-winning goal and demonstrated better efficiency on defense. His plus-nine rating is second-best among the Eastern Conference-leading Montreal Canadiens, behind only plugger Brandon Prust's plus-13.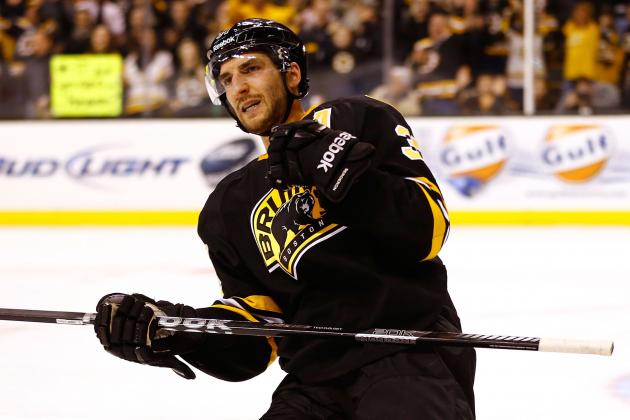 Jared Wickerham/Getty Images

The reigning Selke Trophy winner is the catalyst of the Boston Bruins' most consistent offensive troika, opposite Brad Marchand and Tyler Seguin. In addition to his team-leading 15 assists, Bergeron is the best on the Bruins with a plus-17 rating and is a staple on the league's best penalty-killing team.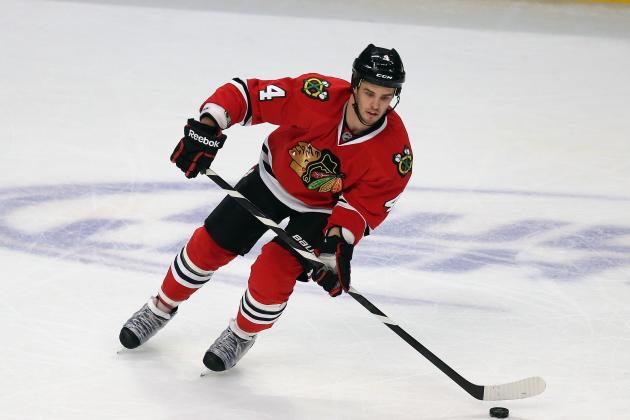 Jonathan Daniel/Getty Images

Chicago is second in team defense with 2.12 goals-against per game and a respectable sixth in penalty killing with 84.4 percent success. As wrong as it may seem to single out one individual blueliner for that, one would also be remiss if everybody went unacknowledged on this list, so it is best to narrow it down to Hjalmarsson.
While second-to-last in point production among the seven defensemen who have dressed for the Blackhawks, Hjalmarsson is in a three-way tie with two fellow defensemen for the team lead with a plus-11 rating, trailing only captain Jonathan Toews.
He has endured only four minus games out of 26 and has seen more shorthanded action than any other Chicago skater with an average of 2:55 per night.
Jonathan Daniel/Getty Images

He has had three off-nights within the last week, including Chicago's first two regulation losses coming back-to-back. But on most nights, Crawford has muzzled opposing offenses, confining all but two to two goals or fewer amidst a personal 14-game unbeaten streak of 11-0-3.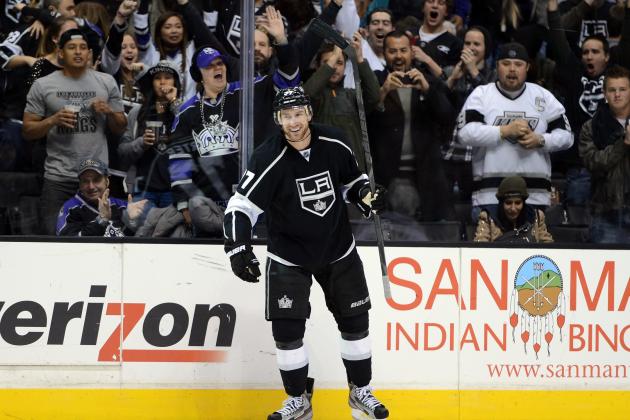 Harry How/Getty Images

Carter has gone no more than two consecutive games without filling the opposing net. On a league-leading six occasions, he has supplied the clincher, meaning he has been the difference-maker in six of the Los Angeles Kings' 13 regulation/overtime wins.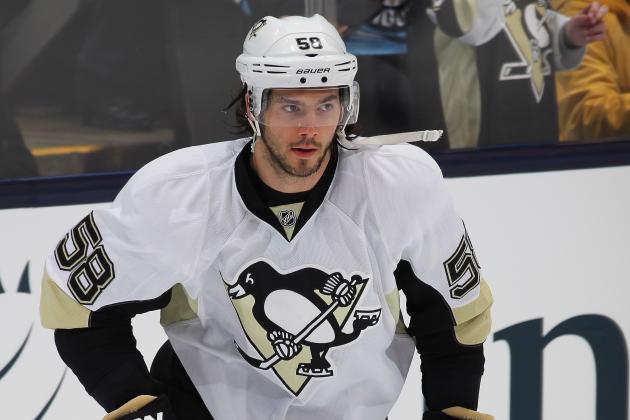 Claus Andersen/Getty Images

It is hard to find an NHL blueliner who has been playing a better all-around game this year. Not only do Letang's 23 assists surpass the point totals of any other defenseman, but his plus-10 rating is more than twice as high as any of the other top nine defensive scorers.
Pittsburgh's ice-time leader with a cumulative 601:43, Letang has been on the ice for 28 opposing goals. The resultant 2.79 GAA is the lowest among the Penguins' top four defensemen.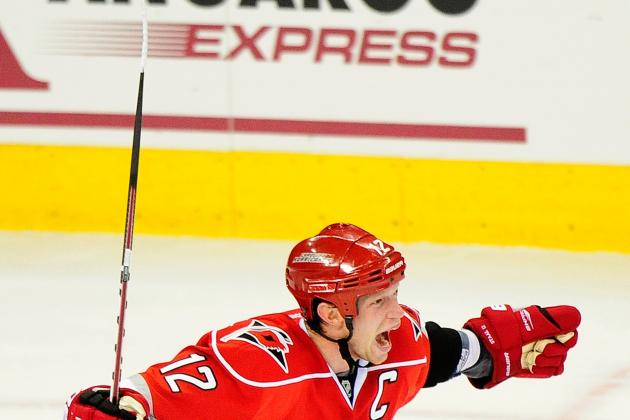 Grant Halverson/Getty Images

The Carolina captain leads his team with 30 points despite not leading them in either the goal or assist column. That is a testament to versatility and poise when he, being human, goes cold in a given department.
So, too, is the fact that other than the first two games of the season, he has not brooked a single string of consecutive pointless contests. Staal amassed four assists while going five games without a goal in mid-February and now has six helpers in his last four outings, keeping him a prominent factor in Carolina's Southeast Division-leading start.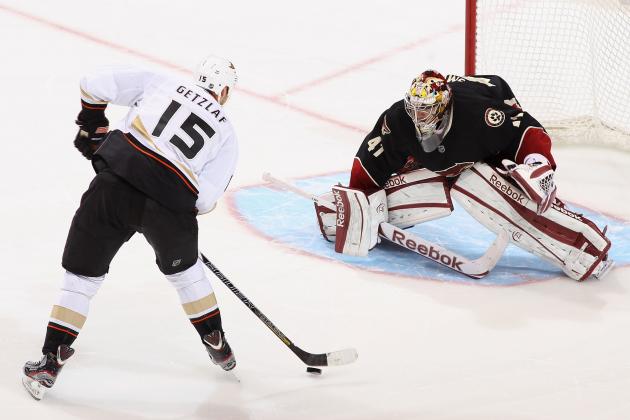 Christian Petersen/Getty Images

The Anaheim Ducks have given Getzlaf a lengthy, lucrative contract extension amidst a campaign that has seen the would-be free agent enter Tuesday's action fourth among NHL playmakers with 21 assists and fifth in the points column (31).
Much has rightly been made about how the captain's first half in 2013 has kicked ice chips over a disappointing 2011-12 marred by career lows in every key category since he became a full-time Duck in 2006-07.
Furthermore, he is piloting and personifying Anaheim's surge to second place in the Western Conference at 18-3-3.
Marianne Helm/Getty Images

With 19 goals, Stamkos has the most among those who have hit the net on 20 percent or more of their shots. He has shared the wealth with almost equal frequency, charging up 18 assists for a total of 37 points as part of the Lightning's 85 goals.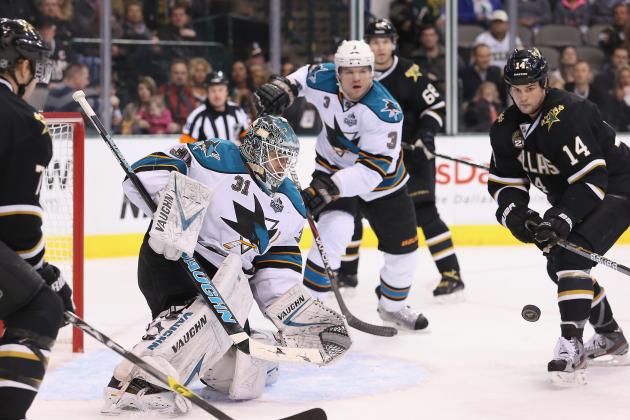 Ronald Martinez/Getty Images

The previously mentioned shallow Sharks offense has forced Niemi to compensate with brilliance in his own net. He has done that with a 1.96 GAA that ties him with Finnish countryman Tuukka Rask for fourth in the league, and a .932 save percentage good for second in the league.
As a result of those career numbers, he is 10-4-5 through 20 starts and San Jose is on pace to make the playoffs at 11-7-6. Theoretically, they could be in an even better position if Niemi and his colleagues had more support from the strike force.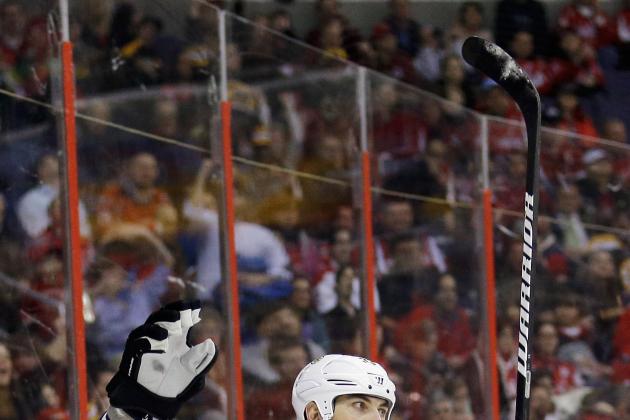 Rob Carr/Getty Images

As was referred to in the Bergeron slide, the Bruins have killed an unsurpassed 92.3 percent of their penalties this season. Nobody has seen more ice time while shorthanded on this team than Chara, playing a cumulative 86 minutes and five seconds for a nightly average of 3:44 in that situation.
At even strength, Chara has sculpted a plus-12 rating, tying Sami Salo of Tampa Bay for fifth among NHL defensemen and underscoring his influence on Boston's stature in team defense. The Bruins have allowed a mere 2.13 goals per game for the third-best efficiency in the league, and Chara has allowed a 60-minute average of exactly two (19 in 568:20 minutes).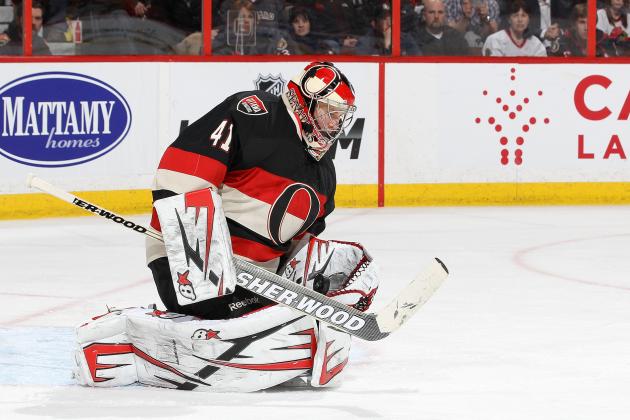 Jana Chytilova/Freestyle Photo/Getty Images

He has not played since Feb. 21 due to a lower-body injury, yet Anderson is still the league leader with a 1.49 goals-against average and .952 save percentage. Meanwhile, his Ottawa Senators remain the only NHL team with a goals-against average below two at 1.96.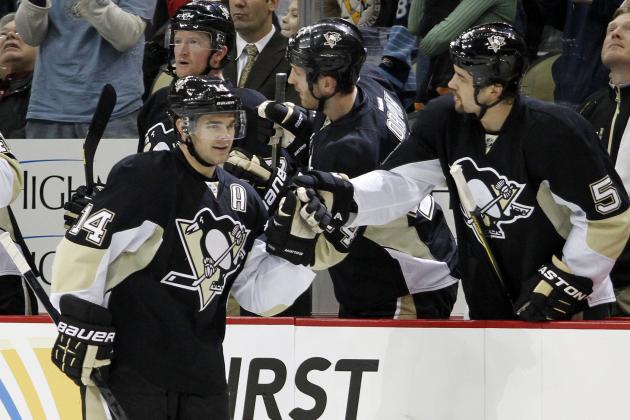 Justin K. Aller/Getty Images

Of those who have dressed for more than half of their team's games, Kunitz boasts the NHL's best shooting percentage at 28.8, having connected on 17 of his first 59 shots on net.
Granted, his goal scoring has been streaky with a six-game goal-less skid between Jan. 20 and Jan. 31 and another drought lasting eight games between Feb. 5 and Feb. 20. But when he has not contributed first-hand, Kunitz has been a consistent helper, thus giving him only five pointless outings out of his first 26 overall.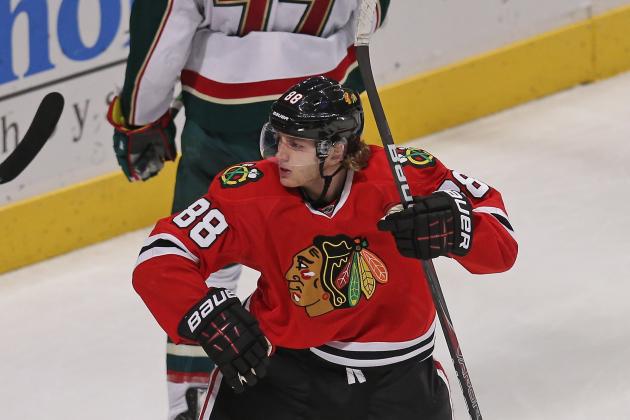 Jonathan Daniel/Getty Images

The best player on the best team in the NHL at the halfway mark, Kane has been held off the scoresheet only six times. On the flip side, he has submitted six two-point efforts and a pair of 2-1-3 performances.
The most recent of those three-point efforts came in the Blackhawks' last outing on Sunday.
Although Chicago dropped a turbulent, 6-5 decision to Edmonton that night, there had to be solace in that Kane promptly rekindled his twig for two goals after the Colorado Avalanche single-handedly kept him scoreless in the previous two games.
In the process of snapping his "skid" with a second-period goal, Kane sparked a valiant rally after the Hawks initially trailed, 4-0. He capped off that period by setting up Brent Seabrook for the team's fourth goal and then pulled Chicago within a single strike by making it 6-5 in the third.
It was not unlike Kane's late power-play equalizer one week prior that salvaged the team's unbeaten streak against Detroit.
Clutch much?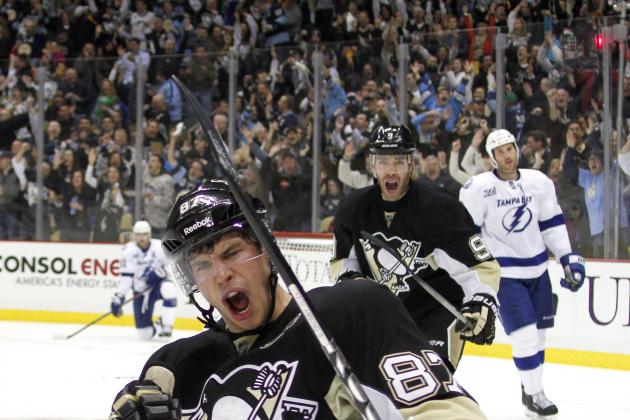 Justin K. Aller/Getty Images

As part of his collection of 45 points, Crosby had 33 assists through his first 26 games. At that moment, Kunitz, St. Louis and Stamkos were the only other NHLers with as much as 33 or more points.
A home-and-home series against New Jersey Feb. 9-10 has been his only instance of back-to-back scoreless performances. He has finished eight other nights with three points, including one against those same Devils Feb. 2, and most recently amassed five assists in a single thrashing of the New York Islanders.
In all, the Penguins have scored a league-high 95 goals and Crosby has had a hand in nearly half of them.