NHL Midseason Team-by-Team MVPs: Stamkos, Crosby and 28 Other Midseason Studs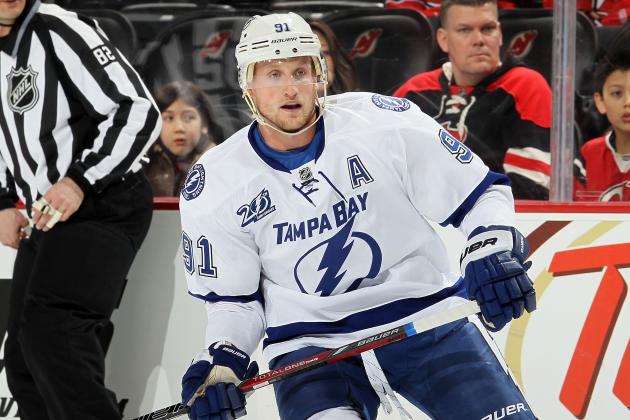 Jim McIsaac/Getty Images
Steven Stamkos is on pace for another scoring title, but who else around the league has been having a stellar season?
It's crazy to think that the NHL season is already halfway gone, but that's the unfortunate reality for hockey fans.
Still, with playoffs right around the corner, it's time to look at the best players from each team at the midway point. While there's a healthy amount of the games' best who've retained their status as team MVP to this point (Crosby, Stamkos), some new faces have made their way onto the list as well.
Begin Slideshow

»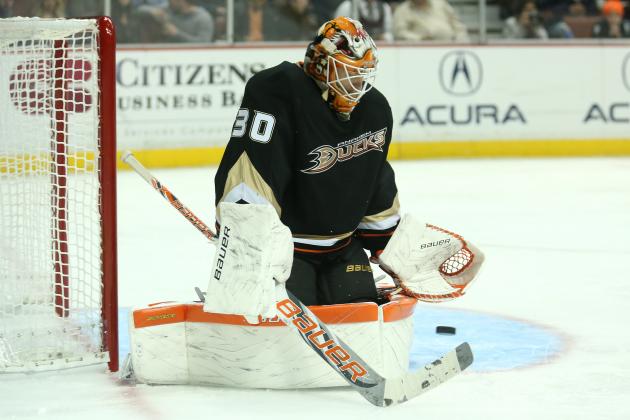 Stephen Dunn/Getty Images
No player has been more paramount to the Ducks' early success than the 30-year-old rookie.
We're getting used to Pacific Division goaltenders having fun names that suggest the agility they need to keep the puck out of the net (i.e., Jonathan Quick), but Viktor Fasth has truly lived up to his name.
The 30-year-old rookie took over for an injured Jonas Hiller and has been tough to beat, posting a 9-1-1 record between the pipes. He's also one of only three men who've beaten those mighty, mighty Blackhawks this season, and the only one to do so in Chicago to boot.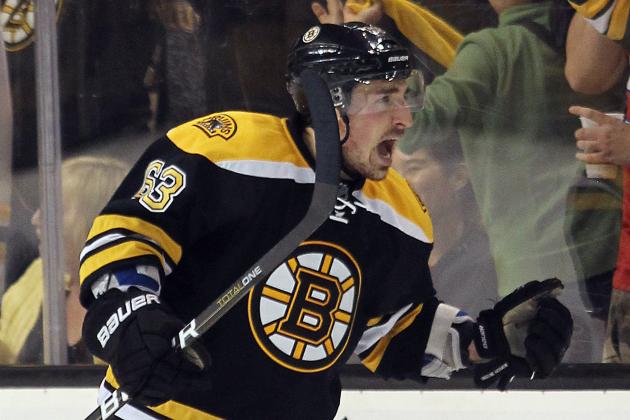 Bruce Bennett/Getty Images
Marchand has scored a team-high 12 goals this season and is averaging a point per game.
Boston fans have to be pleased with the Bruins' hot start this year, although the B's have struggled to light the lamp at times.
Enter Brad Marchand, whose 12 goals this season account for nearly one-fifth of the team's 64. Marchand is averaging a point per game skating on a line with Patrice Bergeron, and while Tuukka Rask deserves a lot of credit for Boston's 15-3-3 start, it's Marchand's shot that puts him on top.
The grinder is among the league leaders in shooting percentage, scoring 30.0 percent of the time with 40 shots on goal. He's also the only Bruin in the double digits for goals.
Is there any question at all that Thomas Vanek has been Buffalo's best player/saving grace this season? After all, the guy's done just about everything this season, including having a huge five-point night against the Bruins earlier this season, undressing Tuukka Rask along the way (see video).
In the early goings, he was in the talks for league MVP. The guy does it all and leads the Sabres in just about every category, especially points (13 G, 16 A). If Buffalo is able to make a second-half comeback and playoff run, expect No. 26 to be right in the thick of things.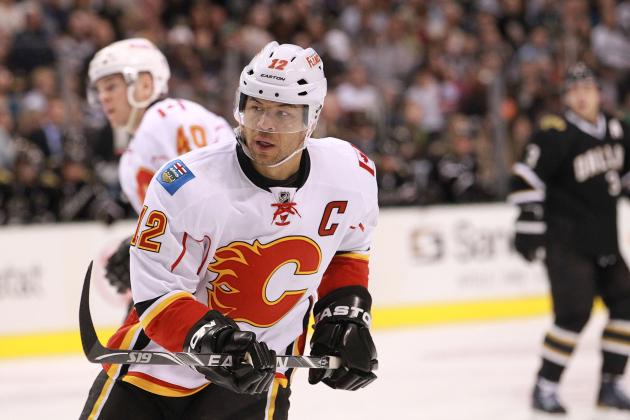 Ronald Martinez/Getty Images
The ageless captain gets the nod for Calgary.
The Flames have played an NHL-low 21 games so far, but are only three points out of a Western Conference playoff spot.
In the past five games, Jarome Iginla has rediscovered his scoring touch, lighting the lamp six times en route to helping his team earn seven out of 10 points against quality opposition. Those six goals have boosted the captain's performance for the season, giving him seven goals now to go along with 11 assists and a team-high 18 points.
But the stat sheet doesn't tell the whole story of this versatile, physical captain who's embodied the heart and soul of the Flames for more than a decade and is only nine points shy of 1,100 for his career.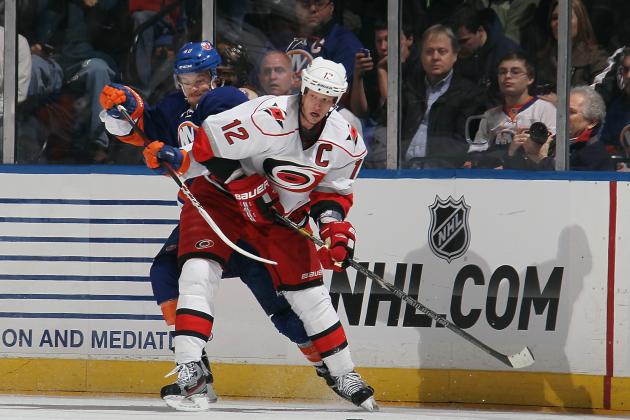 Bruce Bennett/Getty Images
The captain has been paramount to the Hurricanes' rise to the top of the Southeast Division.
From one captain to another, Eric Staal has vaulted the Hurricanes to the top of the Southeast Division. The center has enjoyed the presence of younger brother Jordan on the team, but he's enjoyed the the acquisition of Alexander Semin more.
Staal and Semin lead the team and are tied for the league-lead with an incredible plus/minus rating of plus-17 at the midway mark. Staal has banged home four game-winners to go with his team-high 12 goals and also leads in points with 28 through 23 games.
Jonathan Daniel/Getty Images
Crawford has been outstanding for Chicago this season, a big reason why the 'Hawks have yet to lose in regulation.
There are a lot of different reasons why the Chicago Blackhawks are off to the best start in NHL history, but Corey Crawford's improved play has to be near the top.
The man they call "Crow" ranks second among goaltenders in goals against average (1.53) and save percentage (.940), trailing only Craig Anderson in both categories. Crawford is also tied for second in the league in wins, with an 11-0-3 mark that might have him in first place had he not suffered an injury that caused him to miss a few starts.
Still, the toughest challenge ahead for the 'Hawks netminder will be performing in the playoffs, and with fellow 'tender Ray Emery having a great season as well, there's not much leeway for Crawford this time around.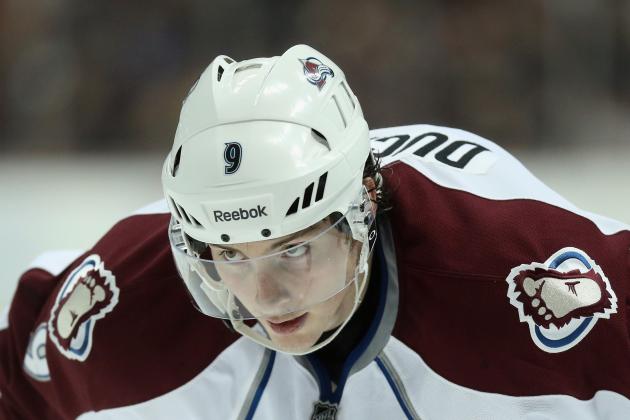 Jeff Gross/Getty Images
Matt Duchene is a key part of the young, bright future for the Avalanche.
Twenty-two-year-old speedster Matt Duchene already showcases the skills needed to become an NHL superstar and has been a major cog in the core of the young, talented Colorado Avalanche.
Averaging just under a point per game, the pairing of Duchene and P.A. Parenteau has been deadly at times for the opposition. Duchene leads the team in assists with 12 and has dished out a number of beauties already this season. He's also averaging just over 21 minutes of ice time per game, logging about five minutes more on average than last season.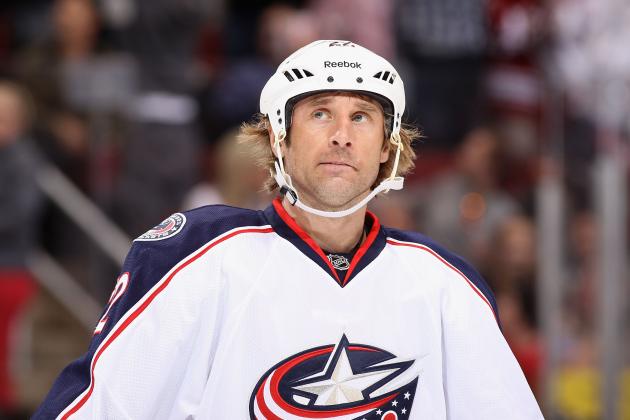 Christian Petersen/Getty Images
Who says age is everything? At 38, Prospal stands out among his young teammates, but for the right reasons.
Another year, another Columbus Blue Jackets team that's last in the Western Conference. These guys always seem to get younger, but at this point, it's an old guy who's carrying the team.
Vinny Prospal, at 38, leads the Jackets in goals with nine and points at 14 and has been semi-reliable on the power play, lighting the lamp four times. And while the second half will probably see more misery for Prospal and Nash-less Columbus, at least the Ohio State football spring game is right around the corner.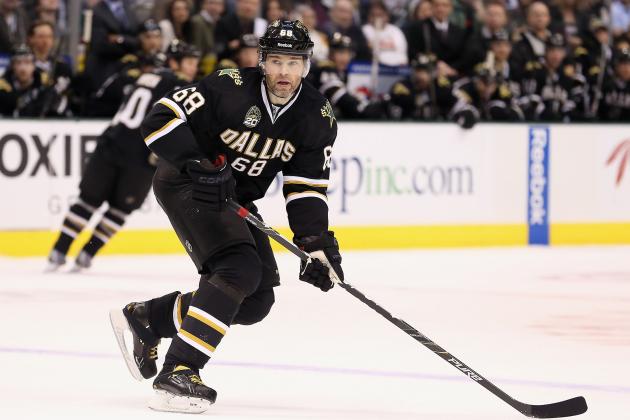 Ronald Martinez/Getty Images
Jags continues to produce since returning to the NHL last season.
Speaking of old guys, Jaromir Jagr filled the void for Dallas while Jamie Benn was injured and has kept Dallas alive in the playoff race at the midseason mark. Jags leads the Stars in goals, power-play goals and shots, and at 41 he still is not slowing down. The Czech is just four assists shy of reaching the 1,000 mark for his career.
No player has made more of an impact for Detroit this season than Damien Brunner. The 26-year-old leads the Wings in goals with 10 and has an ample bag of tricks.
From the looks of this video, he's probably been spending some time with teammate Pavel Datsyuk. Watch as Brunner undresses Sergei...wait for it...BOBROVSKY!...and tucks it home in his first career shootout attempt.
I can hear Jay Onrait yelling his disapproval from across the border.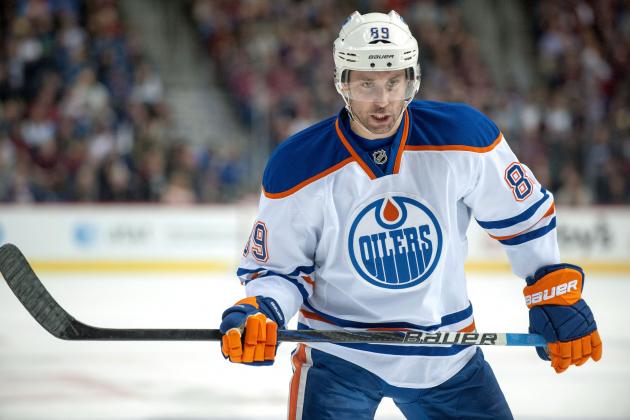 Dustin Bradford/Getty Images
Gagner doesn't get as much publicity as some of the other young Oilers, but has every reason to.
Of all of the young and talented players that the Edmonton Oilers have, Sam Gagner is probably the least talked about. But the 23-year-old center ranks 14th in points at his position in the NHL with 21. His 14 assists in 23 games are second best on the team, and he's already halfway to matching his assist mark from last season, where he notched 29 helpers in 75 games.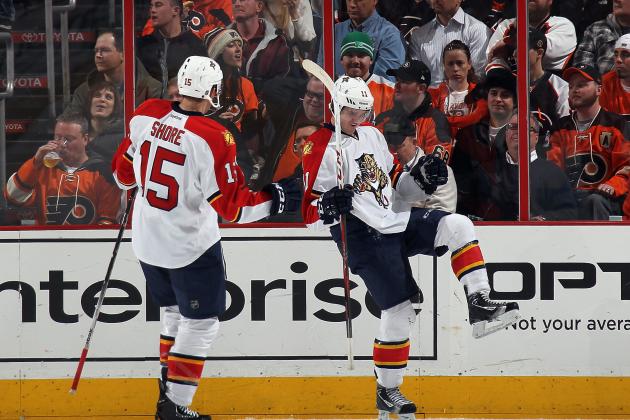 Bruce Bennett/Getty Images
Since going third overall in the 2011 NHL entry draft, Huberdeau has made an immediate impact with the Panthers.
At just 19 years old, Jonathan Huberdeau has been a bright spot for the Panthers during an awful first half. The No. 3 pick in the 2011 NHL entry draft has made an immediate impact and leads the team in goals with 11. His 16 points are tied for second on the team.
Huberdeau will be in talks for the Calder if he keeps this pace up, as he's also second among rookies in points, trailing only Tampa Bay's Cory Conacher.
The Kings brought in Jeff Carter in 2012 to do one thing: score goals. He did plenty of that en route to Los Angeles winning the Stanley Cup for the first time in franchise history.
After a sluggish start this season, Carter is back to his goal-scoring ways, netting 16 to this point, good for second in the league. He's been red-hot as of late, with six goals in his past five games.
Carter's resurgence has sparked the Kings during their 7-3-0 run in their past 10.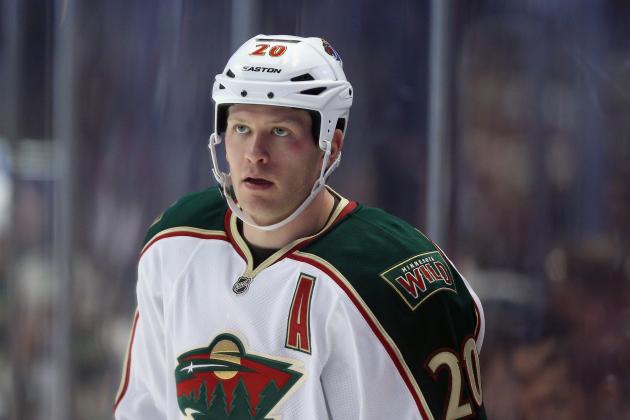 Jeff Gross/Getty Images
Suter leads all NHL skaters in time on ice this season.
While the summer blockbuster additions of Ryan Suter and Zach Parise haven't paid off as much as the Wild would like so far, the pair are tied for second on the team in points with 15 apiece. The blueliner is also tied for the team lead in assists with 14 and leads all NHL skaters in time on ice, logging 27:27 minutes per game through the first 22.
Everyone remembers the huge, dangerous hit Zdeno Chara put on Max Pacioretty one year ago, but after a lengthy recovery, the 24-year-old winger is back at the top of his game.
After getting off the schneid against the Hurricanes earlier this season (see video) and victimizing Cam Ward, Pacioretty has been on fire over the past three weeks. He leads the resurgent Habs with 12 assists and 20 points.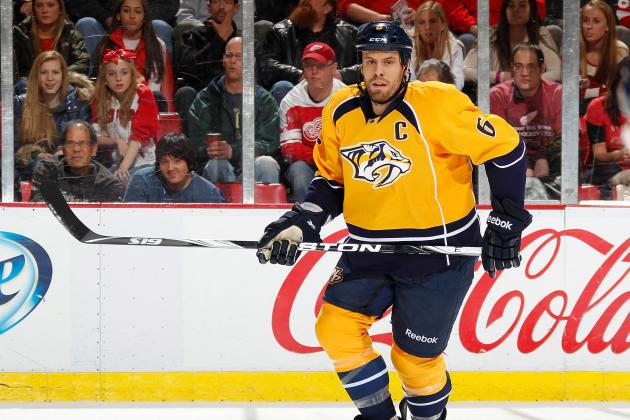 Gregory Shamus/Getty Images
Weber continues to be top 10 in the league in time on ice.
The loss of blueliner Ryan Suter has certainly hurt Shea Weber and the Preds, but Weber continues to lead by example in Nashville. The defenseman currently sits in eighth in time on ice, averaging just under 26 minutes a game at 25:54. Weber's nine points are tied for third on the offensively starved Predators this season.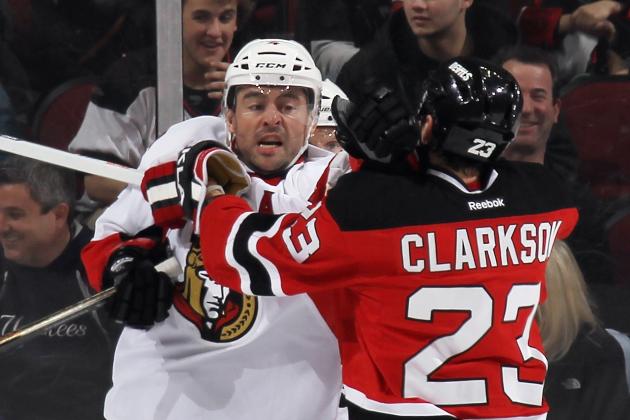 Bruce Bennett/Getty Images
Clarkson combines the rare ability of racking up both points and PIMs.
Tough guy David Clarkson has been racking up the points as well as the penalty minutes this season. Clarkson's 10 goals and 47 PIMs lead the team, with five of his goals coming via the power play.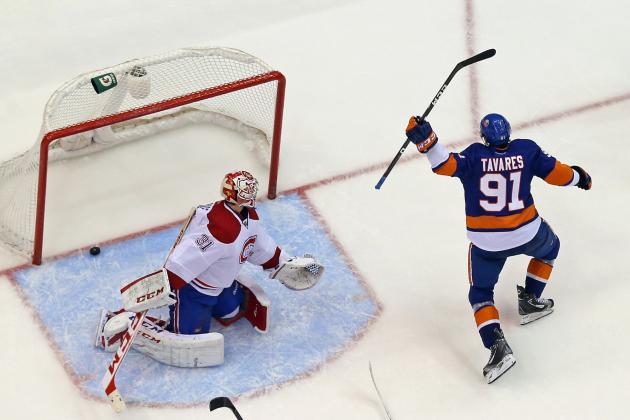 Bruce Bennett/Getty Images
Tavares has frustrated goaltenders all season, lighting the lamp 14 times to this point.
The Islanders sit just three points outside of a playoff spot at the halfway mark, thanks mainly to Tavares. The sniper sits tied for fourth in the league in goals with 14 and has added 13 helpers as well for his team-high 27 points in just 24 games.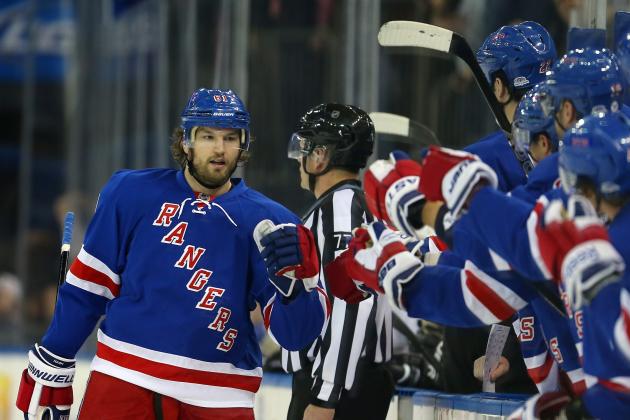 Elsa/Getty Images
Nash has been a game-changer in New York, giving the Blueshirts a needed goal scorer.
Let's face it, without Rick Nash, the Rangers would just be another mediocre team. With Nash healthy and scoring, the Rangers have the potential to be a dark horse in the East. After missing a couple of games with an injury, Nash owns a share of the team lead for goals, tied at eight with Marian Gaborik. The big winger leads the Rangers in points with 20 and in plus/minus rating with 10.
Talk about a career comeback. Craig Anderson's numbers were staggering in the first half, with the veteran goaltender leading the league in goals against average (1.49) and save percentage (.952) and has been in the early talks for the Vezina Trophy, along with Corey Crawford and Antti Niemi.
Like Niemi, Anderson has largely been responsible for keeping his team in the playoff race, with the Senators sitting in sixth coming into Friday night's action. Anderson, who couldn't get the job done in Colorado, is 52-31-9 since coming to Ottawa in 2010.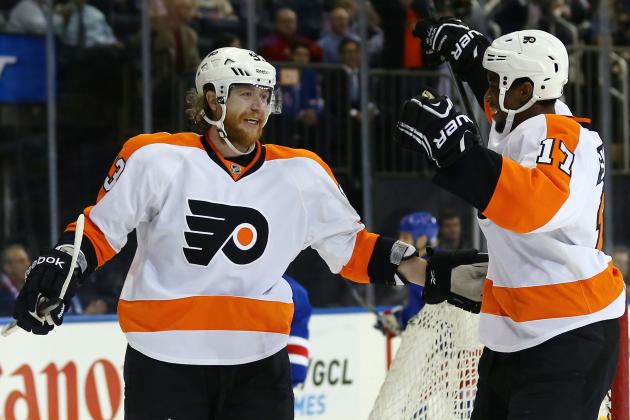 Elsa/Getty Images
Voracek is having a breakout season in Philly for the struggling Flyers.
While the Flyers have notably struggled this season, Jacub Voracek has been having a breakout year in the first half. The 23-year-old winger, who could be teammate Claude Giroux's younger brother, has amassed 29 points in 25 games.
He's been red-hot as of late, netting 10 goals and nine assists over his past 10 games as Philly looks to recover from their sluggish start. Voracek's earned a share of the team lead in assists as well, tying Giroux with 17.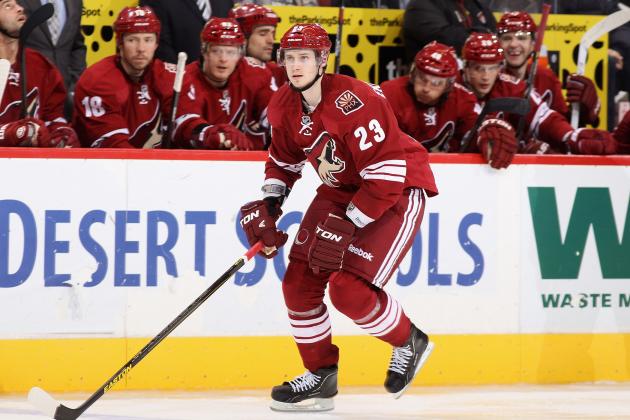 Christian Petersen/Getty Images
The 2009 first-round draft pick has been solid on the blue line for the 'Yotes this season.
The No. 6 pick in the 2009 NHL entry draft has really come into his own in 2013. Ekman-Larsson ranks 12th in the NHL in average time on ice and has racked up 16 points in Phoenix's first 24 games.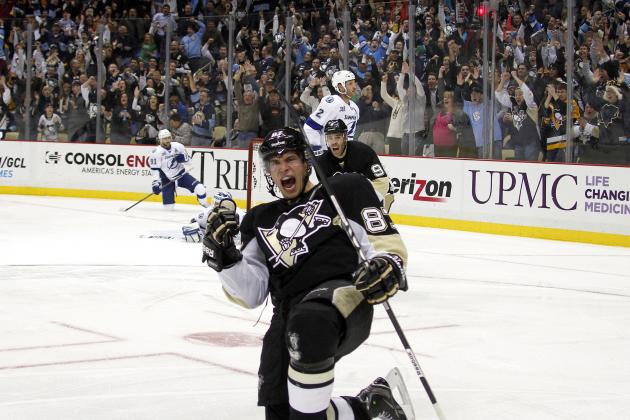 Justin K. Aller/Getty Images
Crosby is having a stellar season so far, leading the NHL in points.
James Neal and Chris Kunitz both have more goals than Sid the Kid, but that's mainly because he's been dishing out some sauce to them. Crosby's 11 goals have been accompanied by a league-leading 28 assists. His 39 points are also on top of the NHL, four better than leading goal scorer Steven Stamkos.
Crosby has carried the Penguins since returning from a concussion that sidelined him for most of the 2011-12 season.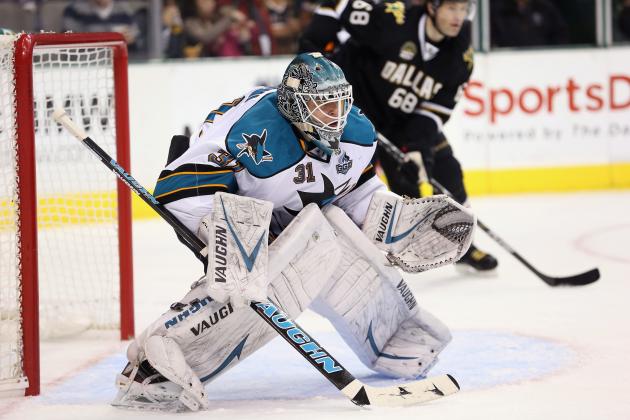 Ronald Martinez/Getty Images
Niemi has kept the Sharks afloat in the first half this season.
The San Jose Sharks should not be a playoff team at this point but are thanks to the fantastic play of Antti Niemi.
The Sharks started January as one of the hottest teams in the league only to fall by the wayside, as their anemic offense in February dropped them from one of the Western Conference's better teams to the middle of the pack.
San Jose has only scored 51 goals, but have only let up 50 thanks largely in part to some exceptional outings from Niemi. The Finnish netminder sits third in the league in goals against average (1.83) and save percentage (.935) behind Craig Anderson and Corey Crawford, respectively, in each category.
His 10-4-4 record doesn't tell you the whole story, however, with the Sharks dropping a number of one-goal decisions.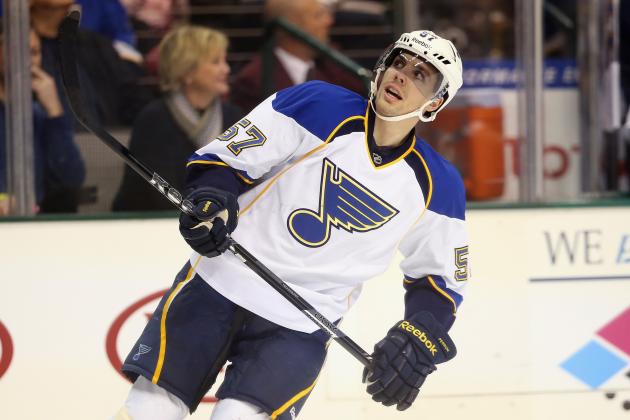 Ronald Martinez/Getty Images
Perron is back in top form after missing half of the 2011-12 season.
After missing 25 games in an injury-shortened 2011-12 campaign, David Perron is back in top form in 2013. The winger has 19 points through 23 games, including two game-winning goals for the Blues.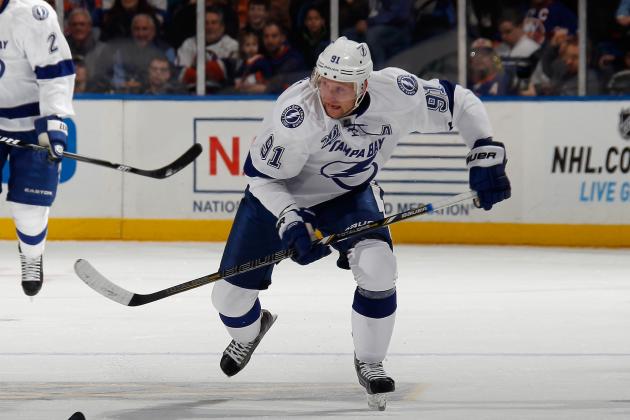 Bruce Bennett/Getty Images
Stamkos leads the league in goals again, hoping for his second straight Maurice "Rocket" Richard Trophy.
We're accustomed to seeing Steven Stamkos light the lamp early and often now after receiving the Maurice "Rocket" Richard Trophy last season. But Stammer has evened out his play a little so far this season, adding 17 assists to his league-leading 18 goals. His 35 points trails only Sidney Crosby for the league's best.
Nazem Kadri has bolstered the Maple Leafs' offense this season, with a team-high 25 points and 14 assists.
Splitting time in Toronto between the Leafs and the Toronto Marlies over the past few seasons, Kadri has made a major impact on his teammates—and probably some opposing goaltenders as well, as Martin Brodeur can attest to.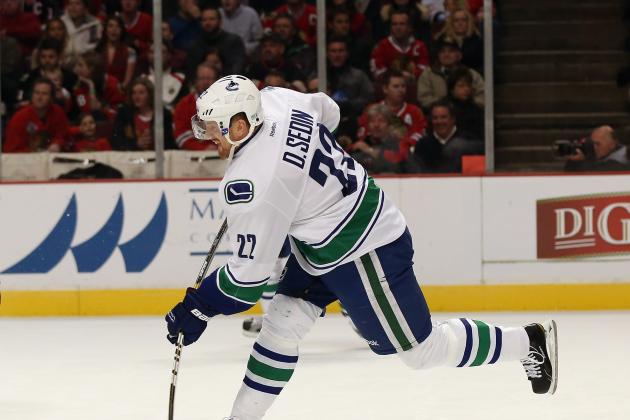 Jonathan Daniel/Getty Images
Daniel has helped put the Canucks in a familiar position atop the Northwest Division in the first half.
Daniel Sedin gets the nod over brother Henrik for Vancouver, but both have been having stellar seasons that have the Canucks in familiar territory atop the Northwest Division. Daniel leads a team that has defined scoring by committee with eight goals, including two game-winners.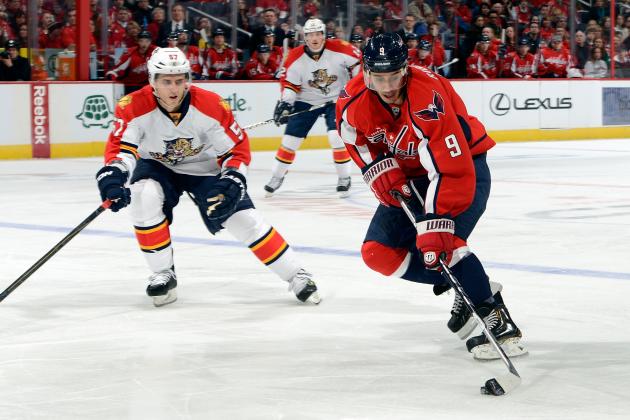 Greg Fiume/Getty Images
Since coming to Washington, Mike Ribeiro has brought his signature style of aid to Alexander Ovechkin.
While Alexander Ovechkin has been red-hot lately, Mike Ribeiro has carried the Caps through a sluggish first half. In just 22 games, Ribeiro has racked up 29 points and is tied for fifth in the league in that category. His team-high 19 assists are also tied for fourth in the NHL.
If the Capitals make a second-half comeback and sneak in a playoff spot, the always deadly Ribeiro will certainly be a major part of it.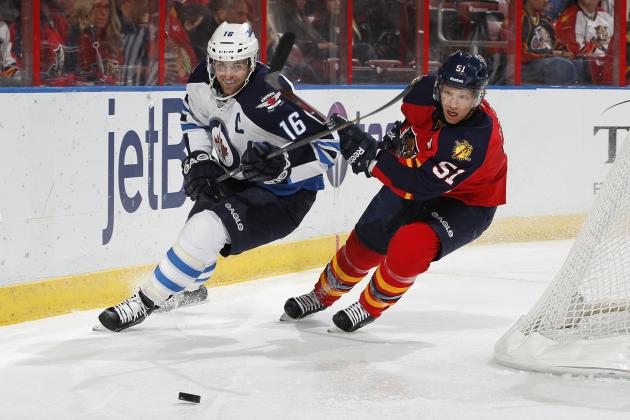 Joel Auerbach/Getty Images
The captain leads the Jets in points as they look to make the postseason.
Just three points outside of an Eastern Conference playoff spot after 23 games, the Jets are in the hunt thanks to the efforts of captain Andrew Ladd.
Ladd, a veteran who's won the Stanley Cup twice with Carolina in 2006 and Chicago in 2010, is averaging just under a point per game in 2013, registering 12 goals and 10 assists thus far. His three game-winners also lead the team as they hope to make the playoffs for the first time since the 2006-07 season when the franchise was still based in Atlanta.
How do the picks match up with yours? Which ones did I get right? Which teams have players that are more deserving? Leave a comment and let me know what your thoughts are.