7 NHL Players Who Are Playing Their Way into Buyouts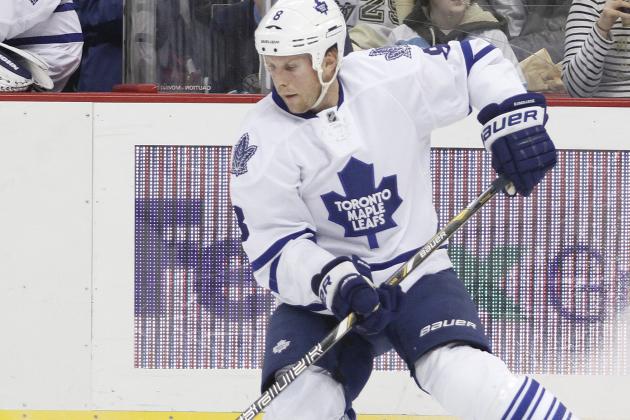 Justin K. Aller/Getty Images
Mike Komisarek is a healthy scratch for the Maple Leafs most nights.
Nightmarish contract scenarios are the bane of any general manager's existence.
Nobody can read the future. Not even the best scouts. When the Montreal Canadiens traded with the New York Rangers for Scott Gomez and his seven-year, $51.5 million contract, they thought they were getting a productive center who could see the ice well, distribute the puck to his teammates and score timely goals.
Instead, they got one of the biggest busts in NHL history.
The Rangers had their own albatross. They were saddled with Wade Redden, a defenseman who could not contribute much and was demoted to the minor leagues.
The new Collective Bargaining Agreement gave the Canadiens and Rangers a chance to buy out these disappointing players.
The reduced $64.3 million salary cap (source: SI.com) that will take effect in 2013-13 means that other players are likely to be bought out as well. Here's a look at seven players who are playing their way into buy-out situations.
(All salary information is from CapGeek.com.)
Begin Slideshow

»
Maybe it's because Mike Komisarek has taken too many beatings (see video above).
But the fact is that Komisarek is no longer a useful player in the eyes of the Toronto Maple Leafs.
Komisarek has been a healthy scratch in the majority of Maple Leafs' games this season. He has only played four times heading into games of March 6.
That's not good for his long-term employment with the Leafs. He does not have a point in the four games he has played and he has taken just one shot on goal.
Komisarek is earning $4.5 million (prorated) this season and is scheduled to earn the same amount in 2013-14.
If the Leafs can't move his contract to any other team, look for a buyout prior to the start of next season.
Ville Leino has been sidelined by a hip injury all season. He is practicing with the team and could return soon.
However, Leino was not worth the contract he signed with the Buffalo Sabres based on his play in 2011-12. Leino signed a six-year, $27 million deal with owner Terry Pegula and the Sabres. Leino gave them eight goals and 25 points in 71 games last year.
Leino would have to produce a 180-degree turnaround this year for the Sabres to consider keeping him once he returns to the lineup.
The best they should hope for is a hot start when he starts playing again so he could entice a team to trade for him. Otherwise, the Sabres must buy out Leino and reduce the mistake that was made by bringing him into the fold.
It's all gone right for the Chicago Blackhawks this season as they have reeled off 23 straight games without a regulation loss since the start of the season.
All the moving parts are playing well for the Blackhawks, and that includes the stars and the role players.
Niklas Hjalmarsson is playing decent hockey for the Blackhawks on the blue line. He is not one of their stars, but he has a goal, four assists and is plus-10. He is averaging better than 20 minutes of ice time per night.
However, the Blackhawks are scheduled to pay Hjalmarsson $3.5 million next year. General manager Stan Bowman has much better ways to spend that money and Hjalmarsson could be a buyout candidate next year.
Hjalmarsson has been a disappointment for the Blackhawks prior to this season.
Few players in the NHL have been more pedestrian than Matt Stajan in recent years.
Stajan scored six goals in 2010-11 for the Calgary Flames and eight goals last year. Stajan has scored three goals as the season approaches the halfway point and he is a textbook reason why the Flames are a below-average team.
Stajan is scheduled to earn $3.5 million in 2013-14. General manager Jay Feaster would be much better off spending that money elsewhere and not on the mundane Stajan.
He should be bought out unless the stumbling Feaster can foist Stajan on some other team.
Unlike many of the players on this list, Chris Kelly is a maximum-effort player who leaves it all on the ice every night.
He was a key acquisition when the Bruins won the Stanley Cup in 2010-11 and he scored a career-high 20 goals last year. He can kill penalties, make excellent defensive plays and he is a solid team player.
However, Kelly simply has a hard time putting the puck in the net. He has only netted one goal this season and he is constantly coming close—hitting posts and victimized by great saves—but he rarely finds the promised land.
The Bruins are scheduled to pay him $3 million next year and general manager Peter Chiarelli may have to make a hard decision and spend his money elsewhere.
In many ways, Rick DiPietro has been victimized by his contract.
The New York Islanders thought he would become their goalie of the future and they signed him to a 15-year, $67.5 million contract in 2006-07.
They have regretted the move ever since. DiPietro was sent to the minor leagues earlier this year and it seems the Islanders are ready to jettison him at season's end.
If the Islanders want to spend money on decent free agents who will help them climb in the Eastern Conference, they must part ways with the vulnerable DiPietro.
Ilya Bryzgalov is not a bad goaltender. He certainly has his moments of brilliance.
But the Flyers thought they were getting a dominant netminder when they acquired him prior to the 2011-12 season and then signed him to a nine-year, $51 million contract.
The Flyers lost in the second round of the playoffs last year against the New Jersey Devils. Bryzgalov was ordinary against the Devils and in the first-round victory over the Pittsburgh Penguins.
If the Flyers don't make the playoffs this year, why do they need to be spending $5.666 million on a disappointing netminder next year? General manager Paul Holmgren may have to make the hard decision to buy out Bryzgalov.
Bryzgalov has an 11-10-1 record along with a 2.68 goals against average and a .903 save percentage this year. He doesn't appear to be worth the cap hit the Flyers are taking.