Power Ranking the Top 10 Candidates for the Art Ross Trophy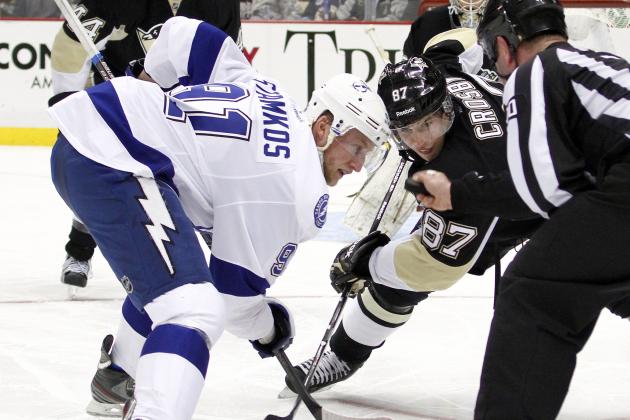 Justin K. Aller/Getty Images

The Art Ross Trophy is awarded annually to the player who amasses the most points over the course of the NHL season.
We are used to seeing the man receiving the award boast triple-digit points, but that will not be the case in a 48-game season. In fact, the compact schedule, the role of injuries and lack of training camp may dictate who the top offensive player in the league turns out to be.
In this article, we will take a look at the top 10 scorers in the league and rank their chances of winning the Art Ross. The players selected for this slideshow are the current top point-getters in the NHL, and anyone outside of the 10 best was not considered for the article.
A player's ranking is not necessarily indicative of where he will finish in the standings, but simply the likelihood that he will finish first. As an example, Chris Kunitz's ranking is low because so much of his point production is influenced by teammate Sidney Crosby; therefore, there is little chance he will actually surpass Crosby to take the lead, though he may finish very high in the standings.
The eventual winner of the award will be the player who can keep up his point production through the grueling two months ahead, and with the season so condensed, the field is wide open.
Here are hockey's top candidates for the Art Ross Trophy.
Begin Slideshow

»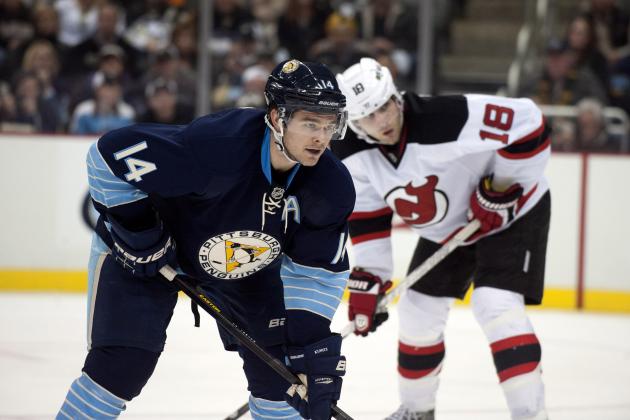 Vincent Pugliese/Getty Images

Current Stats: 23 GP/12 G/16 A/28 P
Chris Kunitz has been wildly impressive so far this year, but few hockey fanatics would argue that his remarkable point production is not directly influenced by his line.
Kunitz ranks higher than two of his offensive powerhouse teammates, James Neal and Evgeni Malkin, in this category. Still, Kunitz would not be producing at this rate on any other team; his top linemate is hockey's finest, Sidney Crosby.
Crosby makes both Kunitz and linemate Pascal Dupuis far better than their individual talents would dictate, and there seems to be no chance that Kunitz will surpass Crosby for the league lead in points. Their fates are connected, and Crosby is the superior player.
The Penguins aren't complaining, though. With this sort of production from its top two lines, Pittsburgh is home to an offense that can be unstoppable.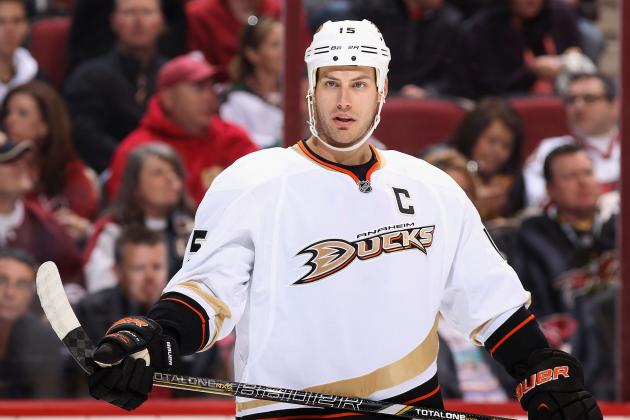 Christian Petersen/Getty Images

Current Stats: 22 GP/9 G/18 A/27 P
Having an Art Ross-worthy season during a contract year is a good, good idea. Write that down, kids.
Ryan Getzlaf is an impending free agent and one of hockey's better leaders, so he was ready to attract a big contract already. This season, his points-per-game pace (27 points in 22 games) is virtually on par with his best season ever (91 points in 2008-09).
Getzlaf is a very legitimate contender for the Art Ross. He regularly plays with the likes of Bobby Ryan and Corey Perry, and even when lines are shuffled, Anaheim's top six are among the most dangerous in the league.
There is no doubt that Getzlaf will keep scoring at a tremendous pace into the second half of the year, especially given Anaheim's success. The team is looking to rebound from a disappointing 2011-12 season, and they are all looking to Getzlaf to help them do it.
Paul Bereswill/Getty Images

Current Stats: 24 GP/10 G/17 A/27 P
Jakub Voracek has turned out to be a steal for the Flyers.
Never mind the fact that Sean Couturier was included in the June 2011 deal that brought Voracek to Philly; the Czech has found his groove and has made Philly fans forget all about Jeff Carter.
Playing on a top line with Claude Giroux and Philly's first power-play unit, Voracek has made his offensive production known. Halfway through the season, Voracek is literally on pace to surpass his career best in points (50), and this season will feature 34 fewer games than any other he has played in.
Voracek is shooting more than usual, scoring 10 goals to compete with his career high of 18. The fact that he is in the Art Ross conversation at all, instead of Claude Giroux or Danny Briere, makes the Flyers a very dangerous offensive team.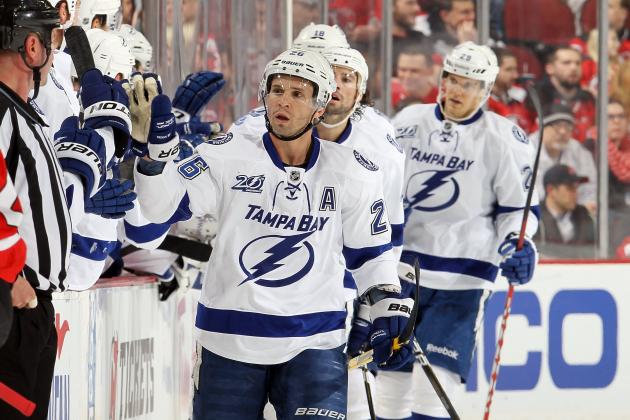 Jim McIsaac/Getty Images

Current Stats: 23 GP/6 G/24 A/30 P
Martin St. Louis is one of only two players in the league who currently have 20 or more assists.
St. Louis has found his niche as a setup man on Tampa Bay's top line and power-play unit, feeding the likes of Steven Stamkos and Teddy Purcell to give Tampa a potent offense to deal with its struggling defense.
At better than an assist per game, St. Louis is certainly a competitor for the Art Ross. However, like Chris Kunitz, Marty St. Louis' success depends on the success of an even better player.
In St. Louis' case, he is made that much better by Stamkos.
Little Marty St. Louis actually has a legitimate chance to win the Art Ross on his own, as he is a pure talent without Stamkos. But in all likelihood, the better St. Louis gets, the better Stammer gets.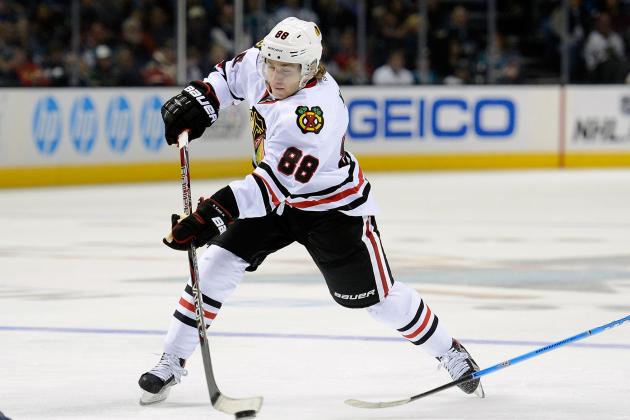 Thearon W. Henderson/Getty Images

Current Stats: 24 GP/12 G/15 A/27 P
The Chicago Blackhawks are wowing everyone but ESPN blowhard Stephen A. Smith with their record-breaking point streak, and Patrick Kane's revival has been a major part of it.
Some were prepared to write off Kane in light of his party-boy offseason antics, but like a true hockey player, Kane answered the bell.
The former No. 1 pick leads his team in scoring with 27 points so far this season and is the leading offensive figure on a squad that is starting to command the use of the term "unstoppable."
Chicago's scoring is a little too balanced for Kane to hog all the points, but pure skill and domination put Kane in the Art Ross conversation. Clearly, Chicago's goals are more lofty than the Art Ross, but don't be shocked if Kane's role has him sniffing at the points lead en route to the Stanley Cup.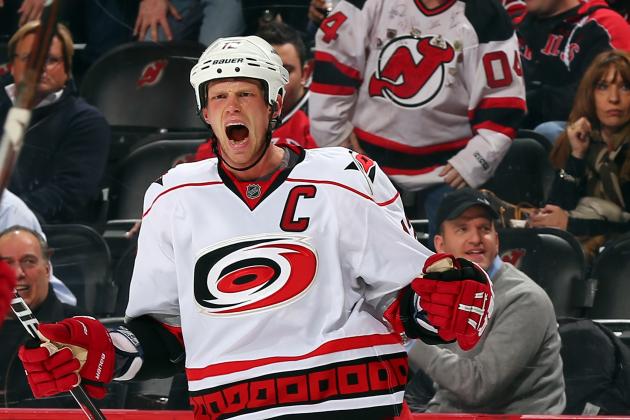 Elsa/Getty Images

Current Stats: 22 GP, 12 G/16 A/28 P
The Southeast Division is always an enigma, but the Carolina Hurricanes look determined to come out of it on top, and Eric Staal is prepared to lead them.
The ringleader of modern hockey's greatest family sits fourth in the league in point scoring at the moment, reaping huge benefits from the Alexander Semin signing in the offseason.
Staal has at times lacked a talented partner with whom he can get creative on offense, and Semin brings that to the table. Assuming that a little of Staal's work ethic rubs off on Semin, this partnership could be magic for years to come.
For the time being, Staal is a very real Art Ross candidate. He carries a large part of the offensive burden for a competitive team and thus will see his share of scoring chances. Staal remains a tier below the Crosbys and Stamkoses of the world in terms of pure ability, but his work ethic keeps him in the conversation.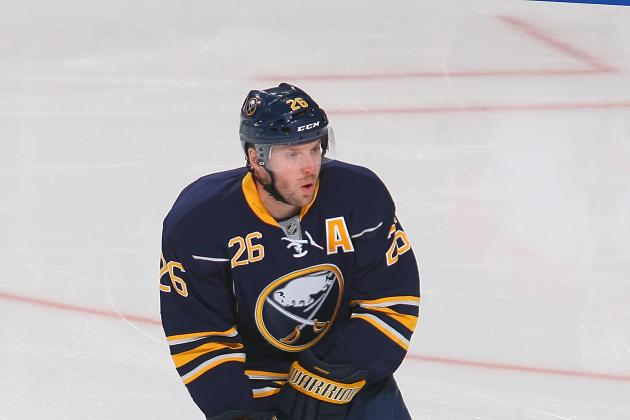 Rick Stewart/Getty Images

Current Stats: 21 GP/12 G/16 A/28 P
If Thomas Vanek had not missed three games due to injury already, he would probably be right alongside Stamkos and Crosby for the points lead in the NHL.
As it stands, Vanek is at a disadvantage due to missed time and an even bigger disadvantage due to the struggles of his team. The Sabres struggled under Lindy Ruff and are still trying to find their footing as they trade spots in the Eastern Conference basement with Florida and Washington.
Vanek has been the lone bright spot. After years of being underappreciated in a league that is becoming more fixated on superstars, Vanek has turned into the everyday player who just cannot be ignored.
He might lack the media attention of Crosby and the flash of Stamkos, but Vanek is hockey's best player whose name your friends have never heard. He is carrying a disappointing Buffalo offense each night and might be one of the team's only true building blocks, as they scramble to figure out how to become competitive again.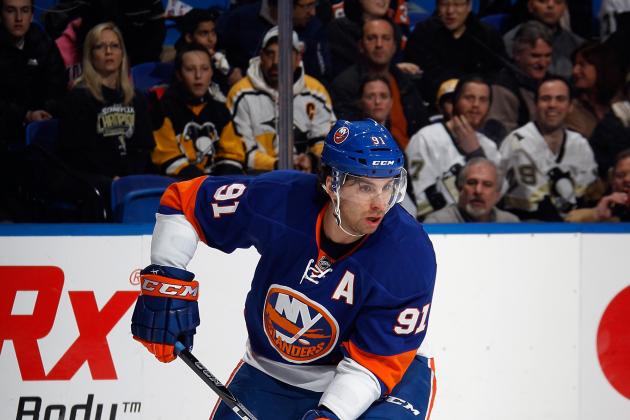 Bruce Bennett/Getty Images

Current Stats: 23 GP/13 G/14 A/27 P
There are few teams whose poor management could keep John Tavares out of the spotlight, and unfortunately, the New York Islanders are one of them.
Tavares is an absolute stud. Outside of Sidney Crosby, no player in the league makes his linemates look legitimate the way Tavares does.
If the New York Islanders could draft and develop like the Pittsburgh Penguins, those two teams would be leaving the Rangers, Flyers and Devils in the dust in the Atlantic Division.
As it stands, Tavares is carrying the load. He and teammate Matt Moulson have developed some major chemistry and have scored literally 36 percent of their team's goals this season. No other tandem in the league is more responsible for its team's offensive success than Tavares-Moulson.
The Islanders look to be headed toward another season of early tee times, but the age of this franchise being a laughingstock is dwindling. Tavares will be a legitimate outside candidate for the Art Ross this year, and the time when he and Crosby go head-to-head as the game's top stars is fast approaching.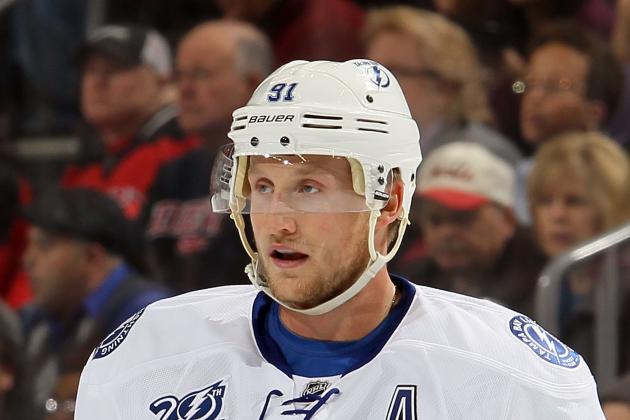 Jim McIsaac/Getty Images

Current Stats: 23 GP/17 G/17 A/34 P
When it comes down to it, hockey has two true offensive superstars right now, and Steven Stamkos is one of them.
He can be gritty and get the puck in tough areas, but the sharpshooter's bread-and-butter is his full windup; he possesses one of hockey's killer slap shots.
Not only that, but Stamkos holds arguably hockey's best one-timer, and it's damn accurate at that. And with all his shooting skill, it's easy to forget how good Stammer is distributing the puck.
This season, he is tallying as many assists as he is goals.
The stretch run of the season will be intriguing. Stamkos is the more prolific pure offensive player in comparison to Sidney Crosby, but Sid's setup skills give him the edge.
Tampa needs Stammer to turn the offense into an unstoppable force to make up for a shoddy defense, and that added responsibility could be the difference-maker that allows Stammer to capture his first Art Ross Trophy.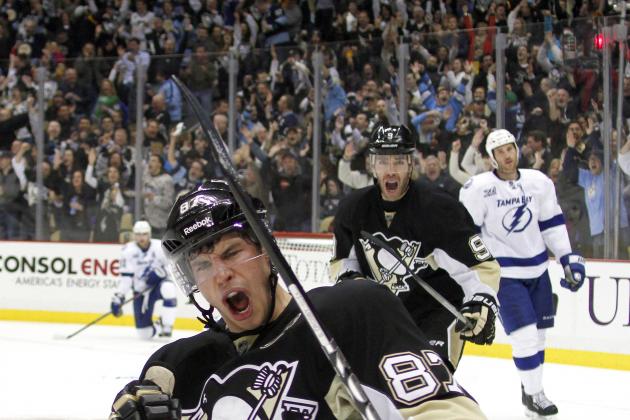 Justin K. Aller/Getty Images

Current Stats: 23 GP/11 G/25 A/36 P
Hopefully, 2013 will prove to be Sidney Crosby's first full season since 2009-10, and if it does, then Crosby is the odds-on favorite to win the Art Ross Trophy.
When it comes down to it, no player is better equipped to lead the league in points than Crosby.
He has scored 51 goals in a season before, proving that he can shoot the puck. He is one of hockey's top setup men, having racked up as many as 84 assists in a season previously.
On top of it all, he plays on one of the best offensive teams in the NHL, spending significant power-play time with Evgeni Malkin, James Neal and others.
It would seem that only injury could prevent Crosby from winning the Art Ross this season. Stamkos will give him a run for his money, but Sid the Kid is the more complete player on the more complete team.
The Art Ross will remain in Pittsburgh at the end of the season.