NHL Southeast: Why It's Not Time for the Washington Capitals to Give Up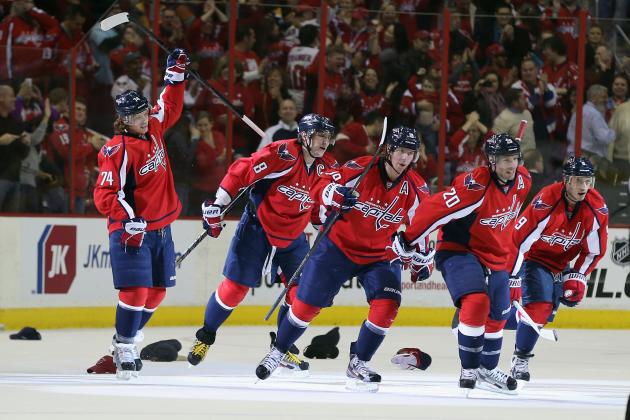 Bruce Bennett/Getty Images
The Washington Capitals have rebounded from a slow start this weekend, and are only four points out of first place in their division.
After starting off slow this season, and spending a good amount of time in last place, the Washington Capitals are back on track, and are showing they are capable of taking over the lead in the Eastern Conference's Southeast Division.
Washington's latest win came tonight, after shutting out the division-leading Carolina Hurricanes.
Many fans were ready to give up on the season and just give rookie head coach Adam Oates the rest of the year to get his system in place.
However, after rattling off five wins in their past seven games and improving on all sides of the puck, the Caps look like the rust is finally starting to wear off.
Although they are still fifth in their division, there is still plenty of time for them to make up ground, and fans should have every reason to be hopeful for a playoff appearance in 2013.
From goaltending to skating to scoring, Oates' team has just been better all around and wins against the Devils and the Lightning in the past few games prove that the Caps aren't ready to give up.
Begin Slideshow

»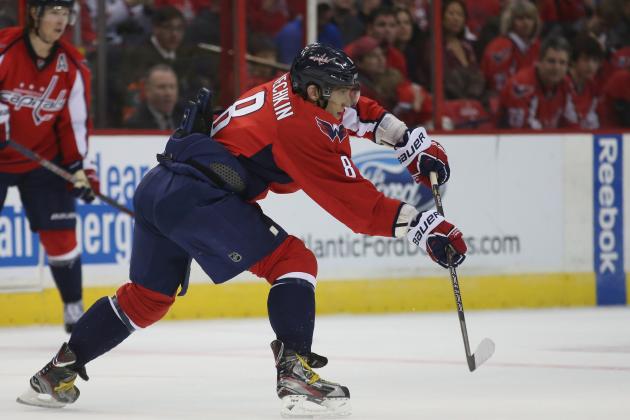 Bruce Bennett/Getty Images
Alex Ovechkin recorded his first hat trick in over two years on the weekend, scoring three goals against the New Jersey Devils.
After getting off to a very quiet start in 2013, captain Alex Ovechkin finally seemed like his old self over the weekend.
In Saturday's game against the New Jersey Devils, he had his first hat trick in over two years, putting up three goals and an assist in the 5-1 win.
He put up another point Tuesday night on an assist against the Carolina Hurricanes.
In the month of January, the winger only had three points in seven games, but has since picked up the pace, producing 11 points in 10 games.
Ovechkin provides a spark to the Caps' offense when he is rolling, and it seems that whatever line Ovechkin is on doesn't produce if Ovechkin isn't rolling.
As long as Ovie continues to improve and has games like he did against the Devils, it adds a whole new element to Washington's roster that otherwise leaves them with a huge gap in goal scoring.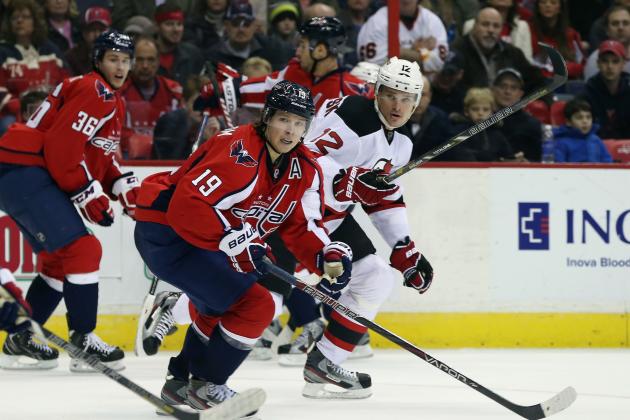 Bruce Bennett/Getty Images
Nicklas Backstrom and the rest of the powerplay unit for Washington has greatly contributed to the overall increase in offensive production from the team.
Earlier on in the season, it seemed like the Caps couldn't put anything in the net on the power play.
Through the first months, the Caps only had five power-play goals, and have since improved to second in the league in power-play conversion.
Both Alex Ovechkin and Mike Ribeiro have five power-play goals, and Troy Brouwer has four, with four other players behind him with one power-play goal each.
The Caps have struggled with taking a lot of penalties, but their power-play improvement has been off-setting that, converting when the other team makes mistakes.
Tuesday night, Nicklas Backstrom had his first power-play goal of the year. Backstrom has has seven power-play assists on the year.
Converting while a man up was one of the main concerns for Washington a few weeks ago, but with this turnaround, it is becoming harder to make mistakes against the Caps and get away with it.
Bruce Bennett/Getty Images
Goaltender Braden Holtby has two shutouts in his past seven starts.
In their first seven games, Washington goaltenders were giving up an average of four goals per game, and it seemed that the Caps weren't going to be able to find a netminder they could rely on.
Since then, Braden Holtby has emerged as the front-runner, putting up two shutouts in his past seven starts, one against the Florida Panthers and the other against the Carolina Hurricanes.
After Michal Neuvirth started five games in a row, Holtby has taken over, starting in all but one of Washington's past 11 games.
Holtby now has an .896 save percentage and a 3.37 goals-against average, but he has proven to at least give the Caps a chance to win in every game.
Outside of a 6-5 game against the Panthers, in which the Caps won in overtime, Holtby hasn't given up more than three goals in a game.
If the offense can continue to improve, it makes goaltending that much easier, but having Holtby as a reliable starter certainly helps Washington's chance of making the playoffs.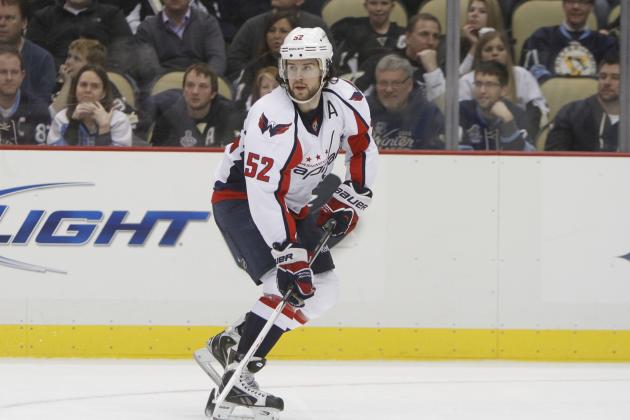 Justin K. Aller/Getty Images
Despite a few minor injuries, defenseman Mike Green has still appeared in 14 games for the Capitals.
Outside of an injury to center Brooks Laich, the Capitals have been relatively injury-free this season, and in this shortened season, it's important for every team to have their best players on the ice.
The injury-prone Mike Green has missed three games this season, most recently due to a groin injury, but 11 players have appeared in every game this season.
Currently, Laich and center Marcus Johansson are the only two players on the Caps' roster on the injured reserve, and stars on the team like Alex Ovechkin and Nicklas Backstrom haven't faced injury yet.
With only 30 games left in the season for Washington, it's important that they keep as many of their players healthy as possible.
They can't afford to have Ovechkin or Green missing for more than one or two games with an injury, as each game can easily swing the momentum of the season.
If the team's health stays like it has so far, then the Caps are in position to at least have their best players on the ice every game.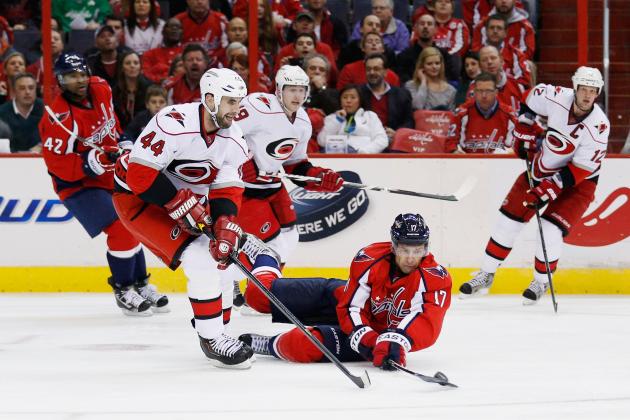 Rob Carr/Getty Images
Although they are first in the Eastern Conference's southeast division, the Carolina Hurricanes are only one game above .500.
While there are a number of things going right for the Caps, it seems that the division is starting to come to them, as other teams in the southeast division are struggling.
The division-leading Carolina Hurricanes are only one game above .500 and have lost four out of their last five games, most recently to Washington.
Right above the Caps in the division are the Florida Panthers, who have a 6-9-4 record but are still only three points out of first place.
The Panthers are really struggling, and rank 25th in the league in goals per game and 30th in goals against. Washington has proven they are better than the Panthers, beating them 5-0 and 6-5 in back-to-back games.
At the top of the division along with the Hurricanes are the Winnipeg Jets and Tampa Bay Lightning, who also have 19 points.
Washington has gone 1-2 against both teams, losing to both earlier in the season, but most recently beating the Lightning in Tampa Bay.
The Jets don't particularly stand out in any statistical category, and rank 30th in the league in penalty killing, while the Caps are at the top of the league in scoring on power plays.
While the Lightning are the best team in the league in scoring, they give up an average of 3.2 points per game.
No team in the division is complete, and they are all beatable, as Washington has proven. If Washington continues to improve its play, there is no team who looks like they make a better argument to finish the season on top of the division.