NHL Video: 10 Best Plays from Week Five of the 2013 Season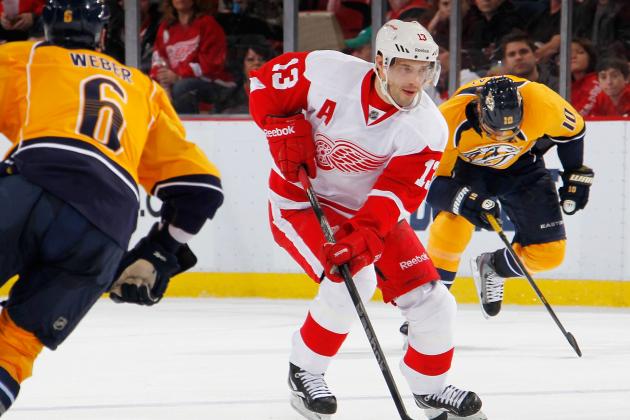 Gregory Shamus/Getty Images

The highlight reel from Week 5 of the NHL season is in, and the greatest setups, saves and scores of the week are ready for your viewing pleasure.
This week features a handful of slick moves from forwards to dance around defenders, and some flashes of leather that kept surefire goals off of the scoreboard.
However, while goals are always golden when it comes to plays of the week, Week 5 is capped off by one of the best passes and one of the best saves you will see all season.
Check out the videos of the ten best plays from Sunday, February 17 through Saturday the 23.
Begin Slideshow

»
Thomas Hickey scored his first NHL goal earlier in the week, and all he had to do is plant himself at the side of the net and let John Tavares and Michael Grabner take care of the rest.
The memorable goal was a game-winner in overtime and came off of a fantastic setup from two of the team's superstars.
Against the Canucks on February 19, Marian Hossa worked his way through the crease to backhand the puck around Cory Schneider.
When you see how bad he made the Vancouver D look on this play, it's no surprise that Jannik Hansen decided to throw a suspension-worthy elbow later in the game.
This offseason and during the lockout, Jamie Benn made it a point to hold out for a bigger contract while a restricted free agent under the Dallas Stars.
Against the Vancouver Canucks this week, we all got a look at why he deserves the big bucks.
With 25 seconds left in the game, Columbus' Vinny Prospal turned his back on Detroit netminder Jimmy Howard and put one by him on a half-spin-o-rama, half-backwards backhander.
Prospal showed that he can be an ageless wonder with this creative crease maneuver.
Monday tends to be that day of the week where we're all dragging from the hassle of getting out of bed after a weekend that seemed too short.
Sergei Bobrovsky left his case of the Mondays at home this week when the Blue Jackets traveled to Anaheim, though he sure made Kyle Palmieri second-guess his own decision to get out of bed by robbing him with the leather.
It seems like, on any given week, Pavel Datsyuk has at least one quiet contribution to any given top 10 list.
This week, it was his coast-to-coast ballet around four Nashville defenders that stuck out and qualified for the highlight reel.
In fact, Nashville's Colin Wilson gets team bragging right on this goal as the only player not to be totally befuddled by Datsyuk on his cross-ice journey.
In this age of the shootout, goaltenders see so many penalty shots that it takes a little extra creativity to fool them.
Jonathan Huberdeau has that creativity.
A stutter step, some stick handling and a seeing-eye backhand through the five-hole and Huberdeau is 1-for-1 in his career in penalty shots.
When one of hockey's best setup men is dishing the puck to one of hockey's best goal scorers, a goal is a foregone conclusion...unless Ryan Miller is in net.
The Sabres' netminder returned to the highlight reel with this unbelievable save on James Neal, sliding across the crease and getting his glove in position in the nick of time.
If there is a more beautiful setup in the NHL this year, I have yet to see it.
Zach Bogosian got in position to prevent Alexander Semin from moving in on the Winnipeg goal and went down to prevent the pass. Semin fools everyone by going backhand through his own legs, putting the puck between Bogosian's wickets at the same time.
If you're Jiri Tlusty, the hardest part of your job is not freezing up in awe of your linemate.
Considering he was behind Jaroslav Halak and Brian Elliott on the Blues' goaltending depth chart, I don't think Jake Allen expected to play in the NHL at all this year, much less have what could be the save of the season.
Thanks to an injury to Halak, Allen has seen time as a backup, and he will be seen in highlight reels across the league thanks to this save vs. the Flames.
Seemingly down and out on a Calgary odd man rush, Allen stabs his stick through the air to stop a surefire goal, then calmly catches the puck like that wasn't the coolest thing he's ever done in his life.
Good for you, Jake Allen.