Chicago Blackhawks Break NHL Record with 2-1 Victory vs. San Jose Sharks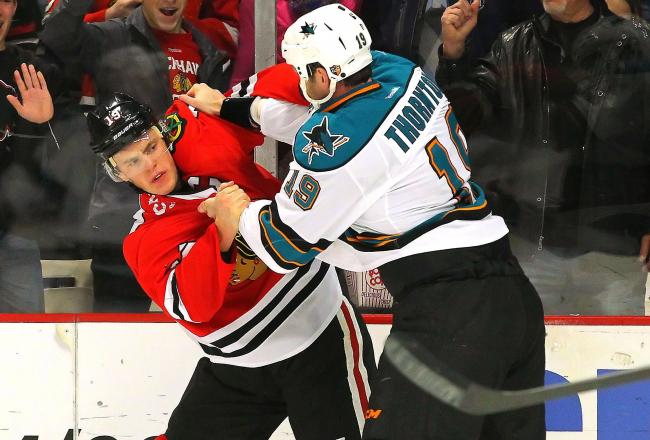 Dennis Wierzbicki-USA TODAY Sports
The Chicago Blackhawks (14-0-3) defeated the San Jose Sharks 2-1 on Friday night to set an NHL record for the most consecutive games (17) to start a season without a regulation loss.
The three previous teams to start a season without losing in regulation through 14 or more games also won the Stanley Cup. After watching the Blackhawks dominate the Western Conference through 17 games, it's obvious that they are the favorites to hoist the Stanley Cup in June.
Brandon Saad broke a 1-1 tie in the third period with a short-handed goal, and the Blackhawks played very well defensively to prevent a Sharks comeback in the final minutes.
Patrick Marleau opened the scoring for the Sharks in the final moments of the first period, but San Jose was unable to create many high quality scoring chances in the final 40 minutes.
The loss drops the Sharks to 8-5-3, and they have now lost eight of their last nine games. San Jose is also 0-3 versus Chicago this season.
The Blackhawks' next game will be on Sunday against the Columbus Blue Jackets at the United Center. The Sharks will travel to Texas for a Saturday matchup with the Dallas Stars.
Scoring Summary
Patrick Marleau at 19:45 of the 1st Period, assisted by Joe Thornton and Joe Pavelski
Viktor Stalberg at 16:40 of the 2nd Period, assisted by Patrick Kane and Johnny Oduya
Brandon Saad at 2:24 of the 3rd Period (Short-handed), assisted by Michal Rozsival and Duncan Keith
Nicholas Goss is an NHL Lead Writer at Bleacher Report. Follow him on Twitter. He was a credentialed reporter at the 2011 Stanley Cup Final and 2012 NHL playoffs.
3 Stars
Brandon Saad (CHI): 1 Goal
Ray Emery (CHI): 1 GA, 26 Saves
Viktor Stalberg (CHI): 1 Goal
Final Stats
Score: Blackhawks 2-1
Shots: Blackhawks 34-27
Hits: Blackhawks 29-27
Faceoffs: Blackhawks 33-27
PIM: Sharks 16-10
Power-plays: Sharks 0-4, Blackhawks 0-2
Congratulations to the Chicago Blackhawks!
And that, ladies and gentlemen, is an NHL record! #Blackhawks beat San Jose, 2-1, their 17th straight without a loss in regulation!

— Chicago Blackhawks (@NHLBlackhawks) February 23, 2013
Final Score
Blackhawks 2, Sharks 1
Marian Hossa misses the empty net but there was a penalty anyway. If he scored the goal wasn't going to be allowed.
Score Update: Blackhawks 2, Sharks 1 (0:30 left in 3rd Period)
Wingels with an open look at the net with two minutes left…and his stick breaks on the wrist shot attempt.

— Kevin Kurz (@KKurzCSN) February 23, 2013
Score Update: Blackhawks 2, Sharks 1 (1:07 left in 3rd Period)
Niemi has headed to the bench for the extra attacker! Sharks use their timeout.
Score Update: Blackhawks 2, Sharks 1 (2:00 left in 3rd Period)
Blackhawks ice the puck and the Sharks will have an important offensive zone faceoff.
Dave Bolland has not taken a shift this period, and is not on the bench. No official word till after the game. #Blackhawks

— Mark Lazerus (@MarkLazerus) February 23, 2013
Emery has been fantastic tonight. The Blackhawks goaltender has stopped 23 of the 24 shots he's faced tonight.
Score Update: Blackhawks 2, Sharks 1 (4:00 left in 3rd Period)
Stalberg has a 1-on-1 with Niemi and shoots from the right faceoff circle but the Sharks goaltender makes a huge save.
Blackhawks have a 9-8 shot advantage in the 3rd period. They have also done a great job defending the blue line and not allowing the Sharks easy access into the attacking zone. Chicago is controlling the pace and physicality of this game.
Logan Couture has just one shot on goal and one hit tonight. He has to make more of an impact for the Sharks to tie this game.
Score Update: Blackhawks 2, Sharks 1 (8:14 left in 3rd Period)
Video of Marcus Kruger's goal from the 2nd period.
Dave Bolland is not on the Blackhawks bench. It's possible that he is injured. I will provide an update when possible.
Score Update: Blackhawks 2, Sharks 1 (10:35 left in 3rd Period)
Will the Sharks come back and tie the game? They have only scored 10 third period goals this season, which is the second-fewest in the NHL.
Blackhawks are 4-for-4 on the penalty kill tonight, including a short-handed goal that has given them a 2-1 lead.
Score Update: Blackhawks 2, Sharks 1 (13:35 left in 3rd Period)
Sharks will be on the power-play again, they are 0-3 tonight.
Blackhawks aren't making this easy on themselves. Bickell headed to the box this time.

— ESPN Chicago (@ESPNChiHawks) February 23, 2013
Saad's goal has given the Blackhawks a huge boost of energy.
Score Update: Blackhawks 2, Sharks 1 (14:59 left in 3rd Period)
GOAL! (Short-handed)
Brandon Saad skates into the attacking zone with great speed and scores glove side on Niemi with a shot from the left faceoff dot. Brent Burns gave Saad way too much room and did not do enough to prevent Saad from getting a clean shot off.
This article is
What is the duplicate article?
Why is this article offensive?
Where is this article plagiarized from?
Why is this article poorly edited?