Stock Up, Stock Down for NHL's Top 20 Defensemen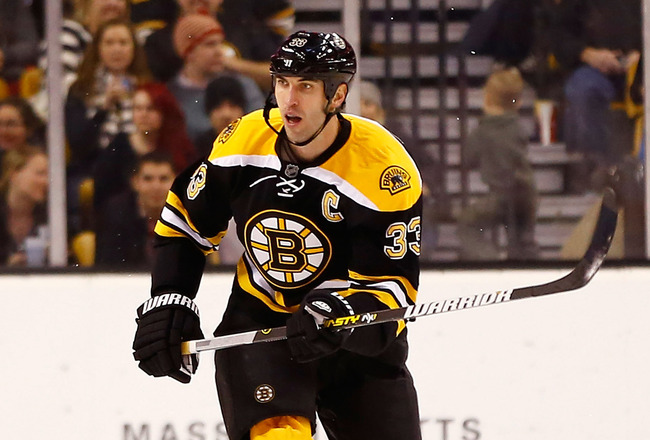 Jared Wickerham/Getty Images
The league's top defensemen are vying for a shot at the Norris Trophy and, more importantly, the Stanley Cup, and many contending teams are in the running because of their talent on the blue line.
Being an elite defenseman is a tricky task. Whatever offensive skill you possess cannot be outweighed by ineffectiveness in your own zone. Gambling by pinching in to try to create a scoring chance can easily lead to odd-man rushes going the other way.
We are more than a quarter of the way through the shortened 2013 NHL season, and the contenders and pretenders are beginning to take shape.
Let's take a look at the 20 best defensemen in the NHL and see whose stock is on the rise this season, and who seems to be over-the-hill or on the decline.
20. Kimmo Timonen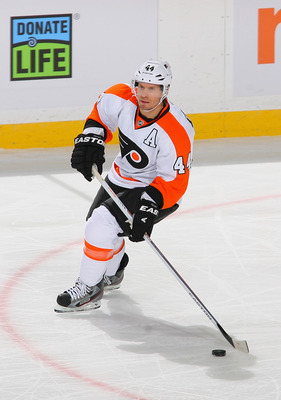 Rick Stewart/Getty Images
Stock: Down
Philadelphia's defensive anchor signed an extension to play an extra year in Philadelphia (source: flyers.com), but with a $6 million price tag, it's hard to understand why.
The soon-to-be 38-year-old has been saddled with injuries for the past few seasons and mysteriously left a game against the New Jersey Devils with a lower-body injury.
His leadership is still invaluable to Philadelphia, but his abilities simply are not what they used to be. It's hard to picture him setting the standard on the Flyers blue line as the 39-year-old during the 2014 postseason.
19. Josh Gorges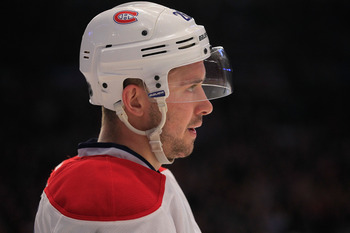 Chris Trotman/Getty Images
Stock: Hold
As a defensive defenseman, Josh Gorges quietly led all defensemen in blocked shots last year (with 51 more than the next highest player), and he rarely gets the credit that is due for his physical style.
This season, Gorges is blocking and hitting at a lower rate than he was in 2011-12, but a major reason for that could be that the burden of playing that role has been lifted with the return of a healthy Andrei Markov.
Gorges' defensive statistics likely won't look as impressive at the end of this season, but he still plays an important role for the Habs, and plays it very well. This season comes with the added pressure of a potential playoff run.
18. Brian Campbell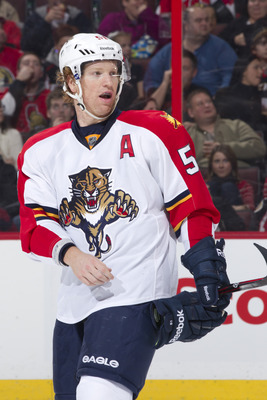 Jana Chytilova/Freestyle Photo/Getty Images
Stock: Down
Campbell totaled 53 points during the 2011-12 season, tying him for second in the league among defensemen.
This season, Campbell is still putting up points (a respectable eight in 15 games), but his plus-minus has become disheartening in Florida.
Less than one third of the way through the season, Campbell is already a minus-nine, the same stat he finished with after 82 games last regular season. His scoring has taken a small hit, and his defensive responsibility has become suspect for this struggling Florida team.
17. Dan Girardi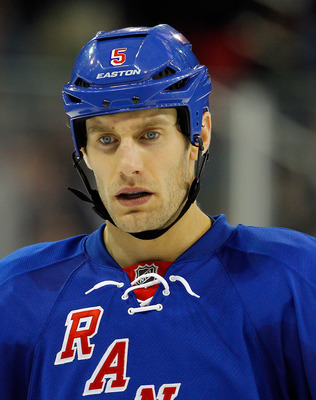 Elsa/Getty Images
Stock: Down
Dan Girardi is another underappreciated defensive defenseman, playing for one of hockey's better defensive teams in the last few years, the New York Rangers.
Last season Girardi was a force in his own zone, racking up 185 blocked shots and 211 hits over the course of the regular season, in which he played all 82 games.
Girardi's rates of hitting and blocking are slightly lower this year, and he has already missed two games due to injury.
On a team with the likes of Marc Staal and Ryan McDonagh, Girardi doesn't carry the same burden as other members of this list, but it's hard to argue that he seems to be playing with a little less intensity than he did last season.
16. Dion Phaneuf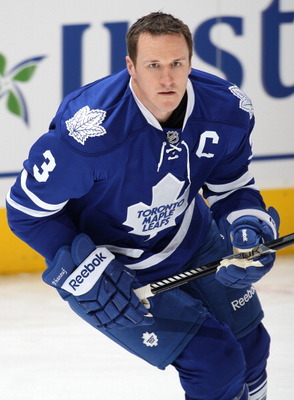 Claus Andersen/Getty Images
Stock: Down
Last season, Dion Phaneuf notched a point every other game. Through 16 games in 2013, his scoring rate is slightly lower, sitting around 0.43 points per game.
This season, Phaneuf is taking more penalties (1.38 PIM/game versus 1.12 PIM/game in 2011-12) and throwing fewer body checks (averaging just over two per game).
On top of it all, playing for a better Maple Leafs squad, Phaneuf is already a minus-six on the season. He was a minus-10 after 82 games last year, a total he will surpass quickly if he can't get his game back.
15. P.K. Subban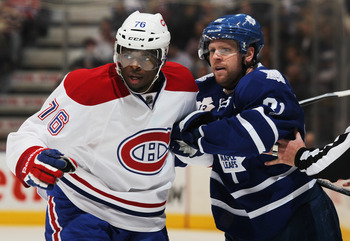 Claus Andersen/Getty Images
Stock: Up
The Montreal Canadiens held firm while Subban held out, and it appears that the young defenseman is determined to make sure the team won't be so stingy the next time he's negotiating a contract.
In just 10 games this season, Subban has six points and has scored three goals. That puts him only four tallies away from his full-season total in goal scoring last year.
Discipline and defensive positioning are still going to be issues for the Habs, but the team puts Subban out there to wreak havoc and create some offense, and that's exactly what he is doing this year.
14. Dustin Byfuglien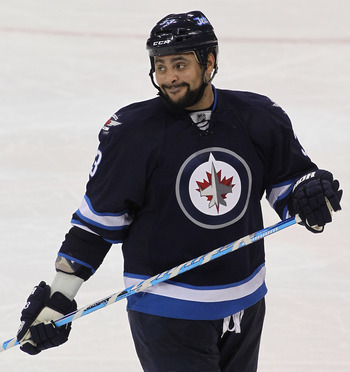 Marianne Helm/Getty Images
Stock: Hold
Dustin Byfuglien began the season strong, notching seven points in his first six games, a pace even better than his 53 points in 66 games last season.
However, Byfuglien missed the next five games with a lower-body injury, and in the three games since he returned, he has failed to register a point.
The fast start to his season certainly upped Byfuglien's stock, but the concerns over his durability and his stifled production since are a detriment. For now, he is a hold, and could soon see that stock dip significantly.
13. Michael Del Zotto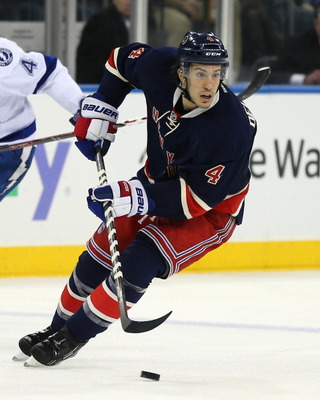 Elsa/Getty Images
Stock: Up
MDZ was an offensive phenom of the Rangers last season, racking up 10 goals and 41 points over the course of the regular season.
After some disputes over his new contract, Del Zotto is back in blue and better than ever. He's tallying a point every other game and is already a plus-five on the season.
His plus-minus stat is especially impressive considering that last year's numbers would have been inflated by New York's strong offense and defense, while the team has looked much more average this year. Del Zotto is on pace to surpass his plus-20 from 2011-12 despite playing in a significantly shortened season.
12. Drew Doughty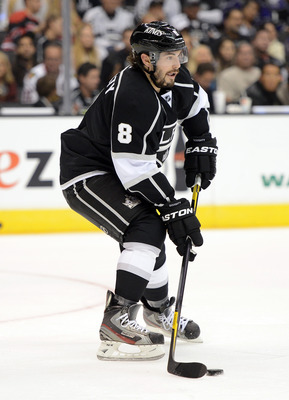 Harry How/Getty Images
Stock: Up
The LA Kings are struggling mightily this season, but Drew Doughty is not to blame.
Doughty is scoring at a pace similar to last season, when he notched 36 points in 77 regular season games. His minus-nine is disheartening, though one would have to assume that Jonathan Quick's uncharacteristically poor goaltending has contributed to that statistic.
Where Doughty has upped his stock is in his physical game. Seeing the need to spark his team, Doughty is tallying a full-body check more per game than he was in the 2011-12 regular season.
If someone wants to take his Cup from him, they're going to get banged up doing it.
11. Dan Boyle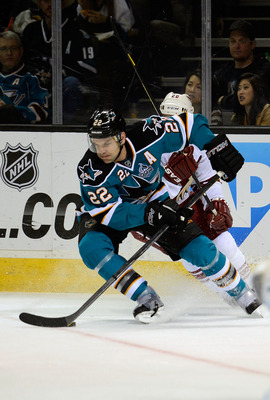 Thearon W. Henderson/Getty Images
Stock: Hold
To start the 2013 campaign, Boyle has tallied nine points in 13 games, including two goals.
The 36-year-old is still going strong, an impressive feat for a player his age, but his poor plus-minus in a season when the Sharks have otherwise played sound defensive hockey is a concern.
A plus-10 last season, Boyle is already a minus-five in 2013, despite the fact that San Jose as a whole is plus-five on the year.
We'll call Boyle a hold for his noteworthy contributions to the scoresheet alongside his inability to excel on all parts of the ice.
10. Duncan Keith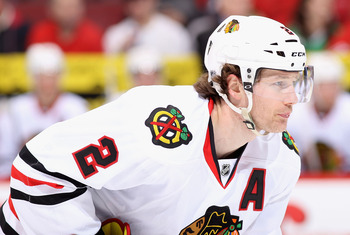 Christian Petersen/Getty Images
Stock: Up
After a few years of average play following Chicago's Stanley Cup victory, Duncan Keith seems to be returning to form in 2013.
In 16 games the defenseman already has nine assists and 10 points, his best scoring clip since the 2009-10 season. In addition, Keith has been blocking more shots, and the Blackhawks have been red-hot as a result.
For better or for worse, Keith has been more aggressive this season. In just 15 games, he had already surpassed his PIM total from a full 82-game season in 2010-11. The chip on his shoulder is translating into a revitalization for Duncan Keith.
9. Alexander Edler
Harry How/Getty Images
Stock: Up
Any teams with visions of courting Alexander Edler in the offseason saw those hopes dashed when he signed a six-year extension with the Vancouver Canucks.
Edler's price tag went up to $5 million per year, and his stock rose with it. Edler now has 11 points in 15 games, putting him on pace for nearly 60 points if this were a full 82-game season.
Most impressive of Edler's stats is his shooting percentage. Edler is putting the puck past the keeper on nearly nine percent of his shots, a rate of scoring that is extremely rare among defensemen.
8. Kris Letang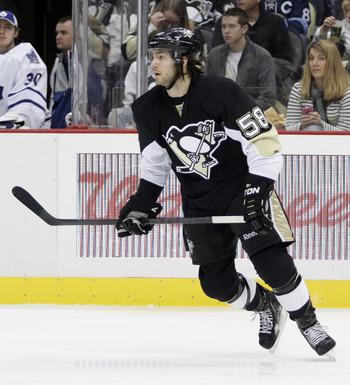 Justin K. Aller/Getty Images
Stock: Hold
When healthy, you could make the argument that Kris Letang is the best offensive defenseman not named Erik Karlsson.
Unfortunately, "healthy" is a disconcerting word for the Pens defenseman.
Letang put up an amazing 42 points last season, a stat made more impressive when you consider that he only played in 51 games, while those 31 missed games produce an equally worrisome result.
This year, he has 11 points in 13 games, but the Penguins have already had to play without him for three games. Letang's talent cannot be questioned. His longevity and durability on the other hand, absolutely have to be questioned.
7. Keith Yandle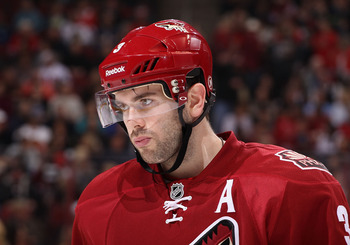 Christian Petersen/Getty Images
Stock: Up
Yandle is one of hockey's better all-around defensemen, and his offensive production and defensive presence continue to be on a slow but steady rise this season.
Yandle has two goals and eight assists in 16 games this season and is a plus-three on the year, playing for a Phoenix team that has been hovering around even in terms of goal differential.
What makes Yandle's stock so obviously desirable is the plethora of trade speculation surrounding him, including talk from the Ottawa Sun's Bruce Garrioch mulling over the idea of Yandle as a Flyer. If the Coyotes can't afford to keep him on board, teams that need defenseman will find themselves calling up ownership in Phoenix (or as some call it, the NHL) first and foremost.
6. Alex Pietrangelo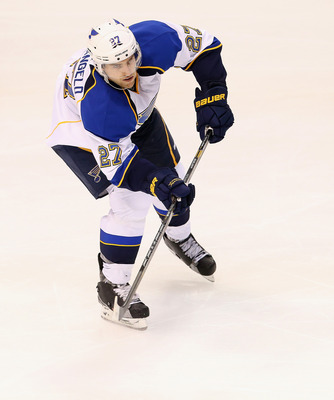 Ronald Martinez/Getty Images
Stock: Up
Alex Pietrangelo is one of the league's best young defenseman, and the 23 year-old is on the cusp of being a regular Norris Trophy nominee.
This season, Pietrangelo would be on pace for record numbers if it were a full 82-game season. As it were, he is on pace to finish with 38 points in a 48-game season, numbers that could be good enough to make him the highest-scoring defenseman in the league, thanks to Matt Cooke, who sidelined Erik Karlsson.
On top of it all, Pietrangelo is scoring on 11 percent of his shots on net. Being on the blue line is no problem for Pietrangelo's sniper.
5. Ryan Suter
Gregory Shamus/Getty Images
Stock: Down
Ryan Suter was one of the last NHL players to obtain a massive, never-ending deal before term limits were set by the new Collective Bargaining Agreement.
For all he did to earn that contract, it seems as though Suter is in no rush to earn the actual paycheck. His eight points in 15 games are respectable but largely unimpressive.
In addition, Suter, who was supposed to bring a little stability to the Minnesota blue line, is a minus-five already in this young season.
Suter has finished as a minus player only once in his NHL career, so we may be seeing the effects of leaving his wingman Shea Weber.
4. Kevin Bieksa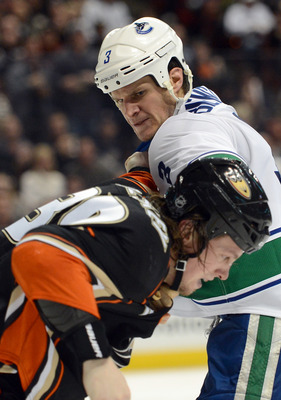 Harry How/Getty Images
Stock: Hold
Kevin Bieksa's point production is down big-time this season.
He has managed only five points through 15 games this year, way down from his 44 points in 78 games in 2011-12. However, Bieksa has sacrificed his offensive numbers for a more defensive game, and it's hard to argue that he is any less valuable to the Canucks.
Bieksa is already a plus-six on the year, halfway to his regular season total from 2011-12. He is blocking shots at a higher rate this year and has been efficient in the offensive zone, scoring on more than 12 percent of his shots.
For now, let's call Bieksa a hold.
3. Shea Weber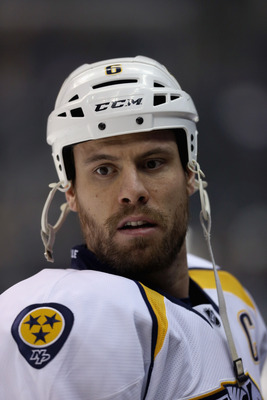 Jeff Gross/Getty Images
Stock: Down
Shea Weber misses Ryan Suter even more than Ryan Suter misses Shea Weber.
Though Weber did score the overtime winner in Tuesday night's game, he still has only seven points in 17 games this season, scoring at a slower pace than he did last year.
More concerning is his plus-minus. Right now he is plus-two, compared to ending the year plus-21 last season.
There is no denying Weber's talent as a hockey player, but it is hard to argue that he didn't benefit from being part of a double-edged sword in Nashville for so many years.
2. Erik Karlsson
Francois Laplante/FreestylePhoto/Getty Images
Stock: Down
We all know why Erik Karlsson's stock is down, and it has everything to do with some carelessness on the part of NHL villain Matt Cooke.
The fact of the matter is that Karlsson had 10 points in 14 games prior to being sidelined for the season after surgery on his Achilles tendon. The scoring pace wasn't exactly what it had been last year, but Karlsson did have a whopping six goals in that time frame and, best of all for the Senators, he was already a plus-six on the season.
Karlsson's weakness has always been his defensive game, and he seemed to be improving that aspect of his play. For that reason, Karlsson would have been a hold or better had this freak injury not prematurely ended the season for Karlsson.
1. Zdeno Chara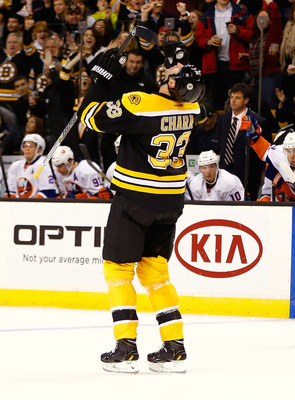 Jared Wickerham/Getty Images
Stock: Hold
Hockey's biggest brute is still its best.
Chara is a giant in the offensive zone, defensive zone, and of course, just in general, and he is still playing like it at age 35.
His scoring is slightly down this season, as he only has six points in 13 games thus far. However, Chara has focused more on his defensive play as the Boston offense becomes more dynamic.
The captain has increased his rate of blocking shots and, much to the dismay of the Max Paciorettys of the world, hitting.
He remains a plus-player, he remains a scary shooter and he has led the Bruins to a 9-2-2 record to start the season.
Keep Reading