Top Plays and Best Goals in NHL for Week of Feb. 10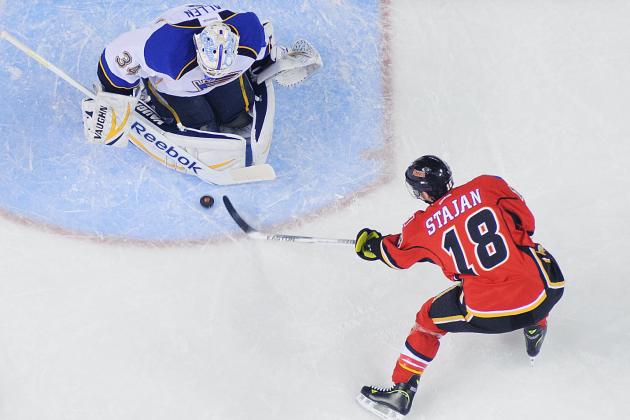 Derek Leung/Getty Images

Folks, this week's top NHL plays is a collection of absolute dandies. Seriously, there will be weeks when all five of these plays would be the top option.
It was a great, great week.
From some fantastic goals to an absolutely bone-crunching hit—and my goodness, wait until you see the saves from this week!—this slideshow is full the sort of plays that make you stand up in your seat and holler.
So what are you waiting for? Click the slides, already!
Begin Slideshow

»
This is such a brilliant goal by Alex Hemsky, though we have to start by giving props to Ryan Smyth. He did a great job forcing the turnover, and then found Hemsky in the middle of the ice.
But from there it was all about Hemsky, who deked between two defenders and sent Semyon Varlamov
in one direction before sweeping the puck in the other and slotting his shot home.
Now you see me, now you don't. The Edmonton Oilers would recover from 3-0 and 4-1 deficits in this game and eventually beat the Colorado Avalanche, 6-4.
This makes the top plays for two reasons.
It was a fantastic, bone-crunching hit on one of the most skilled players on the league.
It very likely saved a goal. If Pavel Datsyuk clears Drew Doughty, he likely nets the puck. So this wasn't just a fantastic hit, it was also a clutch defensive play.
The Red Wings ended up winning 3-2, so I guess Datsyuk got the last laugh, although it was most likely a painful laugh.
Sure, Carl Hagelin is the goal scorer here, but this play is all about Rick Nash. There are so many things to be impressed about on this play.
His dexterity in eluding the defense, his body control to maintain possession of the puck as he falls to the ice, and his vision to see Hagelin streaking to his left were all just brilliant.
The New York Rangers would beat the Boston Bruins, 4-3.
We now enter the goalie portion of the program.
On any other week, Anders Lindback would have earned the top spot with this absolute gem of a stick save. But you'll see why he doesn't earn the top spot in a moment.
While the Tampa Bay Lightning would still lose to the Montreal Canadiens, 4-3, Lindback kept things close.
Such an unbelievable save.
I had to go with Jake Allen for the top spot this week because of the style points he earns for catching the puck in his glove at the end of the play.
The St. Louis Blues beat the Calgary Flames, 5-2, so this save may not have ultimately had a say in the outcome. But my goodness, it's one we'll be talking about for the rest of the season.