NHL Power Rankings: Do Not Count the Nashville Predators, New Jersey Devils Out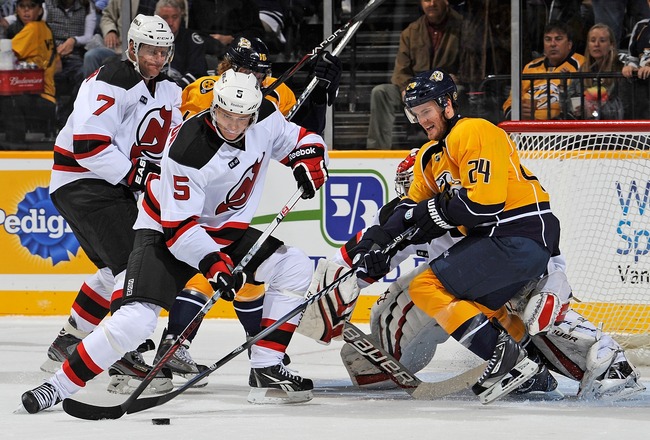 Frederick Breedon/Getty Images
The New Jersey Devils and Nashville Predators are two teams that never should be counted out. Every year it seems like pundits bury these two clubs because they are often struggling financially, lack offense and play in difficult divisions. And every year they are both playoff teams that seemingly nobody wants to play.
Make no mistake: I was one of those pundits. I thought the Devils were going to struggle without Zach Parise because they have a financial albatross on their payroll (Ilya Kovalchuk) and are always in financial dire straits.
Like the Devils, the Predators are currently a No. 4 seed that lost a superstar to free agency, Ryan Suter, and are known for their defensive philosophy. Like New Jersey, I expected them to clamp down defensively and get run over by the more talented Blackhawks, Blues and Red Wings in the Central.
This is what makes it so difficult for these teams. New Jersey has to compete with a Rangers team that has stacked its roster via trade/free agency and player development, a Penguins team that has two of the best players in the world and has already won a championship and the always-pesky Flyers.
How do these two underappreciated teams stack up against the rest of the league this week? Click ahead to find out.
30. Florida Panthers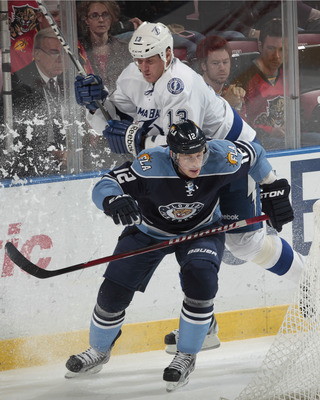 Joel Auerbach/Getty Images
Last week: 27
Record: 4-6-4
The Panthers…almost…had…the Lightning on Saturday, but they couldn't keep their Floridian rivals from winning in OT.
At least the Cats earned points in their last three games, but a 5-0 loss to a struggling Washington club and an OT shortcoming in Winnipeg suggests Florida is the worst team in the Southeast.
29. Colorado Avalanche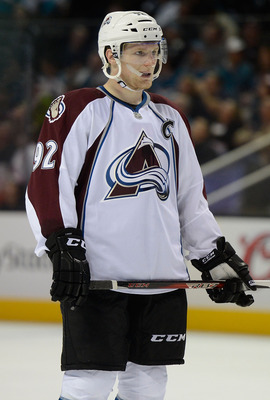 Thearon W. Henderson/Getty Images
Last week: 25
Record: 5-7-1
The Avalanche have only two wins this month and have lost to Dallas, Phoenix and Edmonton.
Injuries to key players like Gabriel Landeskog are really hurting this club.
28. Dallas Stars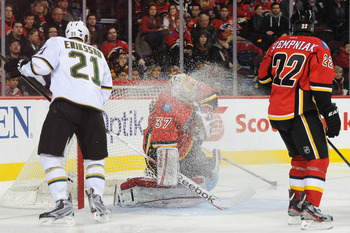 Derek Leung/Getty Images
Last week: 13
Record: 8-7-1
I really don't get the Stars.
They won four straight earlier in the month and beat Vancouver 4-3 in British Columbia.
But they have lost to Calgary twice and Phoenix in February.
This Stars are just baffling. I don't think they are as good as their record indicates.
27. Calgary Flames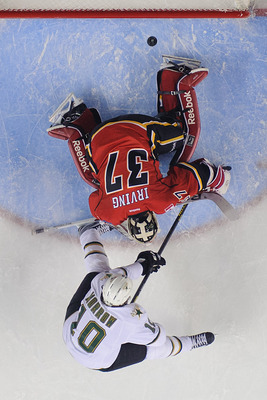 Derek Leung/Getty Images
Last week: 28
Record: 5-5-3
The Flames aren't really playing defense, and it is costing them: St. Louis recently hung five on them, and the Stars scored seven goals in two contests against them.
But hey, they beat Dallas twice.
26. Columbus Blue Jackets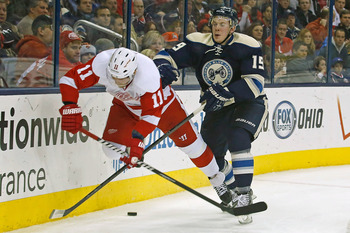 Kirk Irwin/Getty Images
Last week: 30
Record: 4-9-2
The Jackets have only won two games in February, but they were impressive wins. Not only did Columbus beat Detroit and San Jose, but they also won those games by a combined score of 10-4.
If only they played like that every night…
25. Winnipeg Jets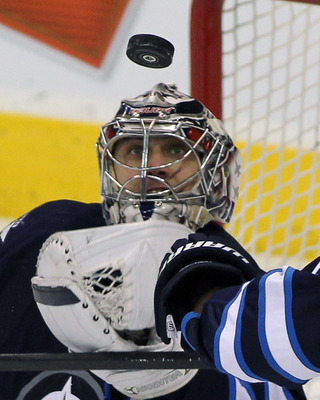 Marianne Helm/Getty Images
Last week: 23
Record: 5-8-1
The Jets are by no means a good team, but at least they are better than Florida!
This year they will not be the worst team in their division.
24. Los Angeles Kings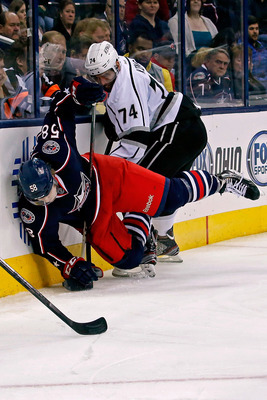 Kirk Irwin/Getty Images
Last week: 29
Record: 5-6-2
I'm convinced the Kings just haven't realized that the season has started yet. Eventually, they are going to wake up and go, "Wait, those games counted?"
Hey, they're still beating Columbus!
23. Washington Capitals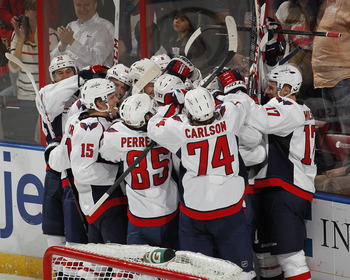 Joel Auerbach/Getty Images
Last week: 26
Record: 5-9-1
Slowly but surely the Capitals appear to be waking from their doldrums.
Hey, nothing like two games against Florida to curb a losing streak! And that win in Tampa was pretty nice too.
22. Edmonton Oilers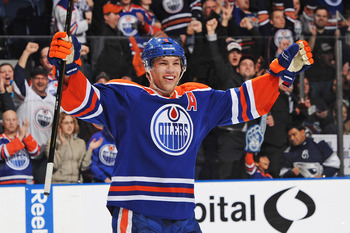 Derek Leung/Getty Images
Last week: 19
Record: 6-5-3
Thank god for Columbus and Colorado, right?
Otherwise this team would be winless halfway through February.
21. New York Islanders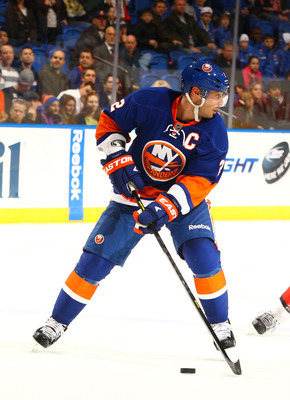 Al Bello/Getty Images
Last week: 24
Record: 6-7-1
If the Islanders played any semblance of defense, they actually would be kind of good.
They have the sixth-best offense in the league and the second-best power play.
Unfortunately, they also give up 3.4 goals per game.
20. Philadelphia Flyers
Elsa/Getty Images
Last week: 14
Record: 6-9-1
Those wins over Carolina and Tampa are nice, but maybe the Atlantic is just that much better than the Southeast. I doubt it, but time will tell.
Still, the Flyers have lost to Washington and, gasp, Florida.
They have also lost to Toronto, New Jersey and Montreal, so even if they are better than Southern juggernauts like Carolina and Tampa, they might not be a playoff team this year.
19. Buffalo Sabres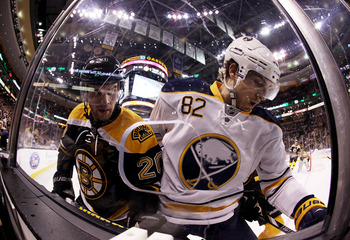 Alex Trautwig/Getty Images
Last week: 22
Record: 6-9-1
The win over Boston was nice, but otherwise this club has been lethargic out of the gates.
They have lost three of their last four.
Fortunately, they get Winnipeg and the Islanders next week.
18. San Jose Sharks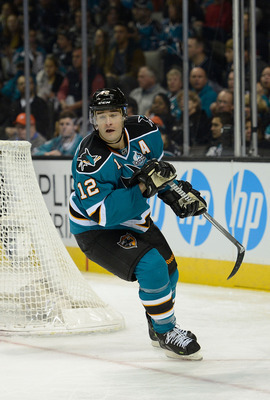 Thearon W. Henderson/Getty Images
Last week: 10
Record: 7-4-3
The Sharks are struggling offensively? What is this?
Well, you've got to score more than 2.5 goals on average if you want to win games.
This team has gone oh-fer in February after a strong start to the season.
17. Ottawa Senators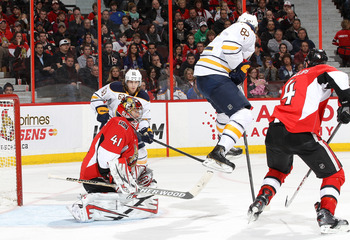 Jana Chytilova/Freestyle Photo/Getty Images
Last week: 16
Record: 7-6-2
This team is worse than its record indicates.
The Senators have only two wins this month and both came against Buffalo. Their schedule hasn't been easy, but it looks like the Sens can't hang with the big boys in the East.
16. Phoenix Coyotes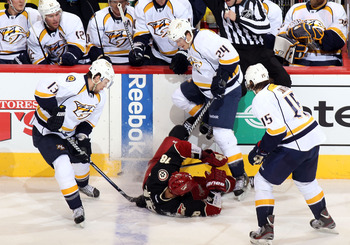 Christian Petersen/Getty Images
Last week: 18
Record: 7-6-2
I know Coyotes fans want to hang their hats on the wins over Minnesota and San Jose, but I think the losses to Nashville and Dallas tell us more about this club.
In my mind, the Coyotes are better than the bad teams, but worse than the good ones.
Hey, at least they get Calgary twice and Edmonton next week! They could go on a four-game win streak after beating Columbus on Saturday.
15. Tampa Bay Lightning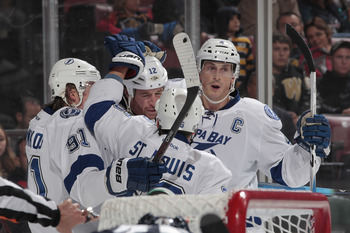 Joel Auerbach/Getty Images
Last week: 15
Record: 7-6-1
With all the talent they have, it is no surprise that the Lightning have the best offense in the league (3.9 goals per game? That's insane!).
This team has to play better defense if they want to go anywhere, however. There is no explanation for giving up five goals to the Panthers and getting routed by the Rangers.
An upcoming slate that features the Leafs, Bruins, Hurricanes, Penguins and Rangers will tell us if this team can compete with the best in the East, or if they are going to be a middling team with incredible talent this year.
14. St. Louis Blues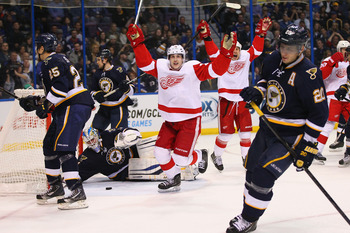 Dilip Vishwanat/Getty Images
Last week: 12
Record: 9-5-1
The Blues really need to get things figured out on their own end.
A recent win in Detroit is nice, but the Wings also routed them in two prior contests.
If they shore up their defense, the Blues can really be a force in this league.
If not, they might miss the playoffs.
13. Detroit Red Wings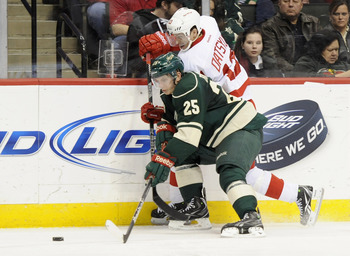 Hannah Foslien/Getty Images
Last week: 7
Record: 7-6-2
The Elderly Men of the Winged Wheel are beginning to show their age.
Faced with the challenge of playing St. Louis, Anaheim and Minnesota in a row, they lost all three games (the Blues loss came in OT).
Now they have to face Nashville in two of their next three games.
12. Nashville Predators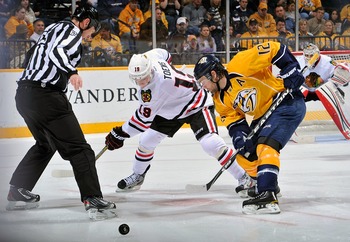 Frederick Breedon/Getty Images
Last week: 17
Record: 7-3-5
The Predators are so scrappy that they will give you tetanus.
The only game they didn't get points in this month was a 3-0 loss to Chicago, you know, the best team in the league.
Nothing the Predators do is pretty (except for that win in St. Louis, an anomaly), but they find a way to get a point every night.
11. Minnesota Wild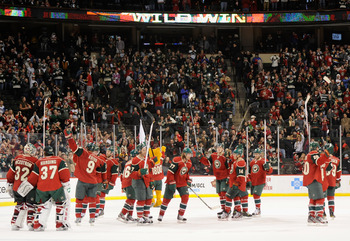 Hannah Foslien/Getty Images
Last week: 20
Record: 7-6-2
The Avalanche loss was a letdown, but at least the Wild are beginning to score.
Perhaps they've found the right line combinations, or maybe it was just the lack of a training camp, but whatever it is, the Wild are finally playing up to their talent level.
Things should only go up from here for Minnesota.
10. Carolina Hurricanes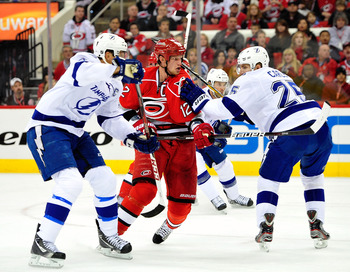 Grant Halverson/Getty Images
Last week: 21
Record: 8-4-1
I had this club way too low last week.
After a slow start, the Hurricanes look like the team we expected them to be.
They won four out of five on the road and the only loss they had came in OT against Philly.
The 'Canes are the best team in the Southeast right now, and suddenly that matchup against Tampa next Saturday looks pretty big.
9. Toronto Maple Leafs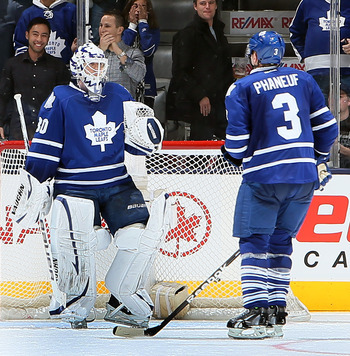 Abelimages/Getty Images
Last week: 9
Record: 9-6-0
Not sure if they can compete with the best in the East, but the Leafs look like a playoff team this year.
(Wait: Did I really just say that?)
8. New York Rangers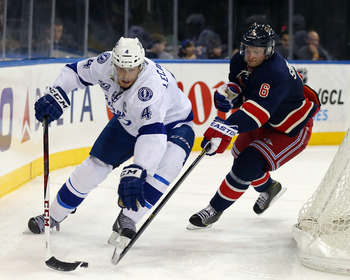 Elsa/Getty Images
Last week: 8
Record: 8-5-1
Two wins over Tampa and a victory over Boston tell me this team is pretty damn good.
That 3-1 loss to New Jersey makes me wonder why the Blueshirts aren't better.
7. Vancouver Canucks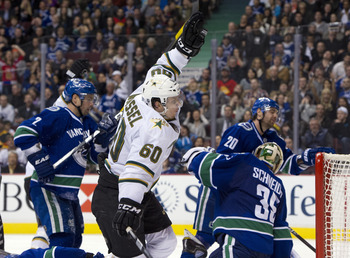 Rich Lam/Getty Images
Last week: 5
Record: 8-3-3
Not really sure why this team lost to Dallas, but the Canucks look like a pretty solid team otherwise.
Everyone has an off night, I guess.
6. Montreal Canadiens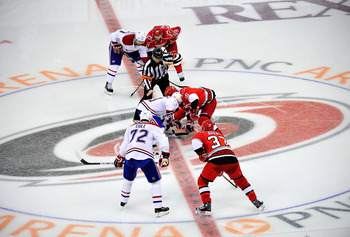 Grant Halverson/Getty Images
Last week: 11
Record: 9-4-1
I'm really, really interested in Montreal's Monday matchup with Carolina on NHL Network. If they win, it will tell us either a) if the Habs are for real or b) if the Southeast is really that much worse than the Northeast and Atlantic Divisions.
The two Rangers games will also be an indication of how this club compares to the league's best.
5. Pittsburgh Penguins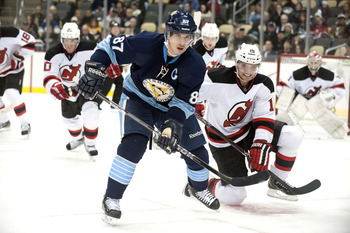 Vincent Pugliese/Getty Images
Last week: 18
Record: 11-5-0
Want to know how close the Devils and Penguins are?
The Devils have beaten them twice by a score of 3-1 recently, but Pittsburgh beat them 5-1 to start off February.
That means that their aggregate score is 7-7.
I know Pittsburgh has the better record, but they've also played a soft schedule this month.
4. New Jersey Devils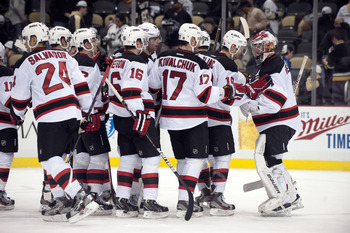 Vincent Pugliese/Getty Images
Last week: 3
Record: 9-3-3
OK, I'm just going to ignore that 5-1 loss on the Island (everyone has a bad game, right?), but otherwise this team has been solid.
A 4-2 loss to Carolina is nothing to be ashamed of; they're good, and the Penguins loss came a while ago.
I know there's talent on this club, but I'm convinced the Devils could win using randomly selected members of the crowd at the Prudential Center. There's something crazy about this organization.
3. Boston Bruins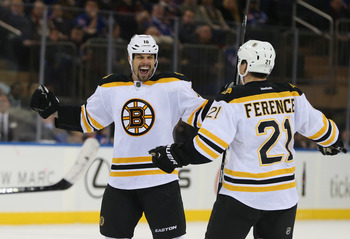 Bruce Bennett/Getty Images
Last week: 2
Record: 9-2-2
The loss to the Rangers wasn't all that bad. It was a tightly contested game and New York almost blew it on national television (two six-on-five goals, are you kidding me?).
The loss to the Sabres, even in Western New York, is more concerning. Buffalo is talented, but they have been struggling big time this year and are a divisional opponent.
2. Anaheim Ducks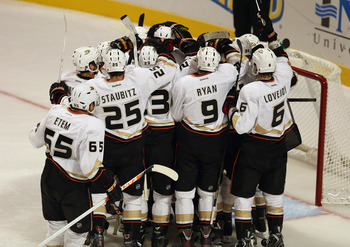 Jonathan Daniel/Getty Images
Last week: 4
Record: 11-2-1
I think we all knew that if this team got secondary scoring, they would be a force to be reckoned with.
Depth is the reason why this team is on top of the Pacific. Unheralded Daniel Winnik, Andrew Cogliano and Kyle Palmieri have all chipped in, and as a result, the team has won five of its last six games—all of which came on the road.
If you haven't yet, it's time to buy into the Ducks.
1. Chicago Blackhawks
Jonathan Daniel/Getty Images
Last week: 1
Record: 12-0-3
Chicago refuses to lose in regulation, and really, losses to Minnesota, Vancouver and Anaheim are nothing to complain about.
Here's the crazy thing: After spending the beginning of the season on the road, the Hawks are three games into a seven-game homestand.
The Blackhawks are far and away the best team in the league right now.
Keep Reading