15 Best American Players Currently in the NHL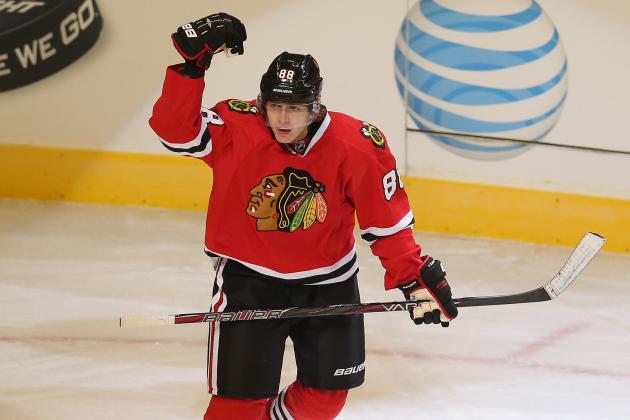 Jonathan Daniel/Getty Images

Canada lays claim to players such as Sidney Crosby, Steven Stamkos and Jonathan Toews.
The Russians have Alexander Ovechkin, Evgeni Malkin and Pavel Datsyuk.
Sweden sports the Sedin Twins (Henrik and Daniel), Henrik Zetterberg and Henrik Lundqvist.
The list of superstars from varying countries could go on for pages it seems as the NHL is one of the most unique sporting leagues in the world, if for no other reason than diversity. Dominate players are born, raised and trained all over the globe, creating quite the melting pot of competition.
While the boys in the Stars and Stripes may not have the same storied history as some other nations, the number of high quality players from the United States continues to grow every year. Such was the purpose of Gary Bettman's southern and western expansion plans.
With teams in California and in states such as Texas, Florida and North Carolina there are now more kids being exposed to—and many growing up around and playing— hockey in the U.S. than ever before.
While countries may chortle at the notion of the United States ever becoming a superpower in the hockey world, evidence is beginning to show that scoffing may not be the appropriate response. Here are a few reasons why.
Begin Slideshow

»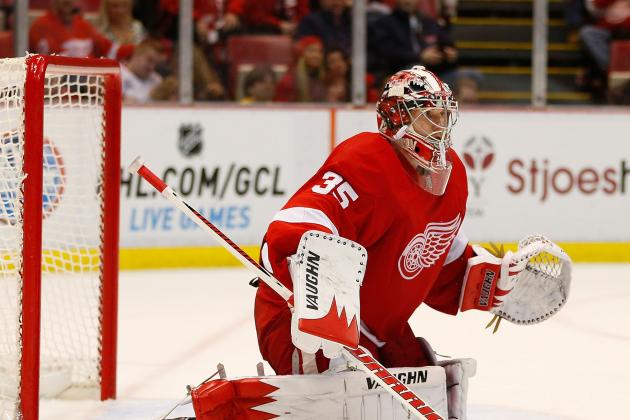 Gregory Shamus/Getty Images
Jimmy Howard of the Detroit Red Wings, poised to stop a puck. One would assume.
Jimmy Howard is the heir to Chris Osgood's "can't get no respect" mantle for the Detroit Red Wings, but fans of the team know how important he is to the success of the team. The Syracuse, New York native doesn't have the gaudiest stars around—Tim Thomas apparently passed the crazy American netminding gene on to Jonathan Quick—but the man makes the big stops when he needs to.
People may find me insane for thinking this, but I think that Howard could end up being one of the two netminders to man the nets for the United States in the upcoming Olympic Games. Granted they play. If they don't I'm convinced no one involved with the "big choices" in hockey actually watches hockey.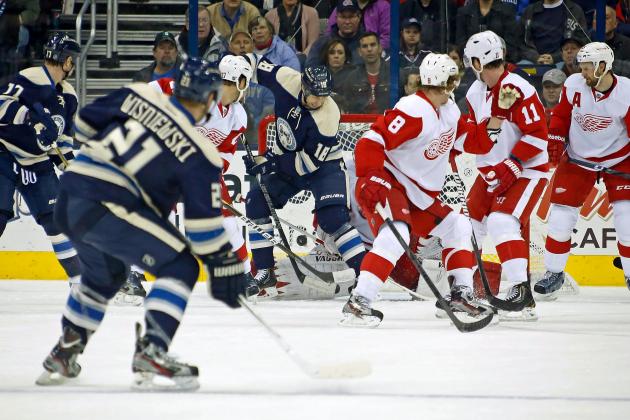 Kirk Irwin/Getty Images
James Wisniewski rips a slapper from the blue line for the Columbus Blue Jackets. You can't see the puck, but I bet you can guess where it is.
I'm not sure if fans would consider James Wisniewski such a severe overpay if he played for another team, but for now the Columbus Blue Jackets defender will just have to wrestle with the moniker.
Wis was one of the most sought after free agents on the market when Columbus anted up $5.5 million to get him to anchor their blue line. The guy can play the body and has a mean slap shot that tends to grow eyes on the way to the net. While his play is suspect in his own zone, all other offensive-defenders get a pass on that so why no slack for Wisniewski?
Along with Jack Johnson and Brandon Dubinsky, the Jackets have themselves a nice group of American-born players leading the charge.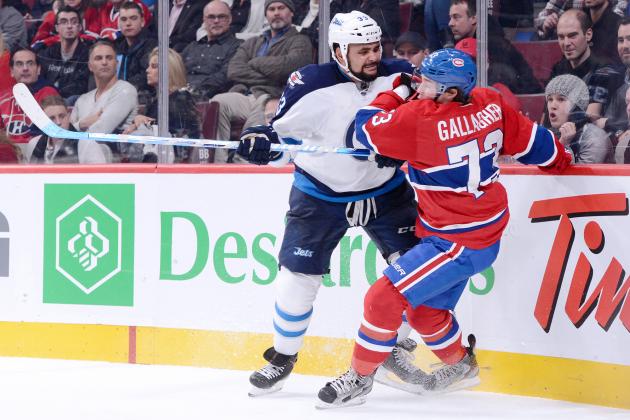 Richard Wolowicz/Getty Images
Dustin Byfuglien, Winnipeg Jets, introduces himself to Brendan Gallagher of the Montreal Canadiens. Girl in the front row has loved Gallagher all all along and now fears Big Buff's interference. Speaking of which, where is the puck?
The United States is developing a reputation for pumping out defenders that know how to pass the puck. With players like James Wisniewski and Dustin Byfuglien manning the blue line for the Americans in the Olympics, there are sure to be some major collisions and major offensive contributions from the backend.
After winning the Stanley Cup with the Chicago Blackhawks, Big Buff has now set his sights on bringing the prize back to the Winnipeg Jets. With 222 points in in 414 career games played, he's one of the better scoring defensemen around.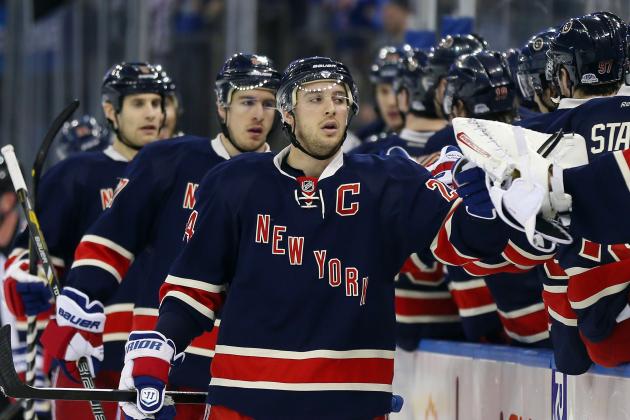 Elsa/Getty Images
Ryan Callahan celebrates a goal with his New York Ranger teammates, only to have his attention pulled to a mysterious object in a towel.
Ryan Callahan might be the American equivalent of a Jarome Iginla by the time his career is done. Before you get on me for writing that, hear me out. Callahan might never make the offensive impact for his New York Rangers—which isn't to say Callahan's offense is severely lacking—as Iginla does for the Calgary Flames, but his style of play and leadership is comparable.
Need a shot blocked? Done. Need a timely goal? Done. Need a fight or big check to rile up the bench? Done.
Callahan is the kind of captain and player that is willing to do whatever it takes to win a hockey game, and it's apparent during nearly every shift that he plays. He's the embodiment of what it means to be a Ranger at this point, and the Rochester, New York native could find himself wearing a letter for the U.S. in Sochi.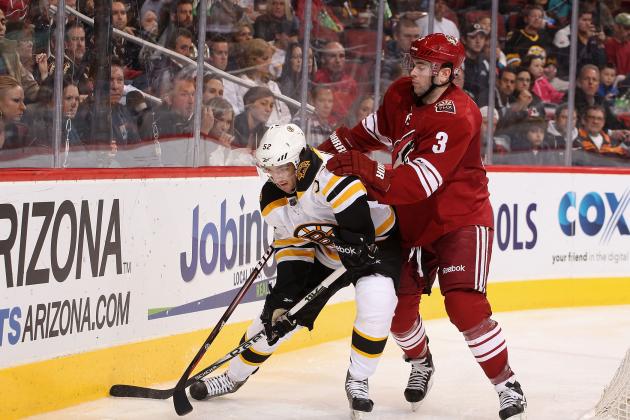 Christian Petersen/Getty Images
Keith Yandle of the Phoenix Coyotes informs a member of the Boston Bruins that he actually (believe it or not) grew up in "Titletown" and would like to be an honorary member.
Remember what I was saying about the strength of America's blue line? I draw your attention to Article C: Keith Yandle of the Phoenix Coyotes.
The former 4th round pick (gem) and Boston, Mass. native (Jem) quietly does for the 'Yotes what Shea Weber so loudly does for the Nashville Predators. Check this out. It'll blow your mind.
Shea Weber
2009-10 - 43 points
2010-11 - 48 points
2011-2012 - 49 points
2013 - 2 points
Keith Yandle
2009-2010 - 41 points
2010-2011 - 59 points
2011-2012 - 43 points
2013 - 6 points
Now I know you can't just boil what a player does for their team down to a simple point total. All I am saying is that Yandle is every bit as good as Weber in the offensive zone, and plays an underrated game in his own end.
When do you think Yandle will get his $13 million signing bonus?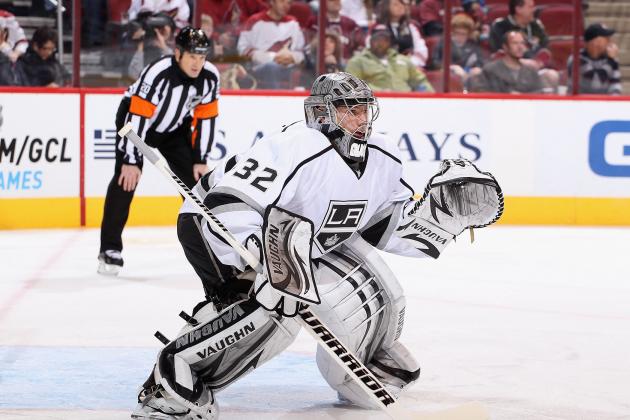 Christian Petersen/Getty Images
Jonathan Quick readying for a puck while the referee prepares to make a hit-to-the-head call from 90-feet away.
Remember all that talk a few seasons ago about how Jonathan Quick was only a few rough starts away from losing his starting gig to Jonathan Bernier? I don't either, and neither do the newly-crowned Stanley Cup Champion LA Kings.
The team could run a 1a and 1b system in goal like the St. Louis Blues, but Quick is just too good to bench at any juncture. During the 2011-2012 Championship run, Quick went into one of the longest performance-blackout periods in the history of sports.
Through 20 games he only lost four times and sported a .946 save percentage and a sub 1.5 GAA. While he's been struggling so far this year, it's only a matter of time before the Kings awake from their slumber to defend their title.
Dilip Vishwanat/Getty Images
David Backes of the St. Louis Blues getting hit back.
As a Detroit Red Wings fan, David Backes of the St. Louis Blues drives me absolutely bonkers. As a fan of the United States of America in all things hockey, I'm really glad to have him on our side.
Such is the nature of a physical, in-your-face player like Backes. He wears the C for the Blues and is certainly a lead-by-example type. On any given night he is out against his opponents top offensive stars, and every night he tries to out-hit and out-score them.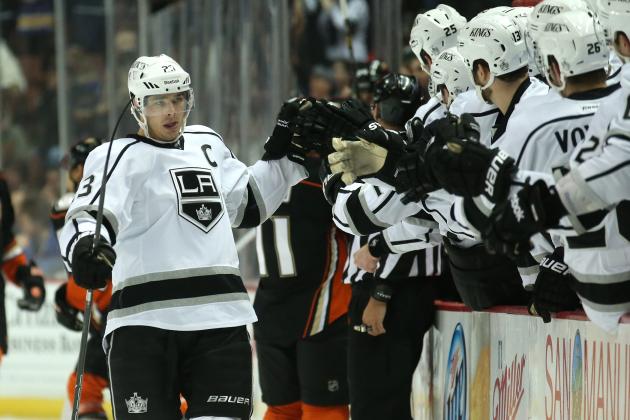 Stephen Dunn/Getty Images
Dustin Brown delivering high-fives to teammates as he asks them if they know when the new team dental plan kicks in. (That's cheap. I'm sorry.)
Am I the only fan of the U.S. drooling over the possibility of a Dustin Brown - David Backes (and Ryan Callahan perhaps?) line combination in Sochi? Again, granted the NHL sends players, but lets just hope that they do and move on all pretty-like.
You're opening with Pavel Datsyuk, Alex Ovechkin and Evgeni Malkin, Russia? Lets see them skate through this!
Dustin Brown plays a similar game for the LA Kings in that he is an extremely abrasive skill guy up front. He can do everything, and leads with a purpose.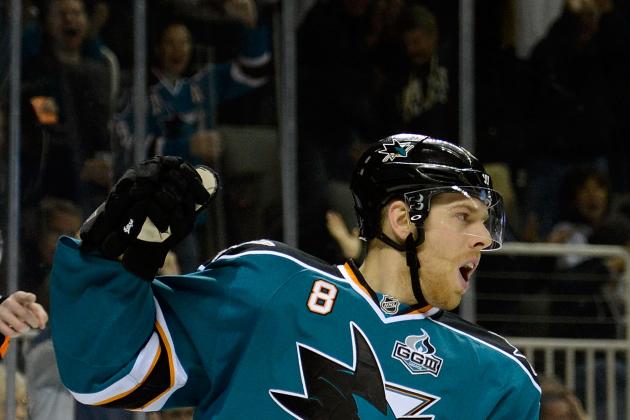 Thearon W. Henderson/Getty Images
"Little" Joe Pavelski pumps his fist like a choo-choo train and challenges "Jumbo" Joe Thronton to a sled race after the game. After realizing that they are in San Jose and not Calgary, he rescends his challenge.
Joe Pavelski came out on fire to start the 2013 season like many of the San Jose Sharks. He's been a 60 points-through 82 game seasons for a few years now, so I don't expect him to continue his 52 points-in-48 games pace.
Still, this is another guy up front that can do a little bit of everything. He's a healthy scorer, drives to the net, has the hands to bury rebounds and isn't afraid of the rough stuff here and there.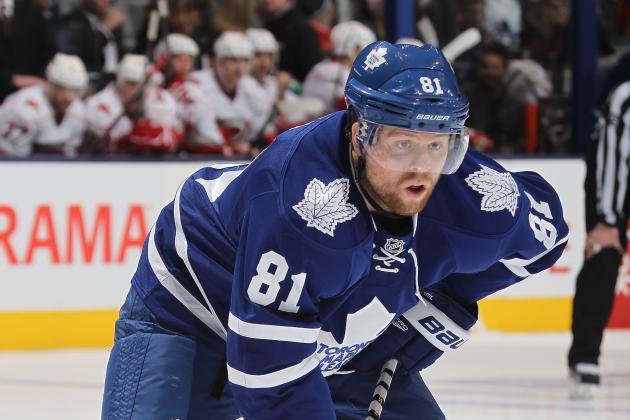 Claus Andersen/Getty Images

If I could construct a good luck charm from a few fallen hairs from Luc Robitaille and give it to any player in the NHL, I'd give it to Phil Kessel of the Toronto Maple Leafs. The mouse-quiet winger has one of the greatest releases in the league and just can't seem to catch a break from fans and the media alike.
Does a holdout really stick with you this long? I don't see them booing P.K. Subban in Montreal, but I digress.
Kessel is one of the purest goal scorers in the game, and while people rough him up for not being a three-zone guy, is that why the Leafs went out to get this guy? Look what happens to guys like Alex Ovechkin and Kessel when you try and leash them up.
Don't do it, or you won't get your money's worth.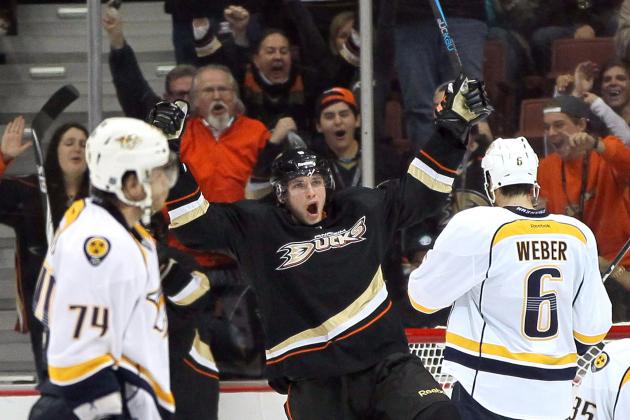 Victor Decolongon/Getty Images
Bobby Ryan of the Anaheim Ducks after finding out the team managed to re-sign both Ryan Getzlaf and Corey Perry. I'm kidding! What, do you not hang out on Twitter?
If there were an award for "player most brought up in speculative trade articles" during the last 18 months or so, Bobby Ryan of the Anaheim Ducks might still slightly be able to outstrip Roberto Luongo at this point. It'd be close, but Luongo has only had a summer to compile millions and millions of rumors for his name.
Ryan has been (needlessly) putting up with these same mutterings in the press for what feels like forever now.
When he is going Ryan is one of the most dangerous and lethal forwards in the game. He pops in and out of space with the best of them and has an excellent release. Think he could keep that up without a reporter sticking a mic in his face every day, asking him how he feels about his bosses shopping him?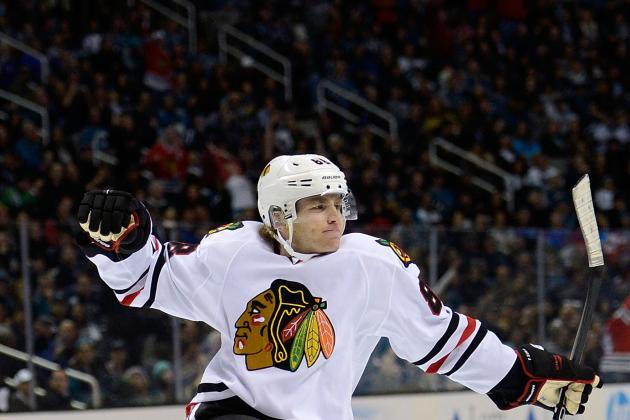 Thearon W. Henderson/Getty Images
Patrick Kane celebrating after he hears an announcement for the new Cool Ranch Dorito tacos from Taco Bell. He's pumped.
No one is writing about Patrick Kane and his "excessive" partying anymore. Instead, he's sent journalists and the Twittersphere scrambling for adjectives as he razzles and dazzles nearly every time he touches the puck.
There really isn't a hockey player I've been more impressed with on a nightly basis, and the Chicago Blackhawks are dominating all comers so far in 2013. One of the big reasons is the resurgence of Kaner and his new-found focus.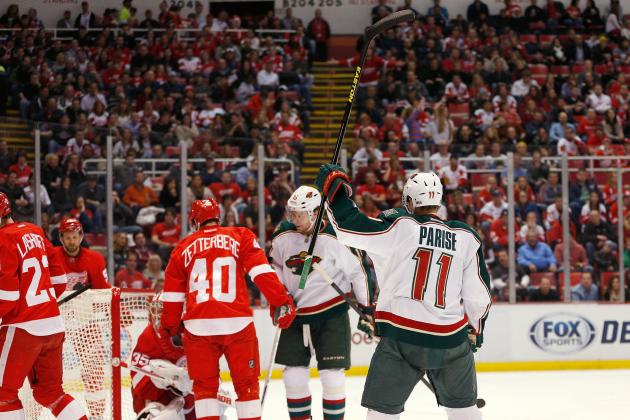 Gregory Shamus/Getty Images
Zach Parise will buy himself a new Dodge Viper every time he scores a goal this season... and still make more in four shifts than most folks will in a year.
Zach Parise, in my mind, is a more three dimensional version of Phil Kessel. His shot is extraordinary and worth the price of admission (and perhaps even the price of his salary) alone, and every time he lets one go your heart stops for just a second. Nearly ever shot he takes has a chance of finding the back of the net based on quickness and velocity alone.
He's working on settling in with his Minnesota Wild teammates after charging with the New Jersey Devils to the Stanley Cup Finals last year. He's posted 11 points in 14 games, including seven goals, so perhaps it's his teammates who are actually trying to settle in with him.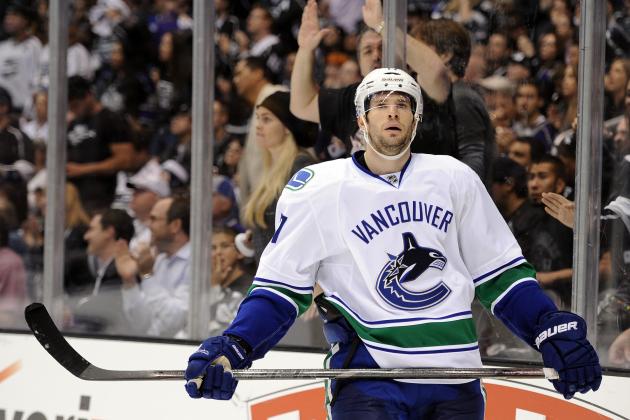 Harry How/Getty Images

In the minds of some, Ryan Kesler of the Vancouver Canucks is the best American-born hockey player currently in the NHL. Maybe I haven't watched him enough, or maybe they are just wrong, but either way the Michigan native is still among the best from the U.S.
The 28-year old finally made his return against the Dallas Stars on Friday, and Canucks fans couldn't be happier to have their no. 2 center back in the fold.
I'm honestly not sure if he is a 50-point player or a 70-point player, but he's the kind of guy that brings it every single night, no matter what. He's a lot like Ryan Callahan in that regard. There sure is a lot of character for the Starts and Stripes.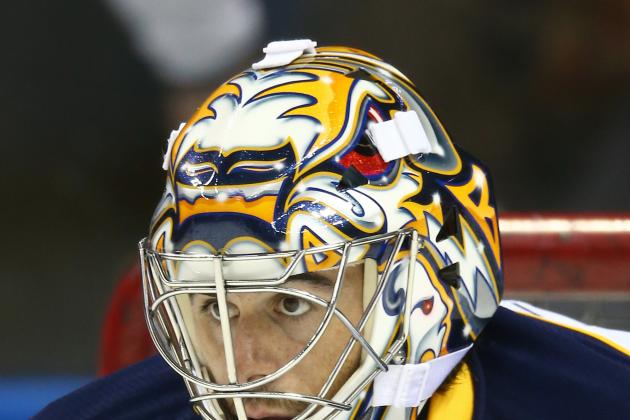 Tom Szczerbowski/Getty Images

If Ryan Miller's catch phrase was "It's Miller High Life Time" I'd probably proclaim him one of my top-three favorite players of all time and induct him into the Franklin Steele hockey Hall of Fame on the spot. Since that isn't the case, however, I am forced to like the netminder for other things.
Like his game-dominating talent and tendency to step his presence up a notch or three during international events.
He's the spine of the Buffalo Sabres and some would argue that he's also the spine of the American hockey program any time that the team heads out for world wide play. At this point, despite his 2013 struggles, you won't find any arguments from me.
Franklin Steele thinks you're awesome for reading and would like to chat with you on the Twitter.