Power Ranking the Top 6 Goalies in the NHL This Season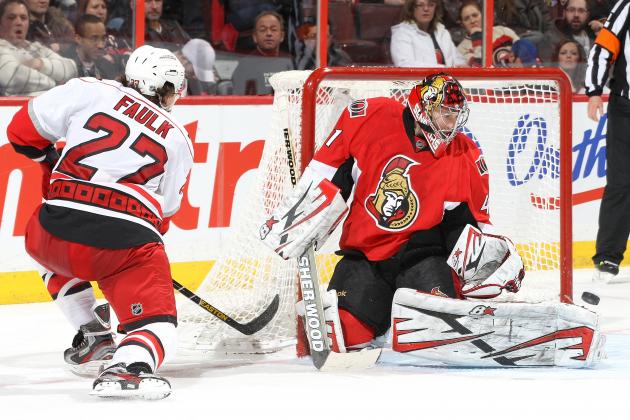 Jana Chytilova/Freestyle Photo/Getty Images
The Ottawa Senators' Craig Anderson is tied for the league lead in wins with seven. Anderson is just one of a number of goalies who have excelled this season.
Goaltending is even more important than usual in a lockout-shortened season. A quick save or a heads-up play can change the tide of a matchup that almost acts as a playoff game in the 48-game season.
Several goalies are excelling, but a number of them are struggling. Those would include Miikka Kiprusoff of the Calgary Flames and the two goalies for the Washington Capitals: Michal Neuvirth and Braden Holtby.
There isn't much time for goalies who are playing badly to turn it around, as coaches are ready to make the moves necessary to get their teams into the divisional race as quickly as possible.
Thankfully for these teams, they haven't faced that problem yet this season.
It's always important to have a hot goalie going into the postseason, and these six goalies have shown that they are ready to lead their teams through the season and into the Stanley Cup playoffs.
Begin Slideshow

»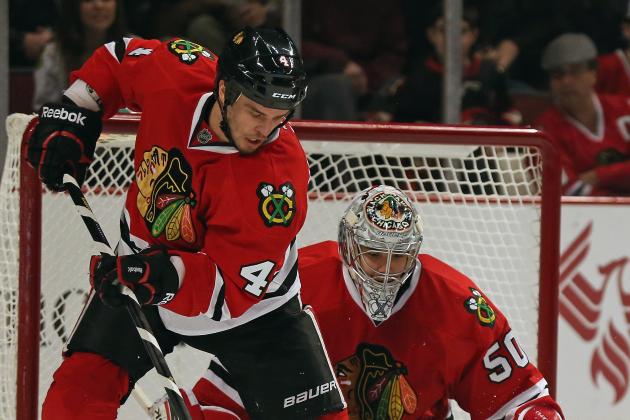 Jonathan Daniel/Getty Images
Corey Crawford of the Chicago Blackhawks is the only goalie in the NHL who has started more than six games and is undefeated.
The Chicago Blackhawks' Corey Crawford is the only goalie this season who has started more than six games and doesn't have a single loss in regulation.
Crawford has started 10 games and has a record of 7-0-3. He also has the third best goals-against-average in the league out of regular starters with a 1.65 GAA and is the fifth in save percentage at .935.
Not only has Crawford won a number of games, they've been against very tough opponents.
Some of the teams he's been able to shut down this season include the 6-3-4 Nashville Predators, the 9-2-1 Anaheim Ducks and 7-4-1 Detroit Red Wings.
Crawford is projected to pick up 32 wins this season, and while it's not likely he'll continue his undefeated streak in regulation for the rest of the year, it's still very likely he'll finish in the mid 20's in terms of wins. Expect Crawford to be in goal when the Blackhawks are contending for the Stanley Cup.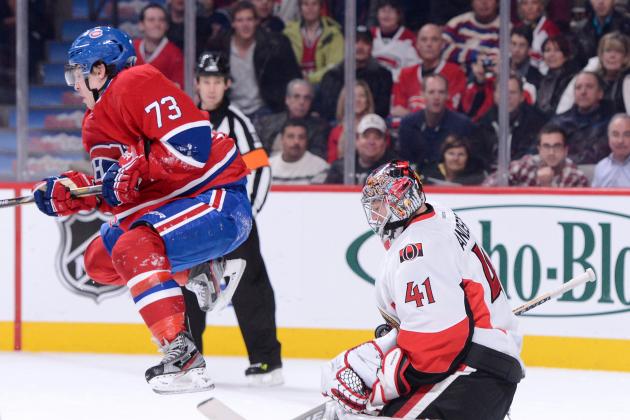 Richard Wolowicz/Getty Images
Craig Anderson is the best statistical goalie in the NHL, and leads the league in GAA and save percentage.
Craig Anderson of the Ottawa Senators is arguably the best statistical goaltender this season, leading the league in goals-against-average and save percentage.
Anderson has a 1.36 GAA and a .956 save percentage. The nine-year veteran was previously with Ottawa during the 2010-11 season, and has since returned after being traded to the Colorado Avalanche that season.
Since coming back to the Senators, Anderson has been much better with Ottawa than he was in Colorado.
He's projected to finish with a 29-8-8 record, which would give him the highest winning percentage of his career.
Anderson has the team in third place in the Eastern Conference's Northeast division, but they are only two points behind the first place Boston Bruins.
If Ottawa's offense can get going, they'll be in first place in no time thanks to Anderson.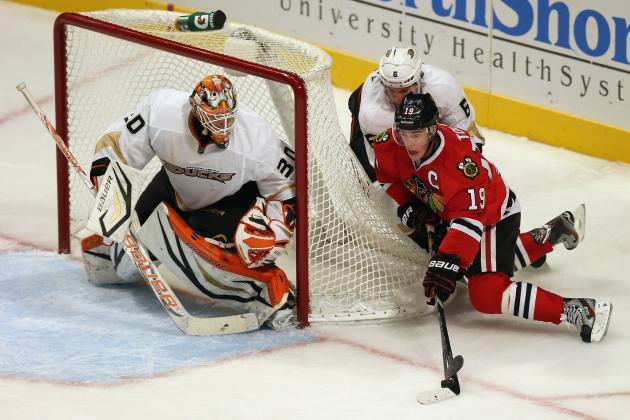 Jonathan Daniel/Getty Images
Viktor Fasth has broken out in the NHL, starting the season 6-0.
Splitting time with Jonas Hiller, NHL rookie Viktor Fasth has broken out this season starting 6-0.
Fasth spent time in the Swedish Elite League before being signed by the Anaheim Ducks, and has certainly made his mark on the team. Still, it certainly doesn't hurt that he is behind the third best offense in the league.
Fasth has started five of the past seven games for Anaheim, and has beaten such teams as the San Jose Sharks, St. Louis Blues and Chicago Blackhawks.
The rookie is fifth in the league in goals-against-average with 1.74 and eighth in save percentage with .933. This is a welcome sign to the Ducks, whose only other option is the injury-prone Hiller who has a 3-2-1 record and a much less impressive 3.69 GAA.
It will be interesting to see how Fasth handles the remainder of his first NHL season, but so far, he has been literally unbeatable.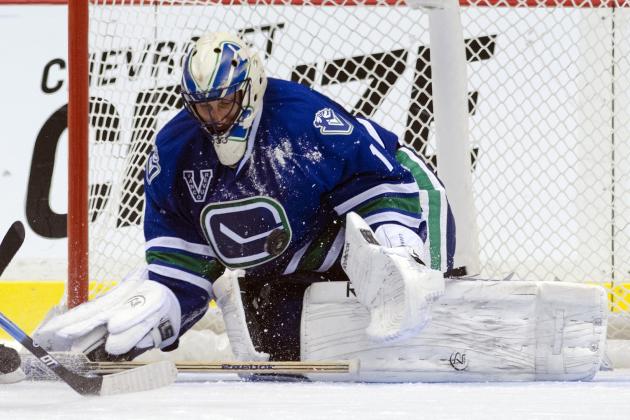 Rich Lam/Getty Images
In six starts this season, Roberto Luongo is 4-0-2 with a 1.45 goals against average.
While the Vancouver Canucks have been switching between Roberto Luongo and Cory Schneider, it has been Luongo who has truly stood out as one of the best goalies in the league.
In six starts so far he is 4-0-2. By comparison, his counterpart Schneider is sporting a 4-2 record.
The rotation seems to be working out for Vancouver, who is 8-2-2 and is in first place in their division.
Were Luongo on any other team in the NHL, he'd be playing in almost every game.
He is second in the league in goals-against-average, second in save percentage and has a shutout.
The two losses that Luongo does have came in shootouts, and he has just looked impressive overall. It will be interesting to see who the Canucks go with for the majority of the time the rest of this season, but if they want to give themselves the best chance to win they will choose Luongo.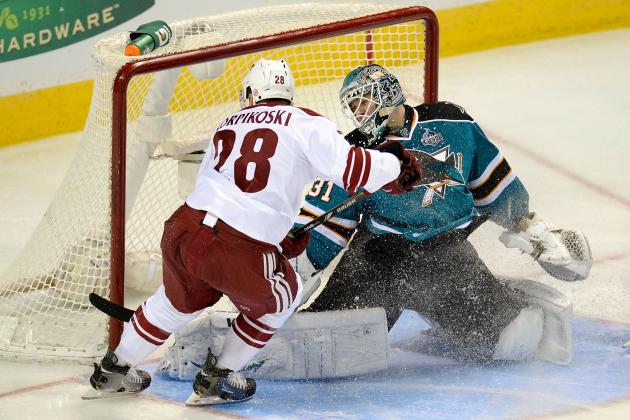 Thearon W. Henderson/Getty Images
Antti Nieme is fourth in both goals against average and save percentage through his 10 starts.
In 10 starts this season, Antti Niemi of the San Jose Sharks has a 1.74 goals-against-average and a .935 save percentage, both of which rank fourth in the league.
The Sharks are one of the best teams in the league with a 7-3-3 record and Nieme is one of the main reasons why they are there.
Niemi has also faced a high volume of shots this season with 260 in total, and he has been able to turn away most of them.
The Sharks' goaltender has been one of the most consistent in the league over the past three years, going 35-18 in the 2010-11 season and 34-22 in the 2011-12 season. He hasn't shown any weaknesses so far, and with him in goal, the Sharks could easily be a Stanley Cup contender.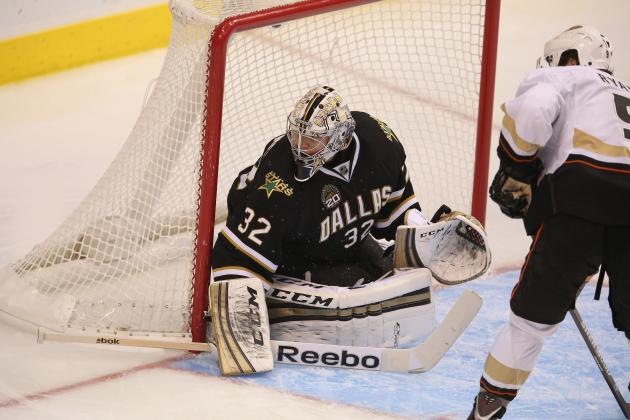 Ronald Martinez/Getty Images
Kari Lehtonen has had to step up for the Dallas Stars, who rank 25th in offense in the league.
On a team that ranks 25th in offense, Kari Lehtonen has still managed to shine, leading the Dallas Stars to the eighth best goals-against-average for a team in the league.
Lehtonen has been a very consistent player on a team that hasn't qualified for the playoffs in four seasons. This year, the Stars have a 7-5-1 record, and three of those regulation losses has come when Lehtonen isn't in the net.
In ten starts, the eighth-year player has a 2.69 goals against average and a .933 save percentage.
In terms of offense, Dallas has a long way to go, but they have their obvious starter in goal night in and night out.
Even if Dallas misses the playoffs once again, it will be through no fault of Lehtonen's.