What the NHL's Biggest Stars Would Be Worth on the Open Market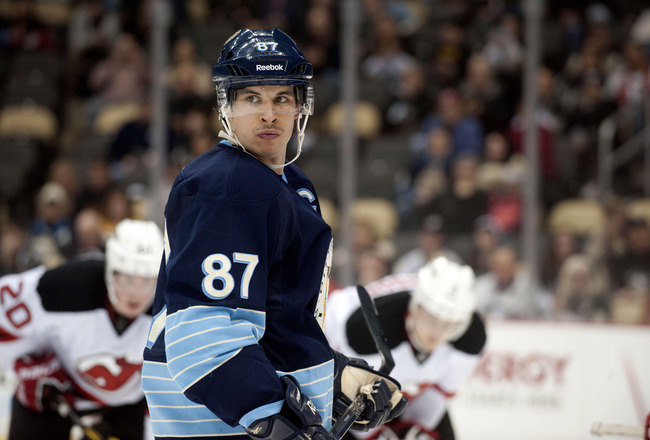 Sidney Crosby of the Pittsburgh Penguins just... running it with that wicked 'stache.
Vincent Pugliese/Getty Images
The addition of the phrase "salary cap" to the NHL lexicon has brought with it several changes to the way teams conduct business off the ice. The ability to sign players to ridiculously lengthy contracts has been among the most profound and impactful of changes.
Teams and players sign themselves up for a decade-plus marriage of sorts that couldn't possibly go wrong. This is especially reasonable since the owners and players have such a long and illustrious history of seeing eye-to-eye on everything.
Players inked to these mega-deals are typically superstar/franchise cornerstone types, and on these deals they will almost assuredly outlast the manager that signed them.
So what happens when things go south?
We saw an outstanding example of exactly what happens last season during the "Rick Nash doesn't love the Columbus Blue Jackets in that way" sideshow.
So, just for fun, what would some of the NHL's other leading superstars attract if they were placed on the trading block for all teams to consider and chase?
Also worth noting: just because player X or Y isn't on here doesn't mean I am implying that they aren't a superstar by omission. I'm looking at just a few cases for fun, and my leaving your guy out wasn't on purpose or to get under your skin or anything.
Alexander Ovechkin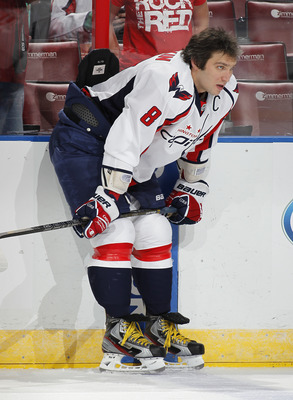 Joel Auerbach/Getty Images
What's the going rate for a prime-aged, former 60-goal scorer who just happens to be mildly disengaged at this juncture because of severe mishandling by his team?
It's hard to tell at this point if Alexander Ovechkin is even a tradeable asset. Which GM in the NHL would roll the dice on AO returning to form given that he has roughly 135 years left on a contract that pays him north of $9 million a season—the biggest cap hit in hockey, in case you'd forgotten.
Does the question mark by his productivity level out the playing field in a trading scenario? Obviously some risk/dollars would have to come back to the Washington Capitals in any kind of deal.
Again, we're just playing some fantasy hockey here, really. But what would a deal for the broken Russian Machine look like?
How does a pair of first rounders, a top prospect, and a money-heavy "over-the-hill" type veteran with some gas left sound to Caps fans?
My assumption is that it wouldn't be a small-market team taking the dive on AO, so the picks may or may not be too high. Perhaps toss in a conditional pick or two based on Ovie's performance?
Let me know what you think.
Sidney Crosby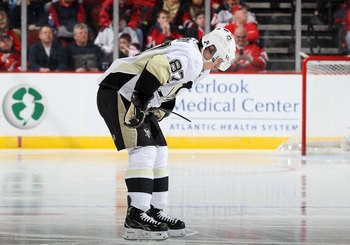 Jim McIsaac/Getty Images
Love him or hate him, you'd take him on your team. If you wouldn't, then you're probably just a homer that's mad at him for one reason or another.
Sidney Crosby is just about as unmovable as Alexander Ovechkin (remember those cute discussions we all used to have about who is better?) , but for another set of reasons entirely. No. 87 more or less saved the Pittsburgh Penguins from certain death and resurrection in Kansas or Quebec, and no one will be forgetting that for a long while.
When healthy—and he is healthy right now—Sid is the best hockey player in the world. On top of that, almost no one works as hard on individual facets of their games like Crosby. The hunger is tangible and contagious.
So what's the price tag like on the best generational talent currently in the NHL?
We're looking at a better deal than the Edmonton Oilers received for Wayne Gretzky, that's for sure.
It'd probably take at least one or two top-five or top-10 selections in the draft, or the equivalent in high-end, blue-chip prospects, one top-six forward, one top-four defender and maybe another second- or third-round selection to boot.
Again, I can't even imagine how this conversation gets started, much less finished.
Steven Stamkos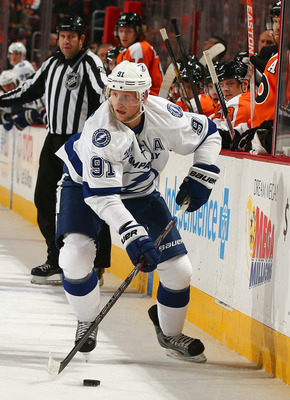 Elsa/Getty Images
Ah, nothing like trying to put a price on the priceless to clear your sinuses.
I just figured I'd take the big dive with Alex Ovechkin, Sidney Crosby and Steven Stamkos right out of the gate.
So you're an opposing GM calling Tampa Bay Lightning bossman Steve Yzerman about acquiring Stammer, the most prolific young goal scorer in the NHL today. What do you say to prevent good ol' Stevie Y from hanging up on you and asking the secretary to no longer forward your calls?
It's a tough pitch, but that's why they pay me the big bucks.
First of all, this would have to be a prospect-heavy organization. I'm thinking Minnesota Wild, Florida Panthers, Ottawa Senators and maybe even the Montreal Canadiens here. These are eams with a lot of umph-ish and young impact players to move in this deal.
Former top-three selection (maybe top-five), two first-round draft picks and a conditional second rounder if Stamkos nets, say, 50 goals with the new club. Toss in another prime top-six contributor, a young netminder and a hit-or-miss prospect and maybe that gets the talks started.
Evgeni Malkin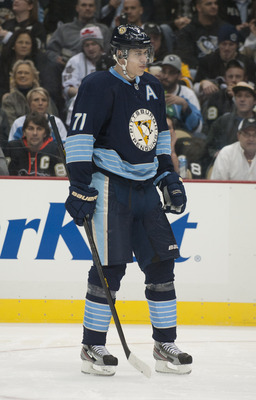 Vincent Pugliese/Getty Images
When Pittsburgh Penguins teammate Sidney Crosby is on the shelf or having an off night (ha!), the best hockey player in the world just might be Evgeni Malkin. Geno has proven that he can do it alone and without Sid on board, so that wouldn't be a concern.
When working the phones for Malkin, you're looking at picking up one of the best centers in the NHL, one of the most dominant forwards on the face of the planet and a guy who can put up goals as easily as he can set them up.
Is there another guy in the league that can take over a game with his physicality, skating and talent like Malkin can on any given night?
I think we're looking at a deal close to Croby's here.
A top-six forward, a top-four defender, a pair of first rounders (if they are high), more if they are lower selections and perhaps a prospect or three to level out any issues with the picks.
Adding a top-notch scoring winger in this deal could possibly entice the Penguins more than anything. They are stacked with blue chips on the blue line, and are set in goal for the time being.
Claude Giroux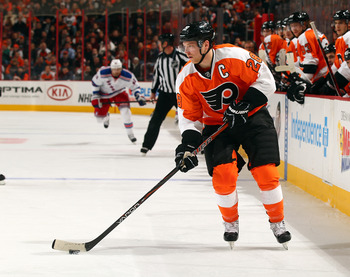 Elsa/Getty Images
Paul Holmgren is kind of nutty and seems to be into building a contender in Philadelphia before trading all those parts away, only to watch them collectively win a Stanley Cup.
I know, youth movement, locker room issues, blah-blah-blah. Got it. I'm just saying out of all the players on this list, Claude Giroux could be the most likely to be moved, if for no other reason than his GM isn't afraid to pull the trigger on a deal involving people he was building a franchise around.
Giroux is an interesting case because we aren't (by we, I mean people who aren't Flyers fans) quite sure where his consistent ceiling is. Is it 70 points? Maybe. Is it 90 points? Perhaps. He's increased his point totals every year that he's played in the NHL, which is awesome—does that mean there is a 100 point season in his future?
One top-four defender, one sixth or seventh defender, one blue-chip prospect on the back end, one hit-or-miss defender, and a solid two-way wing plus a first for Giroux.
Gavel falls. Lets roll.
John Tavares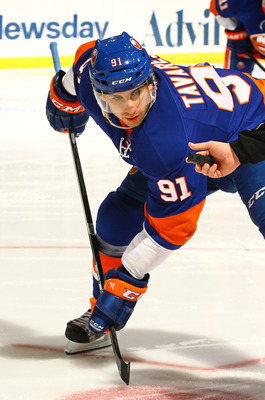 Al Bello/Getty Images
Paul Holmgren looks like a forward-thinking genius compared to the Garth "I have a job because I get lucky on the waiver wire" Snow. Now that guy is nutty.
John Tavares is the cornerstone around which the New York/Brooklyn Islanders are being constructed. Hot on his heels will be Ryan Strome next season, which could give the Isles a rather solid top-six.
So the following headline wouldn't strike me as alarming at all: Isles, Snow deal C Tavares for a controlling stake in Red Bull and $1 million dollars. After all, why have a billion when you could have, a million?
For the sake of argument, however, what does a guy like Tavares net on the open market? He's been a man surrounded by boys since he was just a wee-lad, and he thinks and executes at such a high level. Odds are we haven't seen his best season yet.
For Tavares, the Islanders would be looking for a starting goalie, or a possible starter (think Anders Lindback and Semyon Varlamov here), a pair of first rounders, a top-six left or right wing and a solid prospect on the back end.
Ilya Kovalchuk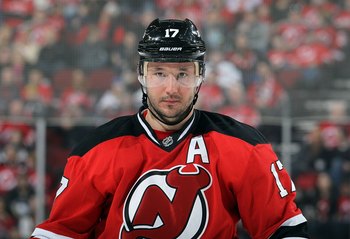 Jim McIsaac/Getty Images
Ilya Kovalchuk is one of the most prolific goal scoring threats in the NHL, bar none. So it'd be zany to think of his current team trading him.
If the New Jersey Devils ever did look to trade the All-World Russian sniper however, the deal would probably look something like this:
A middle-of-the-road rookie forward (think Niclas Bergfors or something along his lines), a solid yet unspectacular defender (maybe like Johnny Oduya), an OK prospect and a first rounder.
Done deal.
Anze Kopitar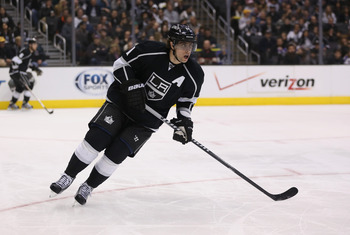 Jeff Gross/Getty Images
Anze Kopitar would be mayor of any hockey-crazed city by now. He's quietly building one of the better resumes in the NHL, and is one of the better two-way threats in the game.
He's won a Stanley Cup and is good for 70 points or so per season.
Pair of first rounders (looked good so far), a blue-chip forward that could outperform Kopitar at some juncture and a rock star young blue liner.
Franklin Steele writes about hockey all day, e'ry day. Follow him on Twitter to hang out.
Keep Reading