Washington Capitals: Who Is to Blame for the Slow Start?
Justin K. Aller/Getty Images
While a new system in this shortened season has hurt the Capitals, it isn't the main reason for their 4-8-1 start.
Yes, the Washington Capitals have gotten out to a 4-8-1 start.
Yes, they are currently last in their division.
Yes, they only have a short amount to time to regain their form if they want to make the playoffs.
Yes, they are also trying to adjust to a new coaching system under Adam Oates.
But no, the new system shouldn't be the first thing that Caps fans look at when they assign the blame for the team's poor start.
While a new coach is a huge obstacle to overcome in the shortened 48-game season, there are still a number of reasons why there is plenty of blame to go around Washington's locker room, mostly pointed away from Oates.
Begin Slideshow

»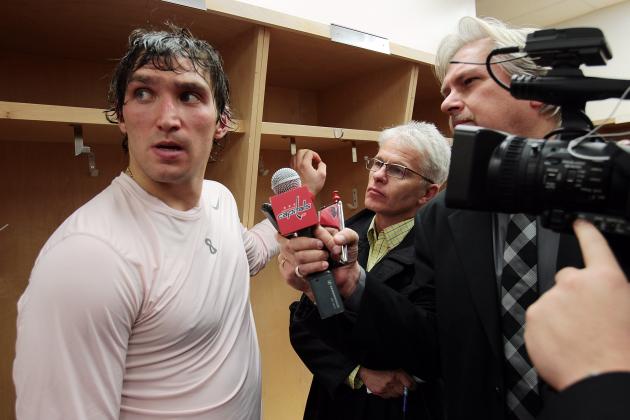 Marianne Helm/Getty Images
Captain Alex Ovechkin hasn't been very vocal during his team's struggles, and has left the leadership task up to other members of the team.
When Washington started out the season on a four-game losing streak, it was up to almost every player but the captain to encourage the team.
Matt Hendricks was in charge of pumping the team up on the ice. Against the Winnipeg Jets, Hendricks got into two fights in one game when the team seemed flat.
In the locker room, Alex Ovechkin was nowhere to be found, and second-line winger Troy Brouwer had to speak up, calling up several of his teammates.
Ovechkin continues to wear the "C" on his jersey every game, and yet he hasn't been a force in the locker room or on the ice. The same goes for Nicklas Backstrom, who has hardly been heard in the media.
It's fine if Adam Oates is vocal on the bench, but on the ice and in the locker room, players need a voice from the players who they voted to lead the team.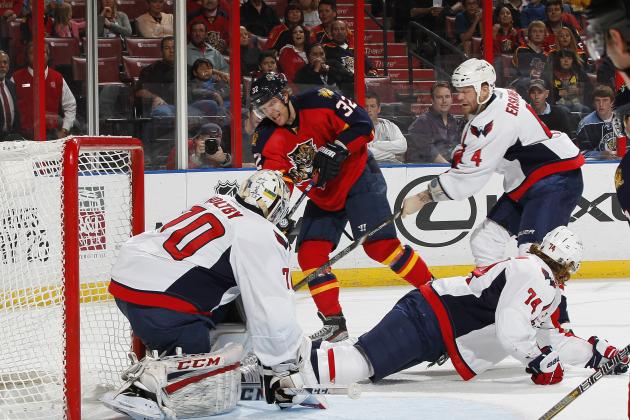 Joel Auerbach/Getty Images
While the defense has struggled for the Capitals, goaltenders Braden Holtby and Michal Neuvirth have struggled on their own.
When fans look at the numbers of goaltenders Michal Neuvirth and Braden Holtby, they'll see some of the worse goaltending numbers in the National Hockey League.
While part of their numbers fall on the defense, both goaltenders have just flat-out played poorly.
Holtby has had the worse season of the two, appearing in seven games this season. He has the better record at 3-4, but has a 3.86 goals against average and a .879 save percentage.
Neuvirth has better numbers, with a 3.05 goals against average and a .889 save percentage, but a 1-4-1 record.
Both goalies have looked flat, and neither have made the flashy saves that they were known for last season. This is especially surprising, especially from Holtby, who came alive in the playoffs.
The defense has struggled, but so have the goaltenders, and there's not much that Adam Oates can do to change that outside a personnel move.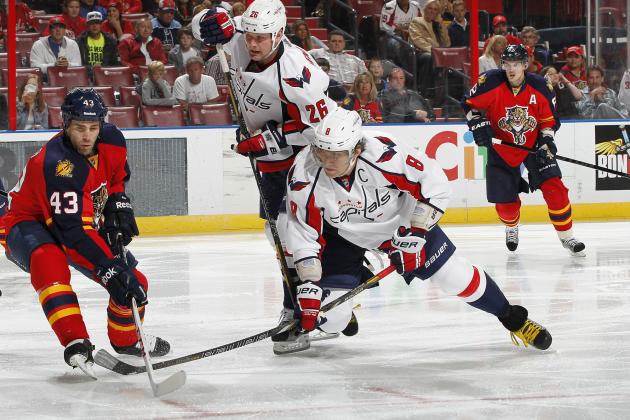 Joel Auerbach/Getty Images
Alex Ovechkin and the majority of the first-liners have struggled this season. Ovechkin only has four goals and four assists.
When Alex Ovechkin is out of the locker room and on the ice, he is not showing the fire he is known for.
The new system may play a part in the slow play of Ovie and the rest of the first line, but it has nothing to do with causing him to play slowly.
The captain has four goals and four assists this season, but often looks out of touch on offensive series. He'll often dump the puck off and go around the net, while missing juicy rebound opportunities at the front of the net.
Nicklas Backstrom, who started out on the first line and was since demoted, has one goal, seven assists and a zero plus/minus.
Washington's alternate captain has been almost almost invisible on the ice. Adam Oates was eventually forced to dramatically change the lines.
This turned out to be the right move, as Mike Ribeiro and Jason Chimera have played well since being put together on the first line. Before that, Oates had nothing to do with Ovechkin and Nicklas Backstrom playing slow.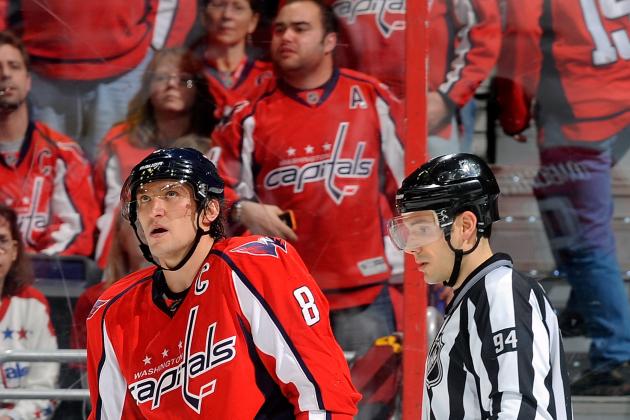 Greg Fiume/Getty Images
The Capitals have been sent to the sin bin frequently, which has opened up more scoring opportunities for opponents.
It seems that in almost every game, commentators are looking at the Washington Capitals and wondering why so many players are getting sent to the penalty box.
Earlier this week, general manager George McPhee pointed out that the penalties aren't the fault of the coach, but rather just a lack of discipline of the players.
"I just think it's undisciplined, lack of focus, selfish in some ways and in a short season, in any season -- playoffs or whatever -- you can't be taking penalties," he told Comcast SportsNet.
Washington has served a total of 157 penalty minutes, and five players have 10 or more penalty minutes.
It's impossible for Adam Oates to coach more disciplined hockey, and he can't force the players to stop making poor mental decisions. The penalties reflect poorly on Oates, but there is not much he can do to stop it in the future.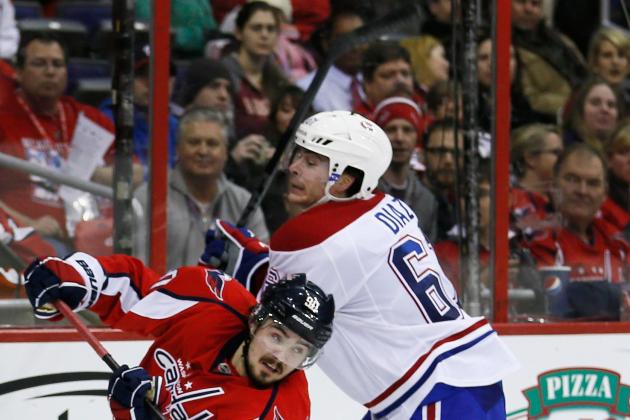 Rob Carr/Getty Images
Marcus Johansson and some of the other third and fourth line players have struggled this year. Johansson's production has been down from last season, when he put up 46 points.
The third and fourth lines of the Washington Capitals have been both good and bad. The third line has the team's leading scorer Joel Ward, but also features some of the most disappointing players.
The worst offender has been Marcus Johansson, who only has one goal and is carrying a plus/minus of minus-7. Johansson had the best year of his career last season under Dale Hunter, who favored defensive play.
Johansson put up 46 points, and this season, he is on pace to only put up five points. Adam Oates has called out Johansson a number of times already, and it's clear that nothing the coach is saying is getting to Johansson.
Mathieu Perreault has also been under-performing, with two points and only six shots.
Last season, Perreault had 30 points and a plus/minus of plus-9. It's nice that players like Ward and Matt Hendricks can perform on the bottom lines, but without the help of other players, the team is going to struggle, and there's not much Oates can do about that.