NHL Awards 2013: Top Contenders for the Selke During Shortened Season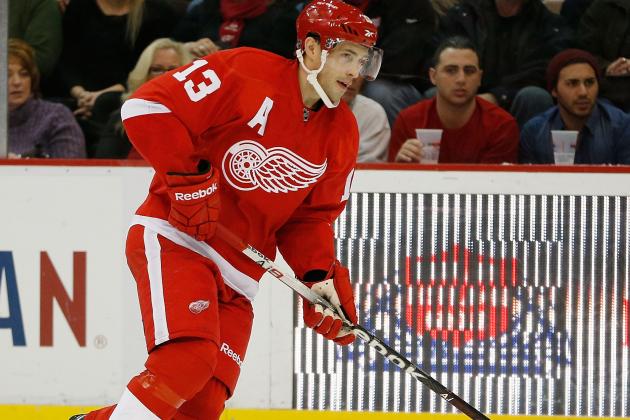 Gregory Shamus/Getty Images
Pavel Datsyuk remains one of the NHL's best defensive forwards.
The Frank J. Selke Award may not have the gravitas of the Hart Trophy (MVP), Norris Trophy (best defenseman) or Vezina Award (top goalie), but it is a coveted honor that goes to the best defensive forward in the NHL.
The NHL first started honoring defensive forwards in the 1977-78 season when Bob Gainey of the Montreal Canadiens won the honor. Gainey, one of the greatest defensive forwards in the history of the game and a Hall of Famer, won the honor the first four years it was awarded.
Patrice Bergeron of the Boston Bruins won the honor last year, while highly skilled Pavel Datsyuk is a three-time award winner.
Many factors go into a player's resume when considering him for the Selke Award. In Bergeron's case, his skill as a faceoff man gives him an edge over nearly every other player in the league. When you can keep the puck away from your opponent, you have an excellent chance to be a strong defensive player.
But wingers who don't take faceoffs can also be strong defensive players. They can show their defensive tenacity with their hitting ability as well as their propensity for blocking shots.
However, the one factor that all strong defensive forwards have is a conscientious attitude toward defensive play. There is no cutting of corners and players will never hang out near the red line so they can trade their defensive responsibilities for a scoring opportunity.
Here's a look at seven top contenders for the award during this shortened season.
Begin Slideshow

»
Patrice Bergeron's consistent strength on the defensive end is his signature on the ice.
Bergeron seemingly has his doctorate in individual defense. When the opponents have the puck in the Bruins' zone, Bergeron addresses where it will go next and he positions himself so that he can make a play that will give the Bruins possession.
In some cases, the movements are subtle and he will force an errant pass. In other cases, he will simply steal the puck and start a breakout play for the Bruins.
Bergeron's stellar role as a faceoff man has been a significant plus for head coach Claude Julien throughout his tenure in Boston. There's no let-up in that area in 2013 as Bergeron has won 63.5 percent of his faceoffs in his first eight games.
Pavel Datsyuk is one of the most gifted and talented players in the NHL. He is perhaps best known for his stellar offensive moves—particularly when alone or during a shootout—but his defensive play is also stellar.
In the video above, Datsyuk showed his appreciation to the NHL for bestowing his third consecutive Selke Award on him following the 2009-10 season. In particular, he thanked the Red Wings' coaching staff for "trusting" him.
That's what Datsyuk's defensive play is all about. He is not a dominating physical player who excels because he is a big hitter. However, his speed and sensational skating ability allows him to swoop in and break up opponents' offensive forays.
He is also an excellent faceoff man, winning 61.8 percent of the draws he takes.
David Backes was one of the league's finalists for the Selke Award last year.
He figures to be in contention again this year
Backes is one of the Blues' most responsible players. He is fully committed on the defensive end. Through his first nine games of the season, Backes has continued to play very strong defensive hockey.
He ranks tied for fifth in the league with 32 hits and he has also blocked six shots. Head coach Ken Hitchcock will almost always send Backes out on the ice whenever the Blues need to kill a key penalty.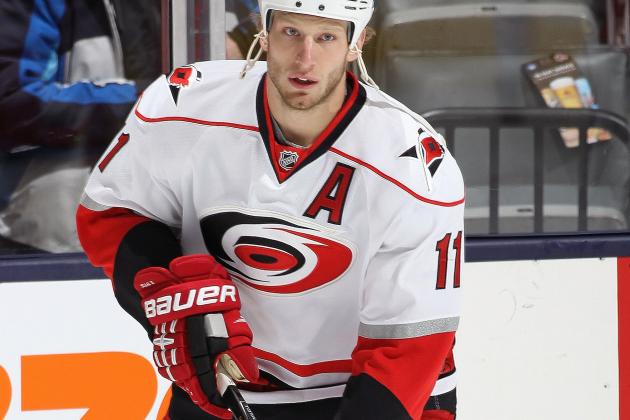 Claus Andersen/Getty Images

The Carolina Hurricanes did not just acquire Jordan Staal from the Pittsburgh Penguins last summer because they thought it would be nice if he could play with his brother Eric Staal.
Jordan Staal is a top-notch defensive player who combines excellent instincts with a strong physical presence.
Through the early part of the season, Staal has been credited with 23 hits and four blocked shots. He has also won more than 50 percent of his faceoffs.
When head coach Kirk Muller needs a top defensive forward on the ice, he does not hesitate to send Staal out on the ice in short-handed and other critical game-deciding situations.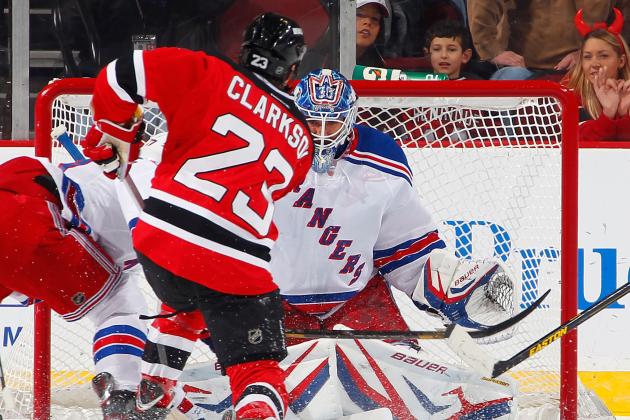 Paul Bereswill/Getty Images

David Clarkson is one of the most important players on the New Jersey Devils.
Clarkson had a breakthrough year for the Devils last year when he scored 30 goals and was one of their key players during their postseason run that saw them get to the Stanley Cup Finals.
Clarkson is out of the gate this year in explosive fashion, having scored seven goals and five assists in his first nine games.
Clarkson is also a solid contributor on the defensive end with his physical play. He has registered 16 hits this season and has shown the ability to knock opponents off the puck.
The Anaheim Ducks (6-1-1) have been one of the surprise teams of the season and Daniel Winnik has been one of their key players.
Not only has Winnik been able to put the puck in the net with his five goals, he has also helped set the tone with his defensive play.
Winnik is not fancy, but he has a penchant for getting his stick in the passing lanes and breaking up plays.
He also is willing to pay the price. He has been credited with 17 hits and nine blocked shots.
The latter figure is testimony to his toughness and his desire to do anything to help the Ducks win.
There's a reason that Jonathan Toews is known as "Captain Serious" in Chicago.
That's because he never relaxes on the ice and always does a little bit more than is required by head coach Joel Quenneville.
Toews is a creative offensive player who can carry the puck, make a series of tantalizing moves and also shoot it with power and accuracy.
However, he's just as good if not better in his defensive play. It's his anticipation and deft stick work that makes him so strong in his own zone. He seems to know where the next pass is going and he gets there in time to break up the play or make the interception.
Toews is also a master on faceoffs, winning 61.7 percent of his draws this year.