New Jersey Devils: 4 Players to Put on the Trade Block in 2013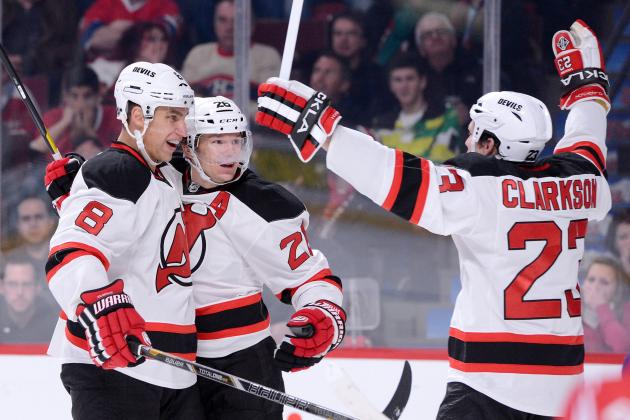 Richard Wolowicz/Getty Images

The New Jersey Devils are off to a hot start in 2013, earning points in every game so far. Whether their strong start will continue and lead to a strong season remains to be seen, but we've seen enough to speculate on.
The Devils seem to be headed in the right direction this season. Martin Brodeur is as solid as ever in net, Ilya Kovalchuk is leading an offense in which David Clarkson has taken a huge role and the defense is shutting down opponents.
But as with every team, the Devil have areas that need improvement. A few promising players are in the Devils system but not many—and even fewer can be relied on now. That means the Devils may need to make some trades this season to contend for the Stanley Cup.
Who might they shop around the league? Here are four players they'll put on the block.
Begin Slideshow

»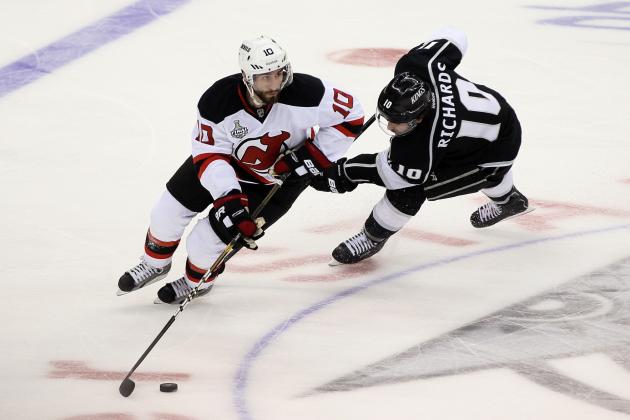 Jeff Gross/Getty Images

Remember Peter Harrold? The 29-year-old defender impressed enough in the minors last season that he got called up to the team. He ended up playing in 11 games in the regular season and in 17 games in the postseason.
Harrold isn't spectacular. He's not even great. But he's a reliable defender, and some teams can find a use for him.
Harrold doesn't do much offensively—he has 28 points in 175 career games—but he showed during the playoffs that he can compete against top-tier players on top-tier teams, no matter how much is on the line.
In his 17 postseason games, he had four assists, a plus-two rating and 22 shots while eating more than 15 minutes per game.
He could be a good acquisition for a playoff team looking to solidify its third defensive line.
The easy thing about trading Harrold is that he isn't playing right now. He is a healthy scratch each game. His role on the roster seems to be the seventh defenseman.
On top of the lack of impact the trade would have on the Devils, Harrold is in the last year of a deal that's getting him $525,000 this season. A teams that acquires him could dump him or keep him if he works out without an immediate commitment needed.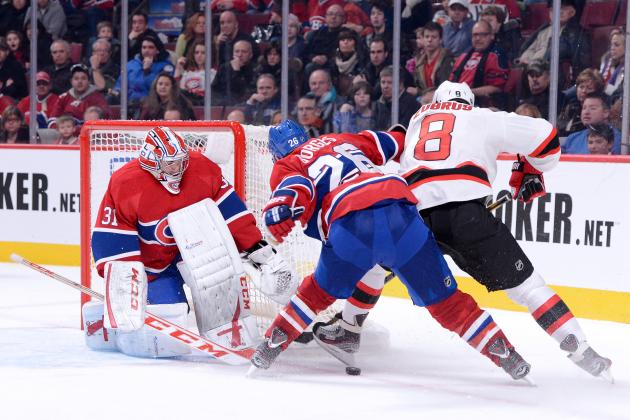 Richard Wolowicz/Getty Images

Dainius Zubrus is a good, consistent forward. He's far from exceptional and doesn't contribute a ton offensively, but he can be relied on in most situations.
A veteran of more than 1,000 games, Zubrus had between 13 and 17 goals and 17 and 27 assists in each of the last five seasons. At 34 years old, he still has a lot of hockey left in the tank, and his 35 points in 92 playoff games give him considerable postseason experience.
Zubrus carries a cap hit of $3.4 million—considerably more than he's probably worth. That said, he's in his last year of the deal. If a team with the cap space wants to pick up a hardened vet for a playoff run, Zubrus could be an attractive choice.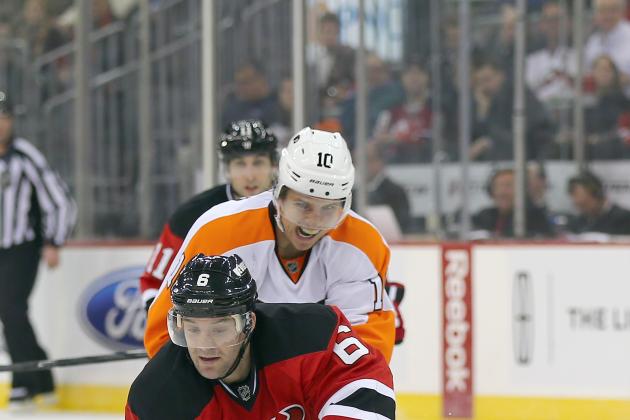 Elsa/Getty Images

For years, Andy Greene has theoretically been one of the Devils' most offensive-minded defensemen. On a team with Bryce Salvador, Anton Volchenkov, Henrik Tallinder and Mark Fayne, the pressure of the role of "offensive defender" fell on Andy Greene's shoulders.
Greene has floundered a bit lately. After a decent 2009-10 season with six goals and 31 assists, Greene put up four goals and 19 assists—and a minus-23 rating—in 2010-11. In 56 games last year, he had just one goal and 15 assists in 56 games.
In the middle of last season, the arrival of Marek Zidlicky took a good deal of pressure off Greene, and Zidlicky has since become the go-to attacking defenseman.
In Greene, the Devils are left with a defenseman who has never been superb defensively, has never excelled in the way people had hoped offensively and has a cap hit of $3 million through 2015.
It's unclear what kind of value Greene would fetch on the trade market, but the Devils have a deep enough defense that receiving picks or prospects would probably make the trade worthwhile.
Although he's not an excellent player, Greene is a veteran of 350 games including 45 playoff games. His experience could benefit a young team looking for a veteran presence.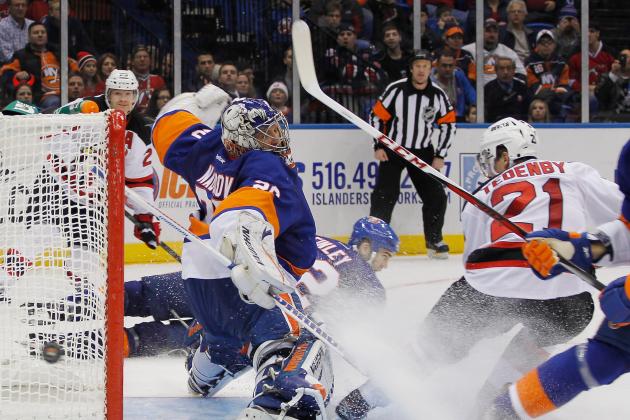 Andy Marlin/Getty Images

Mattias Tedenby was the Devils' first-round pick in the 2008 NHL draft. The young Swedish forward has spent the last two seasons going back and forth from the Devils to the AHL affiliate, the Albany Devils.
Tedenby has superb speed, very good hands and a head for the game. Unfortunately, those traits have never translated to on-ice success.
In 47 games for Albany, Tedenby has just nine goals and 16 assists. His production is even worse in the big league, with nine goals and 19 assists in 101 games through his first two NHL seasons. That includes a minus-15 rating from last season.
Simply put, he hasn't panned out yet.
This season, Tedenby has been equally lackluster. In four games, he has just one assist, one penalty and two shots on goal. He has repeatedly put himself in good position on the ice but has failed to capitalize on any chances so far.
Still just 22 years old, Tedenby can't be declared a bust yet. Rather, he's an intriguing prospect who hasn't prospered in his current setting. He could be an attractive option to a team that has the time and talent to help him succeed.
Tedenby is also in the last year of a small contract. With just $825,000 due to him this season, a team acquiring him would have virtually no obligation moving forward.