Ilya Bryzgalov's Top Media Moments During the NHL Lockout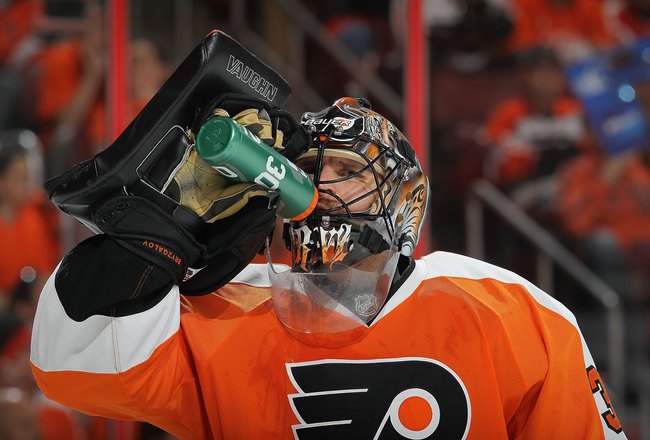 Jim McIsaac/Getty Images
During the NHL lockout, Ilya Bryzgalov has been somewhat quiet, at least compared to what hockey fans are used to. But even though he's been playing in Russia, he has had a number of quality media moments about the lockout, Russian players and of course, outer space.
Bryzgalov has had a wild year since joining the Philadelphia Flyers in the summer of 2011. He had an up and down that was exacerbated by his starring in the HBO 24/7 series before the Winter Classic.
He came under the national spotlight due to his goofy nature and funny interviews, but also fell out of favor with coach Peter Laviolette, who benched him for the actual Winter Classic.
But Bryzgalov got his act back together and finished the regular season strong. But his actions were watched closely, and his offbeat but relatively harmless ways were often too harshly criticized, especially when his play was subpar.
With this lockout, we haven't gotten as much Bryz as usual, but there are still some noteworthy moments from the past few months. Here are Bryzgalov's top media moments so far during the lockout.
Will Russians Stay in KHL?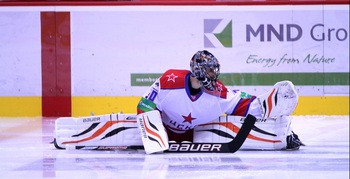 Photo via bloguin.com
Just a month into the lockout, Bryzgalov made some waves by saying that he thought players may want to stay in Russia even when the lockout ended.
His logic was actually pretty sound; he said that top players could get paid more in the KHL than they do in the NHL, which is true, because the NHL's salary cap prohibits teams from giving absurd contracts to players.
He also pointed out that some Russian players would be able to stay home, where they grew up, and play in front of friends and families.
While it has yet to be seen whether Bryzgalov's predictions will come true, they aren't overly comforting to NHL fans whose star players are in the KHL right now as the lockout drags on.
Bryzgalov Angry at Russian Reporters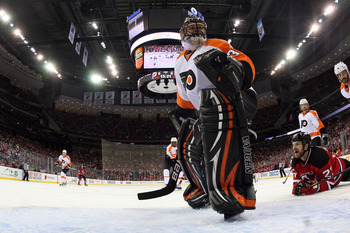 Bruce Bennett/Getty Images
Bryzgalov did not get off to a good start in the KHL. At the time of this particular interview, he was 2-4-0 with a 2.92 goals against average and an .891 save percentage.
He had apparently been getting thrashed in the media over in Russia for his poor performance, and during a postgame interview, Bryzgalov snapped.
Bryzgalov told the reporter who asked for an interview that he wouldn't do one, because everyone had been writing "filth" about him, and that his family told him not to do interviews.
He also pointed out that his jersey was dry because he did not have to work hard, and implored that the reporter touch his jersey just to make sure. It was a case of some obvious frustration being shown by Bryz, who is not one to stay quiet when things go south.
Cosmonaut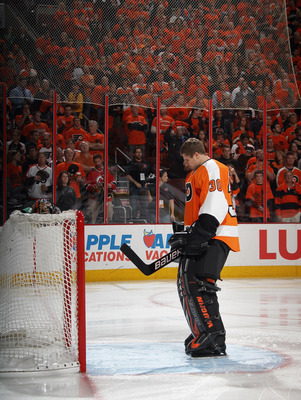 Bruce Bennett/Getty Images
Bryzgalov, who has already once shared his thoughts on the universe, had an interesting interview with Russian publication Sport Express.
Bryzgalov had been pulled from the Russian national team roster days before the start of the Channel One Cup, and gave an interesting explanation for his whereabouts: he was at the Mission Control Center.
Here's the interview, through Google translate:
Why are not you on the team? You have really a health problem?
"Sorry, but, unfortunately, I'm not ready to talk in detail with the press."
Why not?
"The thing is that now I am in the Mission Control Center, you wrote about in our last interview. Astronaut suit on me. And you will understand that it disturbs me to communicate."
Bryz being Bryz, I guess. Let's just hope he comes back to the Flyers in one piece, and plays a little more consistently whenever this lockout ends.
Keep Reading

Philadelphia Flyers: Like this team?