Andy Reid's 5 Biggest Blunders as the Philadelphia Eagles' Head Coach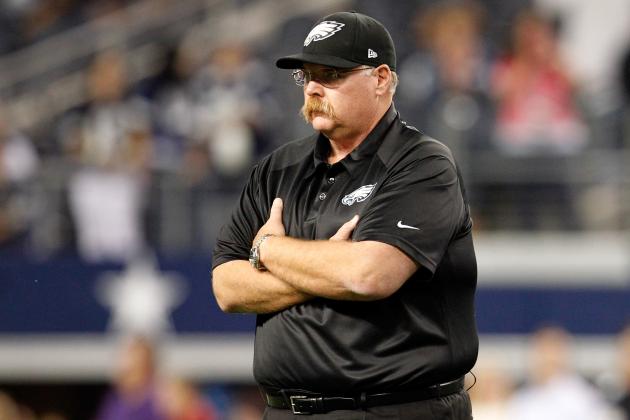 Tom Pennington/Getty Images

The Delaware Valley, the Philadelphia Eagles fanbase and Andy Reid himself are on the eve of what will probably be the head coach's penultimate game at the helm of the Eagles franchise, which happens to be his last home game, against the Washington Redskins.
This begs the question, "Will fans boo Andy Reid for his not bringing a Lombardi Trophy to the City of Brotherly Love, or will they cheer Reid for his efforts over the last 14 years?"
No matter what the answer to that question may be, the biggest factor that goes into its answer depends on how much consideration is given to Reid's most notorious blunders as the team's head coach. After all, everyone knows about Reid's success. In fact, you can count his biggest achievements on six fingers, with each representing an NFC East title—only two of which have come since 2006.
On the other hand, Reid has made several costly blunders and perpetuated the same kinds of misjudgments repeatedly, so much so that one would need a lot of fingers and a lot of time to count them all.
That said, what are the biggest mistakes Reid has made during his time as the head coach of the Philadelphia Eagles?
Begin Slideshow

»
Al Bello/Getty Images

On February 28, 2009, Brian Dawkins signed a contract with the Denver Broncos after the Eagles had neglected to retain the services of one of the team's most popular and prolific players in franchise history.
It turns out that B-Dawk had enough in the tank to earn himself more Pro Bowl appearances.
Letting Dawkins walk was obviously a mistake for a lot of reasons. Possibly the biggest reason being the ramifications of the passing of longtime defensive coordinator Jim Johnson, especially regarding the loss of leadership that would be felt.
Of course, the safety position has been a weak spot since B-Dawk's departure, but the Birds' coaching situation was tumultuous at that time, to say the least.
Dawkins was unquestionably the Eagles' defensive leader at that time, and though the Birds defense probably wouldn't have been too formidable moving forward, the absence of Brian Dawkins had done nothing to improve that situation, which is why letting Dawkins go is not higher on this list.
Though Reid has let go of some players at the exact time they had run their course in the NFL, his handling of Brian Dawkins' situation does a lot to undermine Reid's reputation for evaluating talent (which isn't very good anyway).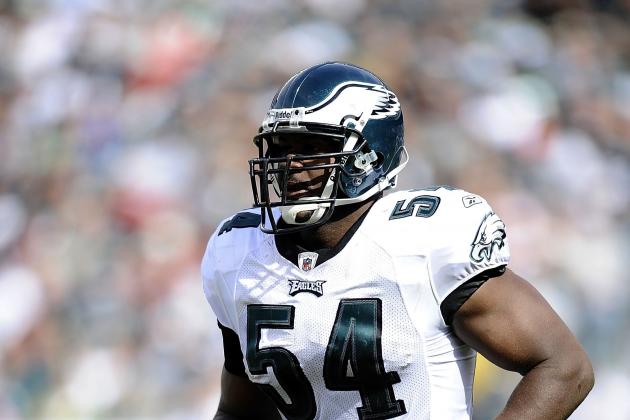 Jeff Zelevansky/Getty Images

The only reason this isn't No. 2 on this list is because Andy Reid acquired DeMeco Ryans this past offseason.
Other than that, what on Reid's resume speaks to his comprehension of the importance of the middle linebackers?
Reid's value of the MLB position especially comes under fire when you consider his implementation of the Wide 9 defensive line scheme, which is one in which you need to have a stud MLB to help stop anything up the middle.
When the MLB isn't properly manned, the middle of the field opens up. When that happens, not only can an opposing offense exploit the MLB weakness, but it also leaves the defense's safeties in a vulnerable position.
Who, aside from Jeremiah Trotter, has been a good MLB under Andy Reid?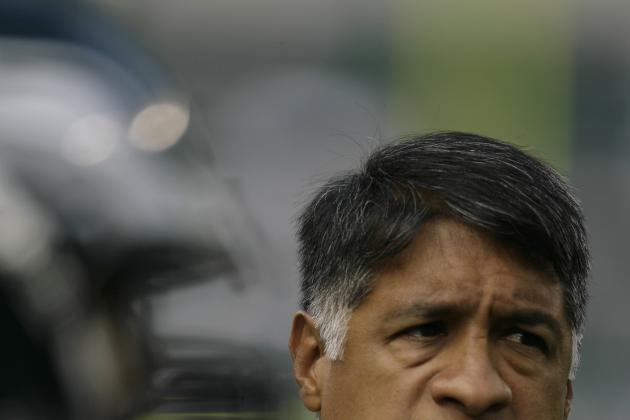 Chris Gardner/Getty Images

Did Andy Reid give up on Sean McDermott too soon? Now, firing him was the right move. But maybe at the time, it meant McDermott was a scapegoat.
Regardless, the hiring of Juan Castillo as the Eagles defensive coordinator was a mistake for several reasons. The only reason this move didn't come under a ton of scrutiny at the time is because the Philadelphia sports world was caught up in the signing of Cliff Lee.
However, anyone who closely followed the Eagles knew that Juan Castillo was the team's longtime offensive line coach and had nothing on his resume to merit a promotion to not only the defensive side of the ball, but to the coordinator position nonetheless!
Castillo's incompetence was evident throughout the team's entire 2011 campaign. He used a lot of zone coverage with one someone who was considered one of the NFL's premier press-corners at the time in Nnamdi Asomugha. Asomugha was unable to make that kind of adjustment, and it made fans wonder why the team signed him in the first place.
And what was Casey Matthews, a Pac-10 outside linebacker, doing starting as an NFL middle linebacker?
Not only did this make Castillo look terrible, but it was a mad scientist experiment that made Reid look incapable.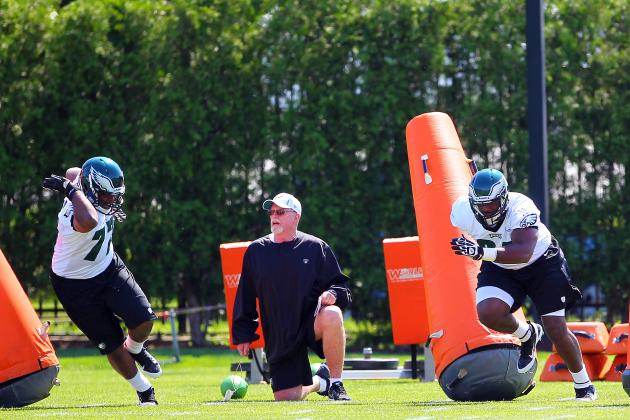 Rich Schultz/Getty Images

Hiring Jim Washburn was a terrible move for a number of reasons.
First off, what kind of a head coach hires a defensive line coach before he hires a defensive coordinator? The Eagles had no chance of acquiring a top-tier defensive mind after that move.
Second, why implement a gimmicky style of football on a struggling defense? It's one thing to hire a defensive line coach who has successfully taken a different approach to the game, but hiring someone who employs a completely unorthodox style on a defense that didn't have the pieces to make it work (no MLB, only one good DT, no coordinator) makes no sense.
It turns out that rotating defensive linemen did nothing to help the players' in-game rhythm, and if you take another look at the D-line's performance against the Cincinnati Bengals, it makes you wonder why Reid didn't fire Washburn before he fired Juan Castillo.
Oh yeah, Washburn was a cancer in the team's locker room who consistently undermined his superiors and isolated his players from the rest of the team.
No one knows how the Birds defense would have performed if Washburn was fired first instead of Castillo, but no one can say with absolute certainty that the Eagles might be at least in the Wild Card hunt if that was the case.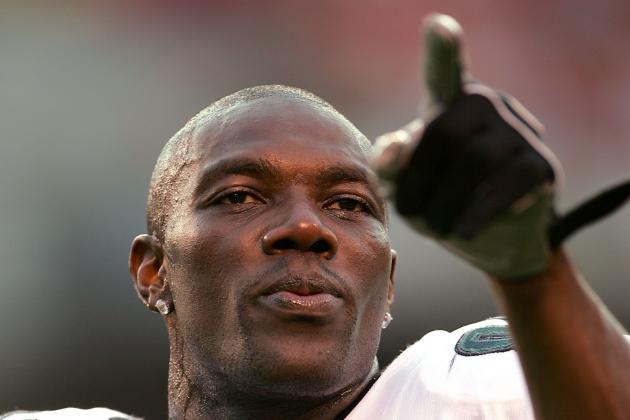 Jamie Squire/Getty Images

For a head coach that likes to throw the ball as much as Andy Reid does, he's never placed much value at the wide receiver position.
However, when Andy Reid did have an elite wideout in Terrell Owens, the Eagles offense was almost unstoppable. In fact, the team went to the Super Bowl with TO in 2004.
Now, though, Reid has stacked his team with small, unproven wide receivers who are injury-prone and not that great. Clearly, Reid is not a good evaluator of wide receiver talent.
To further illustrate this, we can take a look at the 2001 NFL draft, one in which Reid selected Freddie Mitchell and left Reggie Wayne, Chad Johnson and Steve Smith on the board. That's one year.
When Owens went through his ordeal with the Eagles that ultimately landed him on the bench and off the team, he was a player without whom the Eagles would not have been as successful as they were with him. In fact, since his departure and the team's Super Bowl appearance, Reid's winning percentage is barely above .500. That's saying something.
Moreover, Reid probably should have tried to work things out with Owens. After all, not only had he pushed the team over the hump and catapulted them to the top, but he was a player who had gotten hurt before the playoffs and came back to play in the Super Bowl with a fractured fibula and terribly sprained right ankle. He put up 122 yards in the team's loss to the New England Patriots.
All that considered, Owens was definitely worth more than the $4.5 million he was scheduled to make in 2005. Though he approached the situation the wrong way, Owens nonetheless deserved to be paid.
Perhaps Reid's mismanagement of TO's situation was his single biggest blunder. Regardless, it speaks to the value Reid doesn't place on the WR position, which has cost him greatly during his time in Philadelphia.