The 15 Worst NHL Contracts Right Now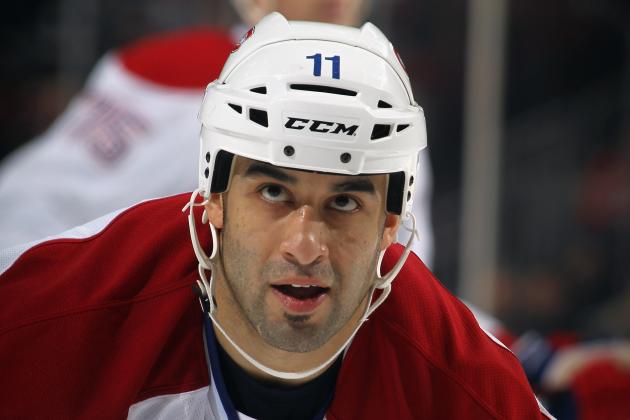 Bruce Bennett/Getty Images

Contracts are a big part of the NHL today. Every offseason, teams sign free agents or re-sign their own players to new deals.
Some of those deals work out well for everybody, but sometimes players end up earning a lot more money than they're worth, even by the standards set by pro athletes.
Here is a look at the 15 worst contracts in the NHL right now.
Keep in mind that not all of these players are underachievers or poor hockey players. Sometimes, the terms of the contract are just absurd, be it dollar amount or length or a combination of the two.
Feel free to add your own if you feel there is another bad deal I missed or if you disagree with some of my choices but please say why in your comments.
Begin Slideshow

»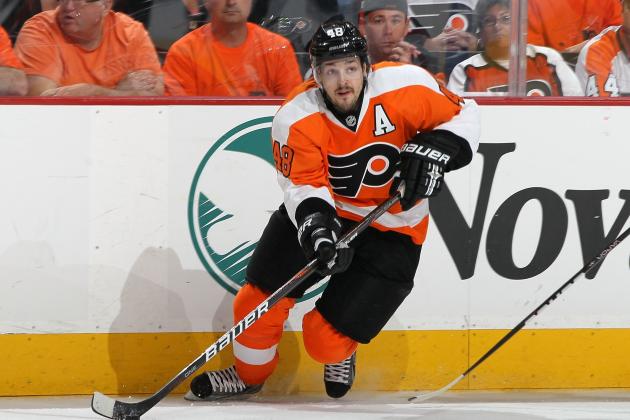 Jim McIsaac/Getty Images

Daniel Briere cashed in as a free agent back in 2007, signing an eight-year, $52 million deal with the Flyers that carries an average cap hit of $6.5 million per season.
Briere is now 35 and is not the same player he was five years ago. Last season, he scored just 16 goals and 49 points for Philadelphia while earning $7 million. He did have a strong postseason, but was still clearly not worth what he was being paid at this stage in his career.
The good news for the Flyers is that while the cap hit will remain the same, Briere's salary will go down for the last two years of his contract to $3 million and then $2 million per year.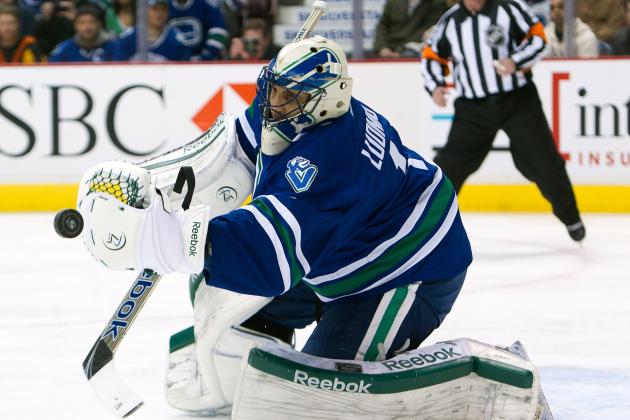 Rich Lam/Getty Images

Roberto Luongo is an interesting case, but he made this list more for the length of his contract than the actual salary numbers.
In September, 2009, Vancouver signed its starting goalie to a deal worth $64 million over 12 years. The catch was that Luongo was already over 30 years old at the time and the contract would take him well past 40.
The average cap hit is $5.33 million, which is not bad for a top notch starting goalie, but since Luongo played his way out of the Canucks starting job with his inconsistent performances, maybe he's not worth the money after all.
This year, Luongo was scheduled to make $6.714 million. He is almost certain to be traded once the lockout ends, which will give him a fresh start and another chance to prove he is worth the money he is being paid.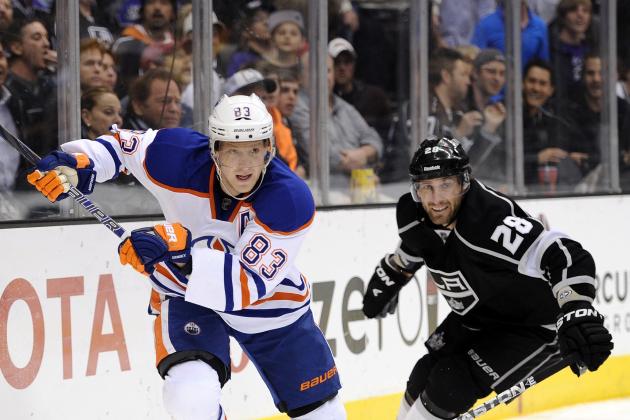 Harry How/Getty Images

The Edmonton Oilers signed Hemsky to a two-year contract worth $10 million last February which prevented the former first round pick from exploring free agency this past summer.
But what has Hemsky produced recently to earn that $5 million-per-year cap hit?
Last season, Hemsky scored just 10 goals and 36 points in 69 games. Even if he played a full season, that still only averages out to 12 goals and 43 points, hardly numbers that set the world on fire.
The Oilers need Hemsky to return to health and be close to a point-per-game player if he is going to justify what they are paying him. At least the length of the deal is short which does reduce the risk for the club.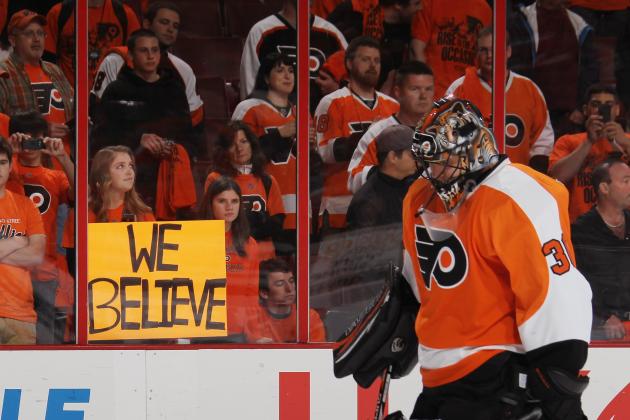 Bruce Bennett/Getty Images

Goaltending has been an issue for the Philadelphia Flyers since Ron Hextall left town. Critics said the Flyers spent money to build talented teams but neglected the goalie position and it may have cost them at least one Stanley Cup over the past two decades.
Last summer, GM Paul Holmgren finally decided to spend a lot of money on a goalie and he inked free agent Ilya Bryzgalov to a nine-year deal worth $51 million.
What the Flyers got in year one was an inconsistent goalie who gave up too many momentum killing, soft goals, often at the worst possible time.
While Bryzgalov still has time to live up to his $5.667 million cap hit, he failed to do so in year one and risks becoming a very bad contract if he doesn't step up his game.
Richard Wolowicz/Getty Images

The Columbus Blue Jackets were looking to upgrade their blue line when they signed James Wisniewski to a six-year, $33 million contract in the summer of 2011. That equals a cap hit of $5.5 million each season. To make matters worse, this year, Wisniewski was scheduled to earn $7 million in salary and a $3 million payment on his signing bonus.
The Jackets paid Wisniewski like a No. 1 defenseman but the Canton, Mich. native is better suited to being on the second pairing.
In 2011-12, he was limited to just 48 games due to injuries and some careless decisions that led to lengthy suspensions. He scored six goals and 27 points.
Wisniewski is average at best in his own zone and quite simply, while he is a good defenseman, he's being paid like an elite one.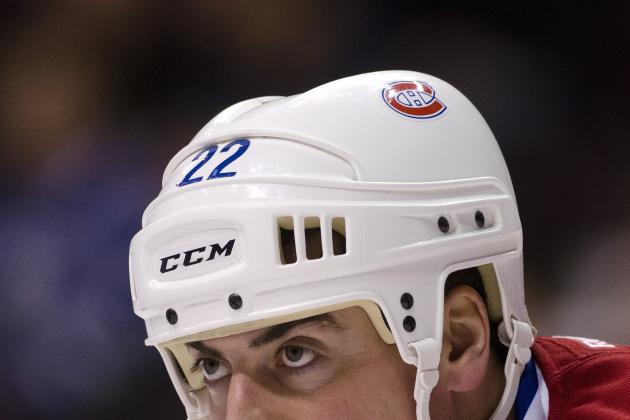 Rich Lam/Getty Images

Tomas Kaberle is another player who isn't bad, but just isn't worth the money he's being paid.
The Habs defenseman has a cap hit of $4.25 million per season, but simply isn't playing a tough, physical game anymore and isn't producing enough points to justify his salary.
There are several reasons Kaberle has played on four teams over the past two seasons and his stellar performance isn't one of them.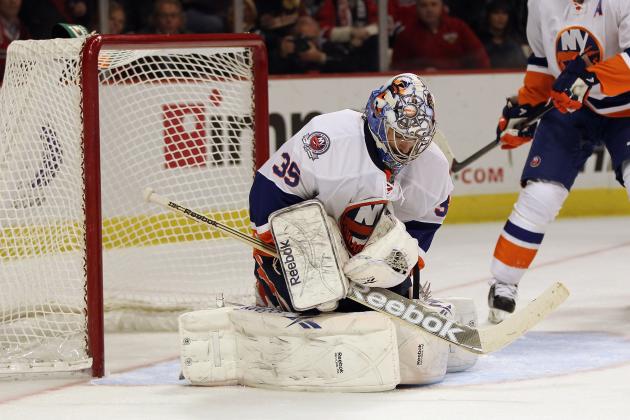 Jonathan Daniel/Getty Images

Islanders goalie Rick DiPietro signed a controversial, 15-year, $67.5 million contract that will keep him with the Isles through 2021.
The deal averages $4.5 million per season, a very reasonable rate today for a starting goalie. There are two problems with DP's contract, however. One is the length of it.
A 15-year contract is an absurd deal to give to nearly any professional athlete.
The bigger problem for DiPietro has been his health: Since injuring himself in the 2008 NHL All-Star Game, he has been unable to stay in the lineup. In fact, he has played in only 47 games total with the Islanders since the start of the 2008-09 season.
DiPietro has worked hard in rehab after each injury or surgery, but he has been unable to stay healthy.
For whatever reason, he has been unable to take to the ice enough to justify his contract.
While the dollar amount is reasonable, the length of the contract coupled with the Massachusetts native's inability to stay in the lineup earned him a spot on this list.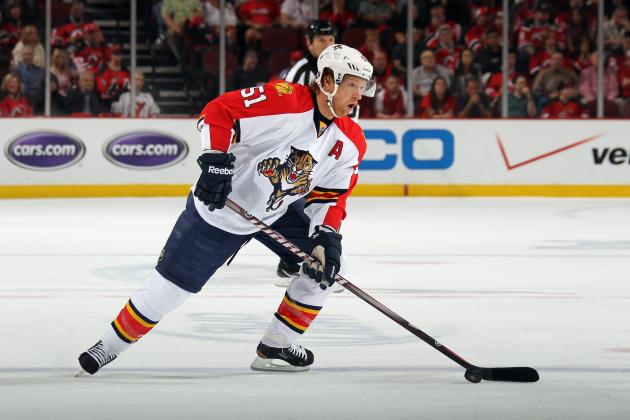 Bruce Bennett/Getty Images

Let me make one thing clear at the beginning: Brian Campbell is a very good NHL defenseman. He has helped the Blackhawks win the Stanley Cup, and last year the Florida Panthers made the playoffs for the first time in a decade in part because of Campbell's fine play.
But Campbell's contract is so bad it's an albatross around the neck of most NHL teams. In fact, the Panthers only acquired Campbell to help them get above the salary cap floor last summer.
Campbell inked an eight-year deal worth more than $57 million in 2008. His cap hit and salary are each more than $7.14 million per year.
It's not that Campbell isn't good, it's that despite his solid play, he just isn't worth what he's being paid.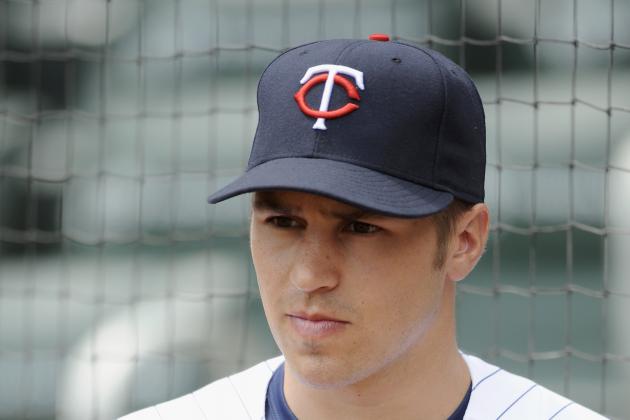 Hannah Foslien/Getty Images

Yeah, I know I'm going to hear from fans about this one. Yes, I know you have to overpay to sign a free agent and yes, I know Parise is a darn good hockey player—heck he's in my top 50 players in the game today.
But the terms of this deal are just outrageous. Parise signed a 13-year, $98 million contract that included a signing bonus of $25 million. In short, contracts like those signed by Parise are why the owners claim they locked out the players to begin with.
Parise will be over 40 by the time this contract runs out and the annual cap hit is more than $7.5 million for the Wild through 2025.
The length of this contract and the high salary make this list even if Parise is a high quality NHL player.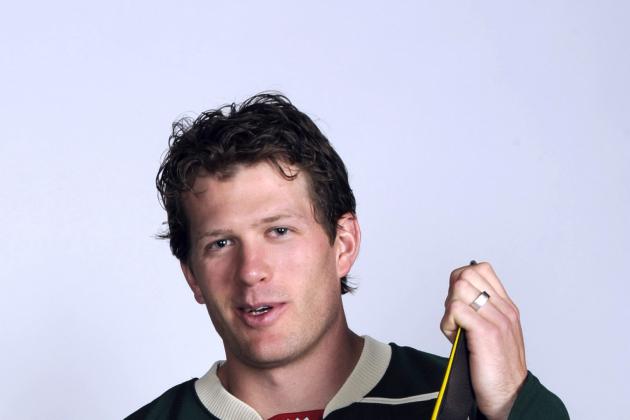 Hannah Foslien/Getty Images

Ryan Suter's contract is identical to Zach Parise's and so it makes this list.
Again, I am not saying the Wild didn't improve their club a lot by signing Suter and Parise and I don't deny Suter's place among the better defesemen in the game today. But the length of this contract and the commitment attached to it make it risky and questionable and earn it a spot on our list.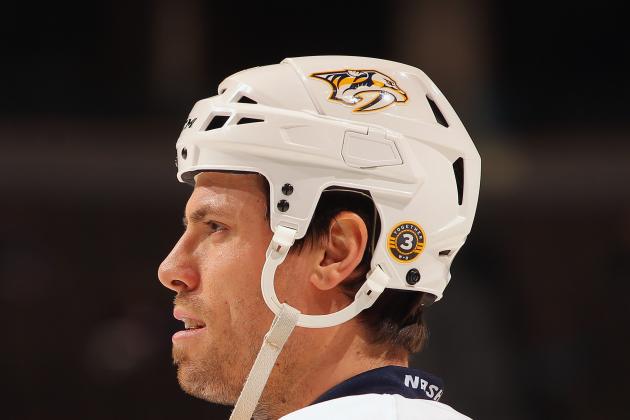 Doug Pensinger/Getty Images

The Nashville Predators didn't have much choice when the Flyers inked Shea Weber to an outrageous offer sheet. The Preds had already lost Ryan Suter and couldn't afford to lose two of the league's top blueliners in the same summer.
But now Nashville has to pay Weber's 14 year, $110 million contract which includes a signing bonus of $68 million and carries an annual cap hit of more than $7.8 million.
Weber is now the highest paid player in the NHL and like Suter and Parise, he will be more than 40 when this lengthy deal finally expires.
The player is a very good one but the contract is a mess. It's very front loaded, way too long and eats up a lot of cap space.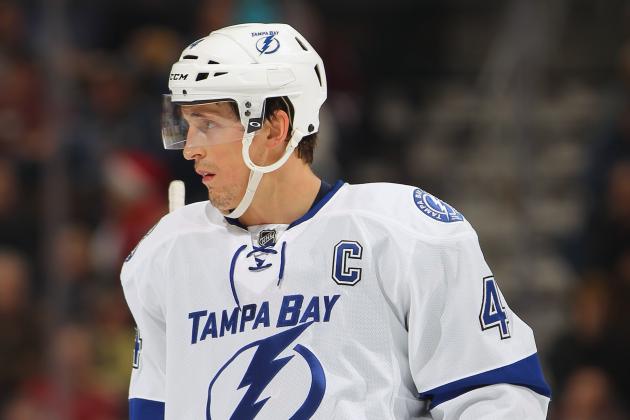 Doug Pensinger/Getty Images

Tampa Bay's Vincent Lecavalier signed an 11-year, $85 million contract while he was still one of the game's leading scorers. The captain of the Bolts has an average cap hit of more than $7.7 million per year and was scheduled to earn $10 million this season.
While Lecavalier won the Rocket Richard Trophy as the league's top goal scorer in 2006-07, he hasn't come close to justifying his hefty salary in recent seasons. Last year, he scored just 22 goals and had 49 points in 64 games while being slowed by injuries.
The fact is that Lecavalier wouldn't top the 50 goal mark if you add up his last two season totals combined and he hasn't topped the 30 goal mark in a single season since 2007-08.
While Lecavalier does bring intangibles to the table, at 32, he appears past his prime and his play on the ice does not justify a salary that pays him as if he's one of the top five players in the game.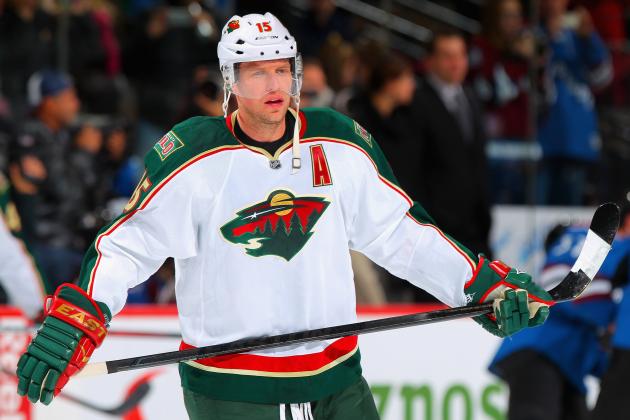 Doug Pensinger/Getty Images

Dany Heatley signed a six-year, $45 million contract which expires after the 2013-14 season. It carries a cap hit of $7.5 million per year.
Heatley had back-to-back 50 goal seasons in 2005-06 and 2006-07, but his production has fallen off sharply in recent seasons.
Last year, Heatley scored only 24 goals after scoring 26 the previous season. He's still being paid like a 40 goal scorer but he's not coming close to that kind of production.
Heatley is the type of player who isn't really helping his club if he isn't producing points.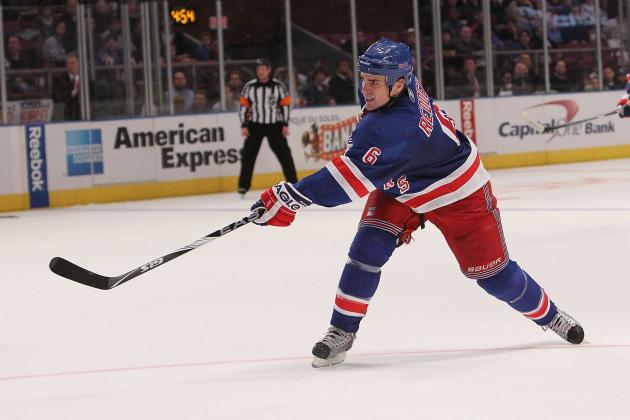 Nick Laham/Getty Images

In 2008, the Rangers signed Wade Redden to a six-year, $39 million contract. What they got in return was a very average defenseman who totaled just 40 points over two seasons before being sent down to the minors to provide the Rangers with cap relief.
Redden still has two years left on this deal. He is paid like a top 10 defenseman but obviously isn't earning his salary and has to be on this list as a result.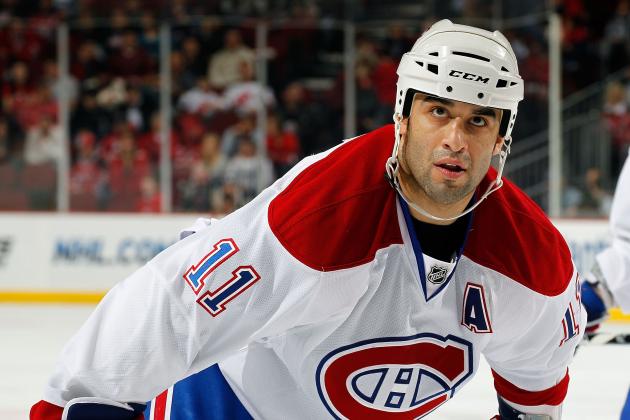 Paul Bereswill/Getty Images

Rangers GM Glen Sather made a horrible deal when he signed free agent center Scott Gomez to a seven-year, $51 million contract in 2007.
Gomez was always a good but not great center, but the Rangers were paying him like he was one of the best five players in the game.
As bad a deal as Sather made by signing Gomez, he made a great deal by trading the underachieving center to Montreal in a deal that netted the Rangers defenseman Ryan McDonagh.
Gomez's production has continued to sink while he still carries a cap hit of more than $7.35 million each year. Last year, the return on that investment was a mere two goals and 11 points in 38 games.
At least Gomez's actual salary drops in the final few years of this deal, but the contract itself was a bad deal all the way around as Gomez had only one season so far that even came close to justifying his overblown salary.