NHL Free Agency: Boom or Bust for Each Goaltender on a New Team in 2013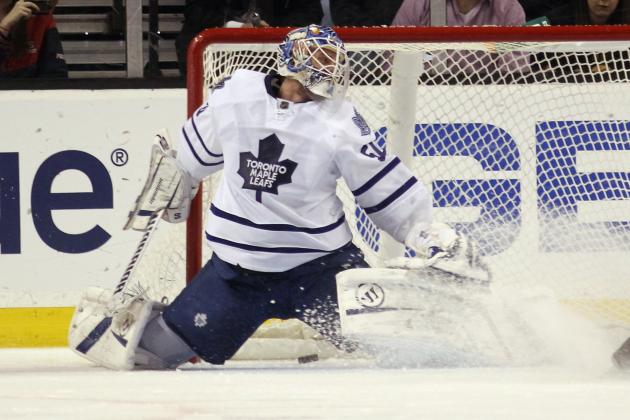 Bruce Bennett/Getty Images
Jonas Gustavsson leaves Toronto to join the Detroit Red Wings and back up Jimmy Howard.
Goaltenders are a polarizing group—play well and fans love you, play poorly and they don't. The big-name goaltenders didn't go anywhere, but there are a few looking to take advantage of a new opportunity and bring their team to a new level.
This upcoming season there will be two goaltenders that should mind the nets for their new clubs—Anders Lindback for the Tampa Bay Lightning and Sergei Bobrovsky for the Columbus Blue Jackets.
The rest of the goalies on different teams should be role players—but don't discount their importance.
Here's a look at the goaltenders in new places for 2012-13, the highly-touted draft picks and a "boom-or-bust" prediction as they take their talents to another hockey place.
Begin Slideshow

»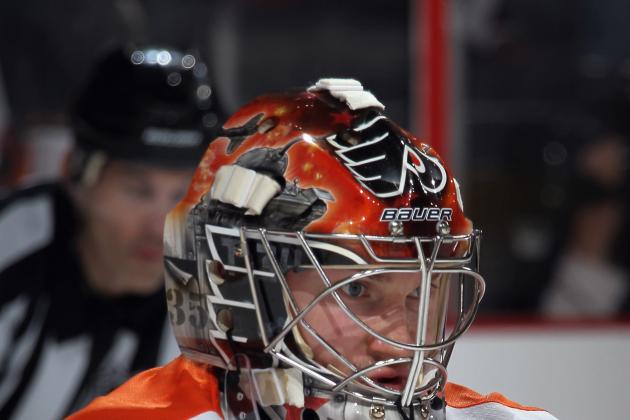 Bruce Bennett/Getty Images
Sergei Bobrovsky moves to Columbus with an opportunity to be the No. 1.
Boom
Sergei Bobrovsky fell out of favor in Philadelphia after his subpar 2011 postseason. Bobrovsky went 0-2 in six playoff games with a 3.23 goals-against average. After that, the Flyers brought in Ilya Bryzgalov
Quickly forgotten was his regular-season record—42-23-10 in two seasons. He has a career 2.73 GAA in the regular season and did well in his only season as a No. 1 goaltender (28-13-8).
He has a new opportunity in Columbus to establish himself as a solid goaltending option. There is less pressure in Columbus and more of an opportunity to stand out.
Temper your expectations because the Blue Jackets are not a complete team, but Bobrovsky does make them a better club. He could reemerge in the Buckeye State.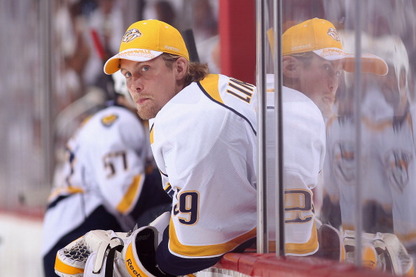 Christian Petersen/Getty Images
A retooled defense and a motivated Anders Lindback could spell good things for the Lightning.
Boom
The other potential No. 1 goaltender in a new place is Anders Lindback. Lindback will have to earn the top spot from Mathieu Garon, but he has that ability.
The Tampa Bay Lightning saw a hidden gem in Lindback. His first opportunity to be a top goaltender could be what he needs to shine.
He is 16-13-2 in two NHL seasons with the Nashville Predators—where he learned from one of the best in the league as the backup to Pekka Rinne.
Tampa's defense can only improve after finishing last in the NHL in goals against (3.39 per game).
There will be an adjustment period to coach Guy Boucher's style, but Lindback could be the goalie of the future for Tampa.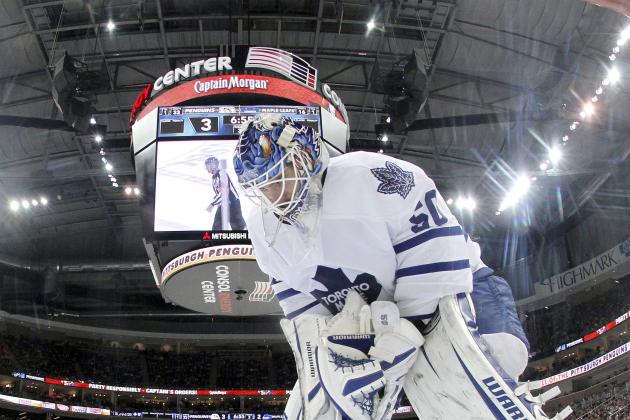 Justin K. Aller/Getty Images
There is no reason for Jonas Gustavsson to hang his head with his new situation in Detroit.
Bust
Jonas Gustavsson went 17-17-4 last season with the Toronto Maple Leafs, but he had a 2.98 GAA. On the flip side, Detroit's offense finished seventh in the NHL in goals scored (2.92 per game), which should help Gustavsson when he is on the ice.
Gustavsson finished 40th in the NHL in GAA—only five eligible goalies posted a worse number last season.
He won't be the No. 1 goaltender in Detroit with Jimmy Howard between the pipes, but he certainly provides a talented No. 2 option.
Gustavsson will need to be a capable No. 2 goaltender for the Red Wings in front of one of the most passionate fanbases in sports.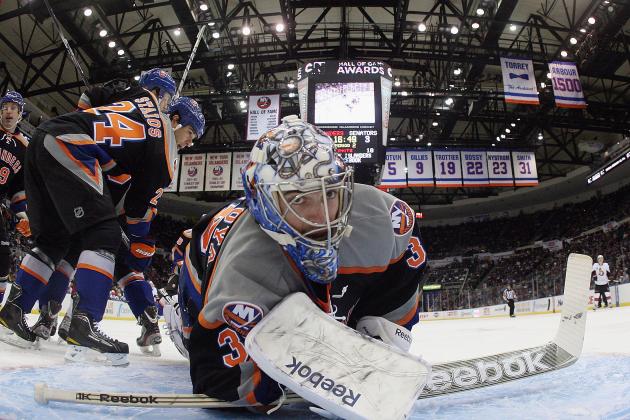 Bruce Bennett/Getty Images
Ondrej Pavelec or Al Montoya, you decide?
Bust
Al Montoya was the sixth-overall pick in the 2004 draft by the New York Rangers. He never played a game for them and has played in just 57 NHL games since he was drafted.
He boasts a 21-17-10 record coupled with a 2.76 GAA. Unfortunately for Montoya, he won't be the No. 1 in Winnipeg either.
With Ondrej Pavelec as the top goalie, Montoya will be held to the backup role again. The Jets finished 26th in the NHL in goals against (2.95 per game) and the Southeast Division is full of potent offenses.
Things don't look good in Winnipeg on the blue line and that only spells more woes for Montoya.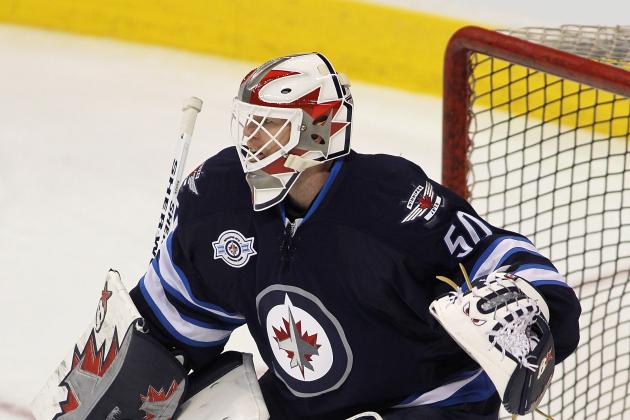 Marianne Helm/Getty Images
Chris Mason returns to the place he started his career, and had the most success, Nashville.
Boom
Chris Mason's career as an NHL goaltender has come full circle.
The soon-to-be 11-year veteran started his career in Nashville as a backup. He earned the top spot in the 2007-08 season where he started 45 games.
The next year, he went to St. Louis for a short stint followed by another short stint with Atlanta/Winnipeg. During that time Mason went from starter to backup―now he returns to Nashville to be the backup to Pekka Rinne.
Mason has a career 58-43-11 record as a Predator. During that time, he notched his career-best GAA (2.38) and save percentage (.926).
Nashville tied for eighth in the NHL in goals against (2.50 per game) last season. The Predators lost one of their top defensemen in Ryan Suter, but that defense is still solid.
Mason should be a formidable No. 2 backstop for the Preds.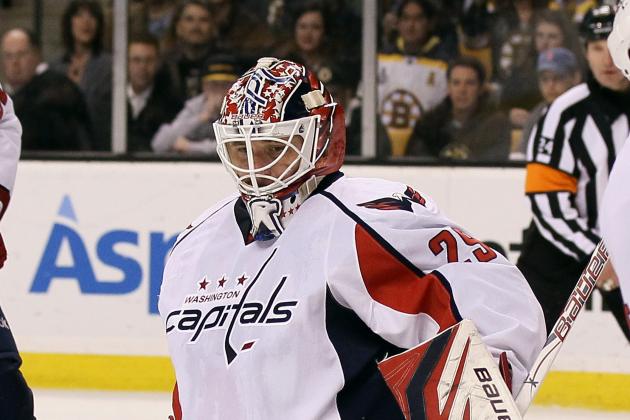 Elsa/Getty Images
Tomas Vokoun had a solid year for the Capitals last season, earning him a backup role in Pittsburgh.
Bust
Tomas Vokoun stayed in the Eastern Conference with a move from Washington to the Pittsburgh Penguins. He moves to a talented Pittsburgh team that already has a dominant top goaltender in Marc-Andre Fleury.
Fleury, 28, hasn't started less than 60 games in a season since the 2007-08 campaign. He is as much of a lock-down goaltender as there is in the game. That will diminish Vokoun's role with the Penguins.
Vokoun rebounded with a 25-17-2 record last season in 46 starts. Unfortunately, he won't be getting that many starts in Pittsburgh.
If Vokoun starts less than 40 games in a season, he has a career record of 39-69-14. He hasn't played to that limited capacity since 2002, but the diminished role could destroy his momentum from last season.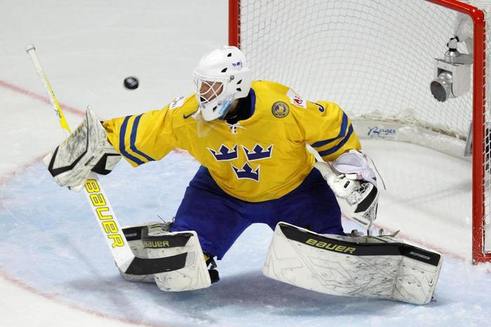 Photo Courtesy: Justin Goldman, thegoalieguild.com
Boom
The Anaheim Ducks bolstered their goaltending by going overseas. The Ducks signed Swedish goaltender Viktor Fasth to a one-year deal in an effort to add some depth. What the Ducks may have found was a new No. 1.
Jonas Hiller has notched the majority of the starts in Anaheim over the last four seasons. Last year, he started all but nine games―which could have played a factor in the decision to bring in Fasth.
As for Fasth, he is no stranger to success on the international level. He is a two-time defending goaltender of the year in Sweden's Elitserien. That achievement was last done by the New York Rangers' Henrik Lundqvist―good company to be with.
If he can adjust to the North American game, Fasth could be a valuable addition to the Ducks. At 30, he and Hiller are both reaching a goaltender's prime years.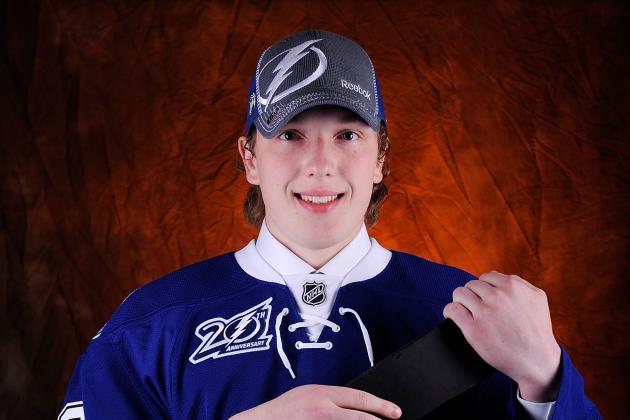 Jamie Sabau/Getty Images
Andrei Vasilevski will look to solidify the Tampa Bay crease for years to come.
Even
Andrei Vasilevski hasn't played an NHL game yet and he is already doing things that fellow countrymen goaltenders like Evgeni Nabokov, Ilya Bryzgalov and Semyon Varlamov didn't do—get draft first at his position.
Or, even more endearing to Tampa Bay fans, not even Nikolai Khabibulin (2004?) was drafted first at his position. He was picked 204th by the Winnipeg Jets (ninth round) in 1992.
Vasilevski is just 18 years old, but he has snagged international attention for his performance at the 2012 World Junior Championships. The Russian went 4-1 with a 2.01 goals-against average and a tournament-high .953 save percentage, according to the Tampa Bay Lightning Website.
Thehockeywriters.com notes that he has a calm demeanor in net and can play both butterfly and stand-up styles. It's a crowded competition in net for the Lightning, but Vasilevski appears to have the tools to be a top-level goaltender.
Can he beat out Anders Lindback or Dustin Tokarski?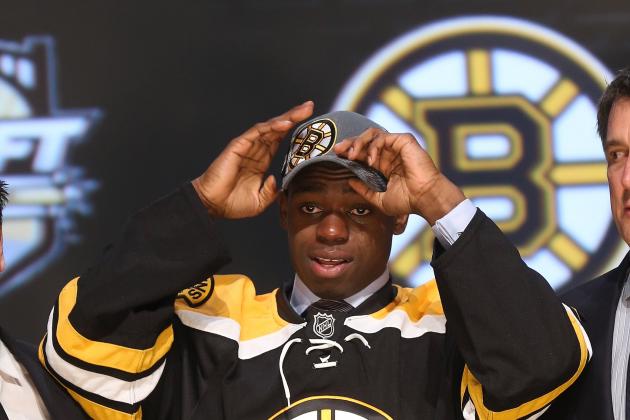 Bruce Bennett/Getty Images
Malcolm Subban was the top-rated North American goaltender in this year's draft.
Boom
The top-rated American goalie in last year's draft was Malcolm Subban. Another 18-year-old with tremendous upside, the Boston Bruins selected their possible goaltender of the future.
Subban has the ultimate opportunity to showcase his talents this season at the World Junior Championships. The competition starts Dec. 26 with Subban looking to beat out other elite Canadian goaltenders before Canada's game against Germany.
He is an athletic goaltender that is quick and has solid reflexes—everything a good goalie needs. There certainly isn't a shortage of potential.
Much like Vasilevski's situation, Subban finds himself behind another goaltender that is only in his mid-20s. Tuukka Rask, 25, appears to be in line to start this season for the Bruins. His success could greatly influence Subban's rise in the organization.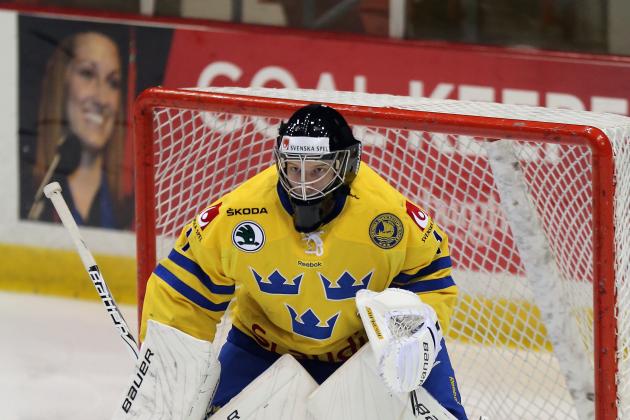 Bruce Bennett/Getty Images
Oscar Dansk has both North American and international hockey experience.
Boom
One of the more seasoned goaltenders drafted early in 2012, Dansk has played both North American and international hockey.
Dansk helped Sweden to a silver medal in the U18 World Junior Championships in 2012 with a 1.98 GAA. He is coached by Erik Alcen, who has also produced talented goaltenders Jacob Markstrom and Anders Lindback.
If that's any indication of talent, Dansk is in good shape.
The hockey world won't have to go far to get a good look at the next wave of potential goaltending stars. Dansk, like Subban and Vasilevski, will also be vying for a spot in the 2013 World Junior Championships.
As for the team, Columbus can't be in the cellar of the Western Conference every year. Maybe Dansk is the guy to help get them out of the rut.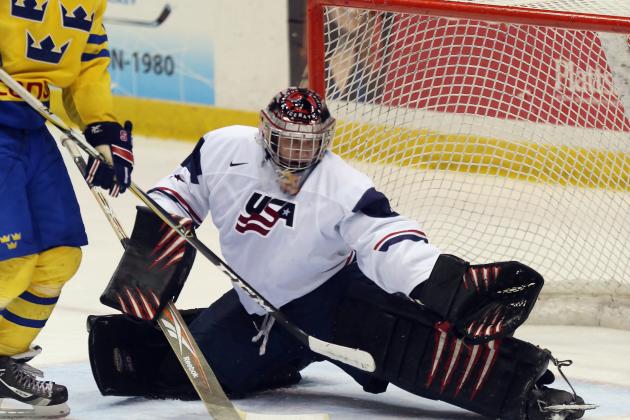 Bruce Bennett/Getty Images
Anthony Stolarz is raw but has a huge frame. The Philadelphia Flyers liked what they saw.
Boom
Anthony Stolarz isn't a household name yet, but it could be in the near future. He may have the most favorable situation of all of the early goaltender picks this year.
With Ilya Bryzgalov and Michael Leighton on the big club, Stolarz has an opportunity to climb the ranks and establish himself as the other careers are winding down. Both Bryzgalov and Leighton are in their 30s.
Stolarz is currently the No. 2 goaltender for the University of Nebraska-Omaha. He has made five starts with a 2.16 GAA, but he is just 1-4-0-1. Despite having better stats than his counterpart, UNO is 9-1-1-0 when Stolarz doesn't get the start—a rough situation for the freshman.
He is a bit raw, but at 6'5" he has a frame that can be worked with. His high hockey IQ will only help him develop—potentially into Bryzgalov's replacement.