The NHL's Most Feared Fighter from Each Decade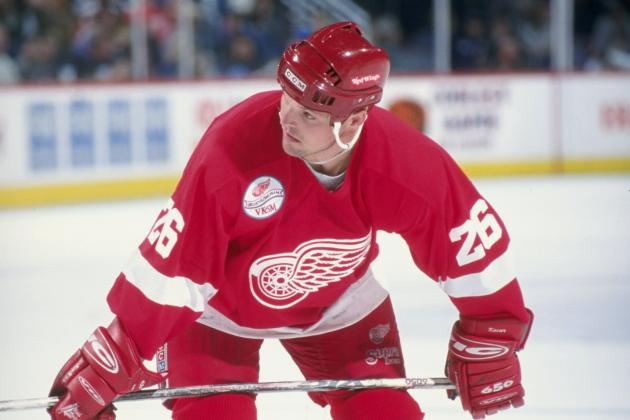 Vincent Laforet/Getty Images

Tough guys cause mixed emotions around the NHL. They are both feared and respected by opponents while bringing out intense devotion and hatred in fans.
Fighting has always been a part of the NHL since the league was founded nearly 100 years ago. In this article, we take a look back at the most feared fighter from each decade of the league's existence, starting with the 1920s.
Many of these decades were tough to call as there a number of top contenders. Feel free to comment as to who you think should have won the title in a particular decade and why.
I have included clips whenever possible so sit back and enjoy this look back at the most feared fighter from each decade in NHL history.
Begin Slideshow

»
Bruins defenseman Eddie Shore burst onto the NHL scene in 1926 and finished second in the NHL with 130 penalty minutes in just 41 games as a rookie.
Shore quickly earned a reputation as one of the toughest men and best fighters in hockey and he had a notoriously hot temper.
There is a reason that the writers of "Slapshot" used Shore as the icon of "Old Time Hockey" and the Hall-of-Famer remains one of best fighters and hockey players of all-time.
Red Horner was the ultimate NHL tough guy in the 1930s.
For eight straight seasons between 1932-1940, Horner led the NHL in penalty minutes. No other player has led the league in penalty minutes for that many consecutive years.
Horner was the actual target in the Eddie Shore/Ace Bailey incident that ended Bailey's career and nearly cost him his life.
Horner could play hockey as well as drop the gloves. He was inducted into the Hockey Hall of Fame in 1965.
Black Jack Stewart was a star defenseman for the Red Wings from 1938-1950 and then closed out his career with two seasons in Chicago.
Stewart was one of the toughest players of his era and was known for having a large grin on his face when he dished out punishment.
Few players wanted to oppose Stewart, who is shown on this video celebrating the Red Wings Stanley Cup win in 1950.
Gordie Howe is known as "Mr. Hockey" and he is still considered by many to be the greatest hockey player of all-time.
Howe not only scored and dished out some punishing checks, but he was an outstanding fighter. His most famous bout came against Lou Fontinato of the Rangers. About 50 seconds into this video, you can see what Fontinato looked like as a result of the bout.
To this day, a "Gordie Howe Hat Trick" is a game where a player scores a goal, gets an assist and has a fight. It is a tribute to the diverse talents of Gordie Howe, the greatest fighter of the 1950s.
John Ferguson of the Montreal Canadiens was the greatest fighter of the 1960s.
Few people wanted to challenge Fergie, who helped the smaller Canadiens stars have more room to operate in the 1960s.
Ferguson topped the 100 penalty minute mark in each of his eight NHL seasons and won five Stanley Cups during his career.
He could play hockey, too, as he scored 29 goals in 1968-69.
Fergie retired after the 1970-71 season and later went into coaching. He was considered the prototype for NHL enforcers during his career.
The 1970s marked the birth of the goon--a player who could only fight and could do little else to help his team win a game.
It was also the era that the Flyers brawled their way to two straight Stanley Cups led by the likes of Dave Schultz and Don Saleski, who at times literally beat off all comers.
But the best fighter of the 1970s was Bruins winger Terry O'Reilly. O'Reilly earned the nickname "Taz" for his non-stop energy, short for the Tasmanian Devil. His blue collar style of play made him one of the most popular Bruins of all-time.
O'Reilly took on the many heavyweights of the era including Schultz, Willi Plett and Paul Holmgren. He also once chased a Rangers fan into the stands which led to Mike Milbury beating him with his show in an infamous incident in 1979.
"Taz" topped the 100 penalty minute mark 11 times during his career but also scored more than 20 goals four times in a season.
His number was retired by the Bruins in 2002.
Dave "Tiger" Williams wasn't the tallest or strongest fighter of the '80s, but he was tough and determined and he remains the NHL's all-time penalty minute leader nearly 25 years after retiring.
Williams broke in with the Maple Leafs in 1974 and later played for Vancouver, Detroit, Los Angeles and Hartford. Six times during his NHL career, Williams topped the 300 penalty minute mark in a single season.
Though he stood just 5'11" and weighed just 190 pounds, Williams went toe-to-toe with larger opponents who had a longer reach. Still, he won a lot more bouts than he lost over the course of his career.
Williams could play hockey, too. He scored 35 goals for Vancouver in 1980-81 and topped the 20 goal mark in a season three times during his career. His goal celebrations where he road his stick were a fan favorite.
In 962 career NHL games, Tiger Williams scored 241 goals and had 513 points. His 3,966 career penalty minutes remains the standard by which all other enforcers are judged.
Bob Probert was the most feared and respected fighter in an era full of tough guys like the NHL had never seen before.
The 1990s were a time where nearly every NHL team had a designated fighter and opponents knew they were in for a tough day when they went up against Probert, who stood 6'3" and weighed 225 pounds and battled with a fury few had ever seen on the ice before.
Probert was a wild man on the ice and probably even wilder off it due to his problems with alcohol and drug abuse.
In the late '80s and early '90s, Probert teamed with Joe Kocur to form "The Bruise Brothers," arguably the toughest pair of fighters on any team since the "Broad Street Bullies" and the "Big Bad Bruins" of the '70s.
Probert had some legendary bouts with the other tough guys of his era including some highly anticipated duels with Tie Domi, Stu Grimson and Marty McSorely.
He finished his career with 3,300 penalty minutes in 935 NHL games with Detroit and Chicago.
Probert's off-ice life remained troubled. He died of a heart attack in 2010 at the age of 45.
Montreal native Georges Laraque was an imposing figure at 6'4" and 245 pounds. He was so big and strong that many people were intimidated by him and were reluctant to drop the gloves.
Laraque spent 12 seasons in the NHL with Edmonton, Phoenix, Pittsburgh and Montreal. He scored 53 goals and 153 points in 695 career games but accumulated 1,126 penalty minutes.
A bad back forced Laraque to retire after the 2009-10 season.
As you can see by the video on this page, Laraque was one tough customer on the ice and was a fan favorite wherever he played for his take no prisoners attitude.
Bruins tough guy Shawn Thornton is the leader after three seasons of the present decade as the league's most feared fighter.
Thornton logs fourth line minutes, but still scored 10 goals during the Bruins Stanley Cup winning season in 2010-11, so he can play hockey.
But the 6'2", 217-pound Oshawa, Ontario, native is best known for being a tough guy. He has easily topped 100 penalty minutes in each of the three seasons of this decade and has the respect of all opponents.
Thornton was a healthy scratch in the first two games of the 2011 Stanley Cup Final but the momentum of the series changed after Boston put Thornton back into the lineup for Game 3. They went on to win the Cup in seven games.
You can see clips of Thornton's work in the above video.