NHL Free Agency: 15 Best 'Bang-for-Your-Buck' Players Still Without a Team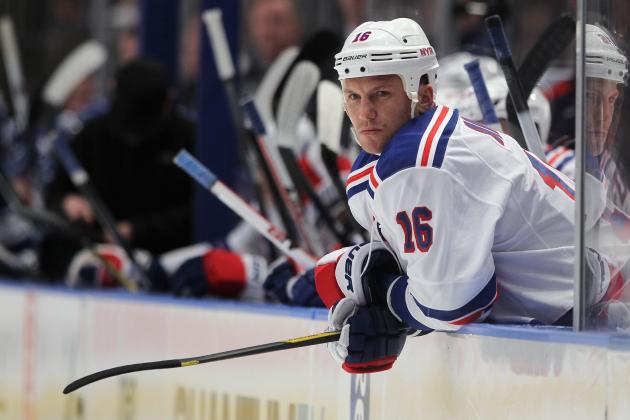 Bruce Bennett/Getty Images
"Personality" guys like Sean Avery can be an efficient addition to a team.
The collective bargaining agreement negotiations have put a hold on new contracts. Among the discussion points is the salary cap. Any significant decrease in the cap could drastically increase the value of these 15 best "bang-for-your-buck" players still without a team.
It has been a rough offseason for everyone involved in hockey, especially those without a team to play for when the new CBA is created. If there is a significant drop in the salary cap, or the way contracts count against the cap, teams could be searching for value players to fill holes on the roster.
There are some talented players still on the free-agent market, including these 15 best value players.
Begin Slideshow

»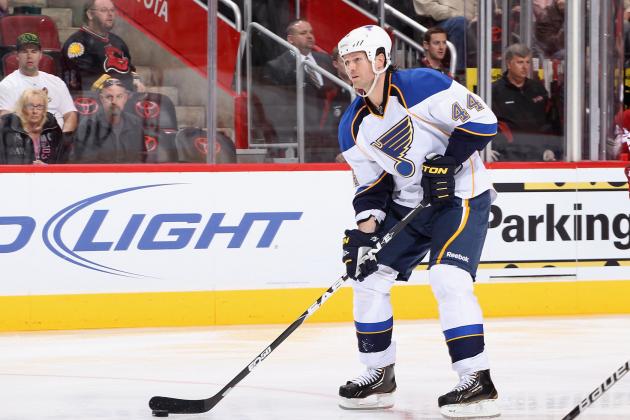 Christian Petersen/Getty Images
Jason Arnott's Stanley Cup ring can provide necessary leadership for a good price.
Jason Arnott has two very valuable traits—leadership and experience. He has played for six different NHL teams in his nearly 20-year career and was a part of the 2000 Stanley Cup champion New Jersey Devils.
He signed a one-year deal worth $2.5 million with St. Louis for 2011-12 and recorded 34 points in 72 games. Reaching the end of his career, he is still good for 30 points and invaluable leadership.
Arnott could be a great addition to a team with a bunch of young talent looking for a veteran leader.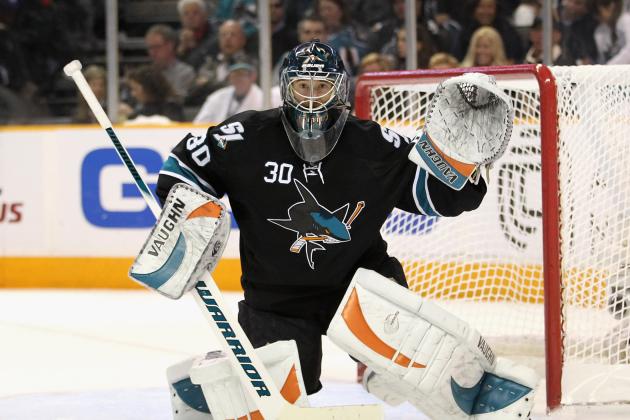 Ezra Shaw/Getty Images
Niittymaki could be a good tutor for a young goaltender.
Antero Niittymaki spent the last season of his contract with the San Jose Sharks in the American Hockey League. Currently, he is playing in SM-Liiga of Finland and sporting a 2.80 goals-against average.
Niittymaki isn't a No. 1 goaltender anymore, but he is a very capable backup. He is 95-86-31 in the NHL and could be a cheap compliment to any team looking for a No. 2 goalie.
A team like Nashville comes to mind. With Pekka Rinne dominating the starts, Niittymaki would only make around a dozen starts. Niittymaki, 32, could have a few years left in his career to sign another multi-year deal or be a season-to-season signing.
His previous deal with San Jose was two years and $2 million per season.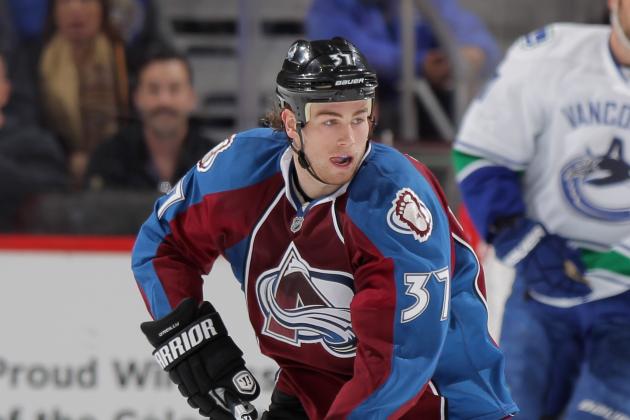 Doug Pensinger/Getty Images
Ryan O'Reilly doesn't technically have a team, but the Avalanche should do everything they can to bring him back.
Ryan O'Reilly's entry-level contract with the Colorado Avalanche expired, and he is now a restricted free agent. The Avalanche more than likely will offer O'Reilly a substantial multi-year deal, but he could still be that value player.
It's unfortunate for O'Reilly that he didn't sign a new deal before the CBA expired. The terms of the new CBA could greatly affect his new contract, but that should help the Avalanche and O'Reilly being a value player.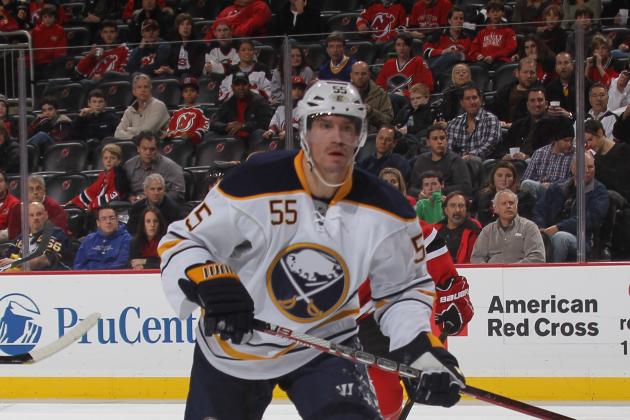 Bruce Bennett/Getty Images
It appears Hecht's career in Buffalo has come to a close. His experience could land him a new deal for a cash-scrapped organization.
Jochen Hecht has spent most of the last decade in Buffalo, but declining numbers and injuries have put a stop to his future with the Sabres. For the first time since 2002-03, Hecht played in less than 60 games last season.
As a skillful, hard-working center, Hecht has been captain of the Sabres twice and has over 400 career points.
His last deal was worth $3.525 million per season.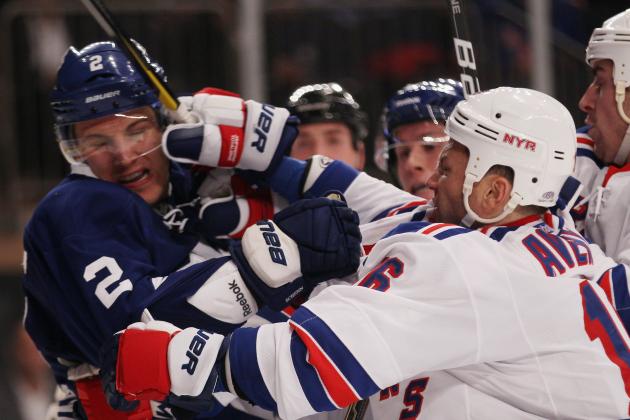 Bruce Bennett/Getty Images
Is there a better agitator in the NHL? Sean Avery could provide a necessary, physical edge.
If your team needs to add a physical presence, look no further than perennial bad boy Sean Avery. Avery is known for his agitating style of play—and over 1,500 career penalty minutes.
He is a controversial player, as evident by his "sloppy seconds" statement about Dion Phaneuf's then-girlfriend, Elisha Cuthbert. Still, he does provide a high level of physicality and an attitude on the ice.
Avery's last deal cost $3.875 million per season—not bad for a trash-talker.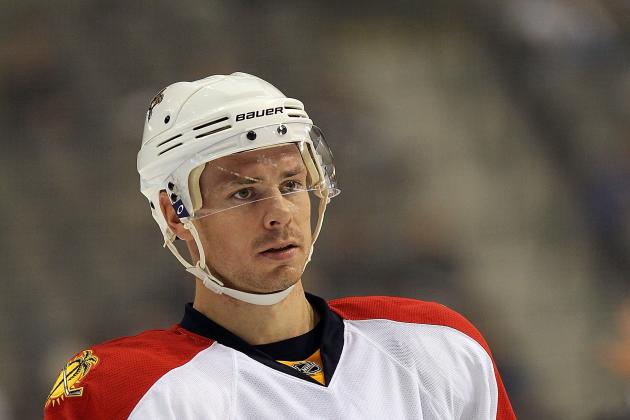 Ronald Martinez/Getty Images
Reinprecht has done it all in his career. He could be a great tutor to young stars.
Two-way versatility goes a long way in the NHL. While young stars learn the NHL game on both ends of the ice, Steven Reinprecht has been there.
Reinprecht was traded to the Colorado Avalanche in his rookie season and went on to win a Stanley Cup. Typically a 30-point producer, he is a versatile forward that can play every position on both ends of the ice.
He is a smart player that doesn't take bad penalties. In his 10-year career, Reinprecht has accumulated just 186 penalty minutes.
He spent most of last season in the AHL, which could make him a great bargain on one of the last roster spots.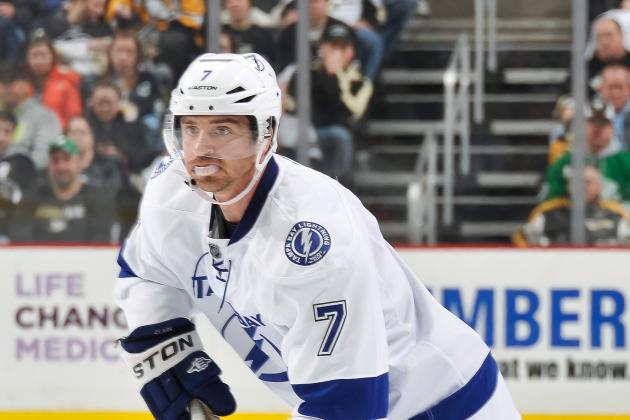 Jamie Sabau/Getty Images
Brett Clark hasn't missed a game in two seasons. His consistency could add much-needed depth.
Tampa Bay's defense was plagued by injury last season, but Brett Clark managed to avoid it all. Clark played in all 164 games of his two-year stint for the Lightning.
He managed to stay healthy despite blocking over 350 shots in two seasons. Clark is a great veteran defenseman that is rarely out of position and can provide some offensive production.
Clark tallied almost 300 hits his last three seasons and 46 points in his last two with Tampa Bay.
His last deal was two years and $1.5 million per season—that's a pretty good price for a valuable defenseman.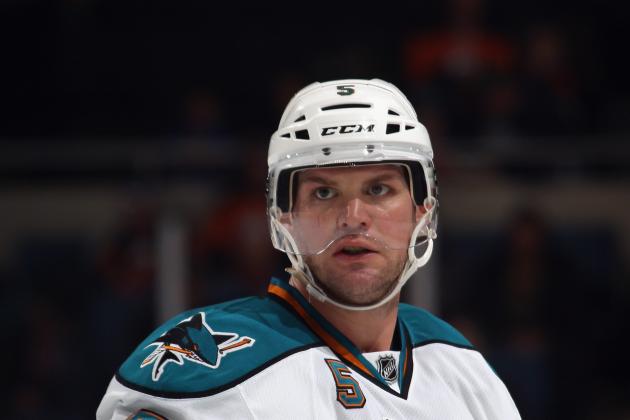 Bruce Bennett/Getty Images
Colin White has protected stars like Zach Parise and been to the Stanley Cup Finals.
Colin White was one of Zach Parise's protectors during their time together in New Jersey. White fought players on multiple occasions in defense of the young star.
With both players out of New Jersey, White is still a physical defenseman. He won't be providing offensive sparks at any point, but he does have some valuable assets. White was a part of the Devils' 2000-01 Stanley Cup Finals team and is a solid shot-blocker and checker.
His last deal with San Jose was for one year and $1 million—that's a good number for any team looking to add defensive depth.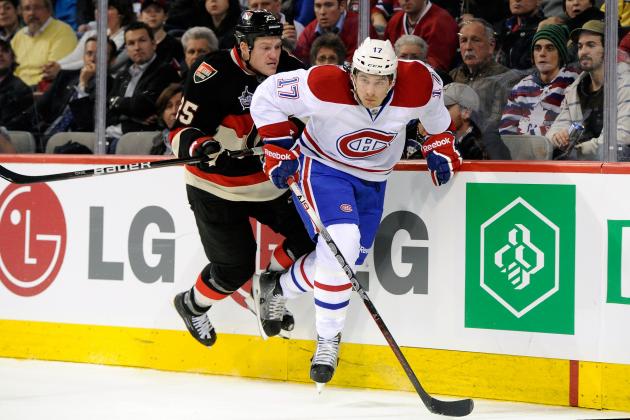 Richard Wolowicz/Getty Images
Another depth defenseman, Chris Campoli could be a solid fill-in defenseman.
Chris Campoli has bounced around to four different teams in seven seasons. He is a good skater with some offensive skill, but he hasn't found consistency in the lineup.
His skill set makes him a second- or third-pair defenseman. He can hold his own on special teams—more emphasis on the penalty kill.
Campoli is a good character guy for the locker room. At less than $2 million per season, he can be a worthy addition to the lower defensive pairs.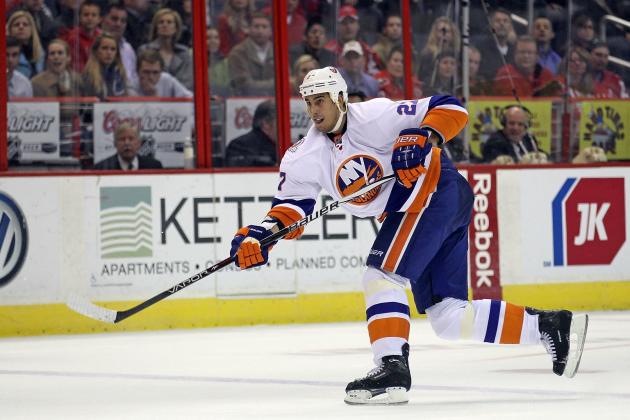 Bruce Bennett/Getty Images
Before last season, Jurcina was a plus-6 player—that number alone should land him a new deal.
Milan Jurcina isn't an offensive mind, but he is a talented defender. Jurcina is fearless on the ice and uses a physical presence to wreak havoc on opposing offenses.
Before last season's horrible numbers with the New York Islanders (minus-34 rating), Jurcina was a career plus-six player in six NHL seasons. With almost 300 blocked shots and nearly 400 hits in the last three seasons, he is a great presence in the defensive end.
He is coming off a one-year deal worth $1.6 million and could see a similar contract as a second-pair defenseman next season.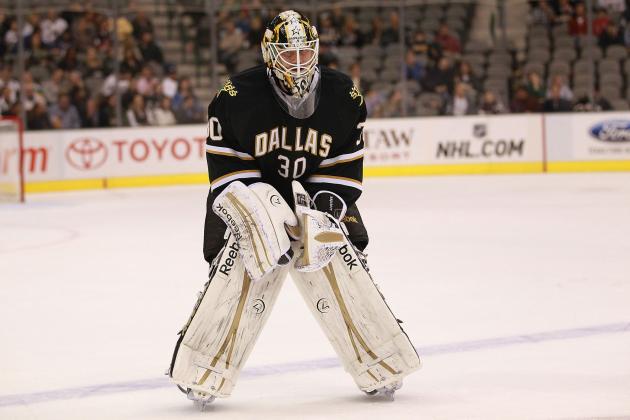 Ronald Martinez/Getty Images
Raycroft has been solid as a No. 1 goaltender. Will a new team take that chance on him?
Andrew Raycroft has adopted a bit of a nomadic approach to the NHL. After his first five seasons in Boston, Raycroft has spent time in Toronto, Colorado, Vancouver and Dallas.
Raycroft is an 11-year veteran with a career 113-114-17 record. Surprisingly, he has only been a No. 1 goaltender twice in his career. In seasons where he starts 50 games or more, Raycroft has a 66-43-9-9 record.
At 32 years old, he may be reaching his goaltending peak. Unfortunately, he hasn't been a No. 1 since 2006-07.
Raycroft had a two-year deal that cost Dallas less than $1 million per season.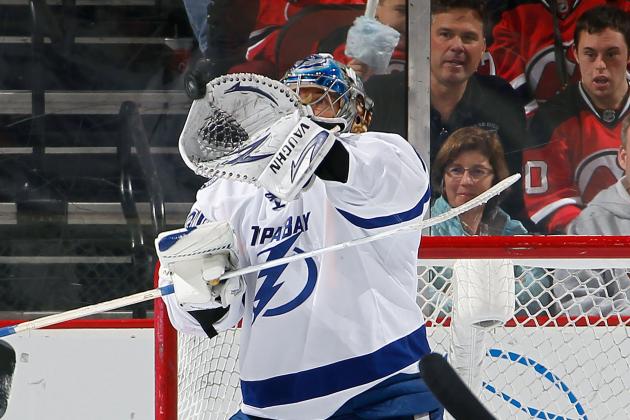 Paul Bereswill/Getty Images
Roloson led the Bolts to the Eastern Conference Finals two years ago. Can he find that magic again in a new environment?
Dwayne Roloson captured the magic of the fountain of youth two years ago with Tampa Bay. Last season, age caught up with him.
After going 18-12-4 in 2010-11 and bringing Tampa to the Eastern Conference Finals, Roloson went 13-16-3 the following year. The Bolts have gone a different direction in goal, but there has to be a team looking for a one-year fix at goaltender—especially if it is a shortened season.
He received $3 million last season from the Bolts. He should be cheaper this season after a poor showing last year.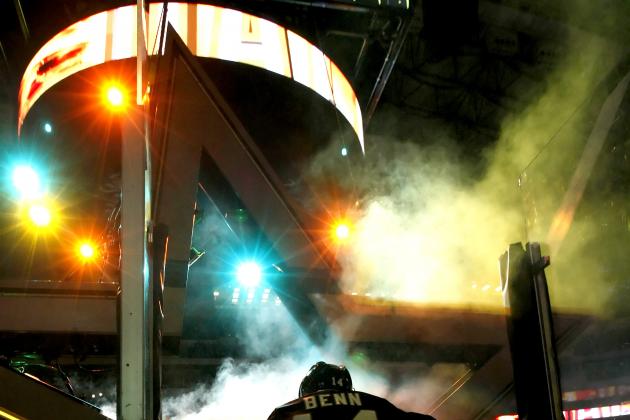 Brandon Wade/Getty Images
Jamie Benn is going to be a star for the Dallas Stars. Depending on his contract, he could be a great value to them as well.
Jamie Benn is one of the young rising stars in the NHL. In his first three seasons, Benn has 160 points and a plus-nine rating. He has been one of the best offensive weapons for the Dallas Stars.
As a restricted free agent, Dallas will have first cracks at signing him when a new collective bargaining agreement is signed.
Benn is deserving of a much larger contract than his entry-level deal. It's unfortunate for him that he didn't sign before the old CBA expired.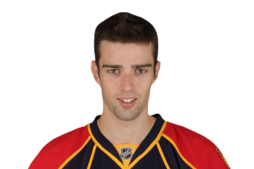 Photo Courtesy: ESPN.com
Marc Cheverie just finished his entry-level deal after finishing the 2011-12 season with the Phoenix Coyotes organization. Cheverie was drafted in 2006 by the Florida Panthers, but didn't have much of a chance to advance with the loaded system in Florida.
Cheverie is a quick and aggressive goaltender that could project to be a starter in the NHL. For less than $1 million per season—thanks to his entry-level deal—he could be a steal if he reaches the top end of his potential.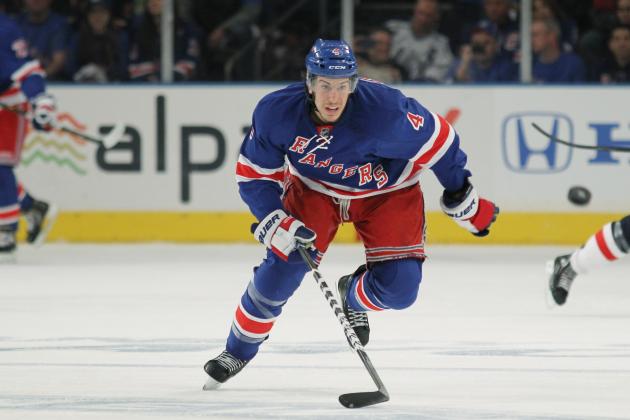 Bruce Bennett/Getty Images
Michael Del Zotto has a bright future and a big raise ahead of him.
Michael Del Zotto is another restricted free agent that is just waiting to get his big paycheck. In three seasons with the New York Rangers, Del Zotto has 89 points and 204 games—as a defenseman.
He had a stellar year in 2011-12. He recorded a career-high 41 points, a plus-20 rating, 36 penalty minutes and two game-winning goals. Then in the playoffs, Del Zotto notched 10 points in 20 games.
Del Zotto will be a stud defenseman and will get a significant raise. But if he keeps producing at this pace, he will be worth every penny.