NHL Lockout: Amnesty Buyout Back on the Table, Why These 10 Players Should Worry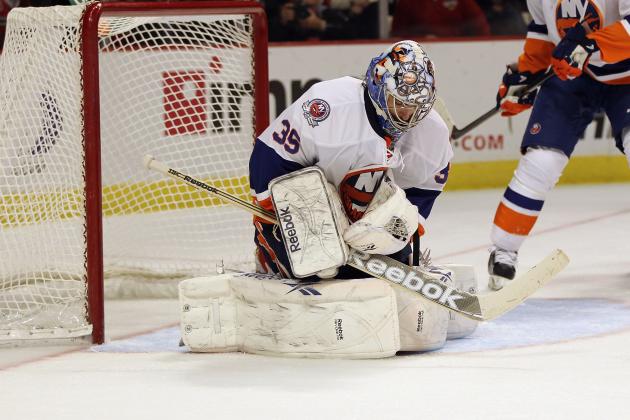 Jonathan Daniel/Getty Images
Is anyone else more deserving of amnesty than Rick DiPietro?
On Nov. 7, Larry Brooks of the New York Post reported that amnesty buyouts are back on the table in the collective bargaining agreement discussions. If they are serious, there is a list of players, like Jay Bouwmeester and Scott Gomez, who should be worried―but they aren't the only ones.
First, what exactly is the amnesty clause? If the discussions are leaning towards the NBA's amnesty clause, here are some essential details (via USAtoday.com):
Teams can waive a player and not have the salary count against the cap
Player would still receive salary for the season
Player, if waived, goes through the waiver process where teams can bid
Salary is divided among new and old team
If player clears waivers, can sign with any team.
How closely the NHL follows the NBA's lead in the amnesty clause is unknown to those outside the CBA talks, but it places interesting targets on the back of some players. If the amnesty buyouts become a part of the new CBA, these 10 players should be worried.
All contract terms are provided by Capgeek.
Begin Slideshow

»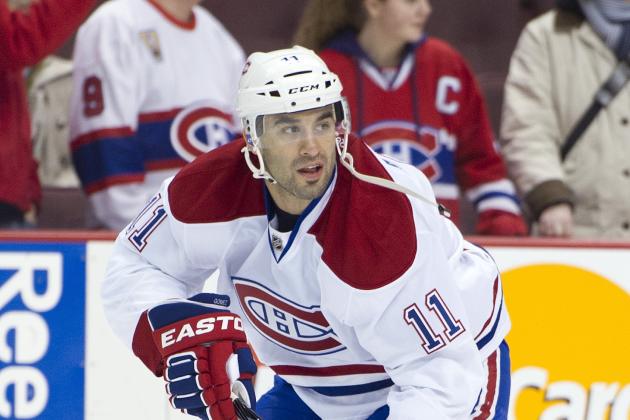 Rich Lam/Getty Images
Disappointment has surrounded Gomez since joining the Canadiens.
Scott Gomez has become a bit of a poster boy for the amnesty clause. The center, 32, was peaking from 2003-2008―he recorded 60 points or more in each of those seasons.
Following a bit of a down year with the New York Rangers in 2008-09―recording 58 points―the Montreal Canadiens picked up the tab on a seven-year, $51.5 million deal that runs through the 2013-14 campaign.
Gomez has recorded just 108 points in three seasons in Montreal, capped off by an 11-point, 38-game season last year.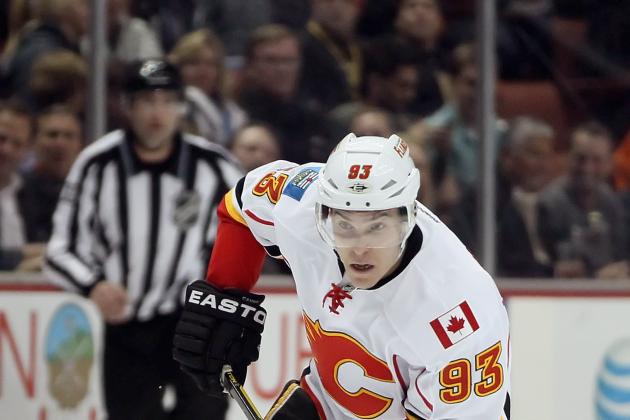 Jeff Gross/Getty Images
Mike Cammallari hasn't produced to the level the Flames wanted.
Tough to put the Flames' recent acquisition Mike Cammalleri on the list, but he carries a $6 million cap hit on a contract with two years remaining.
Cammalleri has two 80-point seasons―including a career-high 82 points with Calgary in 2008-09―but a move to Montreal derailed his productivity. The center hasn't scored more than 50 points in a season since.
Cammalleri had 19 points in 28 games for the Flames last season. Both parties are hoping for a return of the 80-point guy and not the 47-point guy. If the latter shows up, he could be headed for amnesty.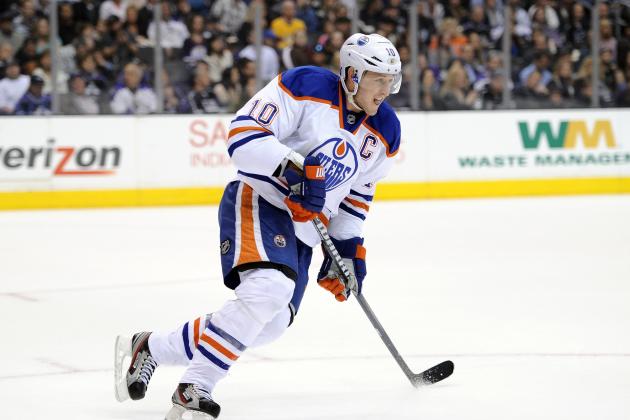 Harry How/Getty Images
One of the talented young Oilers would happily take the $5.5 million per year that Horcoff earns.
The Edmonton Oilers are loaded with young talent that will be commanding high salaries as their careers progress. Dumping the contract of Shawn Horcoff would only help the Oilers to clear more room for the young guns.
Horcoff capitalizes a $5.5 million hit on the Oilers after producing seasons of 36, 27 and 34 points the last three years. His contract is third among Edmonton forwards behind just Taylor Hall (53 points) and Jordan Eberle (76).
With his contract running through 2014-15, the Oilers probably wouldn't blink at the opportunity to take that contract off the books.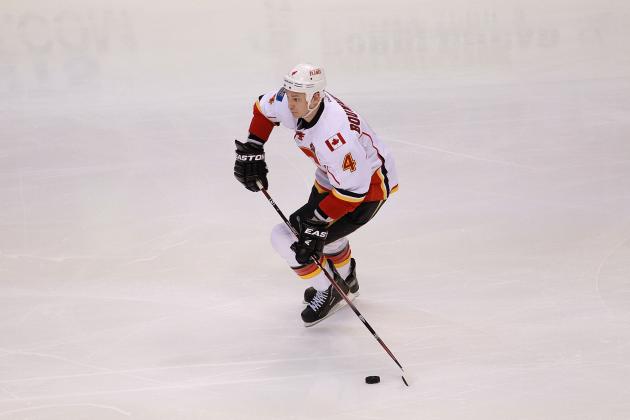 Ronald Martinez/Getty Images
Does he really deserve a larger paycheck than Jarome Iginla?
Unfortunately, the Calgary Flames land another player on this amnesty list. This one is defenseman Jay Bouwmeester.
The only person on the roster that earns more than Bouwmeester is longtime captain Jarome Iginla, and it's a miniscule difference. Bouwmeester makes $6.68 million per season, while Iginla makes $7 million.
Tragically, that's the only place the two compare.
The defenseman had 24 points, a minus-21 rating, 69 hits and 60 giveaways. There are far better defensemen out there for his price. He is the fifth-highest paid defenseman in the league.
If Calgary is committed to winning a Stanley Cup with Iginla, it needs to look hard at dumping that contract that's in the books until 2014.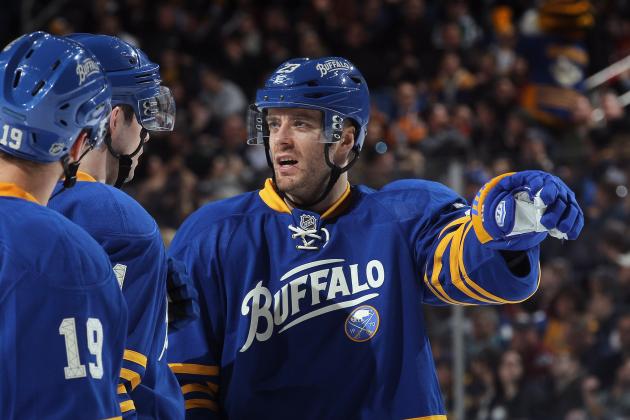 Bruce Bennett/Getty Images
Don't point fingers Ville Leino. The NHL just hasn't been as kind as Jokerit was.
Another name commonly associated with the amnesty clause is Ville Leino of the Buffalo Sabres. Leino dropped 77 points in 55 games for Finland's Jokerit in 2007-08 and joined the NHL the following season.
He has been a major disappointment since―except on his paychecks.
In four NHL seasons, Leino has 98 points in 220 games. He had a big year (by his standards) in 2010-11 with 53 points. Last season, he joined the Sabres and promptly put up 25 points in 71 games.
At $4.5 million per year, Leino is a contract that could easily be parted with.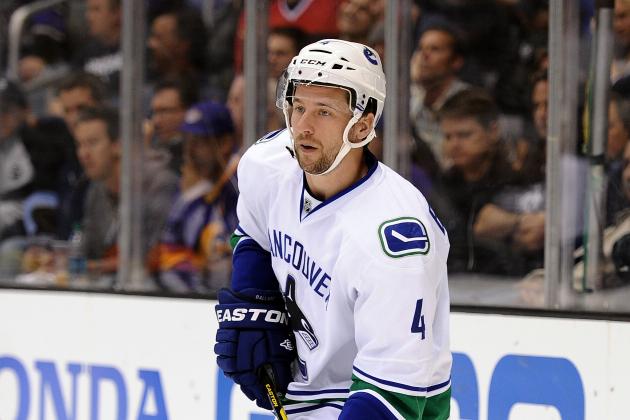 Harry How/Getty Images
Could the Canucks part ways with Ballard? Probably.
When the Vancouver Canucks brought in Keith Ballard, they were probably expecting the point man that missed 13 games total in his first five seasons and consistently hovered around 25 points per season.
Well, they didn't get either one. Ballard has hit a tough stretch of his career suffering a few injuries―including a knee injury in late February last season. While it is tough to see a player go through that, the organization is paying a lot of money for little production.
Ballard has just 14 points in two seasons with the Canucks and has missed 52 games in that span. Hopes are high that he will return from the knee injury strong, but if he doesn't, he may staring at the amnesty buyout.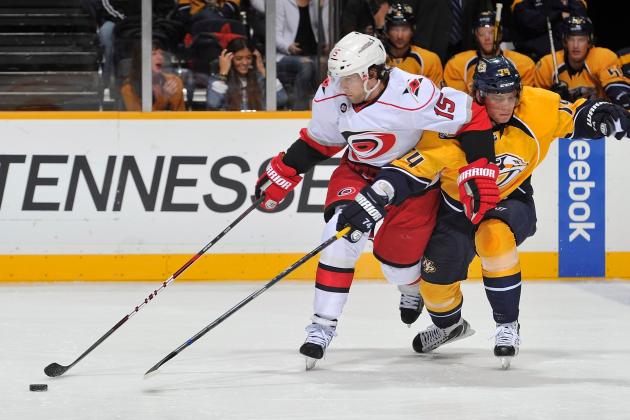 Frederick Breedon/Getty Images
Ruutu is in a similar situation with Horcoff in Edmonton―lots of young talent and only so much cap space.
The Carolina Hurricanes made deals this offseason to improve their scoring. They added Alexander Semin and Jordan Staal to tutor a young group of rising stars.
The 'Canes have nearly $12 million in cap space and a solid roster. Still Tuomo Ruutu commands a $4.75 million hit―which affords him more money than Staal, Jeff Skinner and Jussi Jokinen this season.
Depending on prospect development, Ruutu may not even be a top-six forward for Carolina next season. Still, he has a top-six contract, and last season, produced just 34 points. He has scored less than 44 points in all but two of his eight seasons.
Carolina pays him a lot of money to not produce. He may be headed for amnesty despite the contract being signed recently.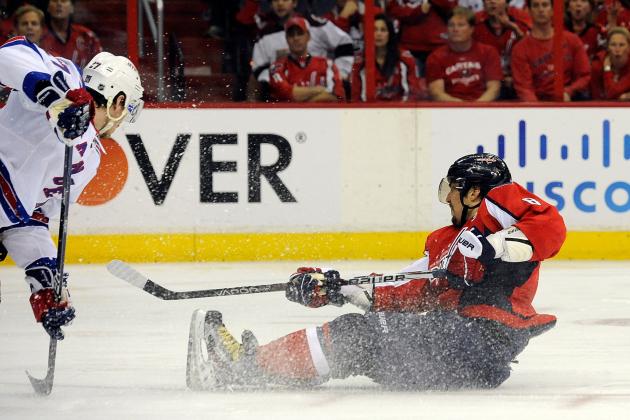 Patrick McDermott/Getty Images
One of the most exciting players in the game isn't as exciting $9.5 million per season says.
This name may be surprising to some, but Alex Ovechkin has been in a serious slump since 2009-10. Last season, Ovi recorded just 65 points and a negative rating for only the second time in his career.
No one can doubt Ovechkin's talent, but without the numbers to support a $9.5 million hit per season, things could get testy in Washington.
The Caps brought in offensive-minded coach Adam Oates this offseason. If Ovi doesn't perform well under those circumstances, that contract starts to lose its appeal.
Cutting No. 8 loose would be a stretch. Still, how much more of a slide can the Capitals endure? He is under contract until the 2020-21 season.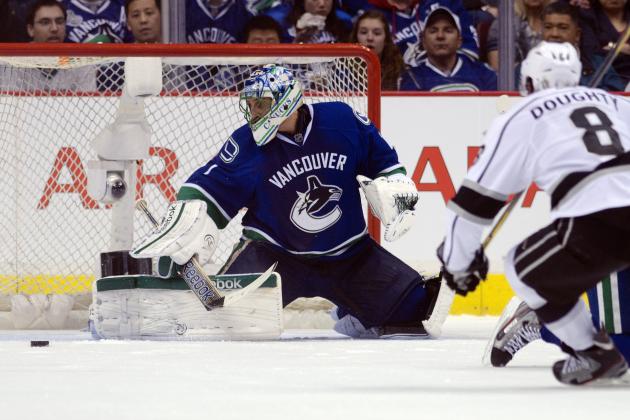 Rich Lam/Getty Images
The Canucks should rightfully have a high price for Luongo on the trade market. It could be so high that amnesty is the best way out for both parties.
The Vancouver Canucks appear to be heading in a new direction in net. Cory Schneider appears to be the man between the pipes for Vancouver making Roberto Luongo a high-priced backup.
Luongo is in the middle of a 12-year deal worth $64 million that runs through the 2021-22 season. He signed the deal in 2010 and already appears to be on his way out.
It's hard to think, like Ovechkin, that he would not be a hot commodity on the trade market. Teams would have to pick up the salaries, however.
If Schneider lives up to expectations and no trades come to fruition for Luongo, he may be up for amnesty to get his contracts off the books.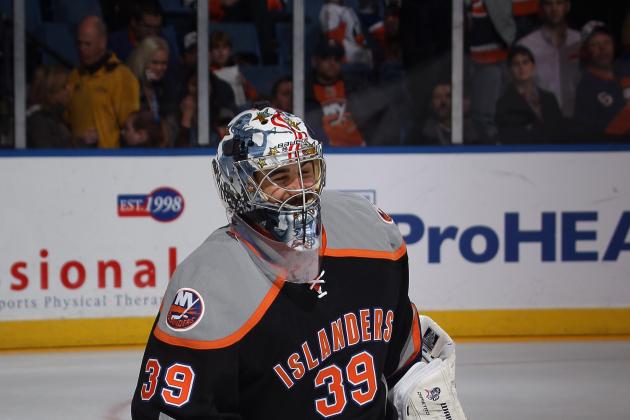 Bruce Bennett/Getty Images
This list wouldn't be complete without Rick DiPietro.
From two questionable amnesty players to one cemented in it, we welcome in Rick DiPietro. To hockey fans, DiPietro and ridiculous contracts are synonymous. The goaltender has a career 130-133-31 record―but boasts a lifetime contract.
By the numbers:
15-year deal (signed in 2006-07)
$67.5 million
$4.5 million per season
Appearances last season: Eight games
Simple math says $4.5 million last season for eight games played equates to $562,500 per game. Even more astounding, 82 games per season and just eight appearances means DiPietro showed up for work just 10 percent of the time.
The Isles' move to Brooklyn may just happen without DiPietro.