Jets vs Rams: New York's Biggest Winners and Losers from Week 11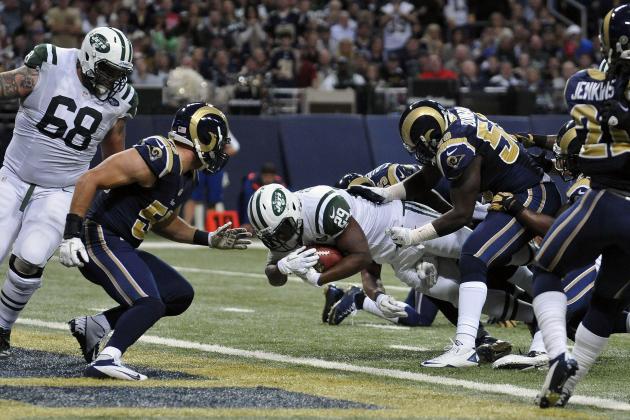 Jeff Curry-US PRESSWIRE

It may have been against a three-win NFC opponent, but this was a huge win for the Jets.
After going through a week of scrutiny from the fans and media, Rex Ryan's squad responded with a sound win in (almost) every phase. Sanchez played well, the defense was stout, and the Jets survived special teams' miscues.
Here are this week's winners and losers.
Begin Slideshow

»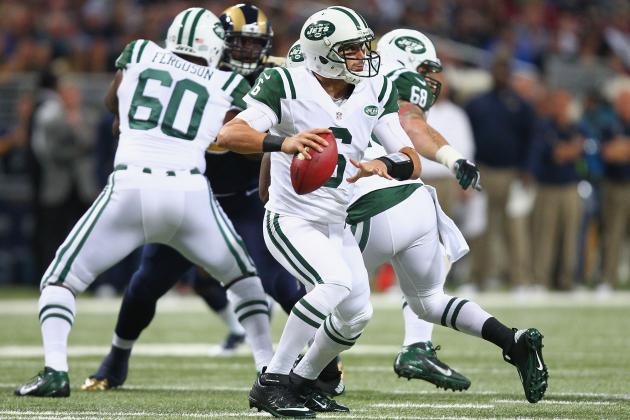 Dilip Vishwanat/Getty Images

For a player who has been criticized for not being mentally tough, he deserves plenty of credit for responding this week with a solid, efficient performance. He looked as good as he has since Week 1.
Sanchez only threw the ball 20 times, but just about every decision he made was sound. He was calm in the pocket, going through reads with a confidence he has not had in a long time. He looked off safeties and anticipated throws.
Most importantly, he did not turn the ball over.
There will be plenty of discussion this week about whether Sanchez's strong performance was a result of an even more limited role for Tim Tebow on Sunday.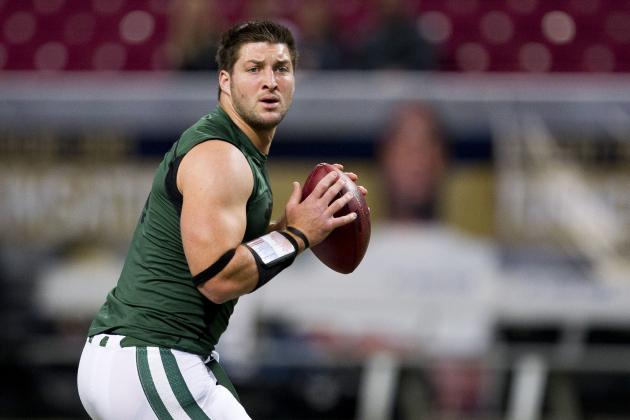 David Welker/Getty Images

It has not been good week for Tim Tebow.
He spent the entire week answering questions about negative and anonymous comments about his ability as a quarterback that appeared in a story about him in the New York Daily News.
Instead of sticking it in the face of his detractors, Tebow only played two snaps on offense with no success. He was given a chance to execute another fake punt, but the play was shut down by the Rams.
Plus, Sanchez played well enough to keep his job for at least another couple of weeks.
If the coaches decide to keep Tebow on the bench while Sanchez continues to play well, Tebow's already small role in the Jets' offense will only continue to shrink.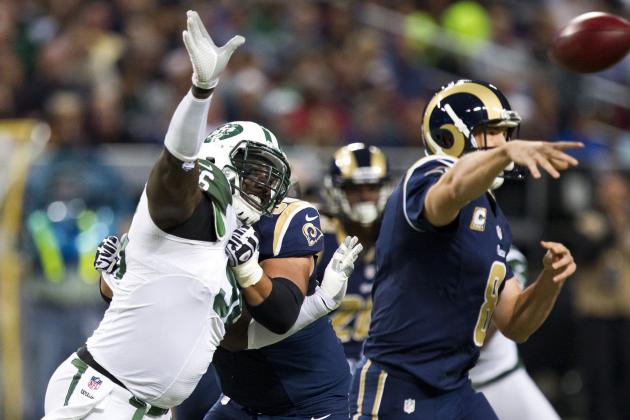 David Welker/Getty Images

The time has come for Muhammad Wilkerson to get the recognition he deserves as one of the NFL's best defenders. His is playing as well as any defensive lineman in the game, regardless of scheme.
He caused a strip-sack of Sam Bradford by getting immediate pressure. He blew up a running play by driving a Rams guard five yards into the backfield. His length, power and athleticism are simply too much for opponents to handle.
Taking positional importance away, Wilkerson was the best player on the field by a significant margin.
General manager Mike Tannenbaum has come under fire in recent weeks, but Wilkerson, who was a No. 1 pick of Tannenbaum's two years ago, has turned out to be quite a player at defensive end.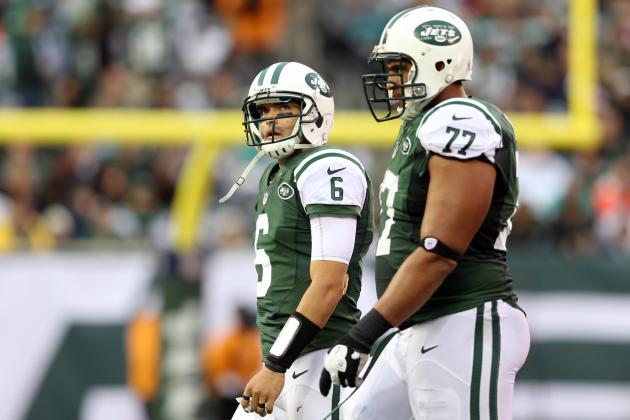 Debby Wong-US PRESSWIRE

Offensive tackle Austin Howard improved as the game went on, but he was beaten rather soundly a couple of time by Chris Long.
The issues was not just that he was beaten by Long, as Long is a fine player in his own right. However, giving up immediate pressure on a three-man rush is not acceptable.
Ultimately, Howard was able to turn things around and start to give more consistent protection. But this was not one of his stronger performances and was a reminder that he is still a young, developing player.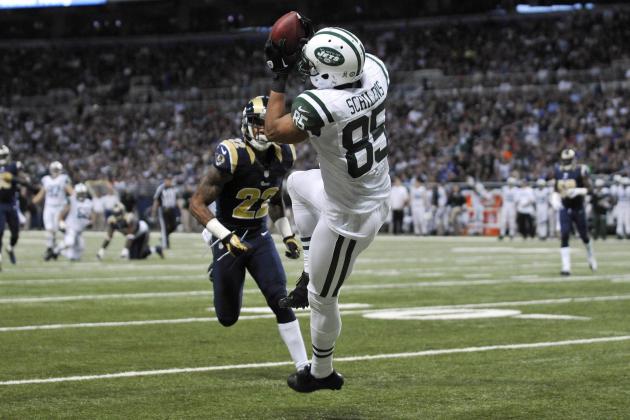 Jeff Curry-US PRESSWIRE

Heading into Sunday's game, Chaz Schilens had been a forgettable part of the Jets' offense, as he struggled to make easy catches and get consistent separation.
Against the Rams, however, he was the star of the show. He took advantage of added attention on Jeremy Kerley and caught a 25-yard touchdown pass to give the Jets a lead for the first time in more than a month. He finished as the Jets' leading receiver with four catches for 48 yards.
Schilens also made tackles on special teams, making for a complete performance by the forgotten wide receiver.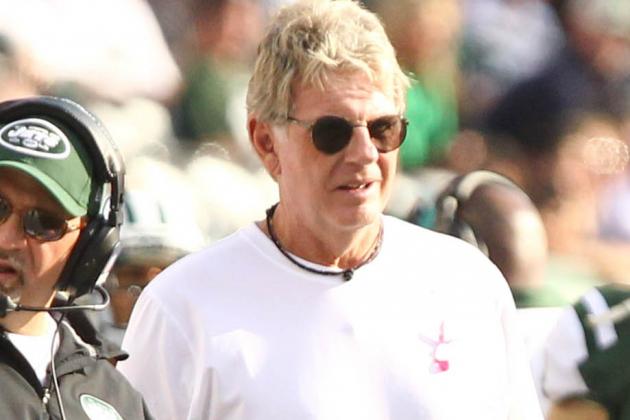 Debby Wong-US PRESSWIRE

Special teams are supposed to favor the Jets on a weekly basis. But this season, bad plays on special teams have cost the Jets dearly. They allowed a blocked field goal and would have allowed a kickoff return for a touchdown had there not been an iffy holding call to bring it back.
Mike Westhoff's unit, just two weeks removed from a debacle against Miami, allowed a blocked field goal. Plus, Nick Folk missed a late field goal to throw extra salt on the wound.
It was interesting that Jeremy Kerley was taken off the punt-return unit. Kerley muffed a punt last week, and it could have been the muff that cost him his job.
The Jets were still able to pull out the win, but mistakes on special teams are going to have to eventually subside if the Jets plan on winning against tougher opponents.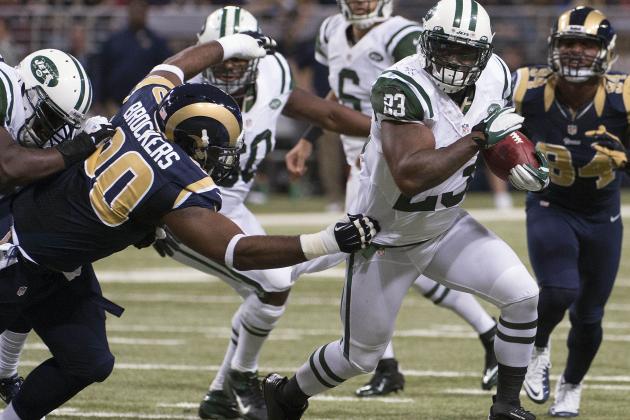 Scott Rovak-US PRESSWIRE

The Jets stayed with the running game throughout, and it resulted in a 112-yard performance from all three runners (12 more rushing yards came from a Clyde Gates reverse).
Shonn Greene looked explosive and was finishing runs with an intense physicality. Bilal Powell ran with purpose as well, especially on his first touchdown when he ran through a wall of defenders to break the plane.
Bilal and Joe McKnight are not world-beaters at running back, but their speed and elusiveness presented the Jets with an added dimension that they have been lacking in recent weeks.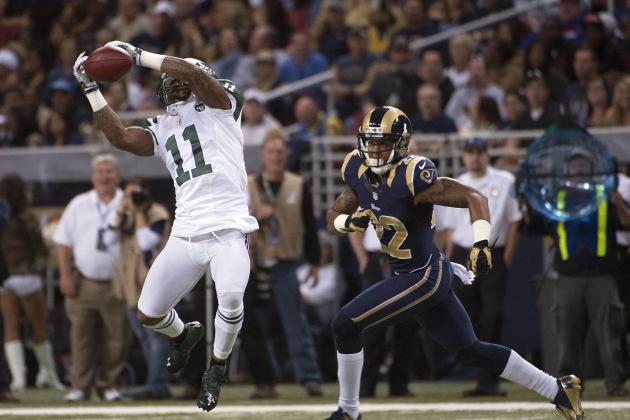 Scott Rovak-US PRESSWIRE

Outside of one long third-down conversion reception, Jeremy Kerley had one of his quietest days as a receiver, making only three catches for 43 yards.
It appears as if teams are starting to catch on that Kerley is the Jets' best receiving option and are trying to take him away, forcing players like Chaz Schilens to make plays instead.
Plus, Kerley was taken off the punt-return team. This could have been due to the injuries he was playing through, but his muffed return last week had to have played some role in the decision.
Kerley could certainly return to his return duties once he get close to being 100 percent, but he has little, if any, room for mistakes.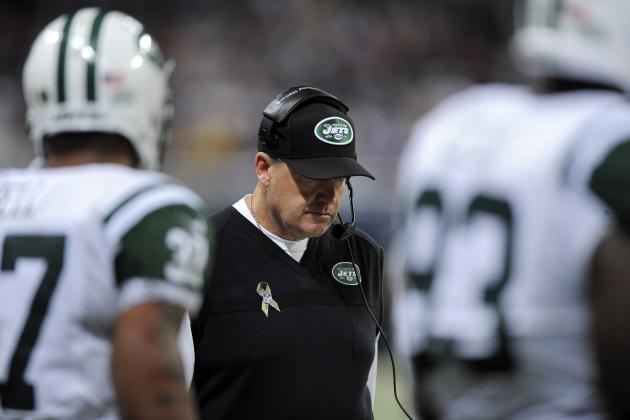 Jeff Curry-US PRESSWIRE

Rex Ryan has taken a lot of heat over the past week for having, allegedly, a "divided" locker room. But he has proven once again that he does not let his players quit on him, no matter how dire the circumstances.
Whether it was his intention of not, leaving Tim Tebow on the sideline Sunday as Sanchez got into a groove was the correct call. His defensive game plan was sound, and he got the better of former colleague Brian Schottenheimer.
That his team was able to pull out such a convincing win after a week filled with turmoil is noteworthy. Just a few hours ago, the Jets were written off as a circus, but now they find themselves tied for second in the AFC East once again.
The Jets are still long shots to make the playoffs, but it is clear that Ryan's team is going to fight until the end, no matter how many distractions the media tries to throw at it.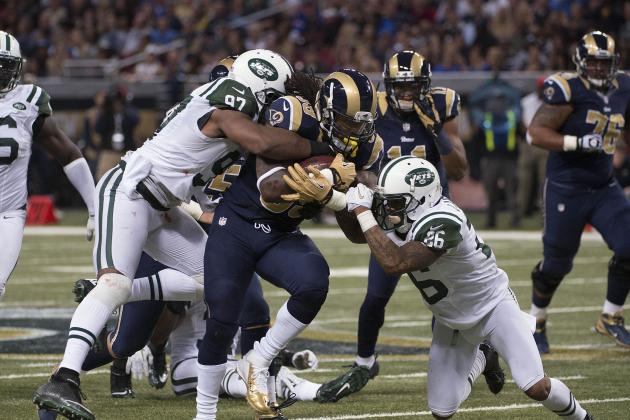 Scott Rovak-US PRESSWIRE

After making strides each week to improve in this area, the Jets' run defense took a step back against the Rams.
They allowed 114 rushing yards, including 81 to Steven Jackson, who averaged 6.2 yards per carry, getting plenty of extra yardage through arm-tackles in the second level.
What makes it worse is that the Rams were forced to abandon the run in the fourth quarter, but they were still able to put up a good showing on the ground.
One of the biggest reasons for the decline in the run defense is the inability of the defensive tackles to stay healthy. Kenrick Ellis went down once again and appeared to re-injure his knee.