NHL Trade Talk: Every Team's Chances of Making a Big Trade Before Season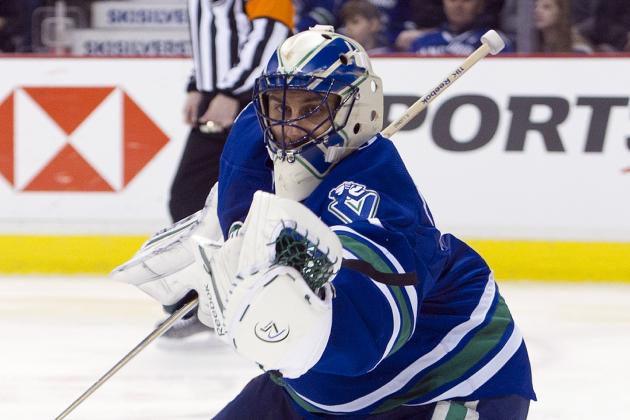 Rich Lam/Getty Images

If the NHL ever does manage to figure things out with the players, we may be treated to quite the spectacle of wheeling and dealing.
The CBA that will eventually end this lockout may involve a drastic reduction in the NHL's salary cap that currently stands at $70.2 million.
For the purposes of this article, I'll assume a moderate reduction in the salary cap to $65 million in the hopes that it will embolden the spirit of compromise on both sides.
So which teams will make a big trade this offseason?
Begin Slideshow

»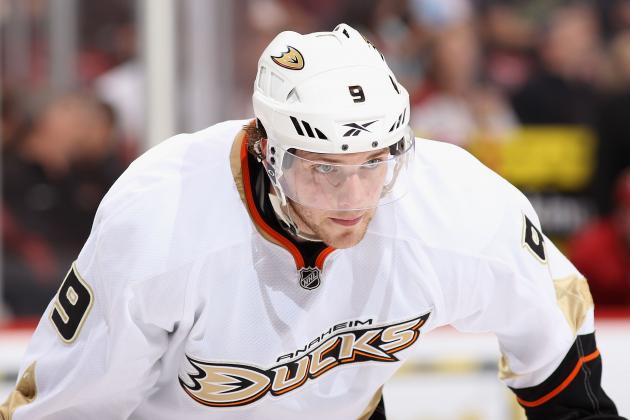 Christian Petersen/Getty Images

Despite the rough patch that the Ducks had with Bobby Ryan early in the year, they passed on what seemed like an obvious moment to trade him.
The bottom line with Ryan is that he is still very good and the Ducks wanted the right deal in return and did not get it.
Still, with the knowledge that Ryan wouldn't mind getting out of Anaheim, a team could make the right move to get him.
Chance of a trade: 45 percent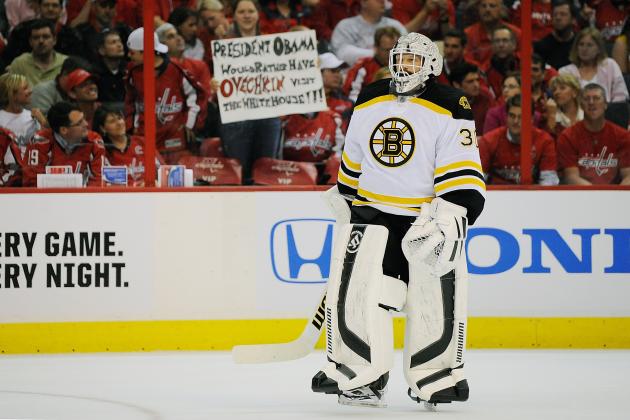 Patrick McDermott/Getty Images

With Tim Thomas sitting out for a season, that pretty much takes away the Bruins' ability to make a significant trade. What team would trade for a guy who isn't going to play?
Boston's current salary cap is the only real reason that they might actually need to make a trade of some kind.
With a reduction to the $65 million mark, the Bruins would be about $3 million over the cap and would need to do something.
Chance of a trade: 25 percent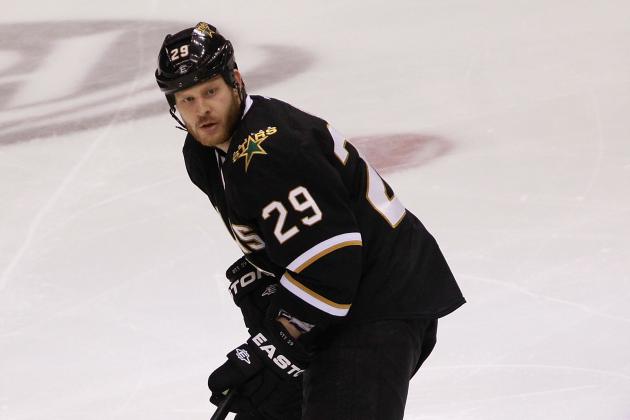 Ronald Martinez/Getty Images

The Sabres made their biggest move by acquiring Steve Ott from the Dallas Stars, but there could still be more that this team does.
It depends on if Buffalo wants to add more scoring threats, which might be a good idea, or if they are content with their core.
They have some desirable pieces that could bring back a lot of return, but would would Buffalo really want to part with more people? That is to be determined.
Chances of a trade: 10 percent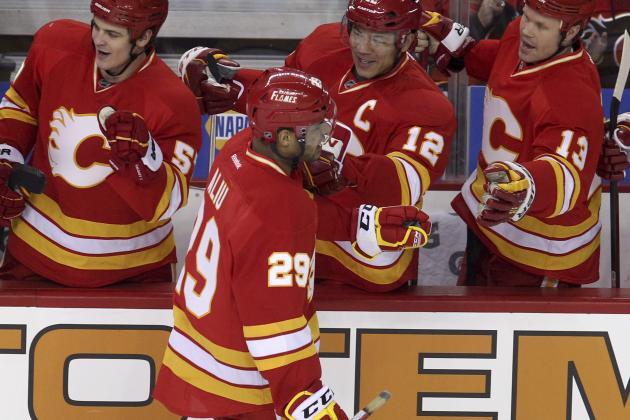 Mike Ridewood/Getty Images

Despite the fact that the Flames really should do some trading and get ready for a rebuild as they should have done for about three years now, they won't.
Despite not being able to do so for each of the past three years, the Flames still seem convinced that they can win with the players that they have.
Calgary needs to move Iginla or Kiprusoff or Bouwmeester to free up some cap space for the future, but they won't.
Chance of a trade: 0 percent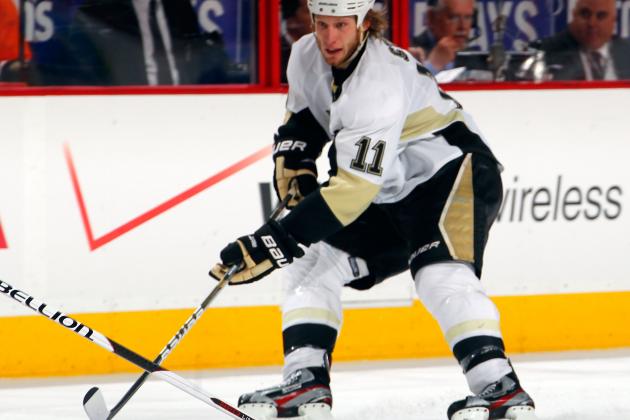 Paul Bereswill/Getty Images

The Hurricanes made the move of the offseason by trading for Jordan Staal, so the likelihood of the 'Canes making another big move doesn't seem to be that high.
Still, Carolina could help themselves by trying to improve on the defensive end, but that is a lot easier said than done.
Carolina has good cap cushion, so they won't be forced to do too much if the salary cap is reduced. It seems pretty likely that Carolina will stand pat.
Chance of a trade: 5 percent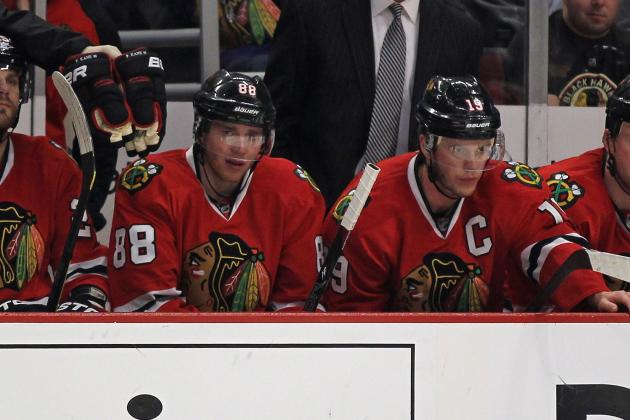 Jonathan Daniel/Getty Images

If there is anything that the Blackhawks could use to improve their team, it would be a consistent goalie. If Chicago could get just that, they would be Stanley Cup contenders right away.
Other than Roberto Luongo, there aren't that many goalies that are readily available on the trade market.
They could make a run at Jonathan Bernier, but would they want to give up all the pieces required to get him?
Chance for a trade: 13 percent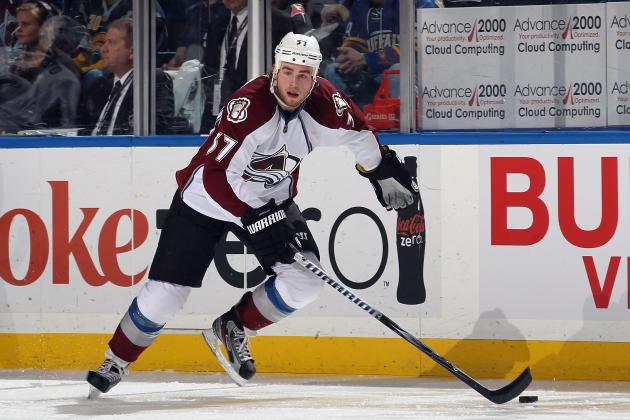 Bruce Bennett/Getty Images

The only deal that the Colorado Avalanche need to concern themselves with when the lockout ends is signing Ryan O'Reilly.
They're happy with their core and with their complementary pieces.
Chances of a trade: 0 percent
Christian Petersen/Getty Images

Columbus made their biggest move when they traded Rick Nash to the New York Rangers early on in the summer.
It would take a lot for them to make another big move because they simply don't have the pieces necessary.
Chances of a trade: 0 percent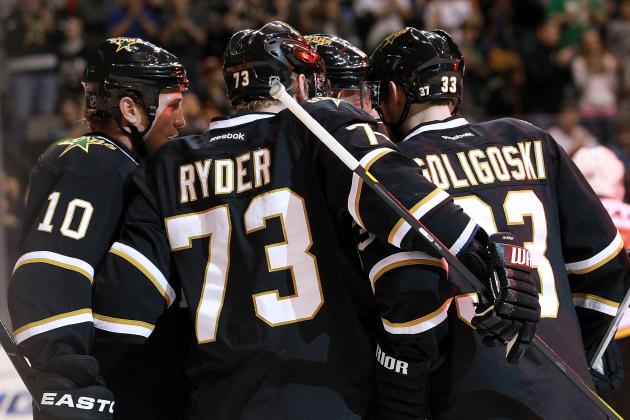 Ronald Martinez/Getty Images

With the additions of Jaromir Jagr and Ray Whitney, the Stars now have a very interesting combination of youth and age.
They also have a lot of room under the salary cap and don't have to make a move if they don't want to.
I think the Stars would be far more likely to make a move at the trade deadline than before the season, depending on where they stand in the conference.
Chance for a trade: 2 percent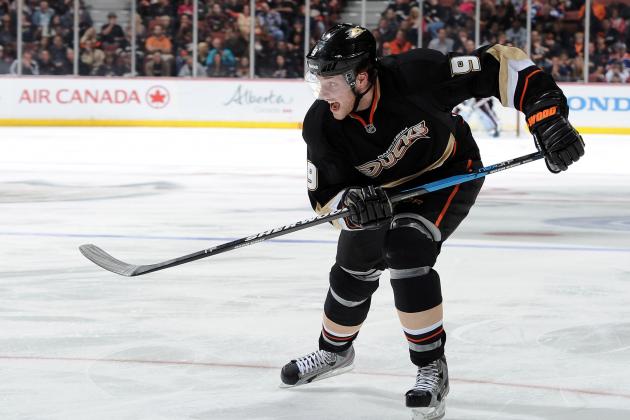 Harry How/Getty Images

The Red Wings had their worst offseason in recent memory. I cannot remember the last time the Red Wings made their intentions to go get high-profile players this known and then failed to get any of the big names they wanted.
I think the Red Wings could make a serious run at a guy like Bobby Ryan to make the team younger, stronger and a lot more talented.
If there's a team that would make a lot of sense to make a run at Bobby Ryan, it would be Detroit.
Chance for a trade: 70 percent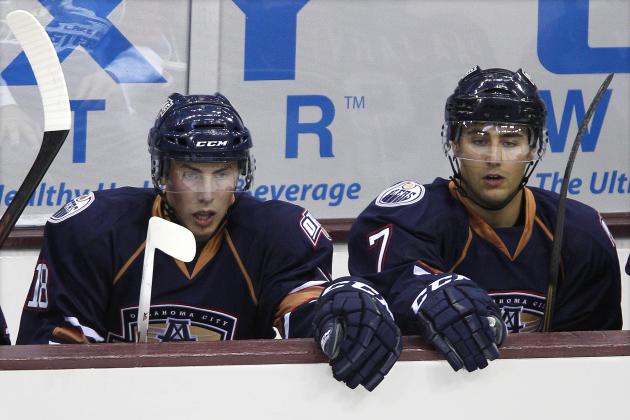 David Maxwell/Getty Images

The Oilers are another team that have a predominantly young core of players leading their team.
They are happy with what they have and really don't need that much other than for their group to mature together. That will just take time.
No need for a trade here.
Chance for a trade: 0 percent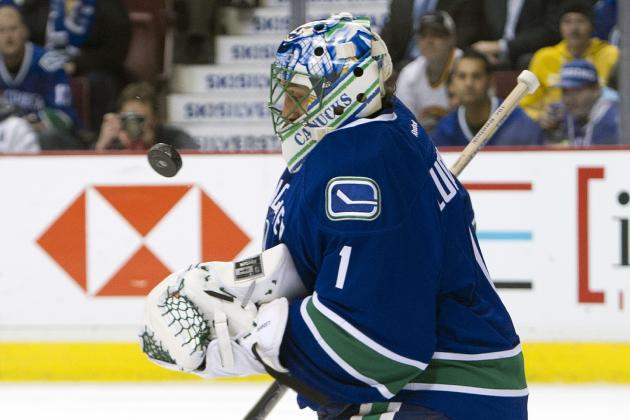 Rich Lam/Getty Images

The Florida Panthers' name came up in the Roberto Luongo drama when Luongo said that a trade to Florida "makes sense."
Luongo came into the NHL spotlight during his first time with the Panthers and he seems pretty okay with the idea of a homecoming.
The Panthers would most likely have to give up either Jose Theodore or Scott Clemmensen in return, plus a couple of other pieces to get Vancouver the value that they want.
Finding out what those pieces are would be the next step.
Chance of a trade: 75 percent
Victor Decolongon/Getty Images

The Stanley Cup champions did a lot of good work in re-signing several important pieces to their championship team.
With all those pieces being back in place, the Kings have absolutely no need of any type of trade that would break up this team.
If LA needs to make a move, they would make one during the season.
Chance of a trade: 0 percent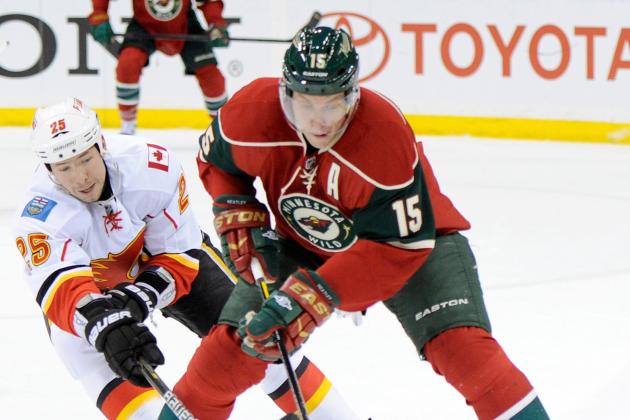 Hannah Foslien/Getty Images

Minnesota is a team that could be heavily affected by a reduction in the league's salary cap. Outside of signing Zach Parise and Ryan Suter to monster deals (precisely the kind of deal that is creating the current lockout), they were one of the busiest teams of free agency.
That action has pushed the Wild's salary cap number very close to the $70.2 million cap limit, so any type of reduction in the cap will put Minnesota in a position to trade a larger salary.
If I were the Wild, the person that I would look at moving is Dany Heatley. He still has a scoring touch that would attract several teams and losing his salary would do a lot to get the Wild back underneath the cap.
Chance of a trade: 50 percent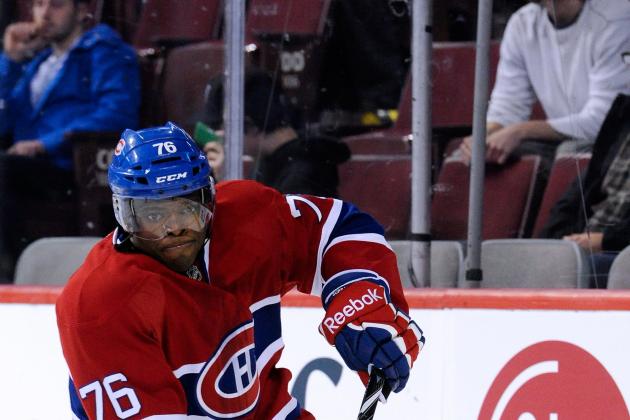 Richard Wolowicz/Getty Images

Montreal is another team that is pretty set with their lineup and doesn't really have that much need of a trade.
The only way that I can see Montreal needing to trade is if they are forced through reduction of the salary cap to make a little bit more room to finish re-signing restricted free agent P.K. Subban.
If the cap does move down to the $65 million number I've assumed, Montreal would have to do just that unless they can convince Subban to take a contract with a cap hit of about $2 million.
Chance of a trade: 30 percent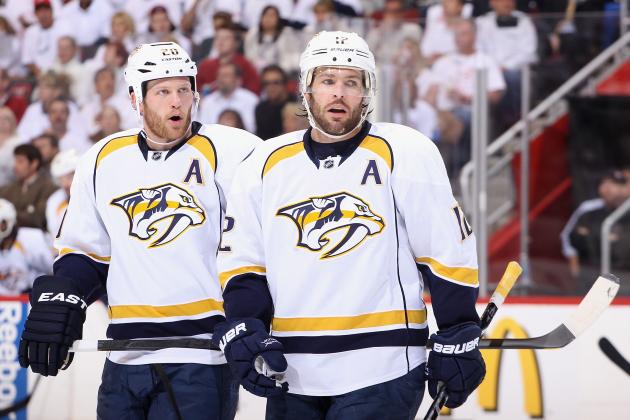 Christian Petersen/Getty Images

Nashville is a team that has a very specific identity and only goes after players that match their hard-hitting, team-centered philosophy.
They could use a scorer, but they are a score-by-committee style team and always have been.
Even though they have tons of room in cap space, they'd have to give up too many of their pieces to get a proven scorer and that would hurt their identity.
Chance of a trade: 2 percent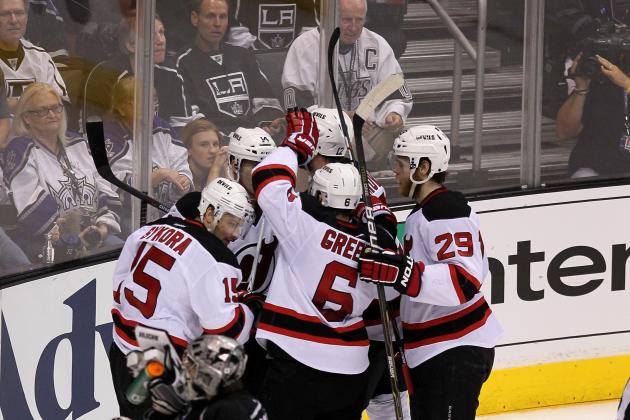 Jeff Gross/Getty Images

The Devils are still in pretty good shape despite losing their team's captain, Zach Parise, to free agency.
They still have a great mix of skill and grit and a combination of youth and age. They're in better shape than you might expect a team to be that just lost their captain.
About the only glaring need for the Devils is a younger goalie to eventually replace Martin Brodeur when he finally does hang up the pads, and they'd do well to get one in a backup role sooner rather than later.
You don't want to have a young kid that is completely unprepared for the task in front of him to come straight out of the AHL.
Chance of a trade: 1 percent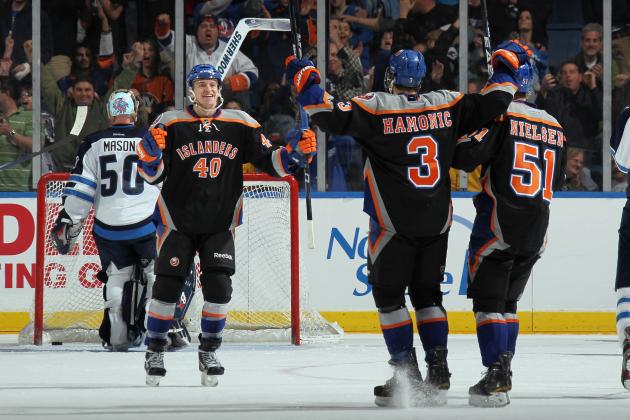 Bruce Bennett/Getty Images

The Brooklyn Islanders, as they will soon be known, are another team well below the salary cap that is leaning on their youth movement to return the team to relevance.
Their biggest issue, as it has been for a long time now, is their goaltending situation. They just don't have a legitimate No. 1 anymore and can't get rid of Rick DiPietro because of his contract.
I have no doubt the Islanders would love to be in on the whole Luongo situation but don't want to give up the young pieces that would likely be necessary to get him. I wouldn't count on much action from the Isles.
Chance of a trade: 2 percent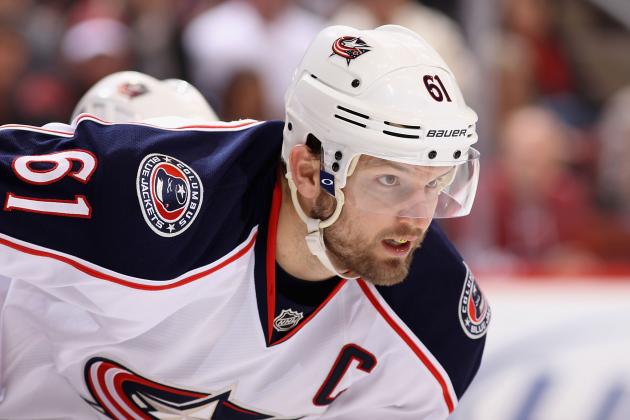 Christian Petersen/Getty Images

The Rangers made their splash in the trade market when they absolutely fleeced the Columbus Blue Jackets in the Rick Nash deal.
They are also likely to be pretty solid if the salary cap reduces even a bit lower than the $65 million that I've assumed.
The Rangers are pretty stacked and aren't in need of much. If they are going to make a move, it wouldn't be until much later in the season.
Chance of a trade: 0 percent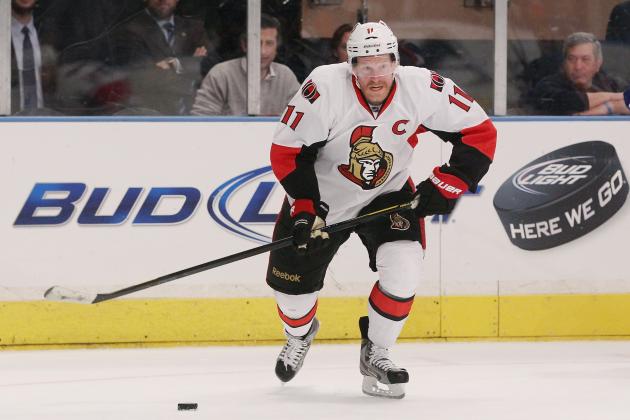 Bruce Bennett/Getty Images

Ottawa surprised absolutely everybody this past season by not only being competitive, but also by making the playoffs.
Their core still seems very well intact and not a lot is really needed before a season begins for the Senators.
Chance of a trade: 0 percent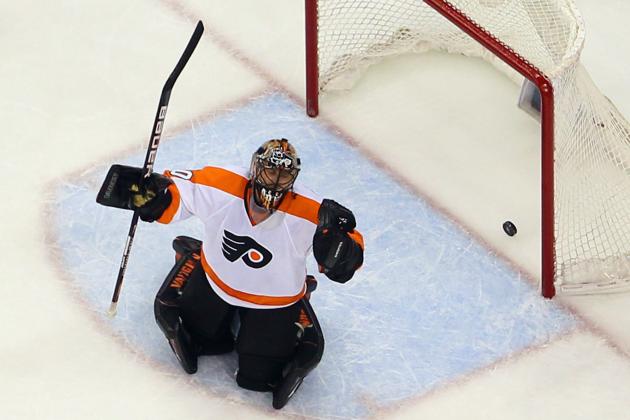 Bruce Bennett/Getty Images

I'm sure that if the Flyers could trade Ilya Bryzgalov's quirky personality for a killer work ethic, they'd do it in a heart beat.
But because they can't do that, they might still like to be in on Bobby Ryan as Ryan had said he would welcome a trade to the Flyers last season.
Exactly what trade package would be created in order to facilitate this move would be very interesting as the Flyers would have to trade a decent amount of salary in order to make this a reality.
Chance of a trade: 65 percent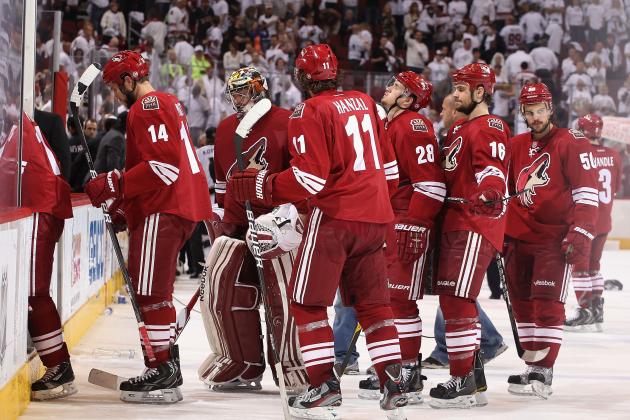 Christian Petersen/Getty Images

I still hold firm that the best actual trade scenario for the Coyotes is to trade the city of Phoenix for one that would actually support them during the regular season.
Gary Bettman is determined to not let that occur so it doesn't seem like too much personnel movement will happen.
The Coyotes don't do a lot of big trading as a general rule, and they didn't lose many players during free agency.
I'm sure their philosophy around losing Ray Whitney is that now it is a younger player's turn to step up their game and make a difference. I could be wrong, but I don't see a lot, if anything, happening in Phoenix.
Chance of a trade: 3 percent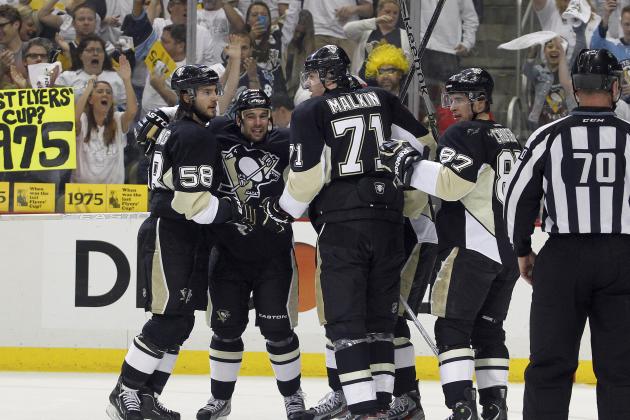 Justin K. Aller/Getty Images

The core of the Penguins is very much intact, even with the big Jordan Staal trade at the NHL Entry Draft.
They're going to see how all their pieces fit together before making any other types of moves.
Chances of a trade: 0 percent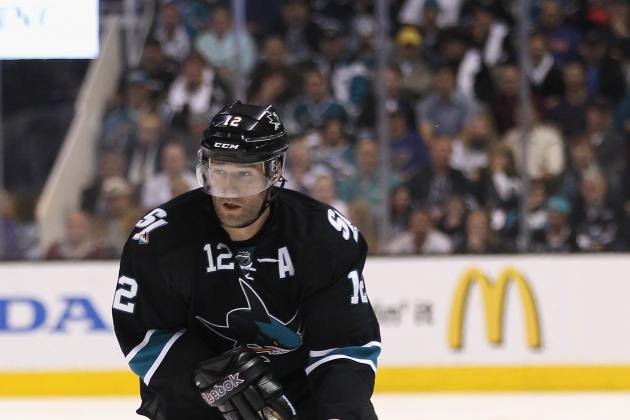 Ezra Shaw/Getty Images

San Jose needs to get younger and they need to get younger fast. As one of the league's most notorious underachievers, bringing in some new energy for the future would be a positive move for the team.
A guy that I think would be perfect for the Sharks to trade is Patrick Marleau. He still has some good skill left in the tank, but he might also seriously benefit from a change of scenery. There would be a lot of teams out there willing to trade some good pieces to San Jose in return.
Is this going to happen? Probably not, but it doesn't mean San Jose shouldn't at least think about it.
Chances of a trade: 25 percent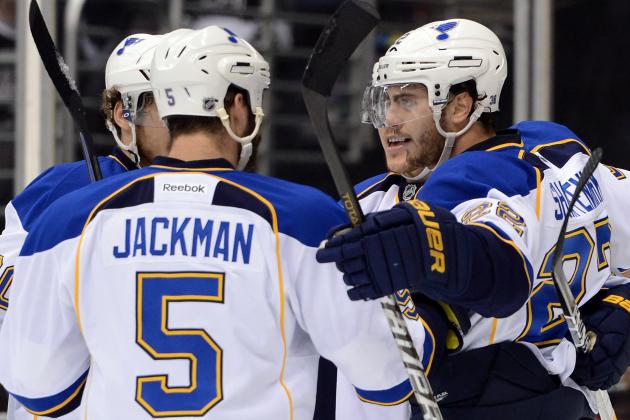 Harry How/Getty Images

The only person I would make a serious effort to trade in St. Louis is Chris Stewart. If they are going to do that it won't be until later in the season as they signed him to a one-year contract this offseason.
Otherwise, I wouldn't change a thing if I were St. Louis. This team had such great success after Kent Hitchcock that I see no need to make any major moves.
Chance of a trade: 0 percent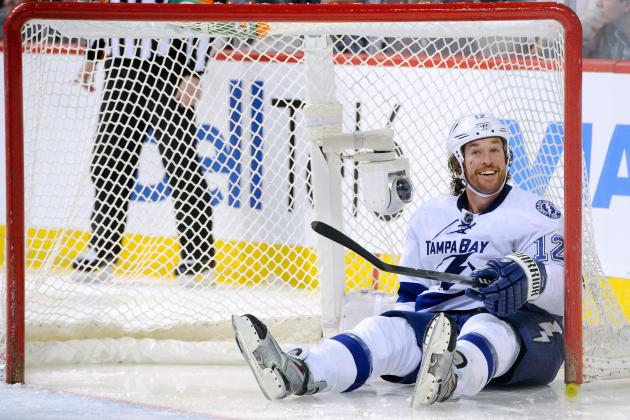 Richard Wolowicz/Getty Images

Tampa Bay was very active in the free-agent market and addressed pretty much all of their needs during the offseason.
They'll need to try out all of their new toys together before they decide which ones they can live without.
Chance of a trade: 0 percent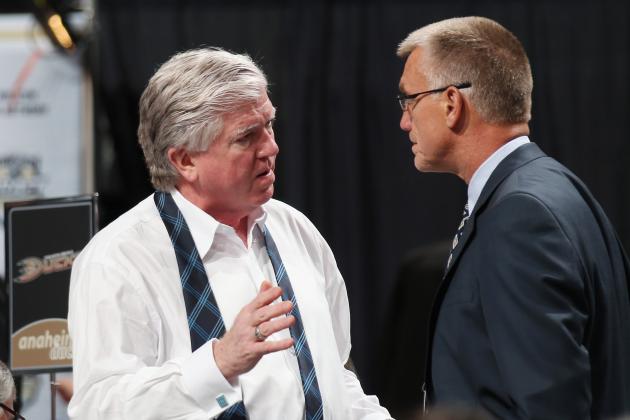 Bruce Bennett/Getty Images

The Leafs can't seem to make the playoffs and their fanbase is getting crazy.
Brian Burke will do pretty much anything in order to try and get the Leafs back to the postseason, not to mention keep his job.
The Leafs need a goalie and look for Burke to make a deal.
Chance of a trade: 100 percent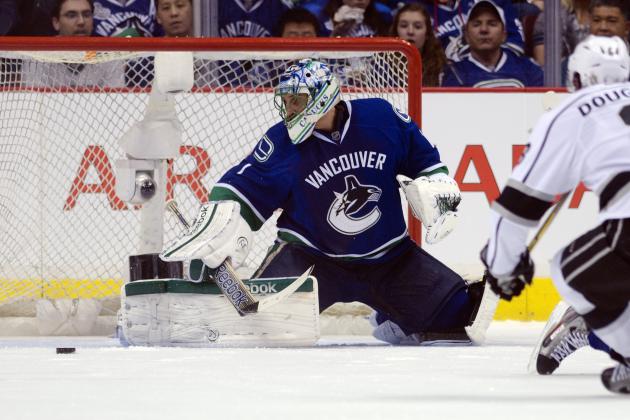 Rich Lam/Getty Images

It isn't a secret that Roberto Luongo seems to be on his way out of Vancouver. The only question here is does Luongo go to Toronto or Florida?
Chance of a trade: 100 percent
Bruce Bennett/Getty Images

The Capitals have a lot of positives on their team as they are moving forward. They still have good scoring with Alex Ovechkin, they have an up-and-coming young goalie in Braden Holtby and their defense is more stout than they are usually given credit for.
However, they may end up feeling the loss of Alexander Semin more than they might like to admit. Semin really took the fall for the team's scoring woes this past year and was finally run out of town after years of trade rumors.
The Capitals did acquire Mike Ribeiro, and this will likely help solve the secondary scoring void left by Semin, but you sometimes just never know how a guy will fit in.
Washington might make another move, but I don't see it as very likely.
Chances of a trade: 8 percent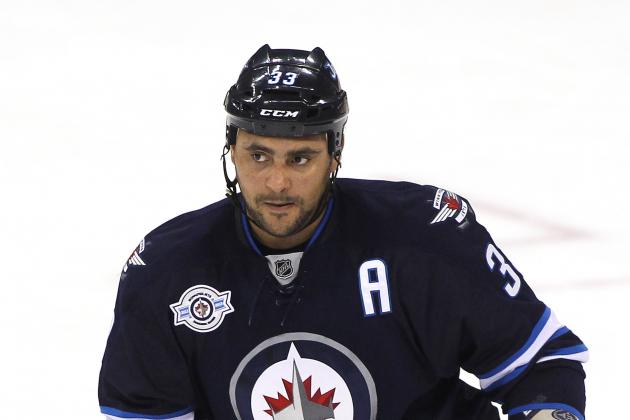 Marianne Helm/Getty Images

As dominant as Dustin Byfuglien can be when he is in mid-season form, if I'm the Winnipeg Jets I would take his offseason ballooning as a bad thing.
I just don't know how the Jets can not be worried about the money that they have invested in him with pictures like the one in that PuckDaddy article.
It might be smart to look for a replacement.
Chances of a trade: 20 percent