Finding a Reason Each NHL Team Can Win the Cup in the Next 5 Years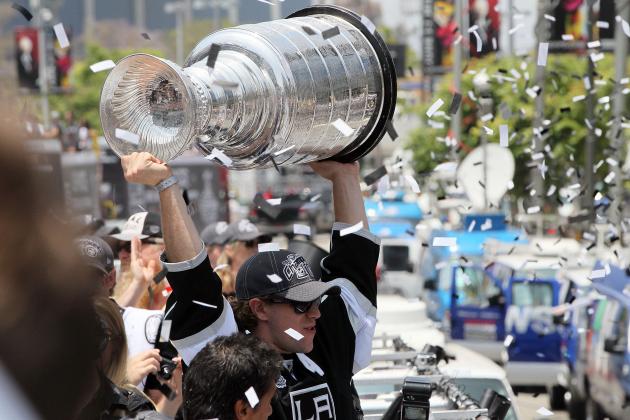 Victor Decolongon/Getty Images

Nothing remains stagnant in the NHL. Teams are always developing players, scouting new ones and trying to build for the future. Much of this goes on behind the scenes and many fans are unaware of the details of this process.
Here is a longer term look at each NHL franchise and how they are building for the future. If these blueprints go according to plan, each NHL team has a chance to win the Stanley Cup in the next five years. In this article, we take a look at how that may be possible for each team, what they need to do to make it happen and some of the players and prospects that may help them reach that ultimate goal.
Obviously, some teams are closer to this goal than others and the ones who are contenders now are easier to discuss and break down than those teams that are several years away from contention.
Feel free to chime in with additional information or opinions, but please back them up so we can all discuss them intelligently.
Begin Slideshow

»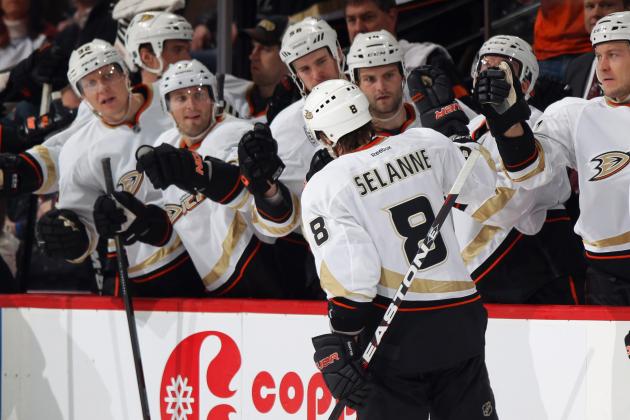 Doug Pensinger/Getty Images

If the Ducks are going to have a chance to win the Cup in the next few years, they need to re-sign Corey Perry and Ryan Getzlaf.
Anaheim can then use its highly-rated prospects to supplement the scoring of its top line. Players like Kyle Palmieri, Hampus Lindholm and Rickard Rakell should be big time contributors a few years from now.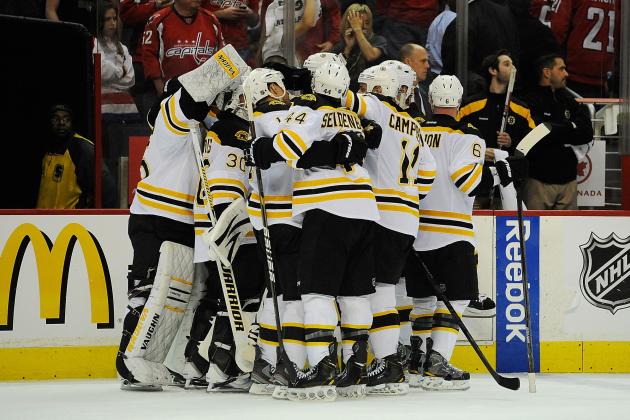 Patrick McDermott/Getty Images

The Bruins already have a deep and talented team. Their roster really isn't all that different from the one that won the Stanley Cup in 2011 with key players like Milan Lucic, David Krejci, Brad Marchand and Zdeno Chara still going strong and young and talented Tyler Seguin not yet in his prime.
The only major difference is in net where Tuukka Rask needs to show he is good enough to take this team to the promised land.
Boston's window to win another Cup should last at least another two or three seasons. This team has shown they can do it and now that they aren't dealing with the Stanley Cup hangover, they need to show they can do it again.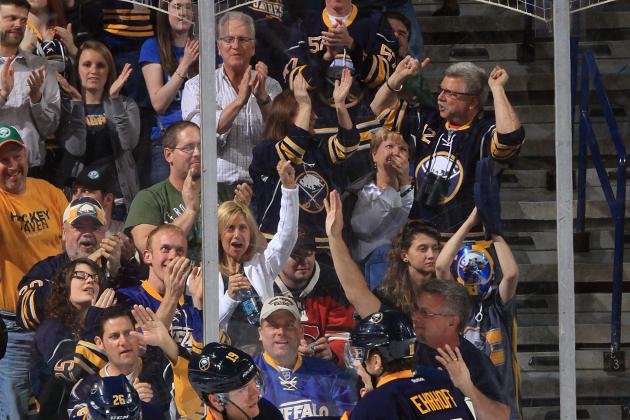 Dave Sandford/Getty Images

The Sabres have one thing going for them if they hope to win a Stanley Cup: solid goaltending. Ryan Miller is not 32 and should continue to steal games for his club for several more years.
Meanwhile, the Sabres have young talent like Cody Hodgson, Mikhail Grigorenko and Joel Armia who all should be in the NHL within a couple of years.
If Buffalo can add a little more size and grit to its lineup, it has a chance to be very successful in the coming years.
Hannah Foslien/Getty Images

The Flames are sort of in a race against time right now if they hope to win the Cup in the next five years. Their two best players, Jarome Iginla and Miikka Kiprusoff, are 35 and 36 respectfully and time is running out for them to be a part of a winning team while playing at an elite level.
The Flames need players like Roman Cervenka, Markus Granlund, Sven Baertschi and Mark Jankowski to prove some much-needed offense and to get solid contributions on defense from newcomer Dennis Wideman and prospect Patrick Sieloff.
A lot of pieces need to come together for the Flames to pull of a Cup in the next five years and it is more likely to come later in the five year period than early on.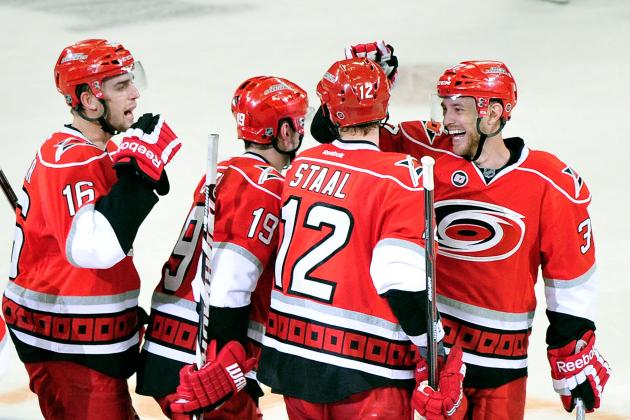 Grant Halverson/Getty Images

The Hurricanes have a Cup-winning goalie already in Cam Ward but to win another, they have some needs to fill.
Alexander Semin signed a one-year contract. If he is productive and inks an extension to stay in Raleigh, the Hurricanes goal scoring should be good enough with the Staal brothers, Semin, Jussi Jokinen and Jeff Skinner already on board.
The blue line needs a little upgrading with Joni Pitkanen needing to step up and take his game to another level. Perhaps prospect Ryan Murphy can help if he can avoid further concussions.
There is young talent in Carolina and if GM Jim Rutherford can develop it well and supplement it right, the Hurricanes have a chance to contend for a title.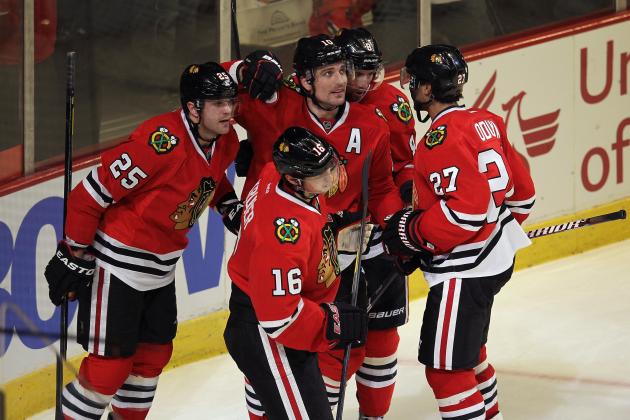 Jonathan Daniel/Getty Images

The Blackhawks are built to win right now. There are enough key components from the 2010 Stanley Cup championship team to help this team win it again.
Chicago has a good combination of goal scorers (Patrick Sharp, Jonathan Toews, Marian Hossa, Patrick Kane) and role players (Dave Bolland, Daniel Carcillo, Bryan Bickell) up front while its defense is talented, physical and deep.
The big question in the Windy City is goaltending. Corey Crawford seemed good enough in 2010-11, but stumbled last season and needs to prove he is good enough to carry this talented team to a Stanley Cup. If he's not the answer, GM Stan Bowman has enough talent to trade away to get a goalie who can.
As they are presently built, the Blackhawks should be able to contend for a Stanley Cup for at least the next two or three years.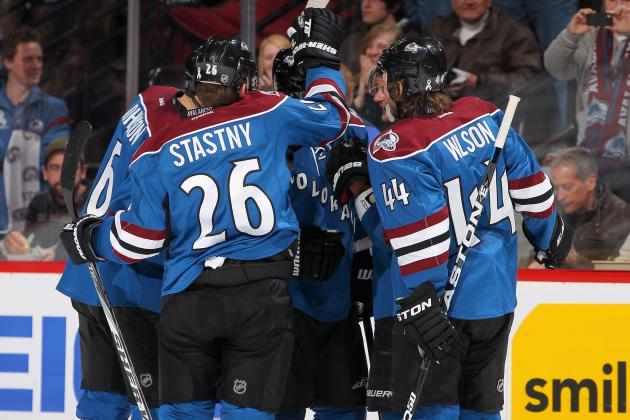 Doug Pensinger/Getty Images

The Avalanche have been building around a team of talented young forwards for the past several years and once those players mature and enter their prime, the Avs can be contenders with a few careful additions.
Players like Gabriel Landeskog, Matt Duchene, David Jones and Ryan O'Reilly should form the basis for a very potent group of forwards.
On defense, Colorado should be set if Erik Johnson blossoms and prospects like Duncan Siemens and Tyson Barrie come through.
If Semyon Varlamov isn't the answer in net, prospect Calvin Pickard is probably two years away from being NHL ready.
There are plenty of pieces here, if they all fit together well, the Avs have the potential to be very dangerous in a few years time.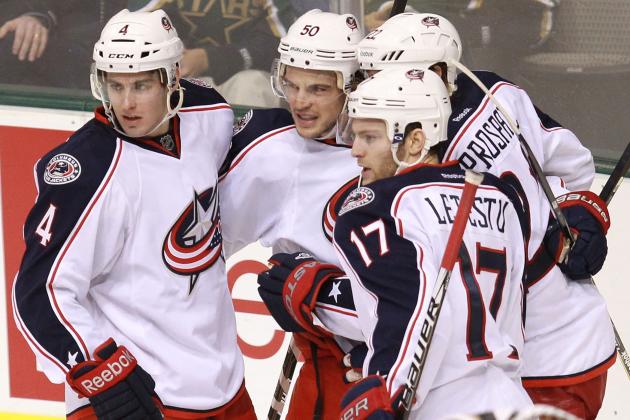 Ronald Martinez/Getty Images

The Blue Jackets are at the beginning of a wholesale rebuilding program. 2011-12 was probably rock bottom for this franchise which now needs to identify which players they can build around.
Young players like Artem Anisimov, Tim Erixon and new goalie Sergei Bobrovsky can be important cogs in a winning team in Columbus. Leadership will be provided by defenseman Jack Johnson who claimed that role after coming over from Los Angeles late last season.
Add top prospect Ryan Murray to the blue line and you have the makings of a successful group of defensemen.
The Blue Jackets may have a few more lottery picks to add in coming years, but the team is on their way to rebuilding themselves into a possible contender.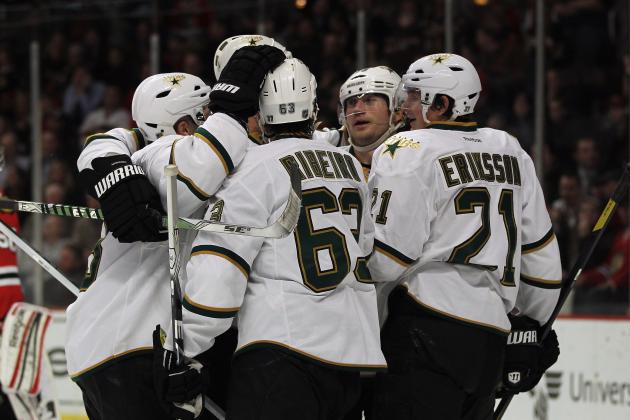 Jonathan Daniel/Getty Images

The Stars have added veterans like Jaromir Jagr and Ryan Whitney, but they are short-term bridges to help keep the team competitive and to mentor younger players while the franchise retools.
Loui Eriksson and Jamie Benn are the two current forwards the team is building around with prospects Radek Faksa, Cody Eakin and Alex Chiasson just a couple of years away from being able to help.
The defense is already filled with players with diverse skills like Alex Goligoski, Trevor Daley and Philip Larsen, who can move the puck and physical D-men like Aaron Rome and Mark Fistric.
If Kari Lehtonen doesn't shine brightly enough, Jack Campbell is a couple of years away from reaching the NHL if he continues to develop.
The Stars have some young pieces that need to come together if they are going to win a Cup in the next five years.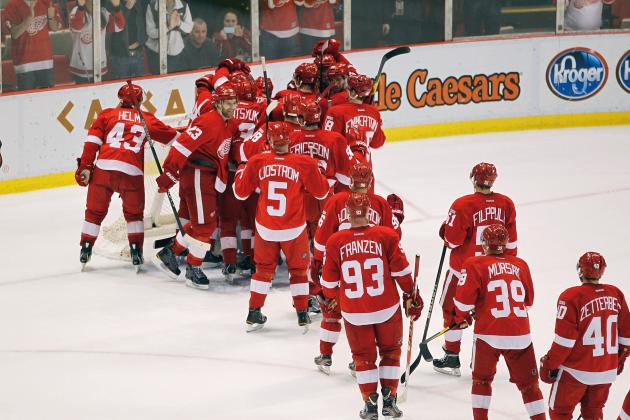 Gregory Shamus/Getty Images

The Red Wings have their hands full trying to replace future Hall of Famer Nicklas Lidstrom. Brendan Smith will get a chance to step in and develop into a top defenseman.
The Wings are more likely to win sooner rather than later in this five-year period. They still have elite forwards like Pavel Datsyuk and Henrik Zetterberg, goalie Jimmy Howard and Niklas Kronwall.
Tomas Tatar may be ready to join the forwards once the new season finally gets underway as may Gustav Nyquist.
Detroit is a team in transition, but they still may have one title run left in them as they start to rebuild what has been a very successful franchise over the last two decades.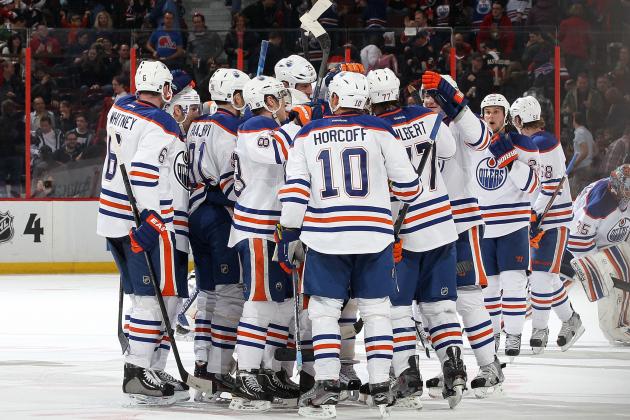 Jana Chytilova/Freestyle Photo/Getty Images

The Oilers are chock full of young talent up front and once it matures, they need to add some blue-line talent and find a goalie to become Cup contenders.
Is Devan Dubyk the answer in net? The Oilers themselves still aren't sure. On defense, Justin Schultz should be a fine addition but there is more help needed and players like David Musil and Oscar Klefbom are at least a year or two away.
Forward talent like Nail Yakupov, Jordan Eberle, Taylor Hall, Ryan Nugent-Hopkins and Sam Gagner could be the building blocks for another era of high-scoring, electrifying hockey in Edmonton. If they are, the Oilers will be dangerous in a couple of years.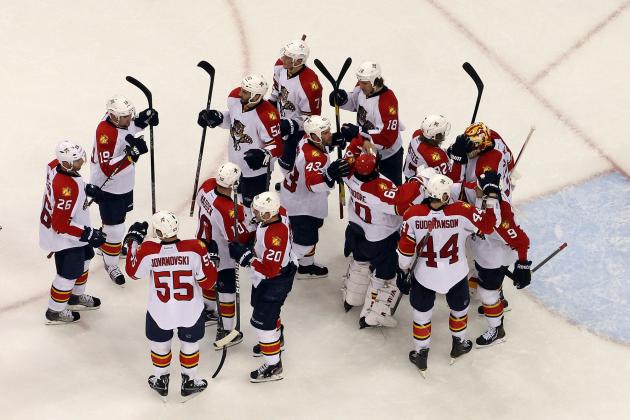 Bruce Bennett/Getty Images

The Panthers ended their long playoff drought last season and even won a division title. Their top line of Stephen Weiss, Tomas Fleischmann and Kris Versteeg were the key.
If Florida is to take it to the next level, they will need contributions from young prospects like Jonathan Huberdeau, Nick Bjugstad and potential franchise goalie Jacob Markstrom.
On defense, the recent addition of Filip Kuba and the development of Dmitry Kulikov, Alex Petrovic and Michael Matheson are key pieces to the puzzle.
If Markstrom lives up to his billing, the Panthers could have a top flight goalie for the next decade or more. That alone should make them regular contenders.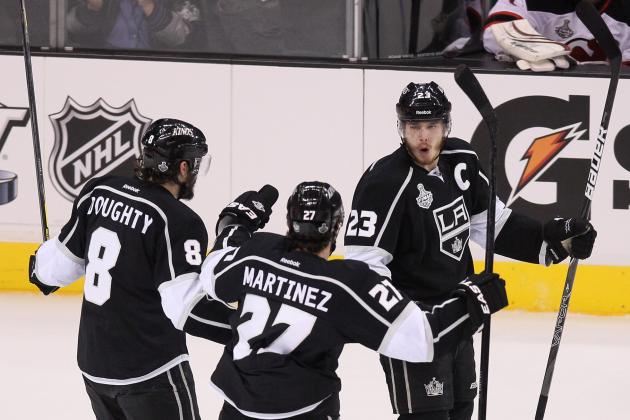 Jeff Gross/Getty Images

The Kings own the first Stanley Cup in franchise history last year and return their roster almost entirely in tact. That alone gives them a good chance to contend for the next few seasons.
Goalie Jonathan Quick just signed a 10-year contract extension and is only 26 while star defenseman Drew Doughty is just 21 and hasn't even reached his potential yet.
Anze Kopitar, the Kings' top line center, is just 25.
Overall, the Kings have grit, size, talented goaltending and some skilled forwards to rely on. The next few years should be very bright in Los Angeles.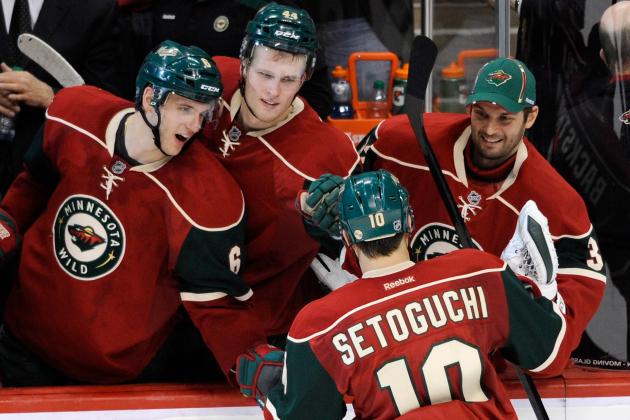 Hannah Foslien/Getty Images

The Wild inked the two biggest fish in the free agent sea last year in Zach Parise and Ryan Suter. While this doesn't make them Stanley Cup contenders just yet, it speeds up their rebuilding program a couple of years and makes them a playoff team immediately.
Add Mikael Granlund to the second line and Charlie Coyle in another year or two and the Wild should have a very dangerous group of top six forwards.
If Nicklas Backstrom starts getting up there in years, the duo of Josh Harding and Matt Hackett has shown potential in net.
The Wild are probably a year or two away from being contenders, but the puzzle pieces are definitely falling into place.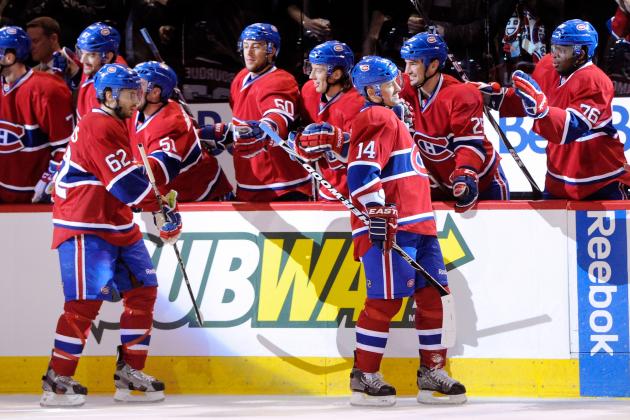 Richard Wolowicz/Getty Images

The Canadiens already have the most important piece of a contending team in their fold: an elite goaltender. Carey Price just signed a long-term deal and should provide the Habs with a chance to win nearly every game for the foreseeable future.
Montreal already has a solid top line in Max Pacioretty, Erik Cole and David Desharnais and a reliable if unspectacular second line with Tomas Plekanec and Brian Gionta. Add Alex Galchenyuk.
If Andrei Markov can stay healthy and P.K. Subban can mature a bit, the defense has two solid cornerstones. Jarred Tinordi can be added to the mix in another year or two.
GM Marc Bergevin still has some work to do, but there is potential up and down the lineup that can help make the Canadiens contenders again in a few years.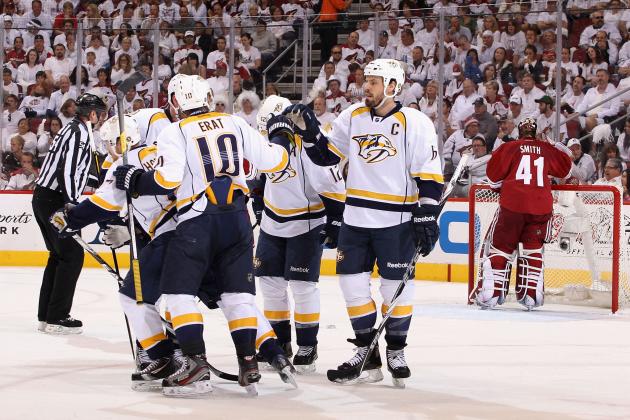 Christian Petersen/Getty Images

The bad news in Nashville is that they lost defenseman Ryan Suter to the Wild in free agency. The good news is that they locked up their two other star players, Pekka Rinne and Shea Weber, to long term deals.
Nashville has never been a big budget team, but GM David Poile and Coach Barry Trotz always seem to find a way to keep the club in the playoff hunt.
Rinne is one of the top goalies in the league and guarantees that the Preds should be competitive on most nights.
The Predators lack a sniper, but prospects like Austin Watson and Pontus Aberg may provide a dangerous goal scorer that the franchise sorely lacks.
Never count out a franchise like Nashville with its smart management, talented goaltending and a group of forward prospects who can help add scoring to the club.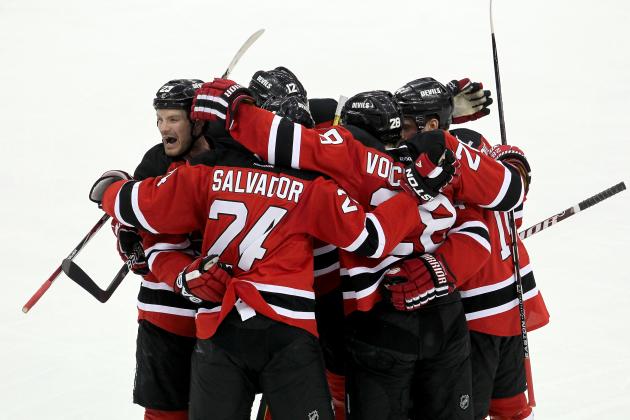 Jim McIsaac/Getty Images

Even without Zach Parise, the Devils have some assets that can earn them a return trip to the Stanley Cup Final.
Start with Martin Brodeur, who may not be able to play 70 games a year anymore, but can still be effective playing 50 or 55 before the playoffs.
Ilya Kovalchuk remains one of the most dangerous goal scorers in the league while Adam Henrique is showing signs of developing into a quality top-six forward.
On defense, Adam Larsson has lots of potential and top prospect Jon Merrill is about a year or two away.
The Devils showed last spring they can still be dangerous. As long as Brodeur doesn't show his age too much, there's no reason they can't continue to be contenders if they go on a roll at the right time in the spring.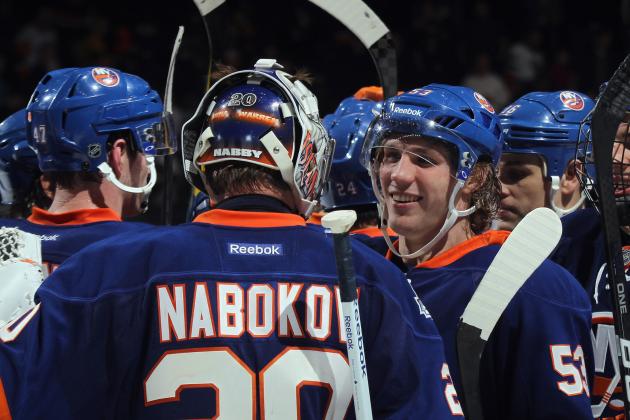 Bruce Bennett/Getty Images

With the team's announcement that they are moving to Brooklyn in the fall of 2015, the biggest off-ice issue facing the New York Islanders is now resolved.
The old building and uncertain future of the franchise are no longer obstacles to signing free agents and hopefully, owner Charles Wang will spend a little more money on the team once they head to the brand new arena in Brooklyn.
The Isles have young talent in John Tavares, Nino Niederreiter, Josh Bailey, Michael Grabner, Ryan Strome and Brock Nelson up front if some of those younger players blossom the way Tavares has.
On the blue line, players like Griffin Reinhart, Calvin de Haan and Scott Mayfield look to join young NHLers like Andrew MacDonald and Travis Hamonic.
Kevin Poulin was injured last year but looked like he had NHL potential before that.
If the club spends a little more money and some of their prospects become quality NHL players, the Isles could once again return to the ranks of Cup contenders.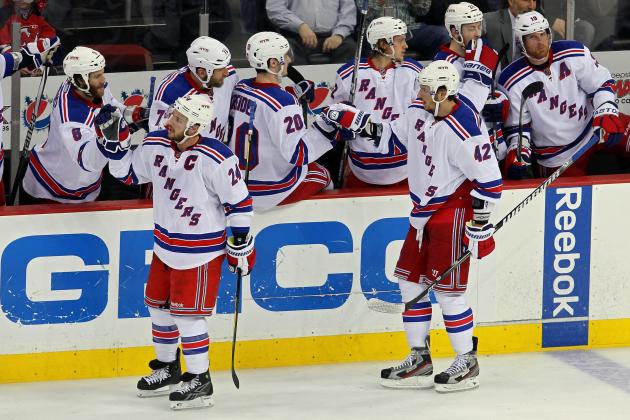 Jim McIsaac/Getty Images

The Rangers are expected to contend for the Stanley Cup right now. They were the top seed in the Eastern Conference last year and reached the Conference Final.
Now, they added another proven goal scorer in Rick Nash to go with Marian Gaborik and playmaker Brad Richards. Youngsters like Chris Kreider and Carl Hagelin add speed and potential while Derek Stepan and Ryan Callahan are hard workers.
Henrik Lundqvist is one of the best in the game while the top four defensemen are deep and have a variety of skills.
Add a proven winner in John Tortorella behind the bench and the Rangers should contend for the next few seasons.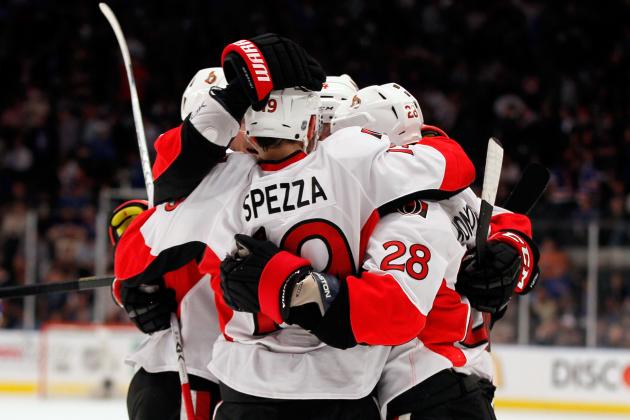 Mike Stobe/Getty Images

The Senators reached the playoffs a little bit ahead of schedule according to most hockey experts.
Ottawa has a solid first line and the most explosive offensive defenseman in the game right now in young Erik Karlsson. Rookies like Jakob Silfverberg, Mark Stone and Mika Zibanejad need to step up to help add depth at forward.
The Sens got a solid year out of Craig Anderson in net but they are high on Ben Bishop and are still developing Robin Lehner at Binghamton of the AHL.
Add defense prospect Cody Ceci to the blue line to boost the Sens in their own zone and you have the makings of a solid team top to bottom. This could help Ottawa contend again in a couple of years.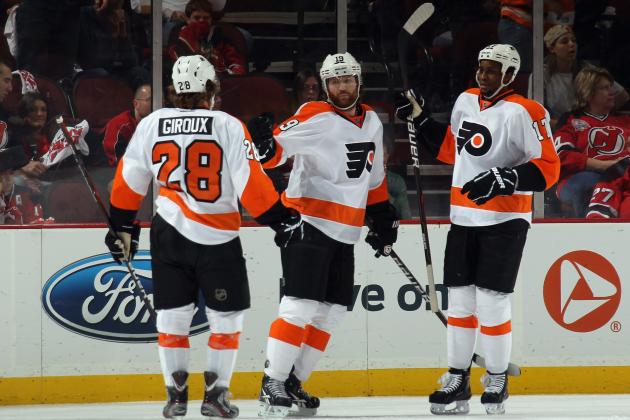 Bruce Bennett/Getty Images

The Flyers tied for second in the NHL in goals scored last year and young stars like Claude Giroux and Sean Couturier haven't reached their primes yet.
The key for the Flyers to contend is a healthy blue line (which the lockout may help deliver) and a more consistent Ilya Bryzgalov. The Russian netminder is signed long-term and needs to pick up his game.
In a couple of years, center Scott Laughton should be the next great physical center in Flyers history if he lives up to his potential.
Philadelphia has the firepower to play with anybody. If the Flyers can improve their defense and goaltending a little bit, they have the potential to contend immediately.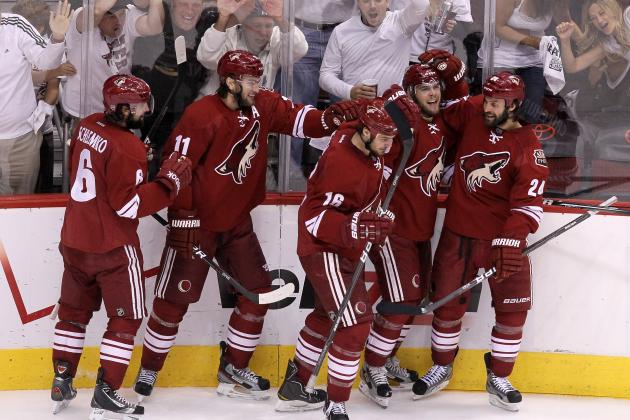 Jeff Gross/Getty Images

The Coyotes won the Pacific Division last year despite a limited budget and a lack of an owner. If the club's future in Arizona is settled one way or the other, they will have direction and some certainty that the franchise has lacked for years.
Mike Smith played exceptionally well last season and if he provides similar numbers on a consistent basis in the coming years, the Coyotes will rarely be blown out by anybody.
The Coyotes have a strong defense corps and their top three prospects (Brandon Gormley, Maxim Goncharov and Connor Murphy) are all blueliners.
If GM Don Maloney can add just a little more offensive ability, Phoenix can be a dangerous team moving forward.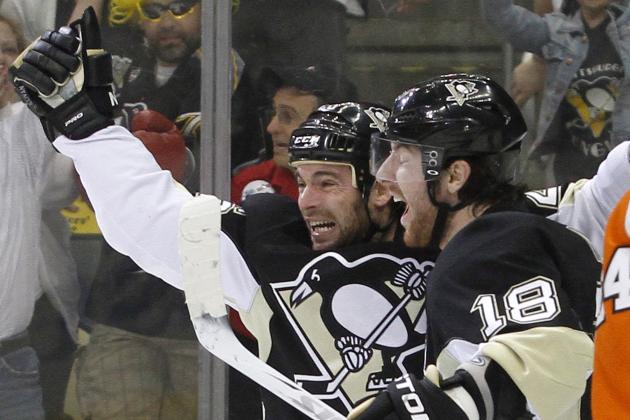 Justin K. Aller/Getty Images

Any team with a healthy Sidney Crosby, Evgeni Malkin and Kris Letang in its lineup is dangerous.
Marc-Andre Fleury has already won a Stanley Cup and helped his club reach a second final round, but he needs to bounce back from a subpar playoff round.
The addition of Brandon Sutter should provide a little more grit while young Beau Bennett may be added to the top two lines this season or next.
Top draft pick Derrick Pouliot should be a solid offensive defenseman who can quarterback the power play in two or three seasons while Joe Morrow should be ready sooner than that. Pittsburgh has several talented defensive prospects that should make its blueline very deep in a few years.
The Penguins finished with 108 points last year. If they stay healthy, they are contenders now. Defensive reinforcements may keep them there for quite some time.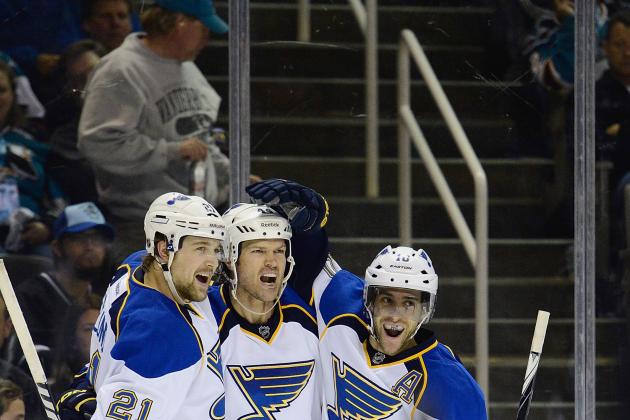 Thearon W. Henderson/Getty Images

The Blues are already contenders, having finished second in the Western Conference and third overall in the league with 109 points.
If Andy McDonald and David Perron stay healthy next year, St. Louis should have an improved offense. Add Vladimir Tarasenko and Jaden Schwartz and the team could improve even more.
Last year, the Blues already had the league's best defense and a dynamic twosome in the crease with Jaroslav Halak and Brian Elliott. No team gave up fewer goals than St. Louis last season.
If the players still believe in Ken Hitchcock's system and work hard for him, this organization has the talent to contend for the next few years.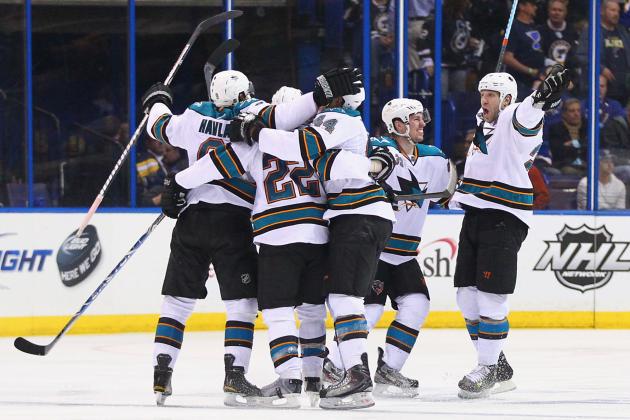 Dilip Vishwanat/Getty Images

The Sharks corps featuring players like Joe Thornton, Patrick Marleau and Dan Boyle, is built to win now with each of those players now being over 30.
San Jose does have some younger talent like Joe Pavelski and Ryanne Clowe, but its heart and soul has a window of one or two more years at best to try to win the franchise's first Stanley Cup.
A little more grit added to the lineup couldn't hurt at this point which is why GM Doug Wilson acquired Adam Burish and Brad Stuart over the offseason.
The Sharks don't have a lot of great prospects in their system right now with big defenseman Nick Petrecki being closest to being able to help at the NHL level this season if called upon.
Barring some trades to restock the team and make them younger, the Sharks' best chances to win the Stanley Cup come sooner rather than later.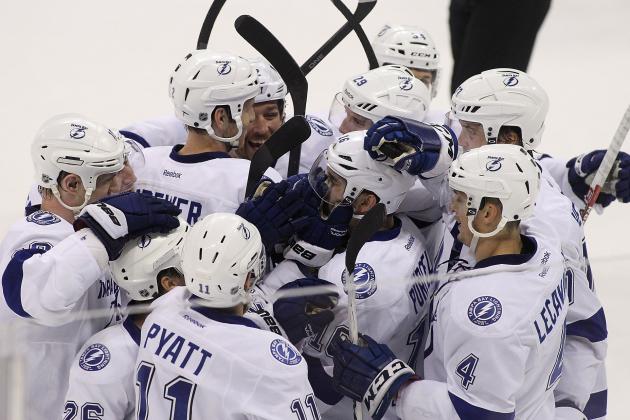 Marianne Helm/Getty Images

The Lightning already have a potent offense, one that ranked eighth in the NHL in goals scored. But defensively, they were dead last in goals allowed and that's where this team needs to rebuild most.
With that in mind, GM Steve Yzmerman traded for goalie Anders Lindback and added defensemen Sami Salo and Matt Carle during the offseason.
Prospect defensemen like Mark Barbeiro and Slater Koekkoek are at least a year or two away, as is top forward hopeful Vladislav Namestinkov. Right now, Yzmerman has a group of solid prospects who he can either wait for or trade away for more immediate help in any area.
As players like Martin St. Louis and Vinny Lecavalier age, the Lightning will need to bring in replacements.
If Lindback works out well, the Bolts could contend very soon. Remember, this team went to the Eastern Conference Final in 2011.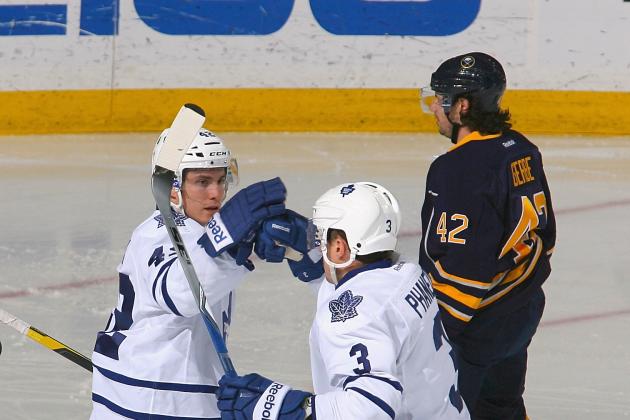 Rick Stewart/Getty Images

GM Brian Burke still has plenty of work to do in order to make the Maple Leafs Cup contenders, but there is young talent on this team.
Toronto had a top-10 offense last year and has talented offensive players like Phil Kessel, Joffrey Lupul, Mikhail Grabovski and now James van Riemsdyk.
The Leafs still lack defensemen who are dominant in their own zone and haven't solved their goaltending situation just yet. It's unclear if either James Reimer or Ben Scrivens are good enough to be a full-time starting NHL goalie.
Most Leafs prospects are still at least a year away from making major contributions like Joe Colborne, Tyler Biggs and Carter Ashton up front and top pick Morgan Rielly on the back end.
Burke wants his team to be bigger and more physical and that will take time.
If the Leafs settle their goaltending issues and get a little tougher to play against, they can be contenders again in a few years.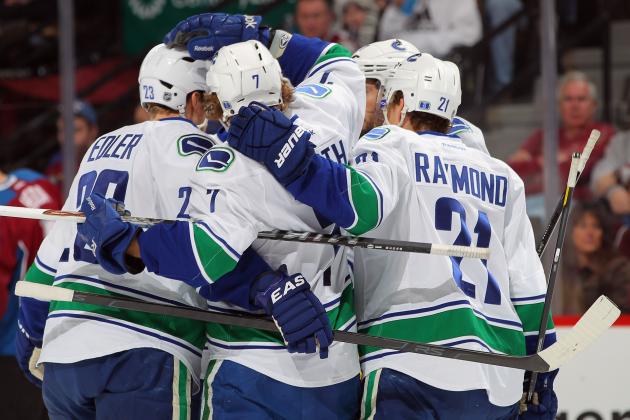 Doug Pensinger/Getty Images

The Canucks have won back-to-back President's Trophies as the team with the league's best record and there is no major reason they can't be in the mix for a third one once this season gets under way.
The biggest question surrounding the Canucks is in net where Roberto Luongo should be traded shortly and Cory Schneider has yet to prove he can handle a load of 60-plus games a season. If Schneider does as well as expected, Vancouver should have no difficulties in this area.
Ryan Kesler's health is another issue although the lockout means he will miss fewer games than expected. Other than that, Vancouver is deep, skilled and talented throughout its lineup and finished in the top five in both goals scored and allowed last season.
Vancouver should have a window of another three seasons to win its first Stanley Cup with the group they now have. They are talented enough to win, now they just have to go out and do it.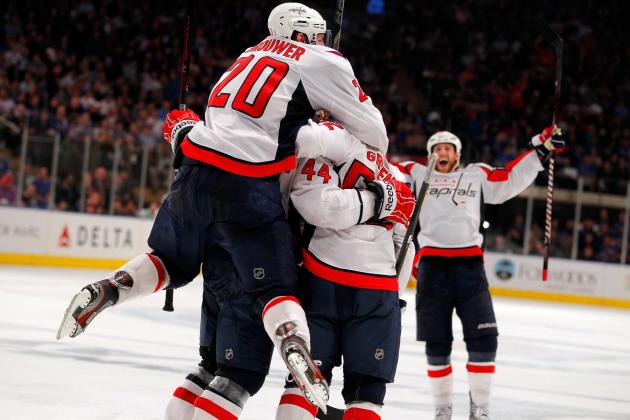 Paul Bereswill/Getty Images

Few people doubt the abundance of talent on the Capitals' roster but getting a more cohesive club and establishing an identity for it has been a challenge in recent seasons. That challenge now falls to new head coach Adam Oates.
A healthy Mike Green and Nicklas Backstrom will help, as would a motivated Alex Ovechkin. A bounce back year from John Carlson, especially in his own zone, would be a big step forward as well.
The Caps have plenty of younger players on their roster with seven likely regulars being under 25. A dynamic player like center Evgeny Kuznetsov is about a year away from joining the club.
Braden Holtby looks strong but still needs to prove he can be a consistent goalie for a full NHL season. Michal Neuvirth is another young and talented netminder who can eventually become an NHL starter.
The Caps have a lot of solid pieces lined up, if Oates can get them to mesh and have a united purpose, the Capitals can contend quickly.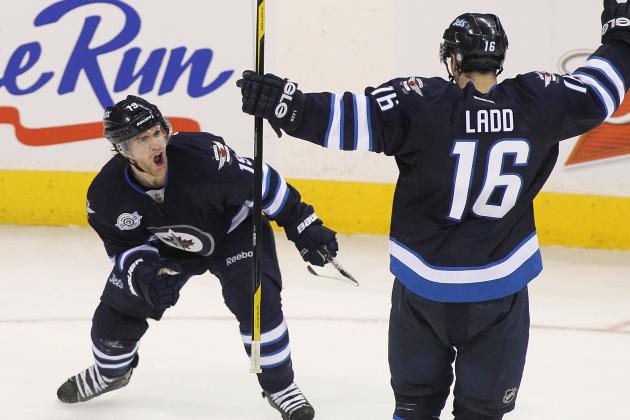 Marianne Helm/Getty Images

The Jets are building through the draft and primarily with younger players Evander Kane, Blake Wheeler and Bryan Little.
They already have a solid goalie in Ondrej Pavelec and some talented young defensemen like Dustin Byfuglien and Zach Bogosian, but they need to solidify their play in their own zone and be more consistent defensively.
Offensive help may be available soon from players like Patrice Cormier and Mark Sheifele while Jacob Trouba and Paul Postma may soon help on the blue line.
The Jets were great at home but need to learn how to win on the road if they want to contend.
A little more maturity and the development of some of their younger players and prospects should have the Jets on the road to contention in about three years.