11 NHL Veterans Who Could Be on the Chopping Block When the Lockout Ends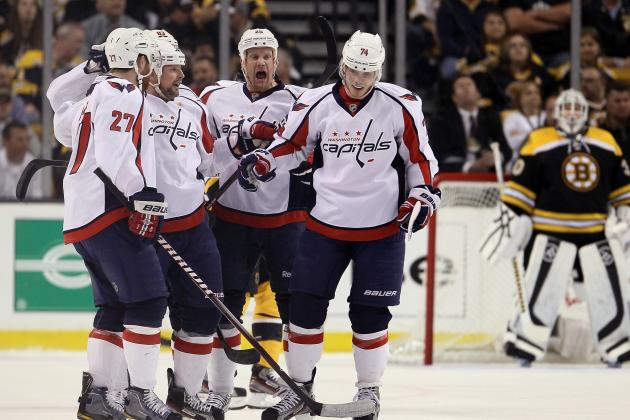 Elsa/Getty Images
Boston Bruin Tim Thomas looks on as four Washington Capitals celebrate a goal.
Once a new collective bargaining agreement between the National Hockey League and the Players' Association is signed, the landscape of North American hockey will likely be dramatically changed for the second time in eight years. As a result, look for some changes to be made roster-wise as well.
Whether through trades, buy-outs, just a simple matter of not being resigned or what have you, many players likely won't find themselves on the same teams on which they are currently or even with a contract at all. Following the last lockout, over 240 players' careers just ended like that (via the Minneapolis Star Tribune).
So, a few criteria first: A player who just signed a new contract with a new team this past off-season will not be eligible to make this list (due to the presumption that they were signed for a reason and their teams would be hypothetically willing to give them a shot next season, should the lockout wipe out this current one).
Additionally, this list comprises NHL regulars and not fringe players, such as dime-a-dozen enforcers who play two minutes a game, and backup goalies to Martin Brodeur (excluding Johan Hedberg), who would likely be on the chopping block no matter what.
With that, here are the top 11 veterans who could find themselves on the outs with their current teams, forgotten or just plain unwanted once the lockout ends:
Begin Slideshow

»
Ronald Martinez/Getty Images
Anton Babchuk of the Calgary Flames.
When Washington Capitals superstar Alexander Ovechkin thinks out loud these days, more often than not he's expressing an opinion on the lockout. And it's his right, considering all that's gone on these past few months.
However, take his musings, especially those pertaining to the possibility of many Russian players continuing to play in the Kontinental Hockey League regardless of whether or not a new CBA is signed (via TSN.ca), with a grain of a salt.
Sure, there are Russians who might stay, but Ovechkin likely won't be one of them. Calgary Flames defenseman Anton Babchuk, meanwhile, is a much more likely candidate (even though he's Ukrainian).
Currently playing for Donbass Donetsk in the KHL, Babchuk is coming off a pretty bad season in which he scored just 10 points (two goals) in 32 games. It's a far cry from the career-high 35 (16 goals) he scored with the Carolina Hurricanes in 2008-2009.
And Calgary's long-term signing of Dennis Wideman unfortunately makes the big, yet soft defenseman expendable. At least Wideman puts the puck in the net.
Babchuk's contract will also be up at the end of this season and, considering this will be the second time he's played in Russia since the end of the last lockout, he may decide his talents are better appreciated at home playing for the Ukraine-based team.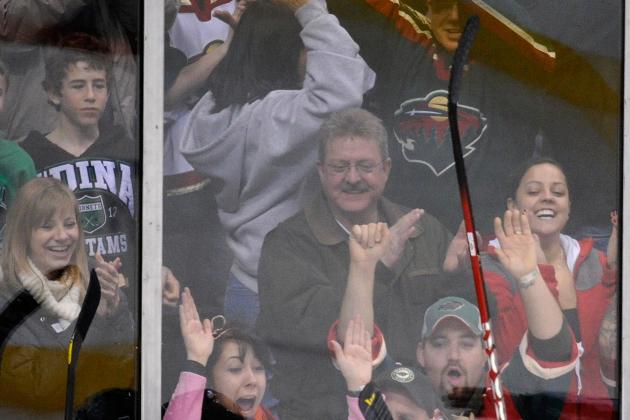 Hannah Foslien/Getty Images
Pierre-Marc Bouchard (center) of the Minnesota Wild.
You have to think deep down the Minnesota Wild are hoping, in the unfortunate case of Pierre-Marc Bouchard anyway, that this lockout lasts the entire season, because then the team wouldn't have to face the ethically dubious decision of whether or not to dress the skilled, yet oft-concussed forward.
Even excluding 2009-10, when he only played one game, the numbers of games he's played over the course of his current five-year contract have gone down dramatically in each of the other three seasons. In 2008-09, he played 71. In 2010-11, he played 59.
Last year, he played just 37 before sustaining another concussion.
With the recent signings of Zach Parise and Ryan Suter, the Wild would likely not be willing to re-up Bouchard, even if the team was 100 percent sure entering into a new contract with him that he would stay healthy, because his production has dropped off as well from the career-high 63 points he scored in 2007-08 to just 22 last season (his points per game have also slipped each year).
It's a shame, because with Parise and Mikael Granlund set to join the team, this season would have been the first real time Minnesota could have iced two legitimately threatening lines, that is assuming Bouchard would have been able to come back.
The fact it wouldn't have been for certain is far more telling (and frightening) than any argument that can be written on this page.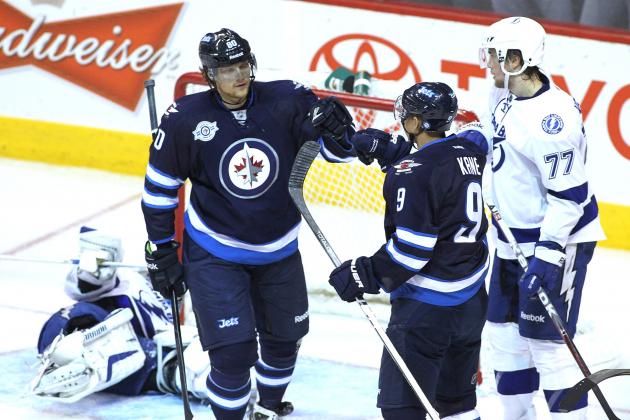 Marianne Helm/Getty Images
Nik Antropov of the Winnipeg Jets (left) with Evander Kane.
Winnipeg Jets forward Nik Antropov is another Russian (well, Kazakh) who may decide to stay in the KHL once the labor dispute is over. And the Jets likely would welcome the decision.
The man who could ironically and easily be nicknamed Ant due to his sheer size (6'6") has an ironic contract to match that pays him as if he could actually score.
Sure, the deal is up at the end of this year, but his $4,062,500 cap hit just isn't worth the 35 points he put up last season. The Atlanta Thrashers got what they paid for from the former Toronto Maple Leaf in the first year of his contract when he scored a career-high 67 points (24 goals).
However, his points have fallen off a cliff since then (where is an actual aircraft when you need one, eh?), and with Evander Kane being signed to a long-term deal, Olli Jokinen having one year left under contract after this one and players like Spencer Machacek, Andrew Ladd, Bryan Little and Blake Wheeler stepping up, the Jets simply don't need to burden themselves with another few years of his lackluster and lackadaisical play.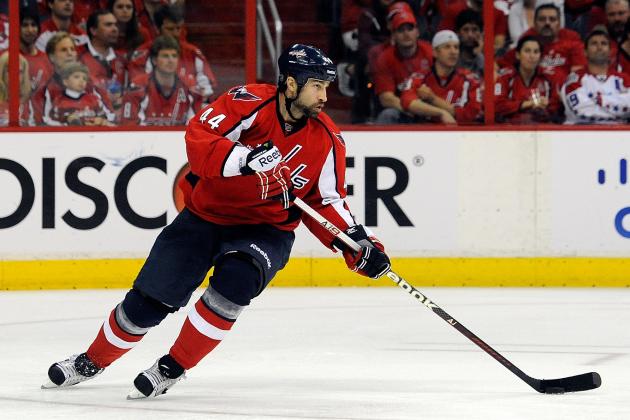 Patrick McDermott/Getty Images
Roman Hamrlik of the Washington Capitals.
When the Montreal Canadiens signed Roman Hamrlik to a four-year, $22.5-million deal in 2007, most thought they were insane, or, at the very least, general manager Bob Gainey had gone senile.
For a good portion of those years, they might even have a case (Gainey did resign Patrice Brisebois that offseason for some strange reason after all). However, in specific regard to Hamrlik, he did admittedly step up when star Andrei Markov was lost due to injury in 2010-11.
The inconsistent Hamrlik of old reemerged this past season, though, after capitalizing on his strong play that year and signing a two-year, $7-million deal with Washington. He then promptly publicly called out then-head coach Dale Hunter on making him a healthy scratch in February for taking bad penalties (among other deficiencies in his game).
Of course, while Hamrlik is correct in his assessment of Hunter's game (3500+ penalties in minutes; search for Hunter and Turgeon on YouTube), it's probably not the smartest thing to do in the world to try to embarrass a former player of Hunter's unique skill set, who's in a position of authority no less.
Still, Hamrlik's time as a Cap is likely nearing the end, even if Adam Oates has since replaced Hunter behind the bench. He'll no doubt have his hands full with one reclamation project in the form of Mike Green. Why would he bother with the 38-year-old Hamrlik?
Add John Carlson, Karl Alzner, Dmitry Orlov, and Jeff Schultz into the mix, and it's abundantly clear the Caps are going a different way: better.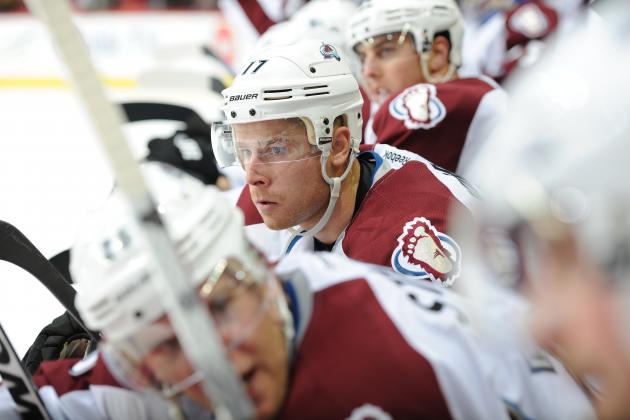 Dale MacMillan/Getty Images
Chuck Kobasew of the Colorado Avalanche.
To a certain extent, you have to think the Colorado Avalanche knew what they were getting when they signed Chuck Kobasew to a two-year deal last summer.
He was coming off seasons of 14 and 16 points with the Minnesota Wild, and the 42 points and 21 goals he scored with the Boston Bruins once upon a time were clearly more indicative of the 53-19-0-10 team he was on than his abilities to get under the skin of opponents and repeatedly take punches to the face.
Colorado had to be thinking things could only go up for him, the way physically tortured bookworms in high school grow up to be hugely successful multimillionaires, right?
It turns out the Avalanche were only half-right, opting to pay him $1.25 million last year (and this one) for a mere 14 points in 58 games.
With countless other bodies available to the Avalanche more capable of playing his role as a secondary scorer and grinder (Steve Downie, David Jones, Jamie McGinn, mascot Bernie St. Bernard, pretty much everyone else on the team save for Matt Hunwick), Kobasew will no doubt be looking for a new home in 2013.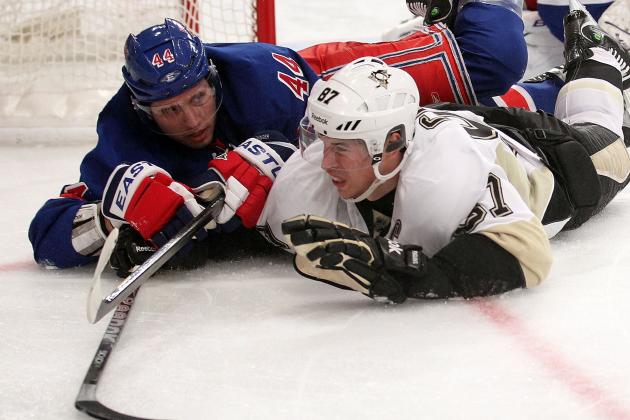 Nick Laham/Getty Images
New York Ranger Steve Eminger and Pittsburgh Penguin Sidney Crosby.
Steve Eminger is what you would call a journeyman. He won't give Mike Sillinger a run for his money or anything like that, but he does have enough jerseys in his closet to make Shop.NHL.com at least a tad worried he might start infringing on its business (that is if they could ever sell Steve Eminger jerseys to being with).
Just 29, Eminger has played for six NHL teams. His current two-year stint with the New York Rangers has been his longest since the Capitals, the team that drafted him, gave up on him back in 2008. That means over a span of four years he's played for five different teams.
Considering his contract will be up and New York has a veritable litany of young, on-roster, capable defensive talent (Marc Staal, Dan Girardi, Ryan McDonagh, Michael Sauer, Michael Del Zotto, etc.) and at least one spry, uber-talented blue-liner on the farm by the name of Wade Redden, Eminger's no longer valuable to the Rangers.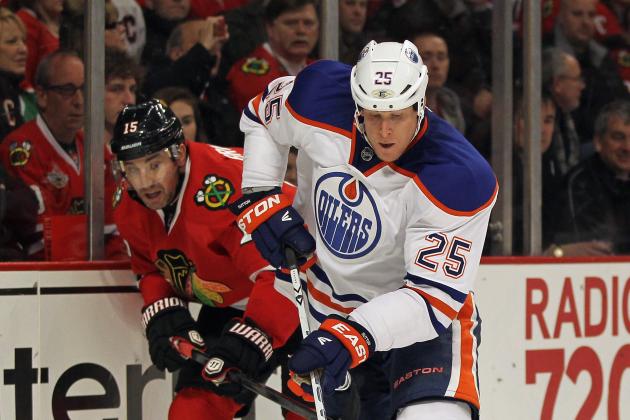 Jonathan Daniel/Getty Images
Edmonton Oiler Andy Sutton outskates Chicago Blackhawk Andrew Brunette.
Along with Andy Sutton, Nikolai Khabibulin could almost just as easily find himself on this list. The former gets the nod over the Bulin Wall because the team lacks another viable backup goalie for Devan Dubnyk (or, let's be honest, a viable substitute for Devan Dubnyk).
In addition, the emergence of Justin Schultz in the American Hockey League (leads all scorers with 15 points in nine games) has helped to render the 37-year-old physical, stay-at-home defenseman obsolete.
With Theo Peckham arguably capable of filling his skates as the team's resident offensively challenged human beat-down machine and management's efforts better focused on trying to resign the younger and more talented likes of Ryan Whitney and Ladislav Smid, Sutton will either be looking for his fifth new team since 2009-10 or retiring altogether.
Richard Wolowicz/Getty Images
Sergei Gonchar of the Ottawa Senators.
Currently playing for the KHL's Metallurg Magnitogorsk, Sergei Gonchar is one Russian (an actual Russian this time) who has seconded Ovechkin's ramblings that his fellow countrymen may decide to stay overseas.
The one difference is Gonchar could likely make good on the threat…not that Ottawa Senators fans would hold it against him.
Of course, the drop-off in Gonchar's play over the past few years was about as easy to predict as the sun rising in the east and setting in the west. However much general manager Bryan Murray wanted to turn back time, he's not God.
Gonchar was 36 when he signed his contract with the Senators, is 38 now and will be 39 by the end of this season. However, he'll still likely be playing in Russia, whether or not the lockout ends in time.
Considering his age and the countless injuries he's suffered, it was too much for Murray to hope that Gonchar would replicate his success with the Pittsburgh Penguins, especially with Ottawa boasting much less offensive firepower.
Now, ironically, with young guns Kyle Turris, Erik Karlsson, Jared Cowen and Mika Zibanejad ready to make a lasting impact with the team, the Sens don't need Gonchar anymore.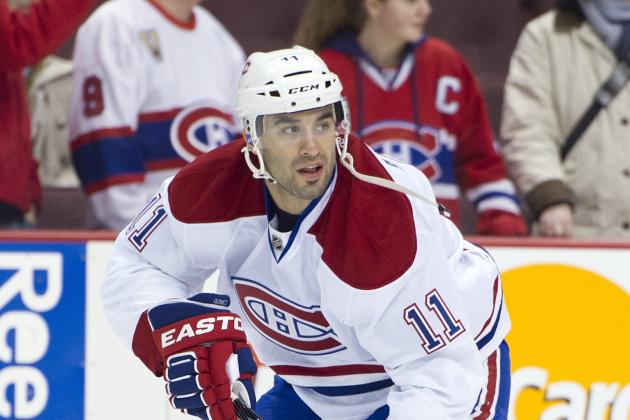 Rich Lam/Getty Images
Scott Gomez of the Montreal Canadiens.
As funny a punch line as Scott Gomez getting cut from the Eastern Coast Hockey League's Alaska Aces (via the Toronto Sun) makes, the full truth is he apparently wasn't planning on playing for the team anyway, which, upon further review, would make a good case for the Habs being able to cut him as well. Well, one would think, anyway.
The real bottom line is this: Gomez, if the past two seasons are any indication, is not fit to play for the Montreal Canadiens, at least not with his current salary cap hit of $7,357,143.
The last time an NHL lockout ended, there was a short period in which teams could buy out players without the hit counting against the salary cap.
If history repeats itself (which it won't in the case of Gomez netting a career-high 84 points in 2005-06), look for the Habs to cut all ties to the former most valuable player of the ECHL.
Worst-case scenario for the Habs? They straight-up cut him and force him to play in the AHL, while still paying his salary. Hopefully, for his sake, he can make the Hamilton Bulldogs.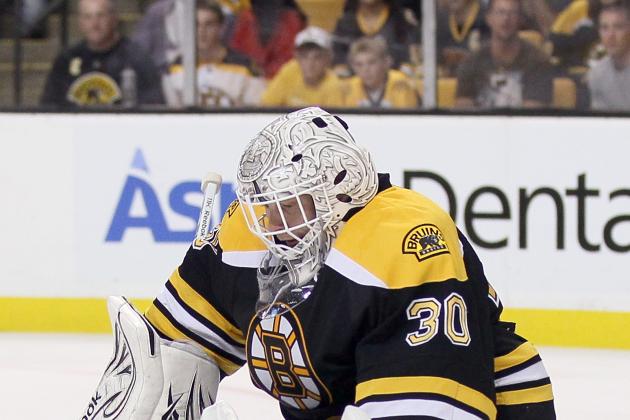 Elsa/Getty Images
Tim Thomas of the Boston Bruins.
Regardless of how long the lockout lasts, Tim Thomas won't be playing NHL hockey until at least next season as per his decision (if it was in fact his decision) to take a year off. While it's safe to say he's played his last game as a Bruin, it's not that much of a stretch to believe he's done for good.
Taking into account the fact that he'll be 39 once his yearlong sabbatical ends, as well as all that transpired in 2011-12, he may just end up going the easy route and retiring.
The NHL will have lost a truly talented goalie, but it's probably for the best, seeing as helmets the size of his head are hard to come by these days.
Maybe that's unfair, but time and again Thomas put his political views and affinity toward social media ahead of the Bruins to the point that it's hard to imagine any team taking a chance on the guy, at least any team in a blue state.
That would leave Florida, Tampa Bay and Columbus as the only potential destinations with teams projected to possibly be in need of a starting goalie by this time next year, and both Ohio and Florida are on the fence.
In any case, playing in Florida is half-hanging them up anyway, and if you were Thomas, faced with having to play in Columbus, wouldn't you retire?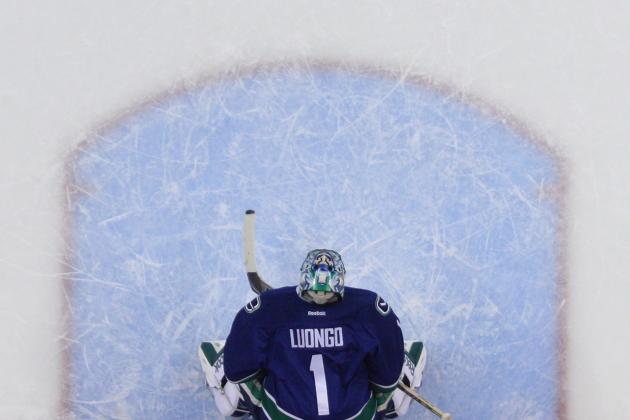 Derek Leung/Getty Images
Roberto Luongo of the Vancouver Canucks.
You know you're unwanted when there are trade rumors abound that you're on your way out of town even though teams aren't allowed to make trades. Such is the situation in which Vancouver Canucks goalie Roberto Luongo finds himself (via the Toronto Star).
If general manager Mike Gillis is unable to find a taker for his services, Luongo could theoretically be bought out once the lockout ends a la Scott Gomez (two entries ago).
It's unfortunate on so many levels. For starters, the Luongo signing was Gillis', and yet it's Luongo who's being treated like the redheaded stepchild. Secondly, Luongo hasn't even been that bad.
In fact, if Cory Schneider hadn't come along and played so well, there's a very good chance we wouldn't even be having this conversation. But he did and we are, and Luongo, one way or another, won't be finishing his current contract as a Canuck.