50 Reasons to Hope There's an NHL Season
Christian Petersen/Getty Images
Well, I don't care what the Bett-man says, I'm still hoping for hockey and an NHL season. The negotiations continue with little to cling to in the way of hope, but the true fans aren't ready to give up just yet.
The latest offer and counteroffer produced discouragement and distress from both sides. The dumbest game of chicken ever played could conceivably ruin the sport at the worst possible time.
The NHL seemed to be on a roll. The playoffs were a success. Everyone was happy.
Then the reality of the business came in to play. The collective bargaining agreement seemed to sneak up on everyone but the fans. Oh yeah, that. You know, that same damned thing that wasted the 1994-95 season.
There is still time, and there is still hope that one or both sides finally see the light. The NHL might have said goodbye to some former fans for the last time, but plenty of us will be back watching the second the puck drops.
So, as the honorary bluebird of optimism, I'll take it upon myself to tell all of you campers to buck up and put your game face on. There's still hockey around in the AHL, KHL, SEL, DEL and even the ECHL. There's still plenty of time to jump on the Elmira Jackals bandwagon until your favorite squad gears up.
I've got at least 50 reasons to hope that the NHL has a season this year, along with some questions that I want answered. Luckily for you, I've decided to share them with you. Feel free to add your own in the comments section. Try to stay classy, and, as always, enjoy now!
Content. Fresh, That Is!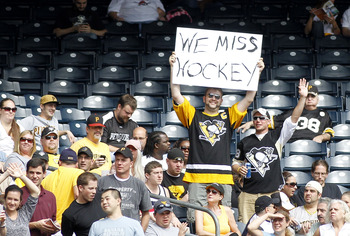 Justin K. Aller/Getty Images
Do you readers think that it's easy to come up with topical, relevant subject matter every week? Well as much as the general public likes to whine about there being nothing new to report, the writers are trying to put out original content as well.
We get it. We like hockey, too. That's why we write about it.
Real. Live. NHL. Hockey.
I think that would take care of both sides of this sometimes contentious relationship.
NBA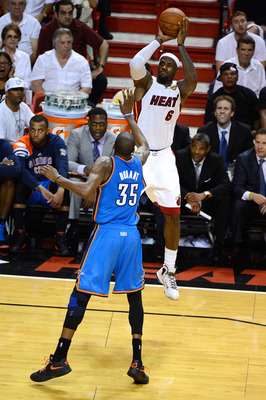 Ronald Martinez/Getty Images
I can't watch the NBA until there is less than two minutes left in the NBA Finals. Sorry, I just can't. Sportscenter puts together a better nightly package of the NBA than anything I would waste two hours watching.
Sorry, King James. I respect the hell out of your other-worldly talent, but I am not a witness.
Crosby vs. Giroux
I think it's safe to say that these two dudes legitimately don't like each other. It's more than a rivalry thing, and Crosby made nothing close to an apology when Claude Giroux claimed the Penguins' captain broke his wrist with a slash.
The best rivalry in hockey now has two of the NHL's biggest stars that play the same position, and they hate each other.
Even if the season is cancelled, couldn't we just try to get them to play against each other in Germany, where Giroux currently dresses for Eisbaren Berlin? A Crosby/Giroux reality show could also be television gold.
The KHL Games Are on During the Price Is Right!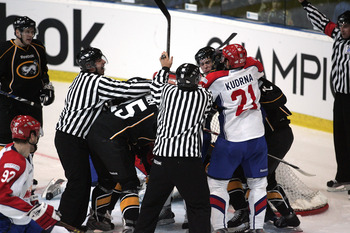 Getty Images/Getty Images
I know that this is a "me" problem, but couldn't ESPN, Fox Sports or NBC do some type of taped delay of the KHL or Euro-League games?
I know that I can watch them live at 8 a.m. on my laptop using a marginally legal web site from Europe, but I also work and have grown-up commitments.
Come on, programming executives! There is a market for hockey fans that has to be more substantial than the replay of the 2008 World Poker Championships.
Back on the Bandwagon in Los Angeles!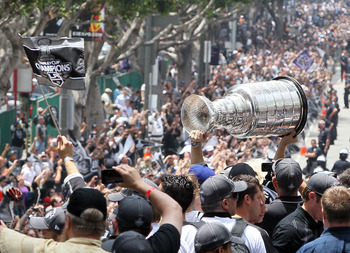 Victor Decolongon/Getty Images
I love this picture because when you look past the most hallowed trophy in all of team sports being held aloft during the Kings' victory parade, you see an ocean of people who are pumped that Wayne Gretzky finally brought the Stanley Cup to L.A.
Possibly overheard as the players were toted through the city: "It's about time. Isn't he, like 60, or something?"
How many seats will be left on the bandwagon if and when the season starts? Will the city of Los Angeles know when the season starts?
Can Byfuglien Lose the Weight?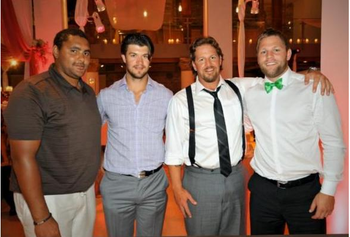 photo: prohockeytalk.nbcsports.com
This picture is from Dave Bolland's wedding in July, which gives "Big Buff(et)" just enough time to do some p90x and shed his winter.....er.....summer insulation. More recently, Byfuglien was featured in Andrew Ladd's Instagram wrangling fish and looked like he had pushed away from the feeding trough.
There aren't a lot of stars in Winnipeg, and the Jets will need their $5-million defenseman on the ice, not on ice.
Environmental/Ecosystem Concerns in Detroit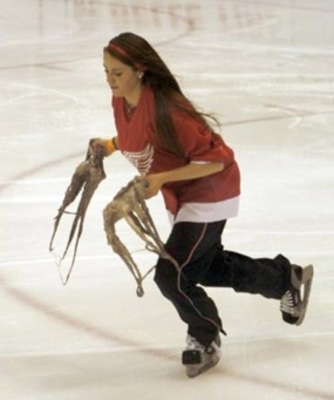 photo: baseballphd.net
The Detroit River could potentially have the balance of its ecosystem thrown off completely with an abundance of octopi taking over as the primary predator.
Without hockey, the cephalopods could wreak havoc on the food chain in Michigan and Canada, causing irreparable damage to the delicate environmental balance.
The octopi could head to dry land once they have plundered the river and could start attacking the citizens of Detroit, crippling the city's booming tourist industry.
We Can Watch Scott Gomez Dominate Again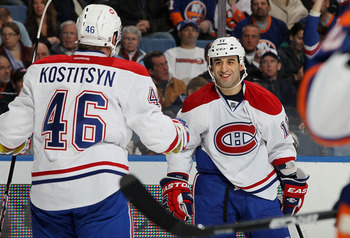 Jim McIsaac/Getty Images
I know it's a tired, played-out joke, but I'm still amazed at the production fall off from Gomez.
He can't possibly be that bad. After a summer of reading how terrible he is, Scott Gomez could actually have a decent year in Montreal. Couldn't he?
Stability in Phoenix
Christian Petersen/Getty Images
Did you know that the Phoenix Coyotes still haven't officially been bought? Did you know that the City Manager of Glendale's name is Horatio Skeete?
I'm guessing that most of you have found the second of those two fun facts more compelling, but as the saying goes, "Greg Jamison, either buy the Coyotes, or get off the pot!"
Edmonton's Young Guns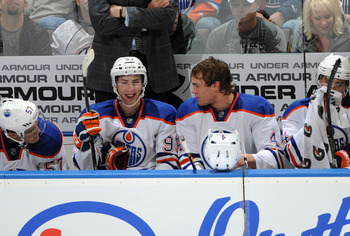 Dale MacMillan/Getty Images
I can't wait to see Edmonton's collection of first-round draft picks play together.
If you happen to live in Oklahoma City, you have that opportunity right now. Hopefully the youngsters will have the chance to work on their chemistry in Edmonton soon. It will also be interesting to see if Justin Schultz can live up to the hype with the Oilers after snubbing the team that drafted him (Anaheim).
Vancouver Goalie Drama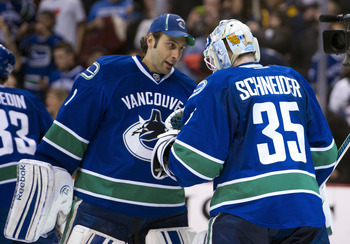 Rich Lam/Getty Images
Can Cory Schneider hold on to his job as the No. 1 guy in Vancouver? With Roberto Luongo waiting in the wings, it will be interesting to see how long Schneider's leash is if he doesn't perform well.
Don't Make Tim Thomas the Smartest Guy in the NHL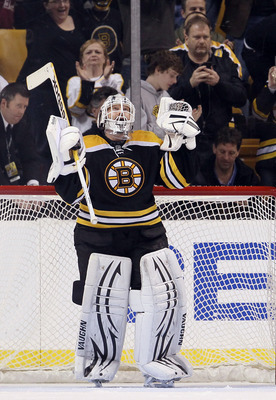 Elsa/Getty Images
When Tim Thomas declared he was going to sit out a year to refocus his life, he was the subject of mockery and disdain from most people. After all, at 38, how much time can a professional athlete take away from his craft and expect to stay at an elite level?
Turns out Thomas outsmarted everyone and is playing as much hockey as anyone else. The longer the lockout goes, the smarter this guy looks.
Waiting for the "Ovechtrick"
So, maybe we'll never see a real Ovech-trick, but Alex Ovechkin looked a lot like the real Alex Ovechkin before his Capitals got bounced from the playoffs last year.
Maybe it was the return of his rival, Sidney Crosby, that inspired the flamboyant Russian winger, but he seemed to have found the gusto that was missing for most of the regular season.
Will the Minnesota Wild Be a Contender?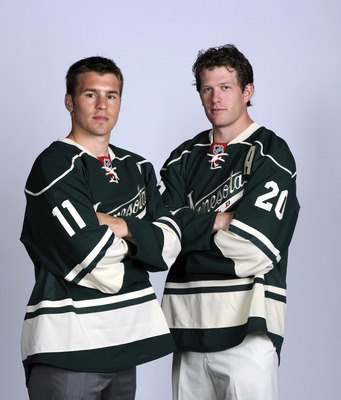 Hannah Foslien/Getty Images
Sure, they took home the two biggest prizes in free agency, but how good will the Minnesota Wild be? They have Dany Heatley, and he's a "bleepin All-Star," but can the Wild become a force in the Western Conference?
How Good Will Rick Nash Be in New York?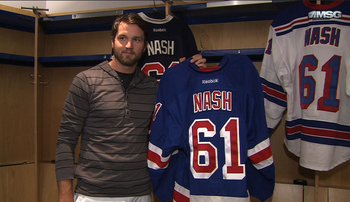 photo: msg.com
With all the drama coming out of Columbus this summer, Rick Nash finally got his wish. No longer the big fish in the little Columbus pond, can Nash be the player that New York needs him to be to reach the next level?
The talent around him is something that he has only seen during All-Star games or Olympic tournaments, so there will be pressure on Nash to have a huge year.
Are the St. Louis Blues This Good?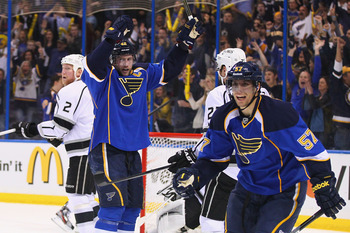 Dilip Vishwanat/Getty Images
Ken Hitchcock and the St. Louis Blues snuck up on a few people last season, winning the NHL Central Division and blitzing the San Jose Sharks in the first round of the Stanley Cup Playoffs. The Blues fell to the eventual Stanley Cup champ Kings in the second round, but will basically return the same team this season.
Hitchcock has had a four-year shelf life in his last two coaching gigs with Columbus and Philadelphia. His success cannot be argued, but he is very demanding of his players. He'll get the most out of them, but can he finally bring a Stanley Cup to St. Louis?
The Winter Classic
Everyone loves the Winter Classic. Well, maybe except college football fans who have lost the right to claim to January 1 as "their" day. This year's matchup features Detroit and Toronto at Michigan's "Big House" in Ann Arbor. With record attendance figures projected, the Winter Classic is becoming bigger than the NHL All-Star Game.
All-Star Game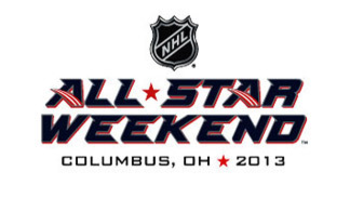 photo: nhl.com
The general consensus is that All-Star games are a colossal waste of time. While that may be true, the skills competition and an entire weekend dedicated to celebrating the game make the experience worthwhile.
The game itself is a glorified pickup contest, but it showcases the talents of players without the burden of clutching, grabbing or neutral-zone traps. About the only players that may not enjoy the weekend are the goalies.
Can Sidney Crosby Stay Healthy?
Whether you love him or hate him, you can't deny that Crosby's health is important to the NHL on a couple different levels. As a polarizing character, Crosby moves the meter of public interest when he plays, and that is a good thing. His ability to keep his head straight, literally, gives the sport a certifiable global superstar.
Believe me, I know there are plenty of other stars in the NHL. But for now, nobody moves the numbers like Sid the Kid.
Buffalo vs. Boston Rivalry

Hey Ryan Miller, how do you really feel?

The Milan Lucic-Ryan Miller collision started a movement in Buffalo to toughen the Sabres up this offseason, and Buffalo management complied.
Assembling a roster that will look to match up with any roster in the NHL, at least from a toughness standpoint, was the goal—with a circle around the first matchup with the hated Bruins.
Subban-Ation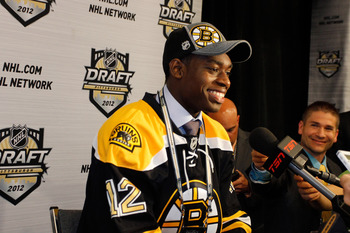 Justin K. Aller/Getty Images
There is perhaps no more fabled rivalry in NHL history than the one between the Boston Bruins and the Montreal Canadiens. The top defenseman on the Canadiens is currently P.K. Subban, who didn't win many fans in Boston with his open-ice wrecking of Brad Marchand.
It was probably a big surprise to him to hear his brother Malcolm's name called this summer by the hated Bruins. The younger Subban is a goalie who might be a couple years away from the NHL, but how great will it be to see two brothers go head-to-head in one of the greatest rivalries in sports.
Is There Magic Left in the Old Sticks in Dallas?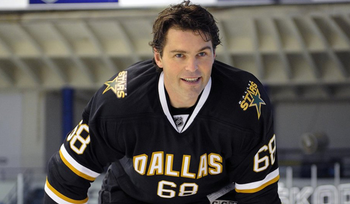 photo: thescore.tumblr.com
The Dallas Stars are looking to summon the power vested in Jaromir Jagr's old mullet, as they offered him a big pile of cabbage to come play hockey in Texas. They did the same with Ray Whitney, luring him from Phoenix with another load of cash.
The two active seniors immediately became the two highest-paid forwards on a Dallas team that hasn't played a playoff game in four years. It will be interesting to see if this formula can work for the Stars.
NHL Realignment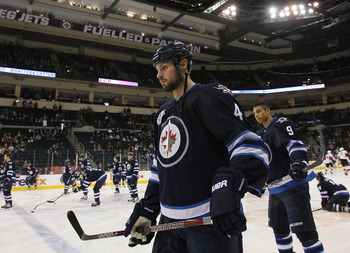 Marianne Helm/Getty Images
There is nothing as ridiculous as a team from Winnipeg playing in the "Southeast Division" of a professional sport. The Jets' frequent flyer miles are the lead topic in the discussion of an NHL realignment that could see an interesting shift in conference structures and the renewal of some historical rivalries.
Will Paul Bissonnette Outscore Me?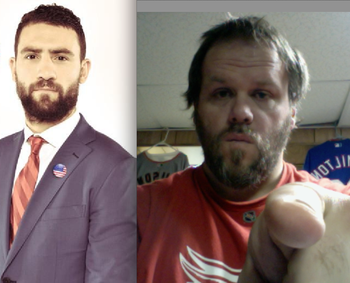 He nipped me in the scoring race last season by only one goal, but I think this is my year. I probably won't score an NHL goal this season, then again, Bissonnette probably won't either. #Dontkickmya$$Biz
Tampa Bay Architecture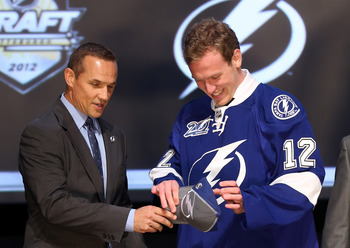 Bruce Bennett/Getty Images
The Tampa Bay Lightning enter the third, and potentially most critical, year of Steve Yzerman's leadership as general manager. While Stevie Y has had huge success at the international level, he is pulling talent from an embarrassment of riches for Canadian hockey.
His maneuvers to strengthen the Lightning hinge on the goalie position and Anders Lindback. While the Lightning thrived under Yzerman and Guy Boucher in Year One, they floundered last year. Tampa has enough talent on paper to make Yzerman look like a genius, but if there is no chemistry on the roster it could be a long year.
Who Will Lead Detroit?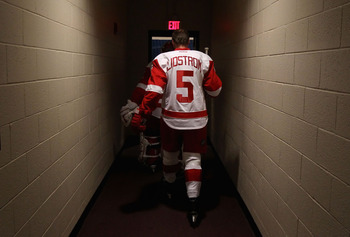 Christian Petersen/Getty Images
In Detroit, playoffs are the norm, not the exception. The same is the case with veteran leadership.
However, the Red Wings will have a number of questions headed into next season regarding both of those staples. The retirement of captain Nick Lidstrom leaves a hole in the defense and in the locker room. How the Red Wings adjust and attempt to reload will be interesting to watch.
Did Calgary Fill Its Needs in Free Agency?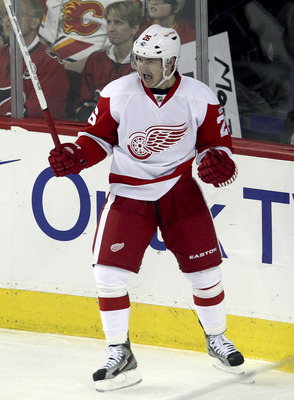 Mike Ridewood/Getty Images
The Calgary Flames invested $9 million of salary-cap space in Jiri Hudler and Dennis Wideman, as they attempt to return to the playoffs for the first time since 2009.
While everyone wants to see Jarome Iginla win a Stanley Cup in Calgary, will GM Jay Feaster be inclined to unload some of his expensive talent if the Flames aren't contending in February?
Will This Be the Year That Toronto Can Put It Together?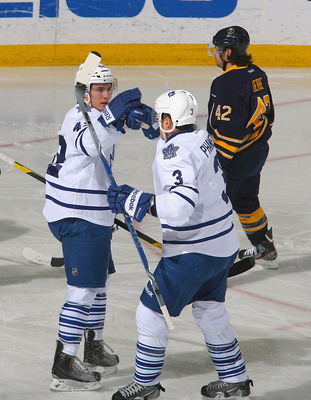 Rick Stewart/Getty Images
The long-suffering Toronto faithful deserve better from their beloved Leafs. For a team that is so rich, both fiscally and in tradition, the Maple Leafs should have a better product on the ice.
The playoffs should not be a lofty goal for such a franchise. Last season looked promising before the annual spring flame-out. If the Leafs can stay healthy all year, they should be able to book their tickets to the second season.
How Much Does Martin Brodeur Have Left in the Tank?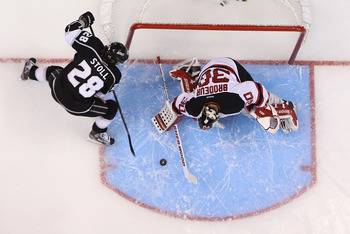 Christian Petersen/Getty Images
Just when it looked like Brodeur was going to be skating off to pasture last year, he put together an impressive playoff run that reminded us why the 40-year-old netminder might be the best ever.
While longevity has helped Brodeur pad his Hall of Fame stats, he is still in the discussion of the best to ever play his position.
History is typically unkind to goaltenders who are over 40, and Brodeur will have his work cut out for him. One thing that seems to motivate him, though, is when people count him out. There should be enough of that to keep him motivated all year.
Is Erik Karlsson for Real?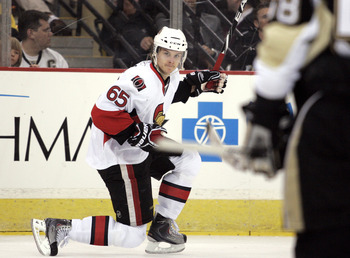 Justin K. Aller/Getty Images
Regardless of whether you think he deserved the Norris Trophy or not, Erik Karlsson's offensive numbers were staggering. I'll reserve comparisons until I've seen him do it for more than one year, but it's hard not to be excited if you're an Ottawa fan.
Can Montreal Be Good Again?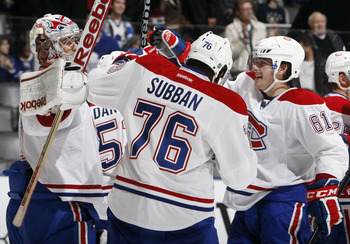 Abelimages/Getty Images
Like any historically successful franchise, there are as many people who relish their failures as there are people who wish for their return to greatness. While I don't need the Canadiens to go on another Stanley Cup binge, hockey is better when they are relevant to either love or hate.
Can Bruce Boudreau Fire Up the Ducks?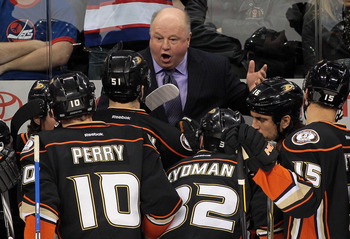 Marianne Helm/Getty Images
Bruce Boudreau wasn't unemployed for very long last year. The Anaheim Ducks came calling after a wretched start saw them looking up at the rest of the Western Conference. Anaheim fell a bit short of the playoffs, but Boudreau had them playing much better hockey in the latter half of the season.
From a talent standpoint, Anaheim is top heavy with elite players. However, the Ducks lack depth, not unlike Boudreau's last gig. With the success, at least in the regular season, that Boudreau had in Washington with an up-tempo offense, the Ducks should be a fun watch this year.
Will Tuukka Rask Make Boston Forget Timmy Thomas?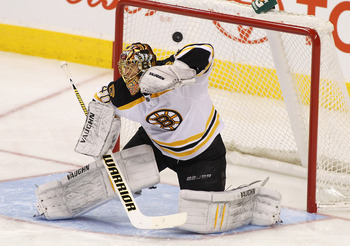 Marianne Helm/Getty Images
In Boston, Bruin fans are confident that they have found Tim Thomas' replacement in their favorite Finn, Tuukka Rask. Rask filled in for a season when Thomas went down with injury and played very well. The expectations of a full season as "the man" in Boston could be the big break Rask needed, or could expose him as a one-hit wonder.
Do you think Toronto wishes they could call a "do over" on the 2005 Andrew Raycroft-Rask trade?
Can Nashville Keep Shea Weber?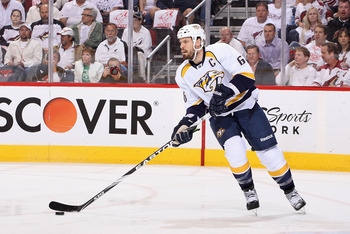 Christian Petersen/Getty Images
Sure, the Predators matched the cartoonishly big offer sheet that Weber signed with the Philadelphia Flyers, but one might wonder how both sides really feel about one another. Weber has already been paid $13 million of the $14 million he was scheduled to earn this season, courtesy of his signing bonus.
If the notoriously thrifty Predators suffer from the loss of Weber's tag-team partner, Ryan Suter, they might be inclined to dump salary in the form of their biggest and most cost-ineffective negotiating chip.
Carolina Staal Salad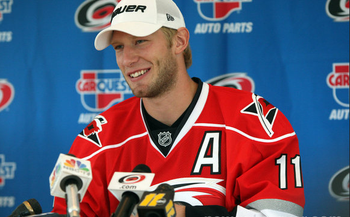 photo: newsobserver.com
Jim Rutherford of the Carolina Hurricanes showed his commitment to improving his club by trading for Pittsburgh center Jordan Staal.
While there is no NHL rule in place limiting the number of Staals per roster, one is left to wonder what the Hurricanes could put together as a package to tempt Glen Sather of the New York Rangers to trade Marc Staal to the Canes.
Will the Columbus Blue Jackets Be Better or Worse Without Rick Nash?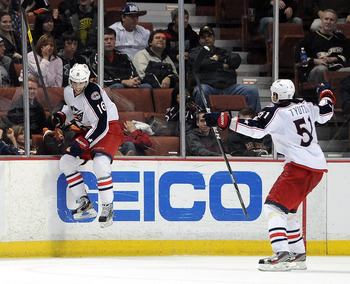 Harry How/Getty Images
On the surface, the best player in the trade left town and went to New York. That being said, the Rangers gave Columbus some pretty good pieces to its roster puzzle. With low expectations and no drama surrounding the team, the Blue Jackets can get to the business of playing hockey.
I'm not saying they are headed to the Stanley Cup Finals or even the playoffs, but I think they'll have a better team this year than last.
Was Florida's Success Real or Just a One-Hit Wonder?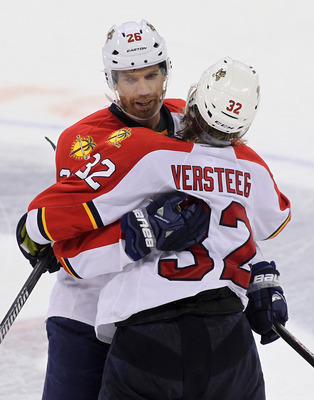 Marianne Helm/Getty Images
The Florida Panthers certainly benefited from some strife among their Southeast Division rivals on their way to the playoffs and division crown. Though the eventual Stanley Cup finalist New Jersey Devils took them out in seven games, the spunky Panthers gave some hope to both of the south beach hockey fans.
Sorry, Florida, I know there are literally hundreds of Panther fans out there.
Is Claude Giroux for Real?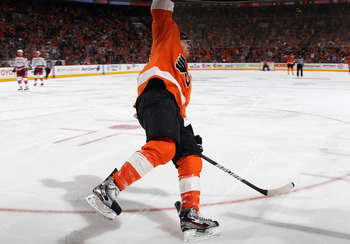 Bruce Bennett/Getty Images
After taking the league by storm last season, Claude Giroux submitted his application for NHL superstardom. While one season does not a superstar make, Giroux's season-long battle with Pittsburgh's Evgeni Malkin for the scoring race will hopefully be a preview of what we can expect for many years to come.
Will There Be a Power Struggle in Pittsburgh?
Paul Bereswill/Getty Images
If you are a Pittsburgh Penguins fan, there is much to rejoice for. You have two of the top players in the world on your roster. In fact, the Penguins roster is littered with stars and prospects that should keep them relevant in the Stanley Cup discussion for years.
However, as humble as hockey players may appear, there is still some ego involved. There doesn't seem to be any question about Crosby being the captain in Pittsburgh, but when you have two great players you will inevitably have two egos to deal with.
Malkin took home the lion's share of individual hardware last season as the best player in the league, something that a healthy Crosby also contends for.
Optimists will say that there is no problem here, and the two will exist harmoniously forever. Realists will say that there is a shelf life for two megastars on one roster and always will be.
Time Is Running out in San Jose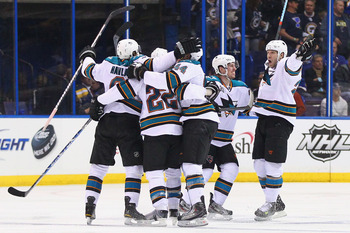 Dilip Vishwanat/Getty Images
With respect to the Vancouver Canucks, there is no franchise that has done so much in the regular season and so little in the postseason as the San Jose Sharks. Every year the Sharks boast one of the most complete rosters, yet every season they seem to dip out of the playoffs all too early.
The Sharks have made it to the Western Conference Finals two of the last three years and have won one game out of nine. The core of the roster is at or over the age of 30, so San Jose needs to get it done, and soon.
How Many Goals Can Stamkos Get?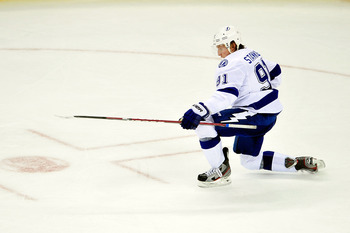 Grant Halverson/Getty Images
With 60 goals last year on a bad Tampa Bay team, it blows my mind what Steven Stamkos could accomplish on a team playing with collective purpose. Accounting for a large percentage of your team's offense typically will not land you in many postseason games.
I don't expect Stamkos to enter the Gretzky and Lemieux club of 80-plus goals, but 76 tallies, previously reached by Teemu Selanne, Alex Mogilny and Phil Esposito, might be attainable.
Colorado Ready to Rock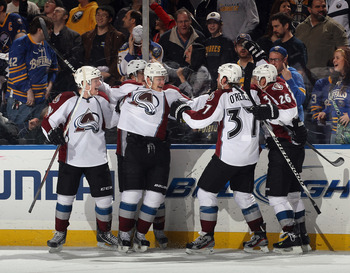 Bruce Bennett/Getty Images
Colorado Avalanche fans are probably as eager as any fanbase for the season to get under way. The Avalanche have a roster full of young talent that could allow them to make some noise in the Western Conference.
Matt Duchene, Paul Stastny, Erik Johnson, Ryan O'Reilly and Gabriel Landeskog are the core of the team, and all are 26 years old and under. The future is a mile high in Denver for the Avalanche. (See what I did there?)
Chicago Return to Form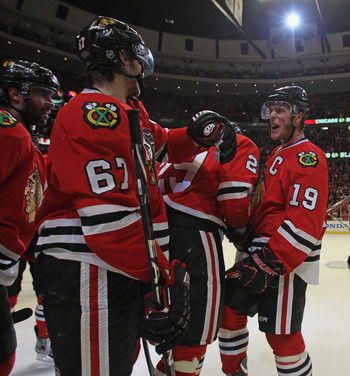 Jonathan Daniel/Getty Images
The Chicago Blackhawks disappeared from the postseason with a whimper last May.
They finished with over 100 regular-season points again but were bounced by the Phoenix Coyotes in the first round of the playoffs in six games, with a 4-0 home loss in Game 6.
Five of the six games went to overtime, but Mike Smith of Phoenix played out of his mind as the Hawks outshot Phoenix in all six games.
Stars like Marian Hossa, Patrick Kane, Duncan Keith, Patrick Sharp and Jonathan Toews will be counted on to bring the Blackhawks back to prominence. This could also be a make or break year for Corey Crawford, as the Chicago netminder struggled with inconsistency last season.
Time Running out in Vancouver, Too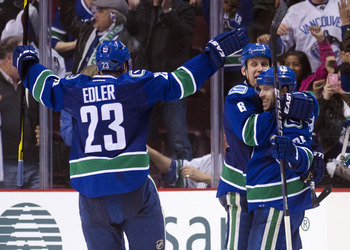 Rich Lam/Getty Images
While time may be running out on the San Jose roster and possibly the coaching staff, the same can be said of the Vancouver Canucks.
After a Game 7 home loss to Boston in the 2011 Stanley Cup Final, the Canucks followed that up with a Presidents Trophy win last year.
Unfortunately, the Canucks ran into the Jonathan Quick show in the first round and were sent home early, as the Kings marched through to the Stanley Cup.
Coach Alain Vigneault, whether unfairly or not, fell under fire for the Canucks inability to get past the Kings. As the bench boss since 2006-07, Vigneault will feel pressure to get the Canucks on track for a deeper postseason run with a roster that is not getting any younger.
How Will Adam Oates Do in Washington?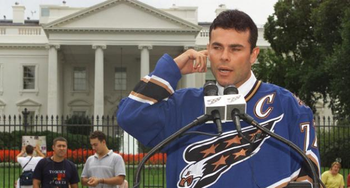 photo: onfrozenblog.com
When last we saw the Washington Capitals, unheralded Braden Holtby was going round for round with Vezina Trophy winner Henrik Lundqvist.
Exit Dale Hunter shortly after the Capitals elimination courtesy of Lundqvist's New York Rangers.
Enter Adam Oates for his maiden voyage on the head-coaching roller coaster.
How will the Capitals respond to Oates? Can we expect Braden Holtby to play like he did in last year's playoffs?
Can the Rangers Get over the Hump?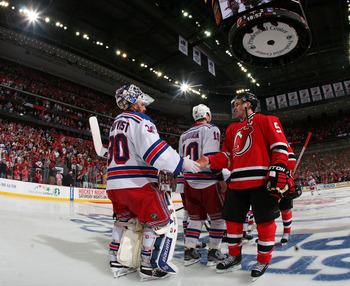 Bruce Bennett/Getty Images
The New York Rangers seemed like they were built for a playoff run last year and a shot at the Stanley Cup. Unfortunately, the first two rounds of the playoffs lasted about six games longer than they wanted and the cross-river rival New Jersey Devils took them out in six games.
The only knock on Henrik Lundqvist could be his ability to elevate his play in the biggest NHL games. He can hardly be blamed for the loss to the Devils, but the only noticeable trophy missing from the King's mantle is the Stanley Cup.
Art Ross Competition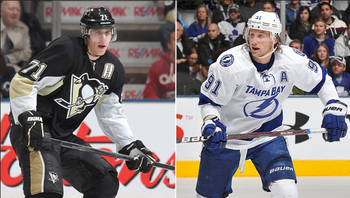 photo: lightning.nhl.com
Last season's scoring title was a three-way dance with Evgeni Malkin ultimately pulling away from Steven Stamkos and Claude Giroux for the Art Ross Trophy. Despite missing seven games, Malkin still managed to win the crown by 12 points and was the only player over 100 points.
With the Philadelphia and Pittsburgh rivalry reaching a fever pitch, the matchups between Malkin and Giroux will take on a whole new meaning. If someone besides Stamkos can actually put the puck in the net in Tampa, look for Stamkos to top the century mark too.
Can the Islanders Really Be Good?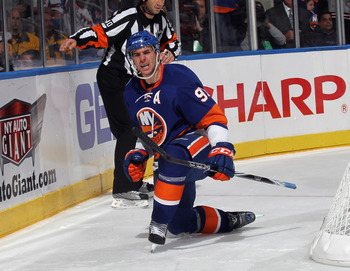 Bruce Bennett/Getty Images
They might be building something pretty special in Nassau if you haven't been paying attention. John Tavares could very well be the best hockey player in New York that isn't wearing goalie pads. The Isles are very quietly, and very slowly, building a nice little team around Tavares.
They have youth and the belief that they can beat any team on any given night. A little consistency and a steady hand in net from veteran Evgeni Nabokov could have the Islanders sniffing the playoffs in the spring.
Who Is Next to Get Kronwalled?

Oh Dusty, keep your head up......

As a Pennsylvania native, I enjoy watching the Flyers play, but the Red Wings have always been my team. Last March, Jakub Voracek skated out of his defensive zone with his head down and caught the business end of a Niklas Kronwall shoulder.
Poor Voracek admitted after the game that he had gotten caught with his head down and became part of the Kronwall lore. With a relatively thin and inexperienced Red Wing blueline, chances are that he won't be stepping up to deliver too many hits.
However, just when you least expect it, someone taking a lead pass out of the zone will eventually get Kronwalled!
Can the Kings Defend Their Crown?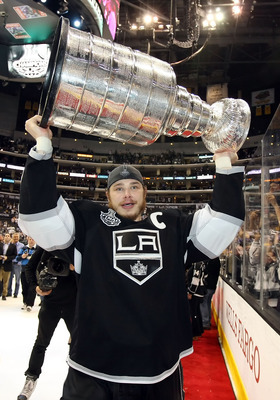 Only Toew's beard was worse.
Christian Petersen/Getty Images
One of the best things about the start of the new season is the Stanley Cup champions defending their crown seemingly 82 nights a year. Everyone wants a shot at the champ and uses them as a measuring stick. When you get the best effort from your opponent every night, there are literally no "off" nights.
The Los Angeles Kings surprised a few people last season. Don't expect that to happen this year.
Keep Reading