NHL Trade Speculation: 1 Player Each Team Could Trade Before Opening Day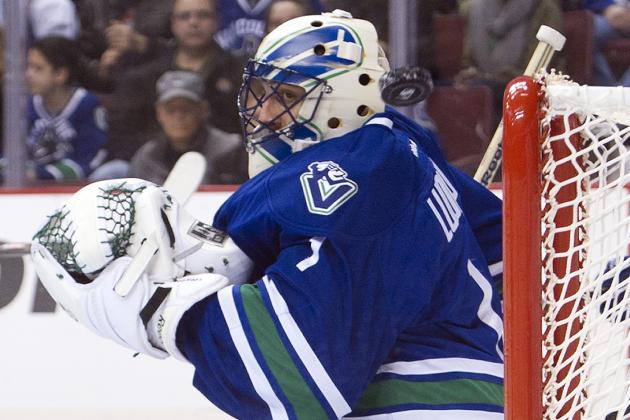 Rich Lam/Getty Images

Although the NHL is currently locked out, teams are likely still looking at ways to improve their rosters. There has been little chatter in regards to potential transactions, but who could each team potentially trade before opening day?
With word that the salary cap ceiling could be as low as $59.3 million for the 2012-13 season, teams would have to dump some salary in the future.
There haven't been many rumors with the lockout in effect, so here is a speculative list of players who, in theory, could be traded before opening day if the deal was right.
This will include teams freeing up cap space, capitalizing on value for impending free agents and other moves that would benefit their team.
Begin Slideshow

»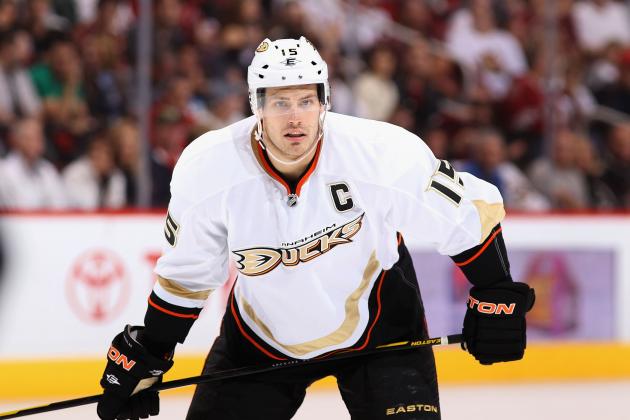 Christian Petersen/Getty Images

Ryan Getzlaf is a UFA after the 2012-13 season, and on the open market, he could stand to make a lot of money. In a lower salary cap world, the Anaheim Ducks would be hard-pressed to retain Getzlaf and Corey Perry.
Trading Getzlaf for assets before the season would free up some money, and it would give Anaheim some building blocks for the future.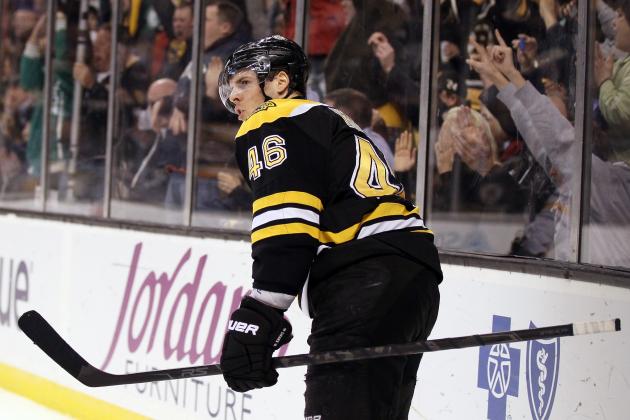 Elsa/Getty Images

David Krejci was the only member of the team whose name was linked to trade rumors this summer. If anyone from Boston is going to be traded before the season starts, Krejci is the only logical choice.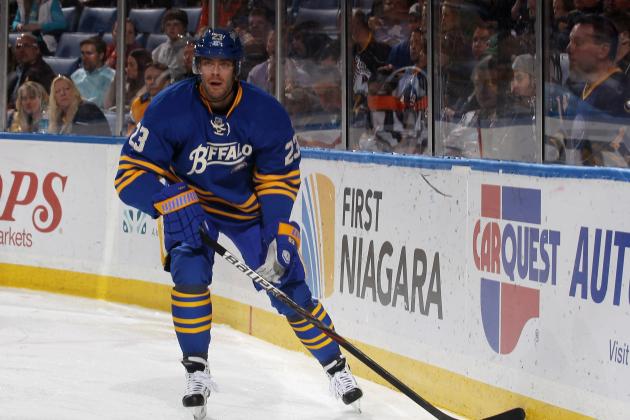 Bruce Bennett/Getty Images

Ville Leino has a pretty horrendous contract when you compare dollars to points of offensive production.
He stands the best chance of being traded, as it appears the Sabres are trying to reshape their lineup around prospects like Joel Armia and Mikhail Grigorenko in the coming seasons.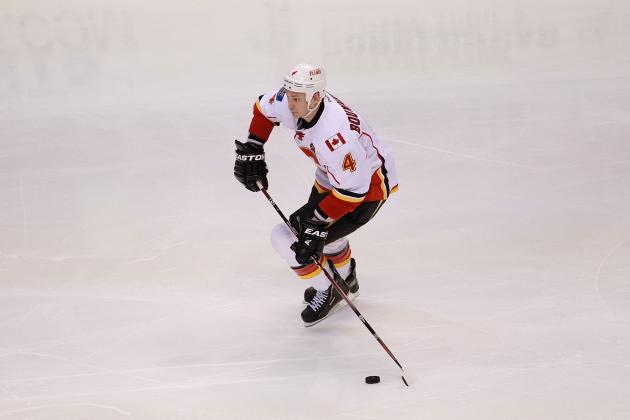 Ronald Martinez/Getty Images

It was reported in early August by Brendan Savage of Mlive.com that Calgary Flames defender Jay Bouwmeester drew some interest from the Detroit Red Wings.
Bouwmeester has a gaudy contract, and his production has been sub-par during the past few seasons.
When the Flames added offensive defenseman Dennis Wideman this summer, it is safe to say that it was a sign that Bouwmeester was now expendable.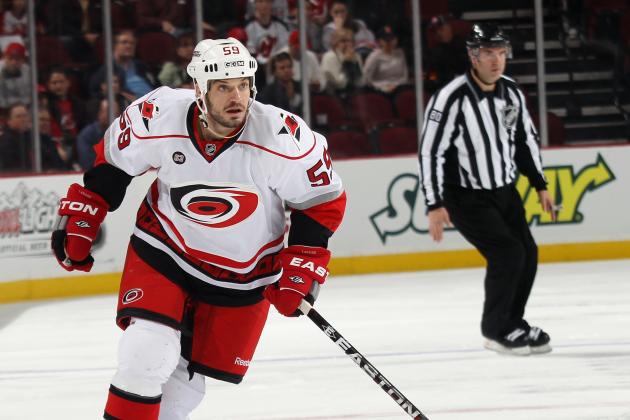 Bruce Bennett/Getty Images

Chad Larose is a free agent after the 2012-13 season, and it appears he may not have a place in the Hurricanes' top six moving forward.
With Alex Semin, Tuomo Ruutu, Jussi Jokinen, the Staal brothers, Jeremy Welsh and Jiri Tlusty on the team, Larose would likely prefer playing for a team where he can have second-line minutes.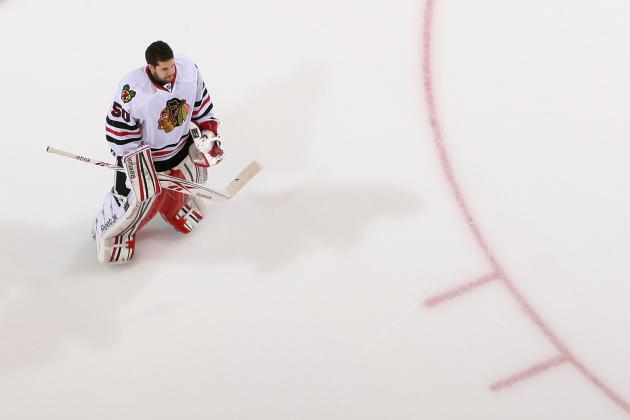 Christian Petersen/Getty Images

Corey Crawford disappointed the Chicago Blackhawks during the playoffs last season, and the team even considered signing Martin Brodeur during the offseason.
The only thing stopping the 'Hawks from returning to top playoff form is a reliable netminder, so I wouldn't be surprised if they made a trade for a goalie that sent Crawford back the other way.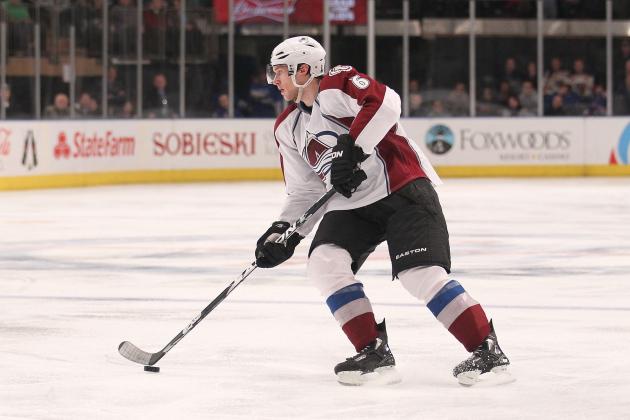 Nick Laham/Getty Images

The Colorado Avalanche would love to add a top-name defender to their ranks, but it won't come cheap. Erik Johnson was a No.1 overall pick, but he hasn't lived up to his potential yet.
It wouldn't be surprising if Johnson was packed in a trade sending a quality defenseman back to Colorado.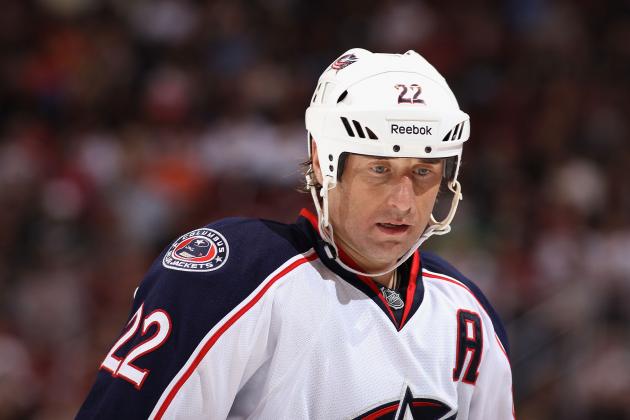 Christian Petersen/Getty Images

Vinny Prospal is not in the future plans of the Columbus Blue Jackets, and he still has limited value as a veteran secondary scorer. Prospal is the type of player you add to your team if you want to win the Stanley Cup.
Despite his age, Prospal can still be an effective bottom-six forward who can kill penalties and contribute on the power play.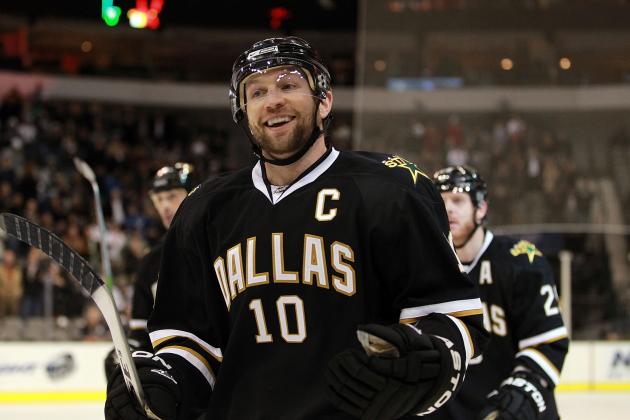 Ronald Martinez/Getty Images

Brenden Morrow's name was linked to trade rumors during the 2011-12 season, and with one year left on his deal, the prospect of Morrow being dealt is more likely than you think.
He is a veteran scoring winger, a natural leader and a hard worker. Teams looking for that extra piece to complete the Stanley Cup formula would be interested in Morrow, and the Stars could get a decent return for their aging captain.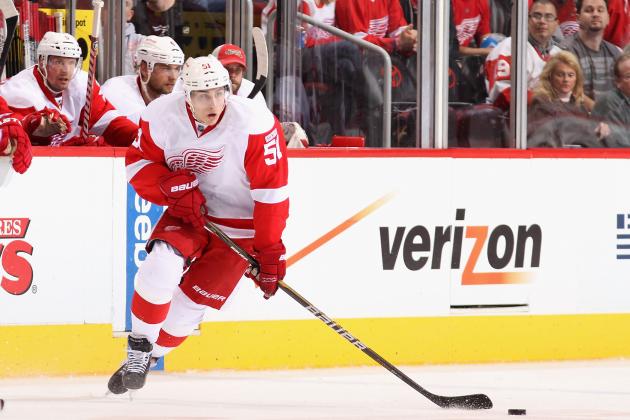 Christian Petersen/Getty Images

The Detroit Red Wings would love to retain Valterri Filppula, but on the open market, he could make a solid pay day. The Wings' talented forward could be replaced by a number of prospects within the coming years, and Filppula is valuable enough to snag a top-four defender.
Adding defense would strengthen the Wings for the long-term, so trading Filppula would actually make some sense.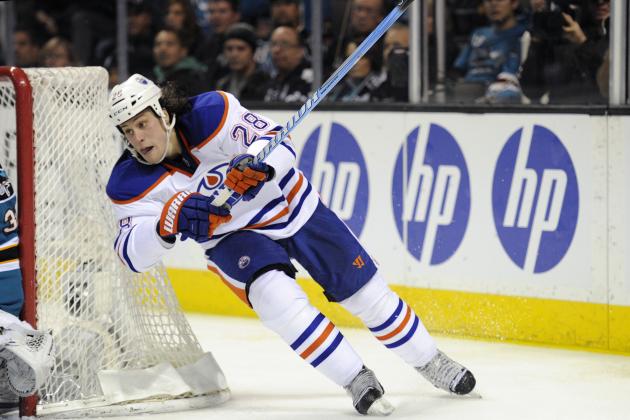 Thearon W. Henderson/Getty Images

Ryan Jones is a free agent after the 2012-13 season, and with Edmonton's top nine locked up for the foreseeable future, the 28-year-old winger would be the most likely candidate to be traded.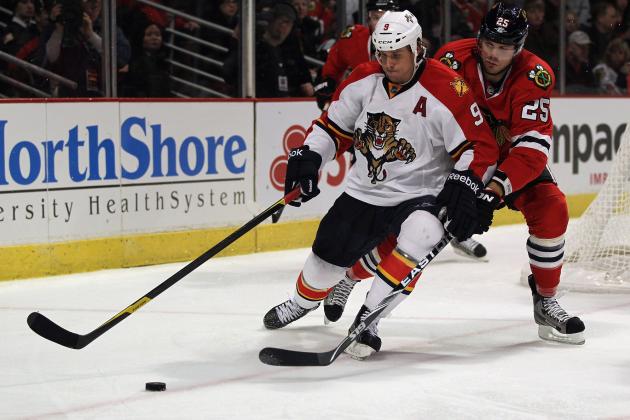 Jonathan Daniel/Getty Images

Stephen Weiss's time in Florida is slated to end after the 2012-13 season, as the center is a free agent.
Jonathan Huberdeau and Nick Bjugstad are arguably the future No. 1 and No. 2 centers of future Florida Panthers, so selling high on Weiss now would be a strategic move that helps build for the future.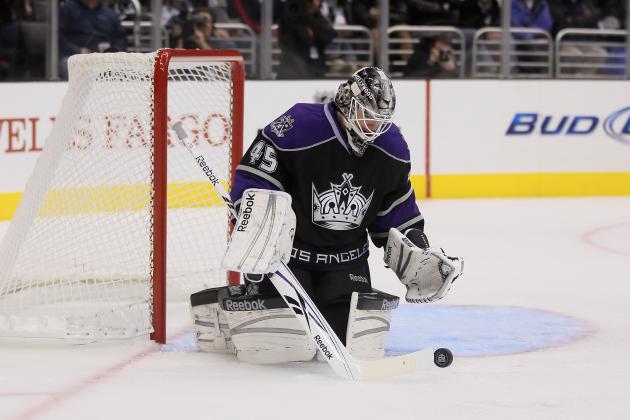 Jeff Gross/Getty Images

Jonathan Bernier requested a trade during the summer after his fate was sealed in Los Angeles (h/t CBS Sports).
When Jonathan Quick was signed to a 10-year-deal, it signaled the end of Bernier's potential as a starter in L.A.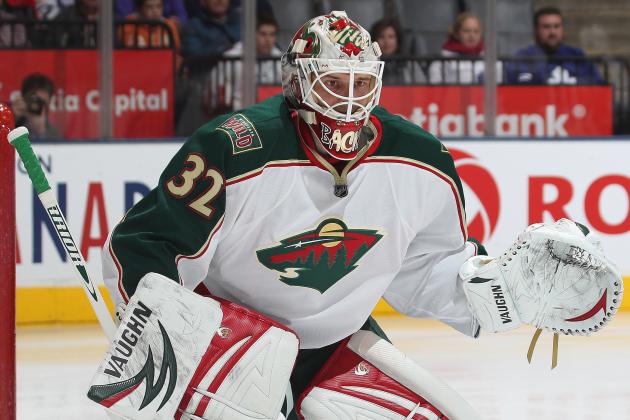 Claus Andersen/Getty Images

Niklas Backstrom is an overpaid goaltender who has not proved to be worth $6.0 million a season. He is a free agent after this season, so don't be surprised if the Minnesota Wild moved him after the lockout.
There is no longer a need for Backstrom because Minnesota will have capable netminders in Matt Hackett and Josh Harding,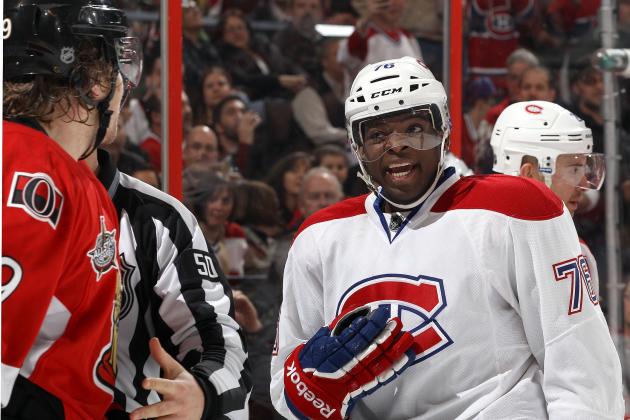 Jana Chytilova/Freestyle Photo/Getty Images

Under a new CBA, RFAs could be more valuable than ever, and although Montreal likely wouldn't want to trade Subban, he could fetch a hefty return.
Trading Subban while he is still an RFA would allow the new team to negotiate a contract, and Montreal would bolster its roster with a few players.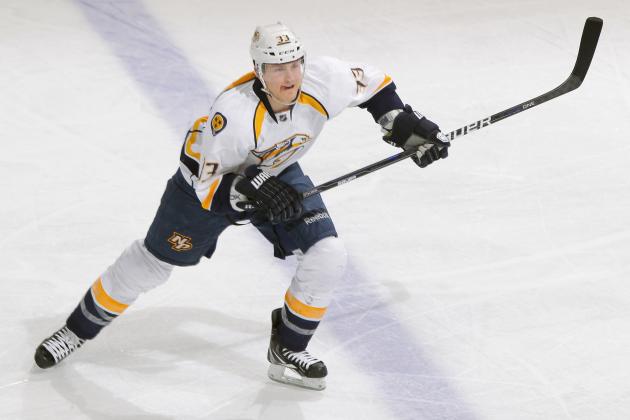 Doug Pensinger/Getty Images

Colin Wilson is a young center for the Nashville Predators who has a lot of upside. He is an ideal second-line center, and a deal with Wilson as the center piece could draw a nice return for a Nashville Predator team lacking offense.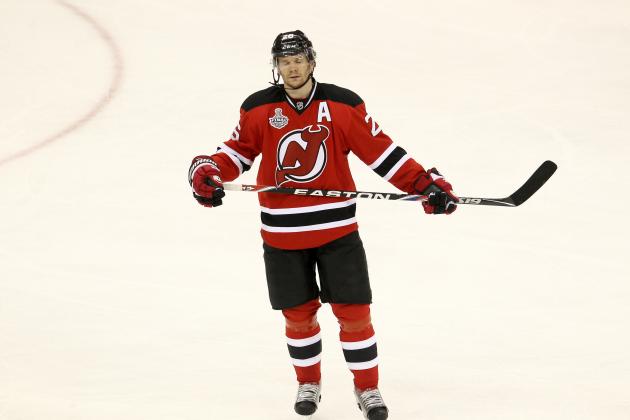 Jim McIsaac/Getty Images

Patrik Elias is a player who can still be an effective scoring winger. Ideally, he would play on a team's second line and in special teams situations
With his contract up after the season and his future in New Jersey unclear, moving a talented player like Elias for a bevy of assets would make a ton of sense for the Devils.
Chris Chambers/Getty Images

Kyle Okposo is a young forward with upside, and he could fetch a nice return for the New York Islanders.
The Isles will have a solid group of prospects joining the roster soon, so moving a young forward with a manageable contract could benefit the team long-term.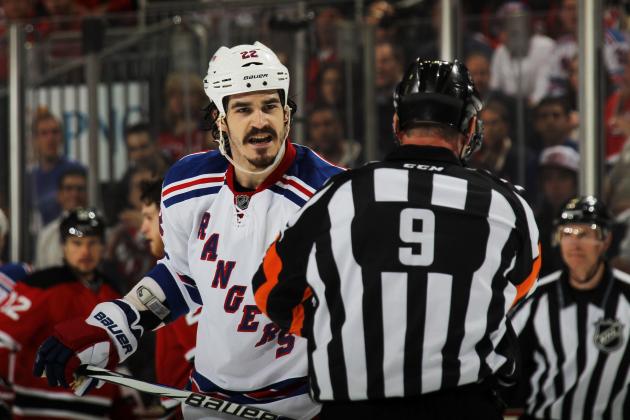 Bruce Bennett/Getty Images

The New York Rangers roster is pretty solid for the 2012-13 season, but Brian Boyle would be a player of value they could trade. He is a solid bottom-six forward, he will kill penalties and the Rangers have a lot of players and prospects who could replace him in the bottom six.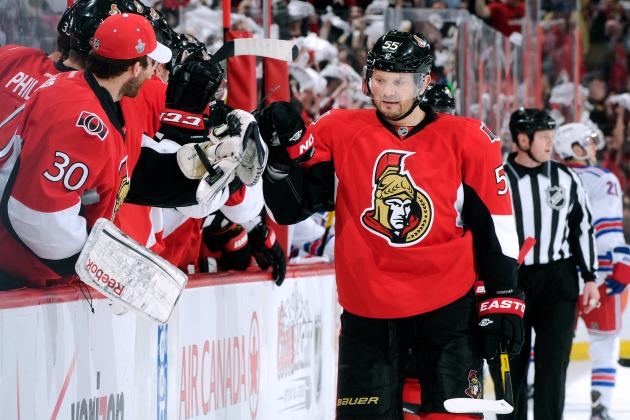 Richard Wolowicz/Getty Images

Sergei Gonchar is an aging defender who will be a free agent after this season. He is still a defenseman who can contribute on the power play, but Ottawa is looking to get younger during the next few seasons.
Moving Gonchar to a top-end contender could be a move the Sens consider this offseason.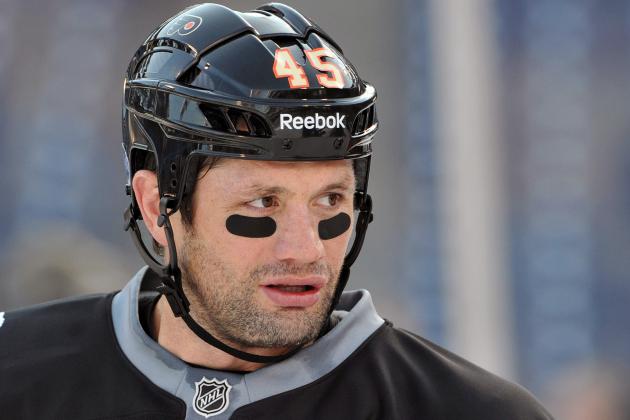 Christopher Pasatieri/Getty Images

The Philadelphia Flyers currently have a number of tough guys they can place in the lineup, so Jody Shelley is a bit expendable. He no longer serves a vital role because scorers like Brayden Schenn and Wayne Simmonds have shown that they will get physical when necessary.
The team also has Zac Rinaldo and Tom Sestito in the fold, so moving Shelley would be a logical move.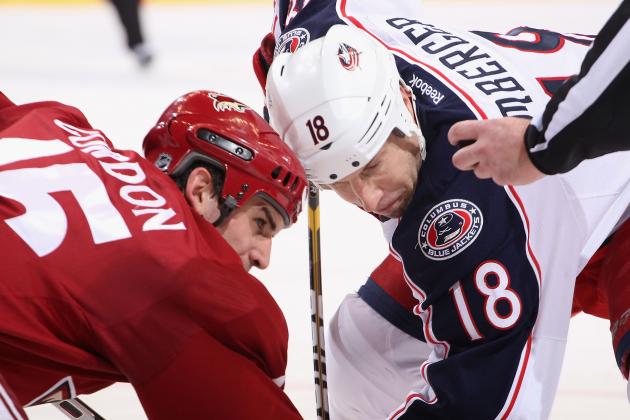 Christian Petersen/Getty Images

The 2011-12 NHL playoffs really displayed the importance of having a key faceoff ace. Boyd Gorton is a top faceoff man who could draw a nice return from elite playoff teams that lack depth and a skilled draw man.
The Phoenix Coyotes are a team that is going to undergo a transformation in the coming years, so moving Gordon won't hurt the team long-term.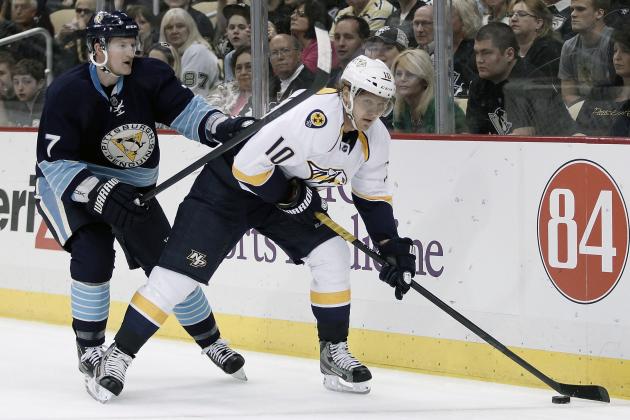 Jared Wickerham/Getty Images

Paul Martin was linked to trade rumors throughout the summer, so it wouldn't be surprising if he was moved before the season started. He is an aging defender with a fat contract, so cutting his salary would be optimal for Ray Shero and the Penguins.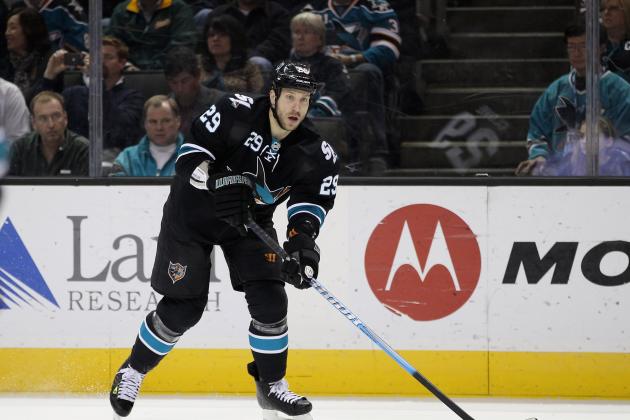 Ezra Shaw/Getty Images

Ryane Clowe is set to hit the free-agent market this summer, and he is coming off a down 2011-12 season. When he is on his game, Clowe is a rugged scoring winger, and he could draw a lot of interest teams seeking a physical scoring forward.
The Sharks are currently stocked with a bevy of scoring forwards, so parting with Clowe would not be the worst thing in the world.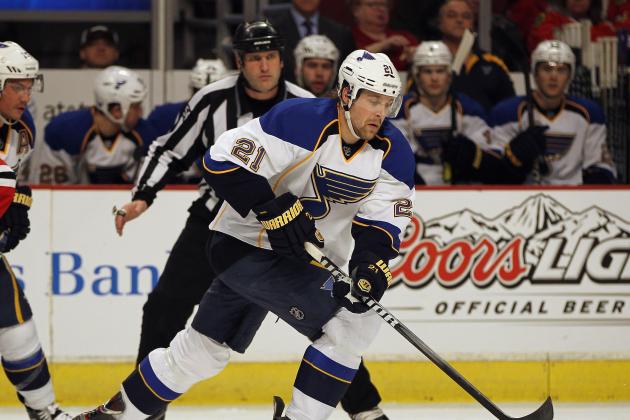 Jonathan Daniel/Getty Images

Patrik Berglund is an RFA after the end of the upcoming season, but the St.Louis roster is tough to crack going forward.
With Jaden Schwartz and Vladimir Tarasenko slated to make their debuts, Berglund could find himself as the odd man out going forward.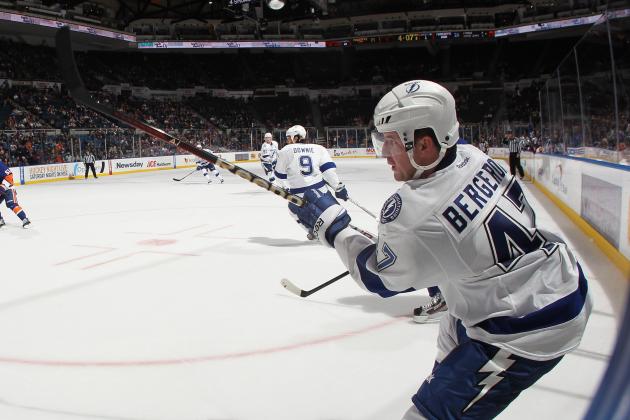 Bruce Bennett/Getty Images

Marc-Andre Bergeron is a talented puck-moving defenseman who could draw some interest after the lockout ends
He has a good contract, he can quarterback a second power-play unit and his free-agent status after this season would make the trade a low risk for all parties involved.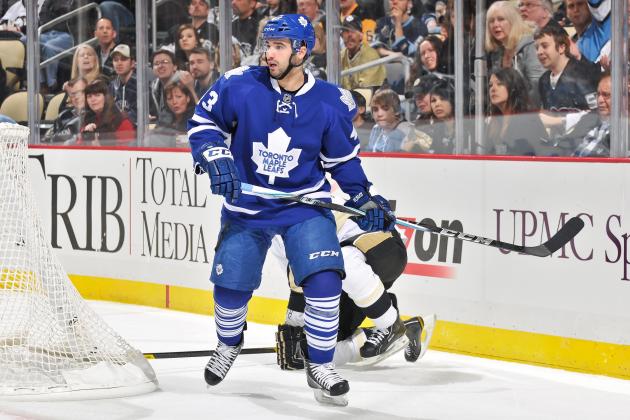 Jamie Sabau/Getty Images

The Toronto Maple Leafs have constantly dealt with prospect Nazem Kadri in an interesting manner, and after the fiasco with his weight at the Toronto Marlies' training camp, the forward may finally moved.
His talent is undeniable, but he hasn't been given a fair chance with the organization, so the team should move him before his value dips anymore.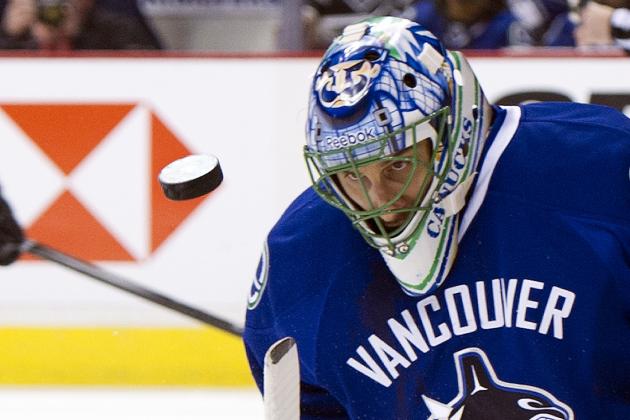 Rich Lam/Getty Images

Roberto Luongo asked for a trade after the Vancouver Canucks were eliminated from the playoffs, and recent reports out of Toronto suggest that the All-Star goaltender could be Toronto-bound after the lockout
Either way, it looks very likely that Luongo will be moved to a new team after the lockout.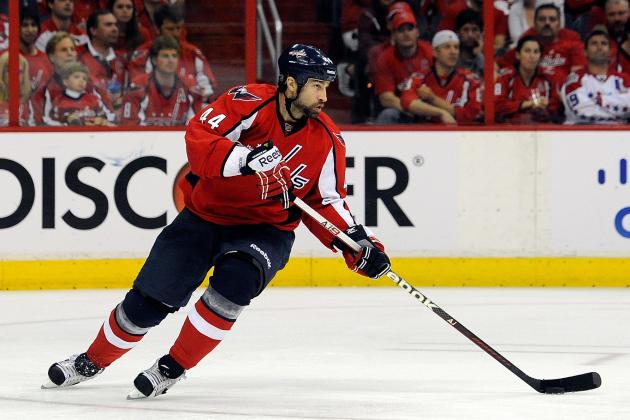 Patrick McDermott/Getty Images

Roman Hamrlik is on a 35-plus contract, and he is in the last year of his deal. With new bench boss Adam Oates calling the shots, expect the Capitals to change the team's makeup over the next few offseasons.
Getting younger, stronger and more talented on defense should be a priority, so moving Hamrlik to free up a roster spot would be a wise course of action.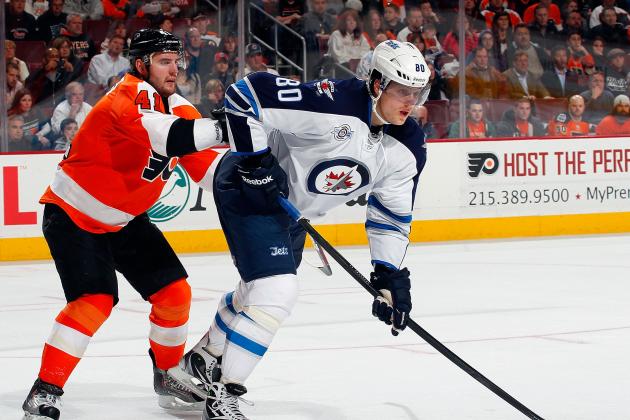 Paul Bereswill/Getty Images

Nik Antropov is in the last year of his deal with the Winnipeg Jets, and he likely will serve in a bottom-six role with the team.
Antropov is a former 50-point scorer and power-play threat, but he has regressed over time. Moving the forward would free up some cap space, and it would allow Winnipeg to start shaping its lineup for the future.