NHL Speculation: 5 Coaches on the Hot Seat If/When the Season Starts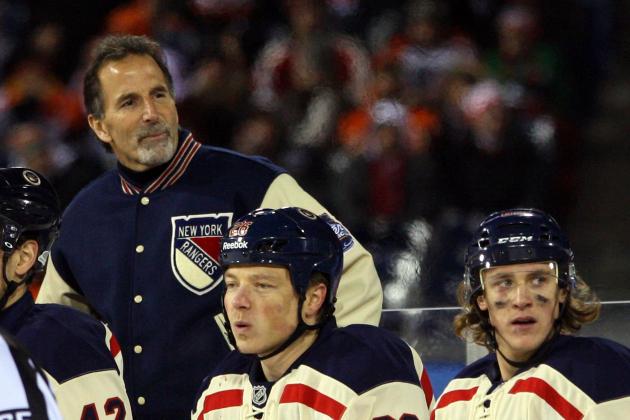 Bruce Bennett/Getty Images
John Tortorella at the 2012 Winter Classic against the Philadelphia Flyers.
After every offseason, many NHL coaches go into the upcoming season with a new hand of players: Some have picked up a full house and others a pair of two's. Whatever their hands may be, coaches are expected to win it all with the cards they are dealt.
Many playoff-missing teams saw their general managers conduct extreme makeovers in their team's roster. With every team's new lease on life (the Minnesota Wild) came another team's worst nightmare (the New Jersey Devils).
From there, it is primarily up to the coaches to optimize team chemistry and usage of every player. Inversely, a coach who has lost a valuable player needs to come up with a plan to mend that void on the ice.
As the season is set to (hopefully) begin, certain coaches will be watched with a special set of expectations.
Here are five NHL coaches with big expectations early in the season.
Begin Slideshow

»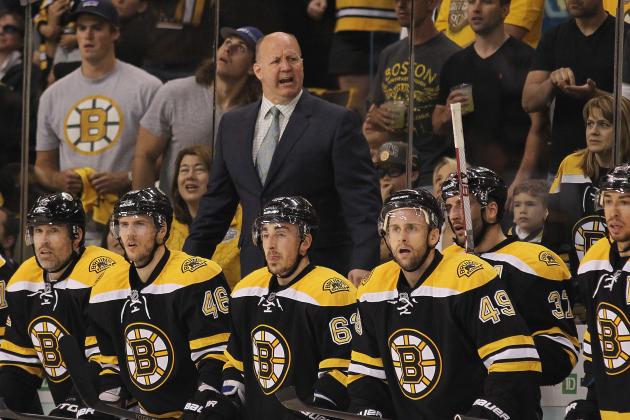 Bruce Bennett/Getty Images
Claude Julien in game five against the Capitals.
Boston Bruins general manager Peter Chiarelli was intent on keeping his core players as well as head coach Claude Julien, despite being ousted in the first round of the playoffs. Chiarelli is confident in his team and Julien to bounce back:
"We feel we've come a long way toward keeping the critical mass together for this team, because we feel it's a strong team and continues to be a strong team," Chiarelli said during a news conference at TD Garden (via NHL.com). "One of the core components in this critical mass is sitting beside me, our coach, Claude Julien."
Julien not only faces the challenge of rejuvenating his 2011 team—he has to do it without goaltender Tim Thomas. Reliable back-up goaltender Tuukka Rask will need to be carefully ushered into the starting position.
"All along we've been working on what I call a succession plan, where we were going to pass the baton to Tuukka," Chiarelli told Ottawa radio station the Team 1200 (via NHL.com). "It's his chance to show us he's a true No. 1."
Nevertheless, the coach of the 2011 Stanley Cup Champions seems confident in his team's ability this upcoming season:
"I remain hungry. I remain dedicated to understanding that the expectations here in Boston are always very high, and I love that kind of standard because that's what makes you a better coach," said Julien (via NHL.com).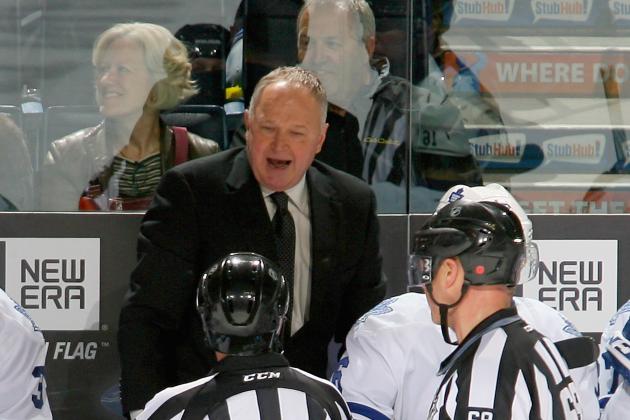 Rick Stewart/Getty Images
Randy Carlyle conversing with officials in April game against the Buffalo Sabres.
The Toronto Maple Leafs have the longest playoff drought in the NHL—they have not made the playoffs since the end of the 2004-05 lockout. To say this reality has aggravated Toronto fans would be an understatement; Toronto Maple Leafs head coach Randy Carlyle needs to save Toronto.
The Leafs hired Carlyle after the Anaheim Ducks, a team that he led to the cup in 2006, fired him. The Leafs were not expecting a Stanley Cup run from Carlyle, but a playoff spot would have been nice.
In his first year with Toronto, Carlyle struck chemistry gold, pairing Joffrey Lupul with Phil Kessel on the first line—the two players combined for 149 points last season. However, the offensive duo was not enough to offset Toronto's irreparable goalie crisis.
James Reimer, 24, turned out to be a feeble and unreliable starter for the Leafs. Reimer lacked the confidence a starter needs and his injury-riddled season suffered as a result (3.10 GAA, .900 SV%).
To make matters worse, neither Jonas Gustavsson nor Ben Scrivens were able to provide any relief as back-up goalies.
While talks have swirled around Toronto alleged interest in Vancouver Canucks' Roberto Luongo as well as Los Angeles Kings' Jonathan Bernier, no official moves have been made. Carlyle success in Toronto relies largely on Reimer's improvement.
Unfortunately for Carlyle, Reimer has yet to show signs of being a worthy starter.
Victor Decolongon/Getty Images
Sutter at the Los Angeles Kings' Stanley Cup parade.
The Los Angeles Kings' story became an historic one and Sutter is a huge reason why—he not only revived a flat-lining Kings team, he led them to the cup. However, now that the league has the Kings in their sights, NHL fans are wondering if Sutter and the Kings can continue their dominance.
During the offseason, Sutter and Los Angeles Kings general manager Dean Lombardi accomplished what any Stanley Cup-winning team hopes to accomplish—they managed to lock down their Cup-winning team.
"The first thing you think about as a coach, these guys are all young enough, they've got to try it again," Kings coach Darryl Sutter told reporters moments after lifting the Cup for the first time (via NHL.com).
The Kings' ability to lock down all of their players was even more surprising after the Kings signed goaltender Jonathan Quick to a 10-year contract worth $58 million (via ESPN.com).
Quick's masterful goaltending was essential in the Kings' playoff success. Having said that, long-term goalie contracts have been known to backfire (see Roberto Luongo, Rick DiPietro, etc.).
Regardless of the long-term effects of Quick's contract, the reigning champions will be under the magnifying glass this season.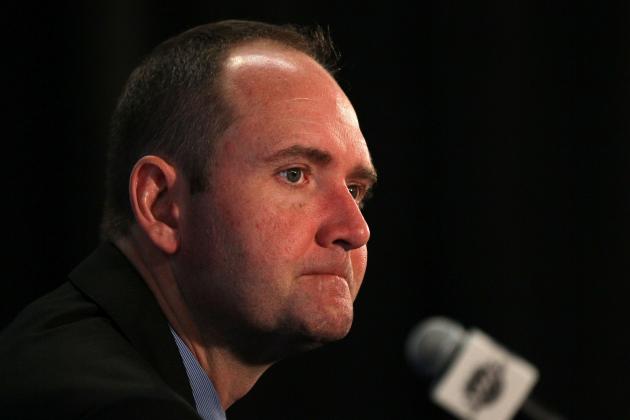 Elsa/Getty Images
Peter DeBoer at a press conference after game two loss against Kings.
New Jersey Devils head coach Peter DeBoer's offseason was a nightmare. Zach Parise, former captain and backbone of the Devils, left the team—it does not get much worse than that.
Oh wait, it does: New Jersey Devils general manager Lou Lamoriello did virtually nothing to replace their consistent 30-goal scorer.
This puts a lot of pressure on Ilya Kovalchuk, who could be the next recipient of the "C."
The only thing that might keep the Devils from completely derailing is Lamoriello's hiring of assistant coaches Scott Stevens and Matt Shaw to replace Adam Oates and Larry Robinson. Stevens, formerly one of the best defenders to ever play the game, will be invaluable to New Jersey.
"We have a lot of good, young defensemen and a lot of size, which I like," Stevens told the New York Times. "I definitely like size on defense. They take up a lot of space and make things difficult on the other team's forwards. So, I like that, and the talent level."
Shaw, who will be the assistant coach for the Devils, spent the past three seasons with the San Jose Sharks. During those seasons, the Sharks made it to the playoffs three times and the conference finals twice.
The Devils also saw the emergence of rookie Adam Henrique, who was clutch in many high-pressured playoff games. Parise's absence could set the stage for the Calder Trophy finalist to take on a major role for the Devils.
Will DeBoer promote Henrique and hope that he matures into the next Parise? Will DeBoer shift his team's focus to a defensive one now that Scott Stevens is behind the bench?
Let the experimenting in New Jersey begin.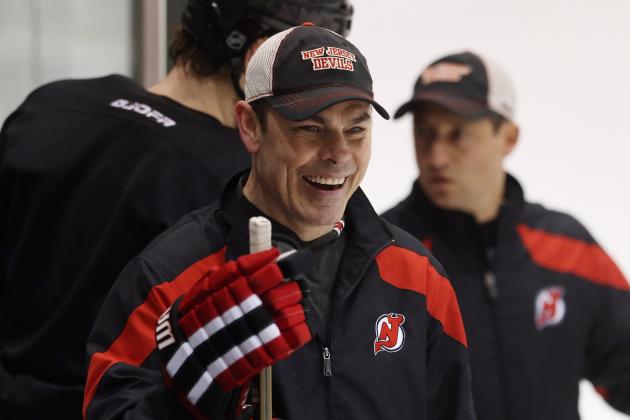 Bruce Bennett/Getty Images
Adam Oates leaving the ice after Devils practice.
After a revolving door of head coaches saw Bruce Boudreau and Dale Hunter out, the Washington Capitals have decided on former Cap Adam Oates to lead the team. Oates, formerly the assistant coach for the New Jersey Devils, was up for the challenge:
"When you look at the Finals this year, you saw two teams that were basically in-your-face teams, all over the ice," Oates said of the New Jersey Devils and Los Angeles Kings (via NHL.com). "I really feel the game today is territory. You have to establish territory and protect it. I look at the Caps lineup and the talent level and I don't see any reason why we can't push the pace and be an aggressive team but at the same time not sacrificing defense."
The Washington Capitals had a decent postseason: They advanced passed the reigning champion Boston Bruins to the quarterfinals, where they lost in Game 7 against the New York Rangers.
The Capitals are by no means short on talent: Alexander Ovechkin, Niklas Backstrom, Mike Ribeiro and Mike Green come to mind.
What the Capitals are in dire need of is leadership. Ovechkin, as good of a player as he is, can be hot-headed and needs to be kept in check.
According to the Huffington Post, Ovechkin is widely believed to have called former coach Bruce Boudreau a "fat f***" after the coach chose to bench him in a potential game-tying situation against the Anaheim Ducks last season.
Taming the ego of a player as great as Ovechkin is no easy task. However, as a former great himself, Oates could be just the guy for the job.