Anaheim Ducks: 4 Aspects They Will Improve in 2013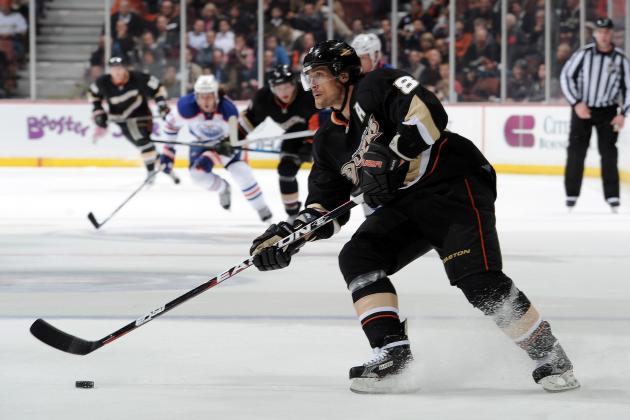 Harry How/Getty Images

With a proposal on the table that could save the NHL's 82-game season, it's within the realm of possibility that we could see the Anaheim Ducks playing hockey this year, along with the rest of the league's teams.
Even if things don't get sorted out until next year, we can still speculate as to where teams will have improved when they do finally hit the ice. The Ducks are an interesting case in that regard as they were somewhat quiet during the offseason after a poor regular season performance.
However Anaheim will have a clean slate this coming season under Bruce Boudreau and a bit of a revamped defense, since almost all of their offseason focus was centered around their blue line. The real question for the Ducks will be whether or not their top offensive players will be able to get back to their higher levels of production, while at the same time getting contribution from up-and-comers like Kyle Palmieri and Emerson Etem.
It's certain that the Ducks will need to improve in most facets, especially in a highly competitive Western Conference. Look for Anaheim to step up their game in the following five areas.
Begin Slideshow

»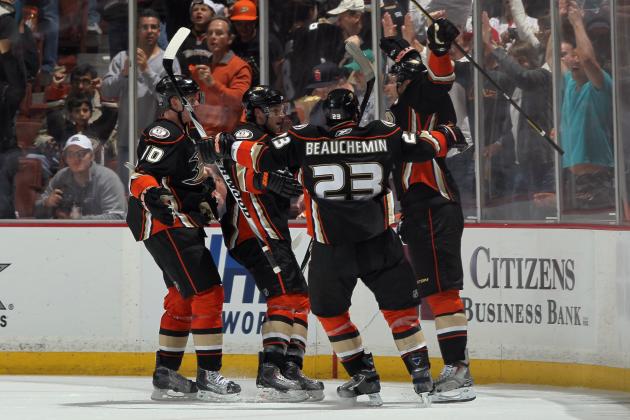 Jeff Gross/Getty Images

Historically the Ducks have had a punishing power play led by future hall of famer Teemu Selanne, Ryan Getzlaf and Corey Perry.
Losing Lubomir Visnovsky will hurt them here, however the addition of Shledon Souray and the likely resurgence of Getzlaf and Perry, who will be playing in contract years, should have the Ducks back in the top 12 percent in this category.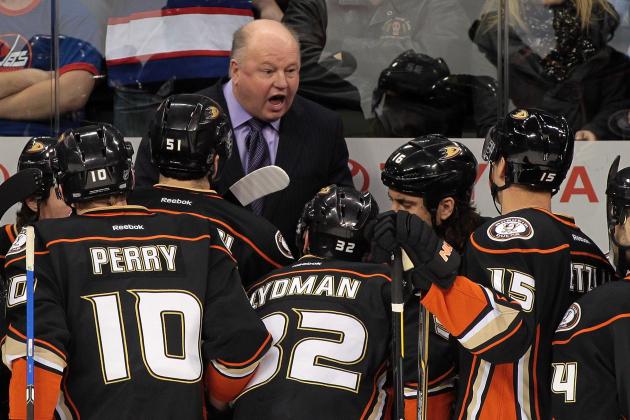 Marianne Helm/Getty Images

Having a full season with Boudreau behind the bench will vastly improve Anaheim's identity and their overall plan of attack.
That's not to say that Boudreau didn't have ample time last year to right the ship after Randy Carlyle.
However he's got a clean slate to work with and he'll no doubt be putting a lot of emphasis on the early part of the season, which Anaheim has struggled with over the past few years.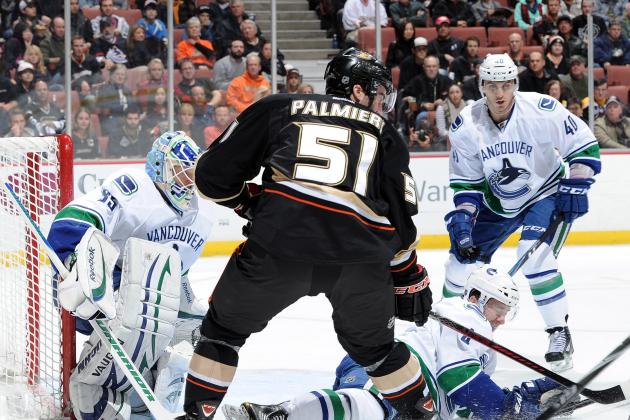 Harry How/Getty Images

The Ducks will need to bring in some reliable secondary scoring to backup their first line, and by all accounts it appears as if they're going to do so relying on their farm system.
With the departures of Jason Blake and Niklas Hagman, as well as Saku Koivu moving to the third line, the Ducks are set to give some of their promising youngsters some significant ice time on the second line.
Palmieri and Etem will likely both get a chance to contribute, and their success will go a long way in determining whether Anaheim needs to continue to search for second line wingers.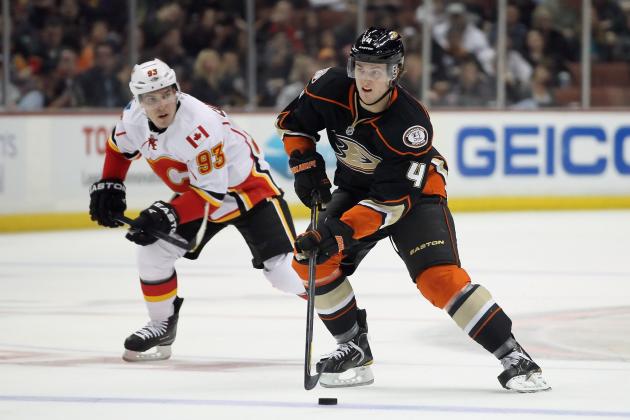 Jeff Gross/Getty Images

With the emergence and maturity of Cam Fowler and Luca Sbisa, and the added veteran leadership of Francois Beauchemin, Toni Lydman and newly acquired Souray, the Ducks have a solid blueline this year with no visible weak spots.
The Ducks also added stay-at-home defenseman Bryan Allen through free agency, which will add depth to their second and third pairings.
Losing Justin Shultz and Jake Gardiner over the last two season hurts, but the overall patient and methodical approach that Anaheim's management has taken to address what has been a problem area for the Ducks over the last few years will finally start to pay off.
Look for the Ducks to come out of the gate as a well-rounded team with a reignited offense and a strong, consistent blue line.