Harsh Times: The NBA's Biggest Disappointments This Season
March 11, 2009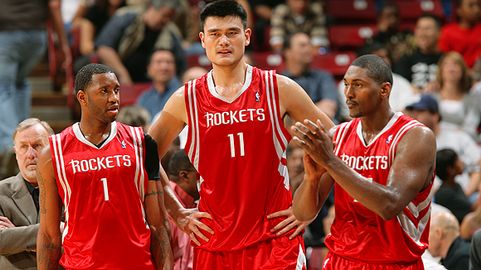 Year one of the McGrady, Yao, and Artest experiment hasn't exactly lived up to expectations.
Rocky Widner/NBAE/Getty Images
There comes a time in every NBA season where every die-hard fan reflects back on their preseason predictions and expectations. While some preseason expectations have lived up to par, the others were clear-cut disappointments.
And here is a look at this season's biggest disappointments:
No big three in Houston

The Houston Rockets have been underachievers since Tracy McGrady arrived in Houston, but this year was sure to be different with the addition of Ron Artest.
The Rockets team as a whole hasn't disappointed, but the injury-prone McGrady has been the reason why the big three have not been able to stay together for more than 30 games this season.
Even before McGrady's season-ending injury, Houston had struggled, but still managed to stay in the playoff hunt. T-Mac struggled, having his worst statistical season since the '99-'00 season and shooting a paltry 38 percent from the field.
Since McGrady's injury, Houston has won 14 of their last 18 games and are third in the Western Conference. They may be playing better without T-Mac, but he is still a vital piece to the Rockets.
Yao Ming is their force in the middle and Ron Artest is their best one-on-one defender along with being the second option on offense. But without McGrady they are still missing their reliable go-to guy, and the guy who has the ability to go on scoring drives of his own and close out just about any game.
Houston will have home court advantage in the first round of the playoffs, but without McGrady they are possibly looking at another first-round exit.
The Detroit Pistons with Allen Iverson
Before March 4 when Iverson suffered a back injury, the Pistons, who have pretty much been the beasts of the Eastern Conference the last six years or so, struggled to win games. Since shipping Chauncey Billups to Denver in exchange for A.I., Detroit hasn't been the same, and even went on an eight-game losing skid in February.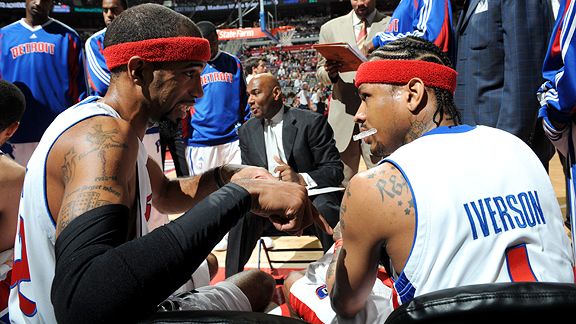 Allen Iverson will be a sixth man for the first time in his career once he returns to the lineup.
Allen Einstein/NBAE/Getty Images
This season has been the only year Iverson hasn't averaged at least 22 PPG, and since his arrival, Richard Hamilton, their leading scorer since 2003, has taken a new role coming off the bench.
Without Iverson, however, the Pistons have won five of their last six games and now look like a potential sleeper come playoff time.
During A.I.'s absence, not only has Hamilton's scoring increased, but Rodney Stuckey has suddenly broken out of his shooting slump.
Once Iverson returns, he will take on a role he has yet to face in his 13 seasons in the NBA.
Phoenix Suns
Coming into this season, we all knew the Suns' offense would no longer be the run-and-gun style we've grown to love the past several years. But what we didn't expect was for Phoenix to be out of the playoff picture.
They also traded Raja Bell and Boris Diaw, who now have the Charlotte Bobcats in playoff contention, for Jason Richardson and Jared Dudley on Dec. 11.
Phoenix was so disappointing the first half of the season Coach Terry Porter was fired, and Assistant Coach Alvin Gentry took over as their interim head coach. Since hiring Gentry as their main man, Phoenix has gone back to their old objectives of running and out-scoring their opponents.
It looked as if Phoenix was going to go on some type of run, and then Amar'e Stoudemire got shelved for the remainder of the season with a partially detached retina. Bell, and especially Diaw, would come in handy right about now.
The only good news for Phoenix lately is the resurgence of Shaquille O'Neal.
Jameer Nelson's injury
This was the season Orlando could finally make some noise in the postseason. Dwight Howard, Rashard Lewis, and Hedo Turkoglu were expected to do their dirty work, but it was Nelson who was having a breakout season.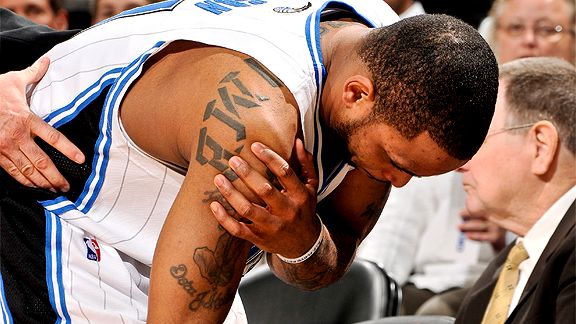 Jameer Nelson's injury was a big blow for Orlando, but they haven't fell off the radar.
Fernando Medina/NBAE/Getty Images
Improving in just about every statistical category, Nelson was named an All-Star for the first time.
But a torn right labrum has him sidelined for the remainder of the season. However, luckily for Orlando they got a great deal by acquiring Rafer Alson from Houston in a multi-team trade.
Alston has gelled well with the team, but the loss of Nelson has still been one of this season's biggest disappointments.
Maurice Cheeks' firing
Philadelphia was expected to be a lot better than a seventh seed this season, especially with the offseason acquisition of Elton Brand. With Brand in the lineup, Philly got off to a sluggish start, and ran away from what made them a playoff team last season.
After a 9-14 start, Cheeks was fired, and to make matters worse, Brand suffered a right shoulder injury that will keep him out of action until next season.
Since the firing of Cheeks and the injury to Brand, the Sixers have looked like the team of last season, and are currently a playoff team.
Baron Davis and Marcus Camby as Clippers
After losing Elton Brand and Corey Maggette via free agency, the Clippers filled the void pretty well by adding Camby and Davis.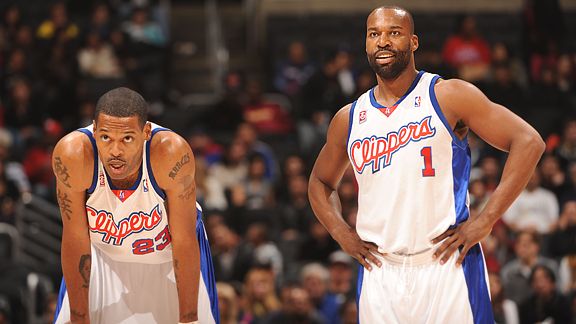 The Clippers weren't expected to be playoff contenders, but Camby and Davis were expected to make them better than what they are now.
Noah Graham/Getty Images
Statistically, Camby is having a much better season than he had in Denver last year.
But Davis' numbers are down from a year ago, and unlike last season, he hasn't appeared in every game.
The Clippers may not be a playoff team just yet, but their 15-48 record is far from what was expected of them this season.
The addition of Zach Randolph hasn't been much of a difference-maker either.
The Toronto Raptors' dismal season
Talk about disappointing, Toronto has arguably been the most disappointing team in the league this season. A team that reached the postseason the last two years now has only 23 wins in March.
Jermaine O'Neal, who was expected to give Toronto's frontcourt more firepower, couldn't even make it through a full season in a Raptors jersey once he was traded to Miami for Shawn Marion.
And speaking of Marion, he went from playing for the worst team in the Eastern Conference last season to being traded to one of the worst teams in the East this season.
Talk about bad luck.
Michael Whittenberg is one of two NBA Community Leaders for bleacherreport.com