NHL's Original Six: A Longtime New York Rangers Follower Looks Back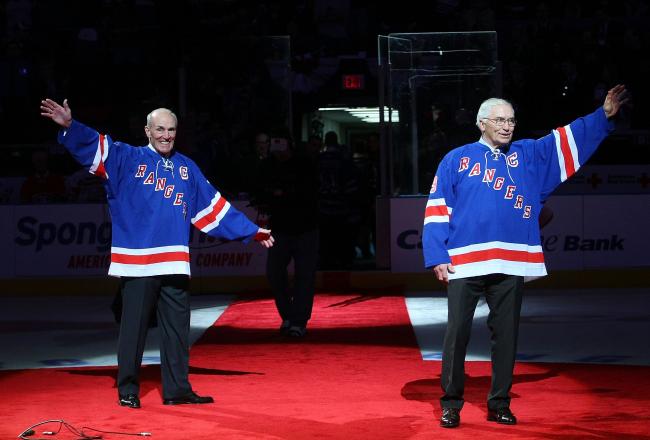 In 2009 the New York Rangers retired the numbers of pre-expansion stars Andy Bathgate and Harry Howell.
Bruce Bennett/Getty Images
The lockout leaves little in the way of live NHL action to report. For this lifetime rink rat, it's an opportunity to reflect on more than half a century of hockey watching.
As a native New Yorker, I was one of a select group who, because there was no radio or television coverage in the late 1950s, found themselves at almost every game at the old Madison Square Garden. I sat with fellow fanatics up in the balcony, which hung so close over the ice that it was actually one of the better seats in the house. The last game at the historic arena was almost 45 years ago, during the first season of expansion. There were to be more changes in the few years after the first expansion than there were during any time in prior NHL history.
For New Yorkers, it meant a spanking new arena (which is now the oldest arena in the NHL), a lot of strange faces coming to town and a rapid reshaping of the game. It was no longer a cozy six-team league in which teams played each other fourteen times per season. When an evil deed was done, the opportunity for retribution came quickly, often the following evening.
For the tidy sum of $2 million each, a trifle by today's standards, franchises were purchased in Philadelphia, Pittsburgh, St. Louis, Los Angeles, Oakland and Minneapolis-St. Paul. Most of these cities had hockey success at the minor league level. For this seemingly outrageous sum at the time, each new owner had the privilege of selecting players from a pool of dispensable talent and had the obligation to produce a major league sports arena. The Los Angeles Kings had the first pick and they selected future Hall of Fame goalie Terry Sawchuk.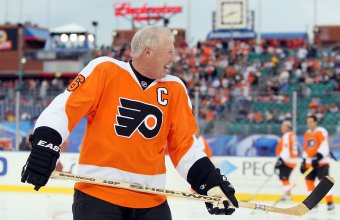 Bobby Clarke, shown here at last year's Bridgestone Winter Classic Alumni Game, led the Flyers' to their first Stanley Cup.
Jim McIsaac/Getty Images
With expansion, NHL sponsorship of junior teams ended and was replaced by the amateur draft, which facilitated a more equitable distribution of talent. Previously, there was competition for talent at the prejunior level, and each team had territorial rights to players living within 50 miles of their home city, giving the Leafs and Canadiens an overwhelming advantage.
It was the lure of a potentially lucrative network television contract in the United States which provided the initial impetus for expansion. This never materialized and it was cable TV, in its infancy at the time, which ultimately provided the NHL with the media exposure it needed, on a local and regional level.
The six new teams were grouped into a unit known as the West Division even though Pittsburgh and Philadelphia were in the east. When Vancouver and Buffalo entered the league three years later, some realignment was necessary. Strangely, Vancouver joined the East Division while Philadelphia remained in the West. Expansion continued in 1972 with the addition of Atlanta and Long Island, and the first phase ended in 1974 when Washington and Kansas City joined the fray. The league grew again in 1979-80 with the absorption of four World Hockey Association teams in Quebec, Hartford, Edmonton and Winnipeg. Welcome, Wayne Gretzky. That very same season the NHL began to draft 18-year-old juniors. In a span of a dozen years, the league more than tripled in size and the game began to change rapidly.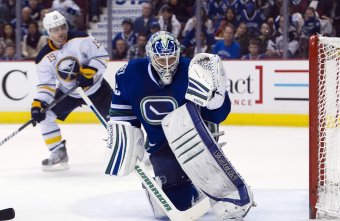 Sabres and Canucks wearing reincarnations of their original jerseys.
Rich Lam/Getty Images
Back in the pre-expansion days, a New Yorker could walk down Broadway and find such amenities as a telephone booth, with a door, and a subway turnstile which accepted a twenty-five cent token as the fare. Just as those staples had disappeared from the local scene, so had many hockey institutions, such as the famous marquee at the old Garden and the Rangers' other nickname, the "Blues."
Slowly the game lost such accoutrements as leather boots, steel skate blades, straight wooden sticks and those uncomfortable-looking flannel jerseys, which laced at the neck. The helmetless player with the macho-looking crew cut gave way to the long-haired and mustachioed look of the '70s. Face shields and advances in suturing technique dramatically reduced the badges of courage displayed then in the form of scar tissue and toothless grins. Shots got harder and the glass got higher.
It was just around the time of expansion that teams began to dress two goalies, with masks, and goalies no longer all wore only number one, which had seemed to signify that the fortunes of the team rested on their shoulders. As incredible as it may sound, there were still a handful of maskless goalies when the expansion era began. Hall of Famer Lorne Worsley wore a mask for only the final six games of his career, with Minnesota. The last maskless goalie was Andy Brown, who played his final NHL game in 1974.
The 20-goal benchmark was elevated to 50 goals, and the 1-0 game became near extinct. Expansion era sharpshooters like Gretzky, Phil Esposito, Mike Bossy, Guy Lafleur and Marcel Dionne slowly dwarfed the records of Maurice Richard and Gordie Howe.
In this time of intense labor negotiations, it is hard to believe that coaches at one time made more money than players and were able to threaten their charges with a one-way ticket to the bushes, which in those days meant an adjustment to bus rides and cafeteria food. Overnight train rides and season-long animosities became near extinct. The Original Six played each other fourteen times yearly, creating many grudges. It was not unusual for my Rangers to play in Toronto, Montreal or Boston on Saturday night, board a sleeper and meet the same opposition Sunday night at the old Garden. Players tend to remember the errant sticks and elbows of 24 hours earlier.
The season has been extended from 70 to 82 games with the playoffs going from two to four rounds. Multi-year contracts (largely forced by competition from the World Hockey Association) and an initial doubling of NHL jobs in the first expansion year provided new opportunities. Prior to expansion, player agents were not welcome in team offices, and salary negotiations consisted of the player accepting a one-year contract mailed to them during the offseason, or sitting out. During the summers, most players found other employment because they needed the extra cash.
The NHL had to deal with a new phenomenon, franchise failures. Hockey didn't make it in some of the new markets. The Oakland franchise moved to Cleveland, where it also failed. Kansas City went to Colorado and then to New Jersey before stabilizing. Atlanta's first failure saw the team moving to Calgary. St. Louis, Pittsburgh and the New York Islanders struggled but survived.
While some teams changed cities, others changed in style. Oakland tried white skates, Vancouver donned flashy "Star Wars" outfits and Pittsburgh ultimately assumed the black and gold of the Steelers. Philadelphia's experience with long pants lasted one year, as did the Rangers' departure for a more modern-looking uniform. Later on, the third jersey concept changed all of this in the interest of merchandising.
The demographics slowly changed from an all-Canadian game. Ultimately, Americans and Europeans came in large numbers, and US colleges became a prime source of talent. In the arena, such things as digital clocks, Zambonis, electronic scoreboards, message boards and advertising on the ice surface and sideboards became standard. Benches now had assistant coaches and expanded training staffs.
The first expansion team to visit Madison Square Garden was Pittsburgh, with the lettering P-I-T-T-S-B-U-R-G-H angled down the front of their light blue flannel jerseys. Ex-Ranger Red Sullivan was the coach and favorites Andy Bathgate, Earl Ingarfield and Dean Prentice were players.
Expansion extended the careers of many aging stars. Other former Rangers, such as eventual Hall of Famers Harry Howell and Gump Worsley found success with new teams. All-time greats like Terry Sawchuk, Jacques Plante, Glenn Hall, Doug Harvey and Dickie Moore were able to extend their careers. Some outstanding minor leaguers were finally able to get breaks with expansion. Players like Al Arbour, Bill McCreary, Bob and Barclay Plager, Art Stratton, Bernie Parent and Floyd Smith, among many others, were able to get big league paychecks, as paltry as they were then.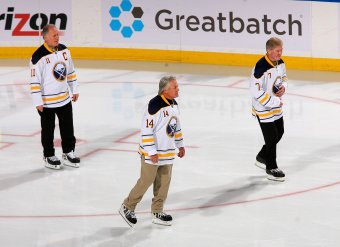 The "French Connection" line was a premier early expansion trio.
Rick Stewart/Getty Images
Parity of sorts was achieved in 1974 when Philadelphia, led by Bobby Clarke, won the Stanley Cup. The Buffalo Sabres had the first true expansion superstar in Gilbert Perreault, their first-ever draft pick. Perreault, along with Richard Martin and Rene Robert, formed one of the most exciting early expansion lines, the famous "French Connection."
The "Original Six" ultimately grew to thirty. The once purely Canadian NHL is now just over 50 percent from Canada according to nhlnumbers.com. The average salary in the expansion year was in the low five figures as compared to $2.4 million now, according to Forbes.
There were no lockouts pre-expansion.
Alan Greenberg is a contributor for Bleacher Report. He is also the author of "Confessions of a Government Man."
This article is
What is the duplicate article?
Why is this article offensive?
Where is this article plagiarized from?
Why is this article poorly edited?