NHL Lockout: Top 5 Dumbest Holdups Preventing a New CBA from Being Signed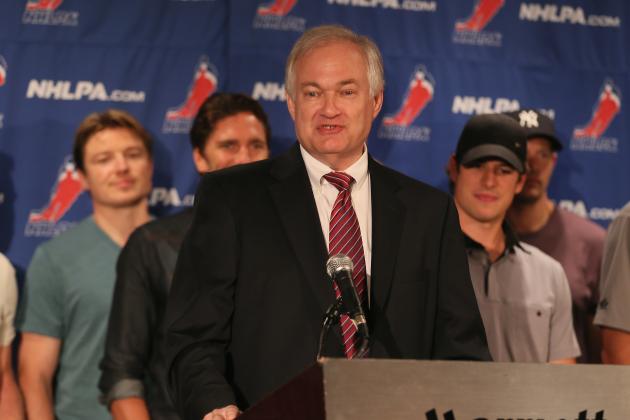 Bruce Bennett/Getty Images
National Hockey League Players' Association executive director Donald Fehr.
Hockey fans are one week into the lockout, and personally speaking, the withdrawal has not yet sunk in. As such, nor have the pains, shakes, walls closing in from all around and hallucinations of evil clowns attacking from all angles.
However, it is, of course, just one week in, and the actual NHL season is only scheduled to start in October, so it's far from an overly positive sign. It's probably best to continue avoiding circuses from here on out for fear of letting something fierce and unrelenting escape from deep within my psyche.
Unfortunately, the gong show that has become the current negotiations between the league and the National Hockey League Players' Association isn't exactly helping on that front. Here are the top five dumbest holdups preventing an end to the current lockout:
Begin Slideshow

»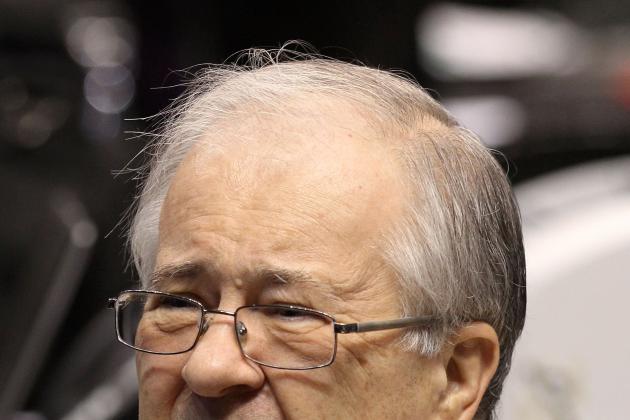 Bruce Bennett/Getty Images
Detroit Red Wings vice-president Jim Devellano.
While Detroit Red Wings vice president Jim Devellano probably didn't say much most owners weren't thinking themselves, good on the NHL for fining the team nonetheless (reportedly $250,000 via TSN.ca).
Comparing players and league employees (himself included) to cattle and the owners to ranchers, Devellano went on to say the players should be grateful for all they've received in salary and first-class treatment up to this point in their careers.
Devellano is, of course, one of the most respected hockey guys out there, so it's somewhat of a shock to see him speak so candidly and unabashedly on the subject. It's also not all that refreshing seeing as the hateful, passive-aggressive, in-between-the-lines innuendo had already started and now it's likely to get worse.
It goes without saying-and I'm going to go out on a limb on this one, but players probably don't like being referred to cows.
I mean, the analogy may work, especially looking at recent pictures of the heavy-set Dustin Byfuglien, but something about being compared to mindless drones that ultimately get slaughtered brutally (except for in the case of the few Jewish players who would hypothetically get slaughtered slightly less brutally) isn't likely to jive with the PA. This means one of two things:
1. Devellano's mind is going or
2. He was looking to stir the pot
Seeing as he's only 69 and he was one of the greatest hockey minds of the last generation, it's almost certainly the latter. And there's just no need for that.
Let the owners and players save their egotistical chest beating for the conference room behind closed doors because fans don't need to bear witness to both sides' dirty laundry. This thing stinks enough as it is.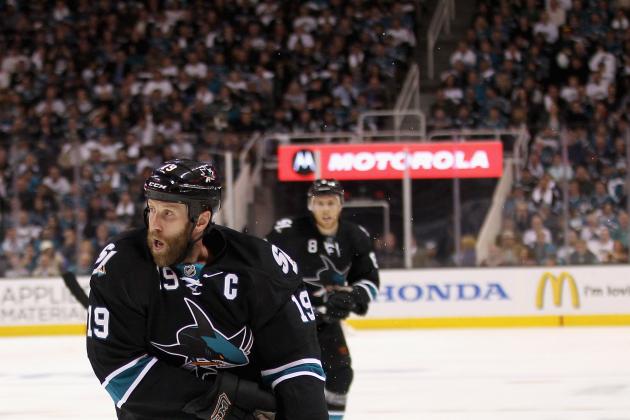 Ezra Shaw/Getty Images
San Jose Sharks captain Joe Thornton signed with HC Davos of the Swiss National League A.
Depending on your point of view, the Swedish Elite League's decision to not let NHL players in on short-term contracts was either incredibly admirable or hypocritical.
It forced a player of Anze Kopitar's caliber to sign a contract with division-two team Mora Ishockeyclubb, thereby preserving, at least temporarily (as the decision was eventually overturned by an anti-trust ruling), one SEL player's job.
Of course, the signing (which stemmed from Kopitar wanting to play with his brother) not only means his competition will be that much weaker, but also a job taken away from a less-skilled Swedish hockey player, who, chances are, doesn't make nearly as much as the $6.4 million Kopitar did last season. Call it a hunch.
Now, with the decision reversed, the floodgates will open to an even greater extent, with 48 players already having signed elsewhere as of last Thursday.
Admittedly, players like Jesse Joensuu (playing for Assat in the Finnish SM-liiga) and Kaspars Daugavins (Dinamo Riga in the Kontinental Hockey League) are fringe NHLers, but what about the Jason Spezzas and Joe Thorntons of the world? What's their excuse? Unless Alan Eagleson is their accountant, it can't be a need for money.
Keeping sharp in the event the lockout ends suddenly is somewhat understandable, but it's actually tactics like this that make one wonder just how seriously players take this whole process, let alone their profession as a whole.
Is no one prepared to offer anything besides acknowledgement in passing that players overseas have rights too? There are plenty of ways to stay active without stealing someone else's job that aren't purely designed to give the NHL the finger.
Sure, it may seem like the players are gaining leverage, but generally speaking, NHL teams are businesses on the side for the owners. The revenue each brings in is all nice and good, but they can live without it.
All the players going overseas is doing is delaying the inevitable, causing them to lose focus on the matter at hand and making life more difficult for their peers.
One canned response to how NHLers feel about the ramifications of them taking their talents overseas is they feel bad but they're hockey players too. Unfortunately, those who offer that excuse are conveniently leaving out the "rich" part…oddly enough, an apt term to describe their whole argument.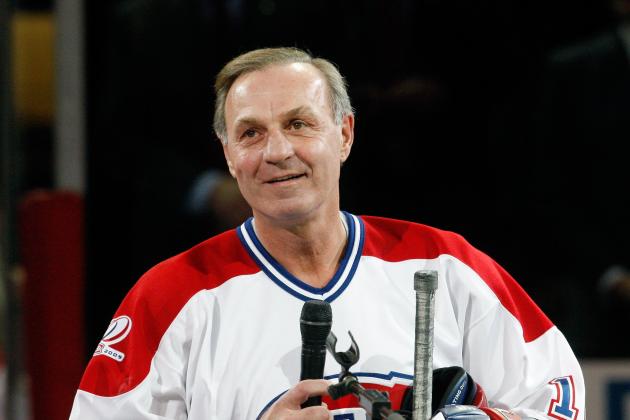 Richard Wolowicz/Getty Images
Former Montreal Canadien Guy Lafleur shared his take on negotiations thus far.
Speaking to reporters at the Montreal Canadiens' annual golf tournament, legend Guy Lafleur voiced his opinion on the lockout, somewhat surprisingly saying, "In my book the owners should make more than the players."
"It's hard to sympathize with them because they were getting 57 percent of the profits of the marketing and it should be 50-50. They should split the pie in half and 'let's take half,' and I think it's fair on both sides," he also said (via TSN.ca), not exactly hitting the nail on the head in regard to over just what is being fought.
In his defense, French is his first language, and it's not as if the word "revenus" is exactly like its English counterpart. Still, Lafleur can find solace in the fact that he's not the only one confused. Not only does the split remain a hot point of contention, but so does what exactly is being split.
In effect, the owners opted to pull one over on the players and redefine hockey-related revenue from the last lockout. In reality, the 51.6 percent they offered the union last month equated to 46 percent of what is currently considered hockey-related revenue, i.e. what is (via Fox News):
"…derived or earning from, relating to or arising directly or indirectly out of the playing or NHL hockey games or NHL-related events in which current NHL players participate…"
Exactly.
At least one thing is clear: Whether the players end up getting 49 percent of hockey-related revenue (the league's current proposal) or 57 percent (what they make currently), they'll all still be paid insane amounts of money to play a game for a living. Glad we figured that out…well, "glad" is relative.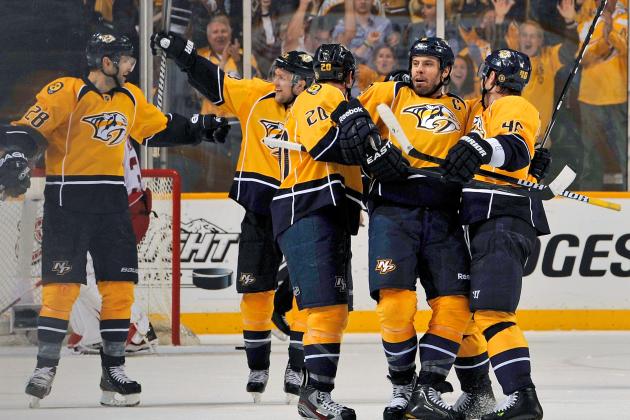 Frederick Breedon/Getty Images
Shea Weber (center) of the Nashville Predators.
It would seem logical that being contractually tied down to a single person for over a decade is not the smartest of moves.
Divorce rates alone should make NHL general managers queasy about the potential for long-term deals not working out. And yet Ilya Kovalchuk, Roberto Luongo, Shea Weber and Henrik Zetterberg all signed long-term backsliding deals that circumvented the last collective bargaining agreement.
The saddest thing about this whole trend of paying players until all they need to do to ignore the Sean Averys of the league is shut off their hearing aids?
Rick DiPietro's 15-year deal is the only one that was probably ironed out in good faith. And that is the only English-language sentence in which the words "faith" and "DiPietro" should appear together.
Now there's talk of the league arguing that a player's salary should constitute the cap hit, which would make it pretty hard for teams to award these kinds of contracts in the future without legitimately intending on honoring them.
Players hypothetically wouldn't be too keen on this idea. It means teams won't want to handicap themselves in the future, and as a result, won't be so quick to give someone a front-loaded 15-year deal anymore where they're paid in peanuts by the end to make the cap hit more palatable.
That this is what potentially holds up the start of the NHL season is simply sickening. It wouldn't even be an issue if owners hadn't started handing these contracts out like candy in order to get the upper hand over other teams in the first place.
Now that they've started, they just can't stop, as it would be clear-cut collusion on their part to bring down salaries. Apparently, the line between collusion and common sense is a pretty thin one indeed.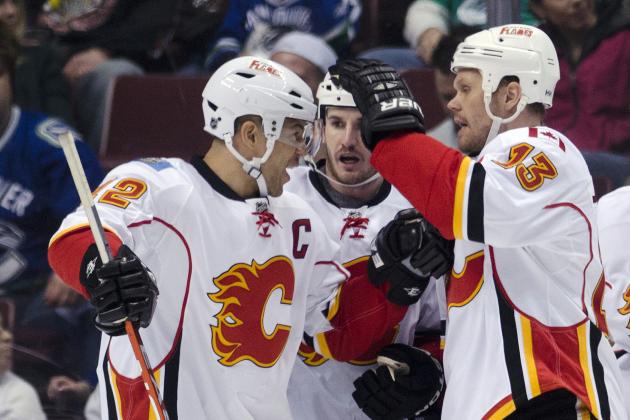 Rich Lam/Getty Images
Jarome Iginla of the Calgary Flames.
In a supposed attempt to prevent some of its members from being locked out, the union filed applications with Quebec and Alberta's respective labor relations boards to declare the work stoppage illegal (due to the illegality of a group not certified by said labor boards being locked out).
This begs one obvious, pressing question: What would happen in the unlikely event that this is successful?
Would the Edmonton Oilers, Calgary Flames and Montreal Canadiens just play each other? Would they engage in some perverse game of musical chairs all the while? If not, would they continue to be paid just to show up for practice?
This is all oddly reminiscent of an M. Night Shyamalan movie: a half-decent idea that no one took the time to think through, with no Bruce Willis this time around to lend it the tiniest bit of credibility.
It's like someone with the vaguest familiarity with Canadian law brought it up at a union meeting, everyone said to themselves, "Hey, this is the last thing the league would expect! Awesome!", patted each other on the back, called it a day and no one bothered to ask why this wasn't thought this up in 2004.
The answer, in short: Players were apparently smarter eight years ago.
All this does is give the league one more thing to worry about instead of tabling legitimate counteroffers. That's actually the best-case scenario for players.
The worst case: This moronic stall tactic actually works and fan support for the players ends up dwindling faster than the bank accounts of the players of the 27 other teams who are still locked out.
Yeah, that's right. Nowhere in this brilliant plan is there accounting for the remaining 90 percent of the league. And here, everyone with even a speck of brain power thought "unions" were meant to stay "unified."
Boy, won't the people at Merriam-Webster feel embarrassed when they realize their mistake.
I think it's safe to say if this is part of some diabolically genius plan on the part of the players' association to force the NHL to start up the season league-wide that actually works, everyone will be shocked.
Let's not forget, these same players forced us to coin the term "stupid penalty" for a particularly boneheaded infraction. This when, let's be honest, being sent to the penalty box for any old penalty game in, game out after having had years to learn the rules doesn't exactly scream MENSA.