G Series: Top Suspects Behind Aces & Eights Thus Far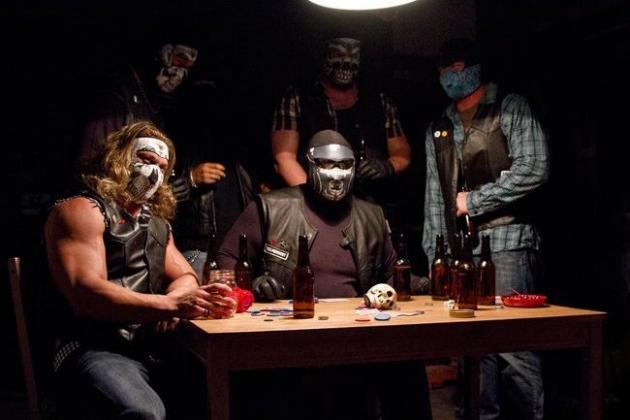 Goggle Images
This week on the G Series I've decided to discuss a hot topic that began in June and hasn't really cooled down since. I'm talking about the flannel wearing, motorcycle riding masked bandits known as Aces and Eights.
Their very first attack came on the June 14 edition of IMPACT, and they've remained a mystery ever since. They've targeted everyone in TNA, from faces to heels and even people of managerial power.
They've shaken TNA to its very core and there's still one thing that remains unknown: Who is their leader and why is he (or she) doing this?
As we've seen this past Thursday, "lawya boy" (as Bully Ray says), Joseph Park announced that he'll have blockbuster news on this group by next week. Park promised to blow this case open with the information he gathered.
Before Joseph Park blows this case wide open, as he promised, here's my list of top suspects behind Aces and Eights.
Begin Slideshow

»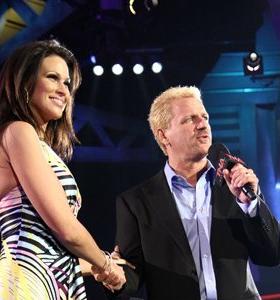 Google Images
As mentioned in a previous slide, Aces and Eights first attack was on June 14. Their first victim happened to be Sting, the man that was announced as the inaugural member to TNA's Hall of Fame just four days earlier.
With the attack on the first TNA Hall of Famer, a lot of fingers pointed toward Jeff Jarrett as leader. With good reason, too.
Earlier this year, when Sting was General Manager of TNA, he fired Jeff and Karen Jarrett. Just like that, "The King of the Mountain" and the VP of the Knockouts division were gone.
It's also a well-known fact that Jeff Jarrett is the co-founder of TNA.
Plenty of people thought he was going to be announced as the first-ever person in the TNA Hall of Fame. Instead, Sting was announced, and Jarrett was snubbed.
Everyone blamed Jarrett for the attacks out of jealousy surrounding Sting and the TNA Hall of Fame. However, as time progressed, Jarrett's chances of being A&8s leader diminished.
A&8s didn't only target Sting; they attacked Hulk Hogan, Kurt Angle, Austin Aries, The Pope and even Bobby Roode.
As we have seen more and more of Aces and Eights, it seems unlikely that they would have Jeff Jarrett as their leader, as Jarrett's personality just doesn't click with the group.
Jarrett doesn't fit the image of A&8s and, with Sting no longer their primary target, it doesn't make much sense revealing Double J as the kingpin.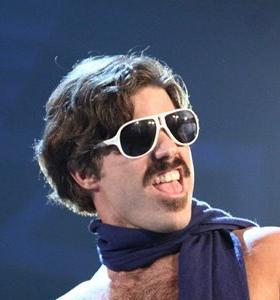 IMPACTWrestling.com
Joey Ryan, first man to ever fail on Gut Check, has been trying to invade TNA for months now by causing a ruckus in the crowd, bringing in a megaphone, punching Al Snow, et cetera.
Oddly enough, Aces and Eights have been invading TNA at the same time.
Joey Ryan has been trying to land a spot on the IMPACT roster but keeps getting ignored. A ruckus in the crowd and punching Al Snow is what got him attention.
What could possibly garner more publicity than punching a Gut Check judge? Being revealed as Aces and Eights leader, obviously.
Though, it seems illogical to have Joey Ryan as leader since his primary target is Al Snow and A&8s never had any altercations with Al.
Not to mention that Joey Ryan's sleazy, porn-star(ish) gimmick doesn't mix well with these bikers.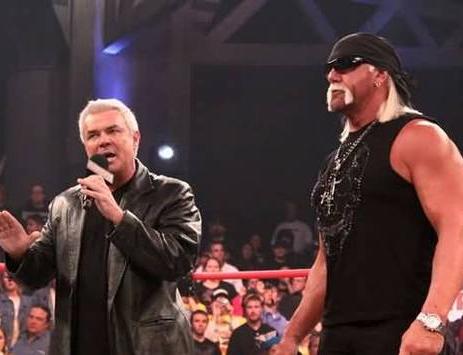 Google Images
I hate this idea just as much as the next guy but, hey, we've seen it before.
Eric Bischoff was forced out of TNA after his team lost at Lockdown, and two key figures in Eric's "departure" from TNA were his son Garett Bischoff and former business partner Hulk Hogan.
As per stipulation, if Eric's team lost at Lockdown (they did), he is gone from TNA and never allowed to use the Bischoff name in the wrestling business ever again.
Bischoff may be bitter about this and want a comeback.
Aces & Eights have torn IMPACT apart, attacked wrestlers and even caused some tension between top authority figures—it's the perfect storm for Eric Bischoff to swoop back onscreen.
Now excuse me while I vomit at the idea of Eric Bischoff back on television...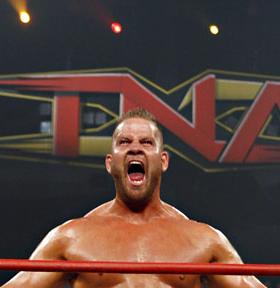 Google Images
TNAsylum.com reports that "The Blueprint" Matt Morgan recently made a return to TNA at a live event in Pennsylvania.
Morgan, reportedly, jumped over the guardrail and laid out Robbie E following a match. To make matters even more interesting, Morgan took to Twitter:
All 2nite really meant was I'm tired of "just be patient Matt", being patronized & most of all being SOLD DREAMS! The real question is......

Who am I with? Time will tell. 'Til then,Tick-Tock....
Morgan tweeting that he's "tired of being patient" could definitely raise suspicions.
He did attack Robbie E, who is heel, but we've seen that Aces and Eights members will attack anyone be it heel, face or in between.
The self-proclaimed "DNA of TNA" may be returning to IMPACT in a major way.
TNAsylum.com
Public enemy number one: Bully Ray.
Bully Ray has been very interested in this Aces and Eights case—almost to the point where it starts to get suspicious.
He firmly believed that James Storm was the leader weeks ago and was very vocal about it, as Bully Ray quickly pushed all the blame onto "Cowboy" James Storm and heavily accused Storm of being the man behind the attacks.
Also, when Joseph Park first started his investigation, Bully Ray was one of the first people to question Park. Bully told his old rival that if he finds any info to go straight to him first.
Bully Ray almost seemed worried that Park may find something.
In the final episode of IMPACT before No Surrender, there was an interesting bit of news too. Remember the A&8s member who happened to be captured by Hulk Hogan and Austin Aries? Remember where they said that man was from?
Austin Aries revealed that the captured A&8s member happened to be from New York. Seems like a minor detail, but Bully Ray is also billed from New York.
The most recent piece of evidence came in the form of TNA No Surrender.
Bully Ray defeated James Storm in order to advance to the finals of the BFG Series, in the same night his opponent in the finals, Jeff Hardy, was injured by Aces and Eights.
With Hardy injured, Ray should've easily defeated him, but, no, Bully Ray underestimated Hardy and, as he said on IMPACT, felt sorry for him.
All the evidence is stacked against Ray and, of all the people on this list, his personality closely relates to that of Aces and Eights. With all of that said, I accuse Bully Ray of being the man behind Aces and Eights all along.
Visit WrestleEnigma.com for more wrestling related news, opinions, wallpapers, podcasts, and more!