San Jose Sharks: Projecting Team's Top 10 Scorers for 2012-13 Season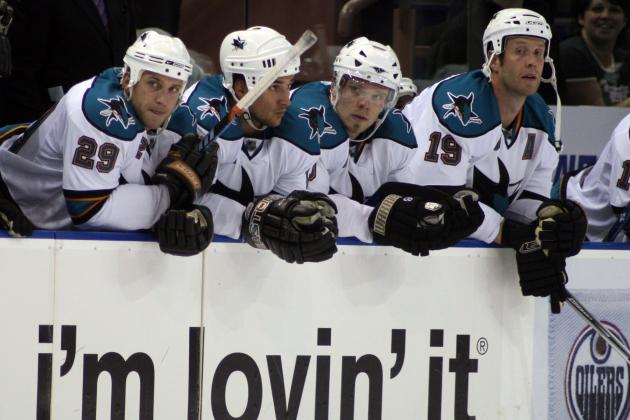 Tim Smith/Getty Images

The 2011-12 San Jose Sharks were not the offensive juggernauts they should have been on paper.
Injuries, fatigue and costly trades hurt the team's offense, and a terrible penalty kill and inconsistent game-planning furthered the problem.
Three 30-goal scorers and four 60-point players is still not bad, but past Sharks teams have either had 80-point players or more 50-60 point-getters. Overall, the Sharks finished 13th in the NHL in offense, a far cry from sixth, fourth and seventh over the previous three seasons.
The 2012-13 team appears ready to return to the upper echelon of NHL teams offensively. Bad health and an unimproved penalty kill could still restrict the team, but both project to improve at least slightly.
How much these factors improve will dictate how powerful an offensive force the Sharks are, but the talent is clearly there. The following is a list of Team Teal's 10 most offensively gifted players, or at least the 10 who figure to score the most during the coming season.
Begin Slideshow

»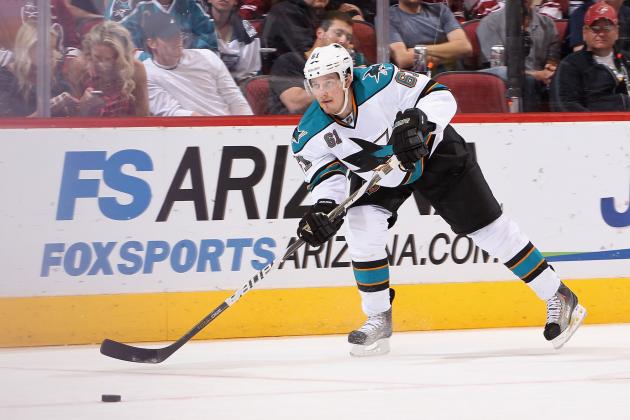 Christian Petersen/Getty Images

Braun didn't set any offensive records during his second season, scoring only two goals and 11 points. In fact, he only equaled his rookie-year totals despite playing in 38 more games in Year Two.
However, Braun was forced to play with defensively inadequate partners throughout all of last season, forcing him to play much more conservatively than he'd like to. In 2012-13, he'll be paired primarily with Douglas Murray, and the stay-at-home Swede, along with increased ice-time, will allow Braun to finally unleash his offensive upside.
Projected 2012-13 stats
6 G, 20 A, 26 P, plus-5
Christian Petersen/Getty Images

Galiardi has scored a grand total of one point during his 17 games with the San Jose Sharks. During his NHL career, however, the speedy young winger has averaged 15 goals every 82 games.
The two problems will be getting Galiardi to be healthy for 82 games, and getting him to play smart and consistently enough to earn a role on the third line. If Galiardi does this, his dynamic speed and decent array of moves makes him the most likely candidate to lead San Jose's bottom six in scoring.
Projected 2012-13 stats
14 G, 17 A, 31 P, minus-4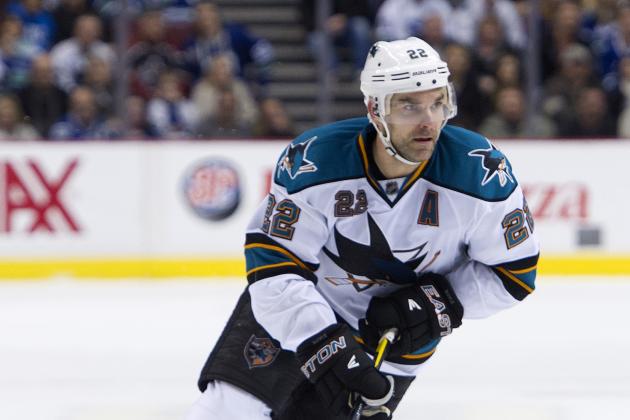 Rich Lam/Getty Images

Despite a slow start last season, the Sharks' No. 1 defenseman came around strong in the second half to finish in the top 10 in defenseman scoring, again.
Boyle is no longer the 15-goal threat he was a few seasons ago, but the aging defenseman still has excellent skating ability and equally deadly passing skills. Even if he loses a step, Boyle will be an elite offensive d-man as long as he remains healthy.
Projected 2012-13 stats
8 G, 37 A, 45 P, plus-12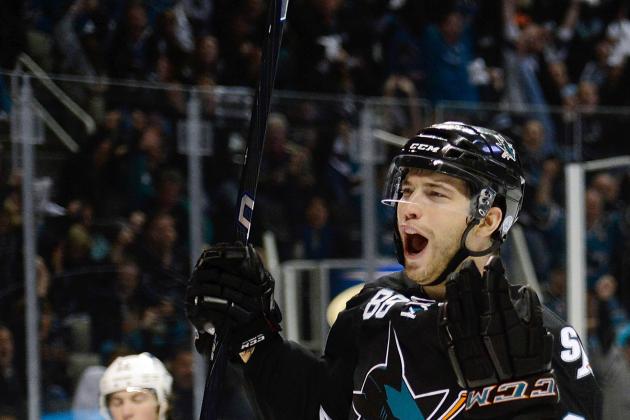 Thearon W. Henderson/Getty Images

Burns didn't put up the offensive numbers he's capable of during Year One in San Jose, but he still scored more than most blueliners, netting 11 goals and finishing the season strong with 37 points.
In Year Two, Burns could explode offensively. A second year in San Jose's system, a better defense partner (Brad Stuart or Marc-Edouard Vlasic), a new mentor (Larry Robinson) and likely more ice-time will allow the ultra-talented Burns to have the best season of his career.
Projected 2012-13 stats
16 G, 34 A, 50 P, plus-14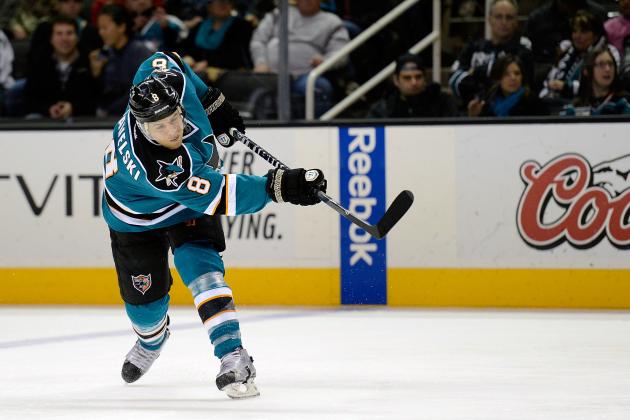 Thearon W. Henderson/Getty Images

Pavelski is in the prime of his career offensively. After tallying a career-high 66 points two seasons ago, Pavs followed up with an encore 61-point season which saw him net a career-high 31 goals.
All indications currently point to Pavelski remaining a member of San Jose's top line, where he has found exceptional chemistry with Joe Thornton. Pavelski may face tighter defense this season, but the cerebral forward will not be denied offensively.
Projected 2012-13 stats
26 G, 32 A, 58 P, plus-16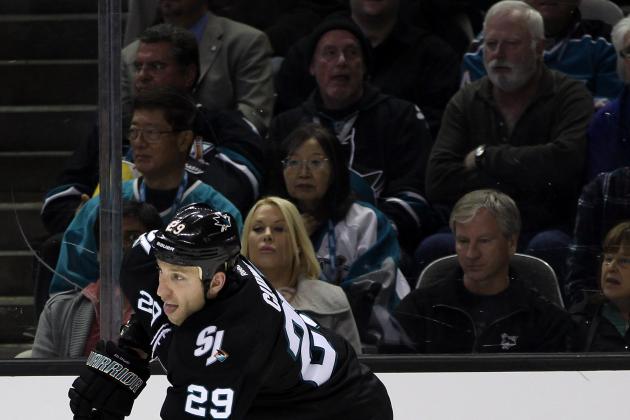 Ezra Shaw/Getty Images

Clowe had a career-worst (for a full season) 45 points last year. This was partially due to injuries—both of his own and his linemates'—but it was also due to a less aggressive style of play.
San Jose will, as a team, step up their physicality and aggression this season, and Clowe—one of the team's most physical, aggressive players—will likely help lead the charge. This, along with a healthy Martin Havlat, should help Clowe return to his 60-point self.
Projected 2012-13 stats
23 G, 36 A, 59 P, plus-9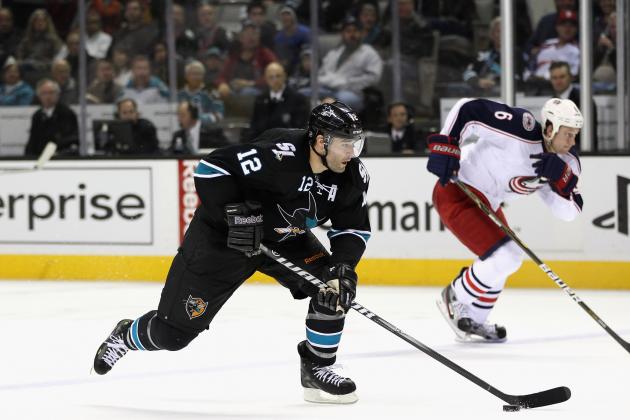 Ezra Shaw/Getty Images

In what was a down year by Marleau standards, the all-time Sharks scoring leader still netted 30 goals in 2011-12. It was his sixth 30-goal season over the last seven years.
While Marleau will likely never return to scoring 40 goals a year like he did during a three-year prime (2009-2011), it's hard to see him dropping below 30 as long as he still remains a member of San Jose's dangerous top line and power play.
Projected 2012-13 stats
32 G, 33 A, 65 P, plus-11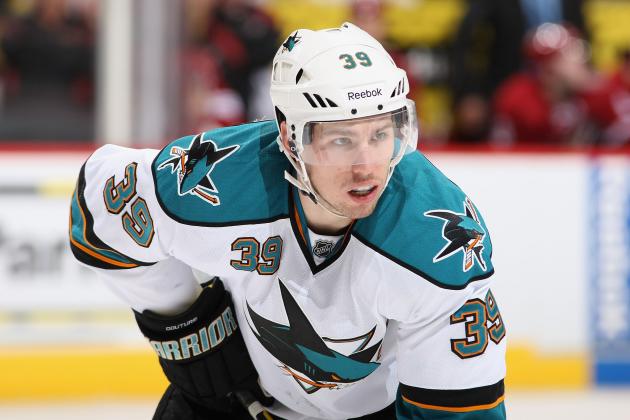 Christian Petersen/Getty Images

Two years ago, Couture's 32-goal, 56-point season nearly earned him a Calder Trophy. Oftentimes, the increased league-wide knowledge of a successful rookie leads to a sophomore slump, but Couture put up 31 goals and 65 points in year two.
Entering his third season, there's no reason to believe that the 23-year-old won't continue to improve. Playing on the same line as a healthy Martin Havlat will increase Couture's point totals further, as will a more aggressive approach team-wide.
Projected 2012-13 stats
33 G, 36 A, 69 P, plus-13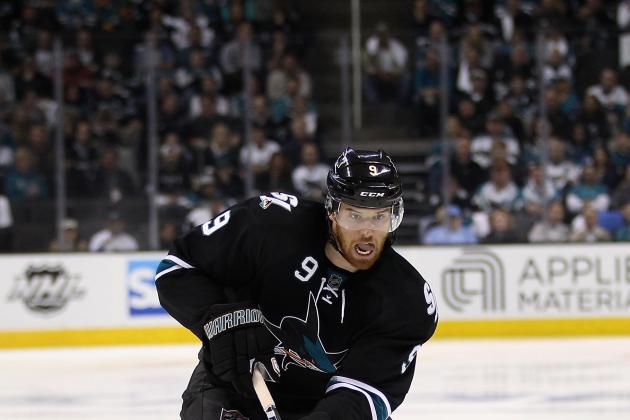 Ezra Shaw/Getty Images

Havlat's first season as a Shark saw mixed results. On one hand, the oft-injured Czech forward suffered a predictably unpredictable injury and missed half the season. On the other hand, his presence upon returning was everything San Jose had hoped for after trading Dany Heatley for him.
Havlat's second year in San Jose should go more smoothly out of the gate as he has settled in with the team. Of course, injuries could always derail the 31-year-old, but assuming he's healthy (as he is now), he will put up big numbers alongside his talented linemates/power-play mates.
Projected 2012-13 stats
25 G, 45 A, 70 P, plus-15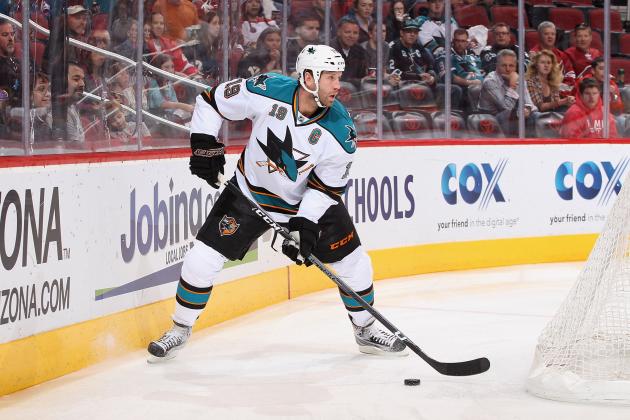 Christian Petersen/Getty Images

Even as Thornton has aged and modified his game to become more focused defensively, his world-class offensive talent has kept him scoring nearly a point per game (77 last season).
Thornton will never be the 30-goal threat he was in 20s, but that's just as well—the 33-year-old remains one of the top playmakers and power-play quarterbacks in the world and will continue to put up dazzling assist totals.
Projected 2012-13 stats
20 G, 56 A, 76 P, plus-19