NHL 2012-13: 8 Teams Guaranteed to Miss the Playoffs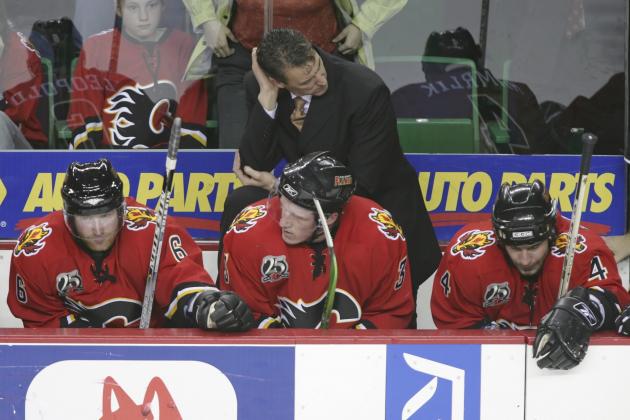 Jeff Vinnick/Getty Images
The look of despair is one that will be on many of these coaches faces as their team falls short of their playoff goals
As the 2012-2013 season approaches, every team is looking forward to lacing up their skates and tweaking their blades as they begin their push to make the Stanley Cup Playoffs. This article will explore those teams who can save themselves a ton of pain and frustration by recognizing that their playoff dreams are a total fallacy.
The eight teams in this article will not make the Stanley Cup Playoffs for a variety of reasons. Some don't have the offensive firepower, some need a better, more determined effort on the defensive end.
Some of these teams are too young and inexperienced while others may be getting a little long in the tooth with their key players best years being behind them.
Some need some serious goaltending help while others might benefit from a change in leadership.
Whatever the reason may be, the following teams will be better served making their tee times ahead of the beginning of the Playoffs because their season will be over long before April.
Begin Slideshow

»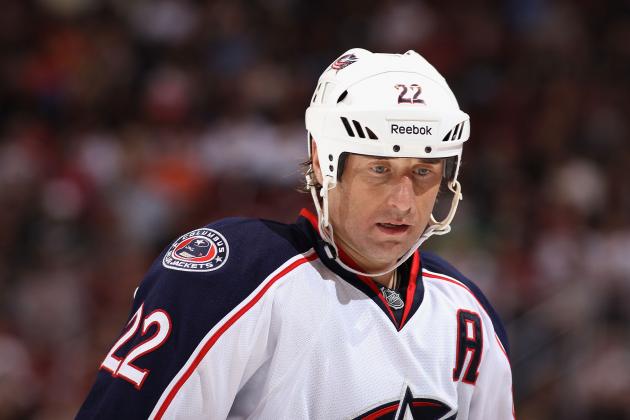 Christian Petersen/Getty Images
Vinny Prospal will have to lead a new look Blue Jackets team in the absence of Rick Nash.
Where do I start with Columbus?
They finished with an NHL-low 65 points last season. They finished in the bottom six in the league in goals scored (26th out of 30), goals allowed (28th), power play percentage (24th) and penalty kill percentage (30th). So they needed a ton of help in many different places.
What did they do to address these glaring deficiencies?
Well, they traded their best player and top scorer, Rick Nash to the New York Rangers for three younger players. Usually, you do not trade your top player if you want to improve on your record from the previous year unless you get a deal in return that will make you a better team immediately or in the future.
Yes, they cleared cap space and the argument that they were going nowhere with Nash is valid. But I question if the trade truly benefits the Blue Jackets now and in the future unless defenseman Tim Erixon turns out to be a top notch NHL player.
The Blue Jackets received two others in the Nash trade that they will count on immediately to contribute. Brandon Dubinsky is a rugged NHL forward who translates into a decent 2nd or 3rd line center. His numbers average just over 16 goals and 43 points during his five seasons in New York.
With more ice time, Artem Anisimov will turn into a nice player. He has averaged 16 goals and 36 points a season in his three full NHL seasons with the Rangers. Look for a slight increase in those numbers as Columbus will count on him to score more for them.
Vinny Prospal, Derrick Brassard and RJ Umberger are going to have to pick up their offensive production although their histories suggest that they will score near the same amount of points that they did this past season.
Prospal has always been a point producer when he stays healthy. As he has advanced in age though (37 this season), his production has decreased.
Brassard has plateaued, averaging 45 points a season for the last three seasons. Although young (24), he has not lived up to the promise he showed during junior hockey where he put up massive offensive numbers (116 points in 58 games in 2005).
Umberger has shown flashes of offensive skill to combine with his gritty play. He has averaged just under 50 points a season during his four seasons in Columbus.
Defensively, Columbus struggled mightily. Their goaltending was a mess last year. Steve Mason (16-26-3, 3.39, .894) has proven not to be the answer and that is why they acquired Sergei Bobrovsky from the Philadelphia Flyers. The young Russian showed flashes of brilliance in his time with the Flyers although consistency was an issue for him as well. His 14-10 record came with a 3.02 goals against average and a .899 save percentage. He will have to be leaps and bounds better for Columbus to even have a chance of sniffing the playoffs.
In front of him, Jack Johnson tries to anchor a poor defensive corp. Johnson is solid and played well for the Jackets down the stretch, but many of his colleagues had a rough go of it last season. Not one of their defenseman had a plus/minus rating in the positive numbers last season. I fear for the young Russian net-minder that he might not get much help this season.
Columbus has not done enough to repair their deficiencies and Columbus fans will have to suffer through another dismal season.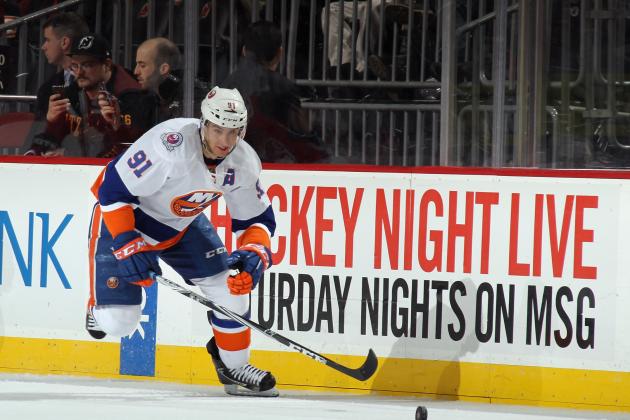 Bruce Bennett/Getty Images
John Tavares has the tough task of leading the Isles to the NHL Playoffs this year.
The New York Islanders have a chance to make the playoffs this year. They have a legitimate superstar (John Tavares), a decent supporting cast (Matt Moulson, Frans Neilsen, Kyle Okposo, Brad Boyes), a leader on the back end (Mark Streit), talented young players (Andrew MacDonald, Travis Hamonic, Michael Grabner) and an experienced goaltender that played fairly well last season when he was healthy (Evgeni Nabokov). They have talented offensive players, a decent group at the blue line and a talented goalie.
Let's look at the Islanders statistics last season. They finished in the bottom three of the league in goals scored (28th out of 30) and goals against (27th). Their penalty kill finished 22nd in the league, but their power play was one of the more potent in the league, finishing 8th. This is one example of the offensive talent that they possess.
Why will they miss the playoffs then? The reason: the Atlantic Division and their record at home.
The Islanders play in the toughest division in hockey. All of the other teams in the division made the playoffs last season (New York Rangers, Philadelphia Flyers, Pittsburgh Penguins, New Jersey Devils). All scored over 100 points and the 4th place team in the division (Devils) made the Stanley Cup Finals before losing to the Los Angeles Kings.
The Islanders were 8-13-3 against the Atlantic Division. Every other team in the division had at least a .500 record and was over .500 against the Eastern Conference.
The Islanders were under .500 at home last season. They were 17-18-6 at home last year. Compare that to each team in their division and they got slaughtered. Each team in their division made their home buildings into a fortress. Nassau Veterans Memorial Coliseum was, quite frankly, a pleasant place to play for the opposition. Every other team in their division was at least 9 games over .500 on home ice and the Penguins were an amazing 19 games over .500 at home. If the Islanders do not improve on this, they can kiss any playoff aspirations good-bye.
In the end, their division will be too tough to overcome and the Islanders will be looking up at the standings wishing they played in another division. Plus, they are the Islanders. There has got to be a way for them to screw it up.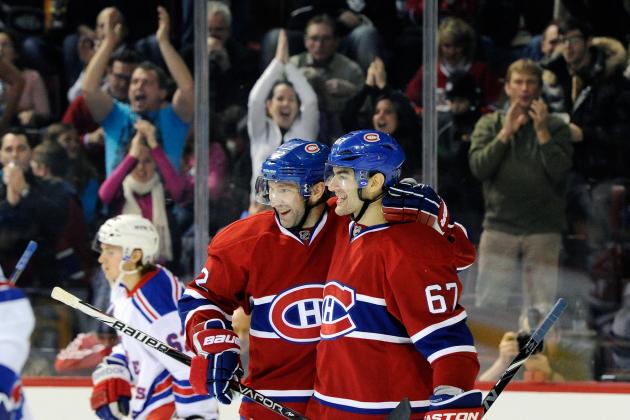 Richard Wolowicz/Getty Images
Cole and Pacioretty will need some help this season if Montreal hopes to make the playoffs.
The Montreal Canadiens will hope to stay healthy this season. If they stay healthy and the team gels together, they have a chance to make the playoffs. Injuries to Brian Gionta (biceps) and Andrei Markov (knee) limited the Canadiens in their quest to make the playoffs last season. With both healthy, they will provide the leadership to a team that sorely lacked it down the stretch last year.
The talent that the Canadiens possess begins in net. Carey Price is a good goaltender. Price had a solid season last year despite posting a record under .500 (26-28-11). Price had a goals against average of 2.43 and a save percentage of .916. Both numbers ranked him in the top 20 in the league, numbers I'm sure Price wants to improve. But, if you look deeper at the stats, Price was bombarded with shots last year (faced 1,914 shots) ranking him 8th in the league in shots faced. He played fairly well considering the facts.
Up front, the Canadiens also have some talent. Max Pacioretty continues to grow better with age. The 30-goal scorer led Montreal in all scoring last season and is only 23 years-old. he will continue to produce and the hope is that his career trajectory continues to climb.
Erik Cole had a nice resurgence last year, also topping the 30-goal mark. Last season, Cole had his most productive season in his last six seasons. This is a guy who was almost out of the league due to a nasty neck injury a couple of years back and to see him rebound the way he did was truly remarkable.
David Desharnais is another relatively young player (25) who had a career season last year registering 60 points. The diminutive center has an eye for the game that he is just beginning to display and will be a point producer for years to come.
The problem with the Habs is their defense. If you look on paper, it looks like they have a solid group. Andrei Markov is a proven performer in this league and P.K. Subban has shown the tenacity and skill to be considered amongst the brightest of the NHL's up and coming young defensemen. Josh Gorges also showed he could play at a high level last season (16 points, plus 14).
If you look at the rest of the guys on the blue line, they are liabilities. Tomas Kaberle is getting old. He has lost a step and he doesn't play good enough defense anymore to be considered a top four defenseman. His point production is nice, but doesn't justify a minus 18 plus/minus rating.
New acquisition Francis Boullion is a stay-at-home defenseman who just turned 36 years of age. He is not the fleetest of foot and struggles against mobile forwards. He doesn't chip in many points and therefore must be defensively sound on the ice. His minus four rating last year for Nashville begins to exhibit a decline in his skills.
Their 6th spot is undecided. But, no one stands out amongst Yannick Weber (18 points, -7 last season), Raphael Diaz (16 points, -7) or Alexei Emelin (7 points, -18). All are defensive liabilities and if your main job is to protect your net-minder, none of these guys would make me feel all that confident if I were Carey Price.
Having Gionta and Markov back will help, but it won't be enough. The Habs don't score enough goals (19th last season) to make up for a defense that has had a difficult time helping their goalie out. The power play needs to be better (28th last season) and their goalie will need to come up with a super human effort if the Habs are going to make the playoffs in the ultra-competitive Eastern Conference this season. I think they fall just short.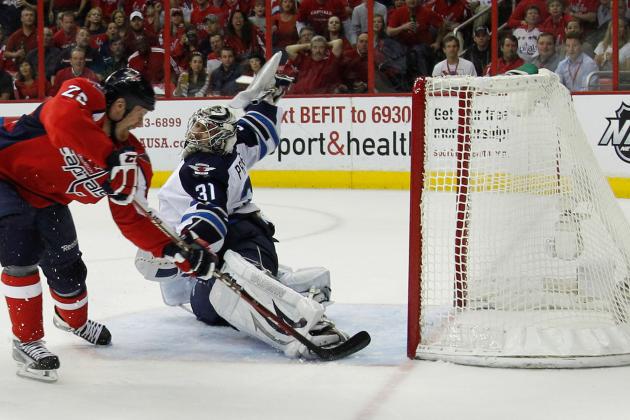 Rob Carr/Getty Images
Pavelec will need to play a lot better in net to give the Jets any hope of making the playoffs this season
The Winnipeg Jets score a lot of goals. They unfortunately give up a lot of goals as well.
The Jets ranked 12th in the league in goals scored (2.7 per game). They ranked 26th in goals allowed (3 per game). The math doesn't add up in a ton of wins and if the Jets don't address their defensive woes quickly, they will miss the playoffs once again.
Nobody is disputing that Winnipeg can produce offense. Evander Kane, Blake Wheeler, Andrew Ladd, Kyle Wellwood and Bryan Little all had good offensive seasons. Kane is a physical force and budding star. The temperamental Wheeler has finally grown up and become the player many thought he would be. Ladd provides the leadership and production that has earned him respect in the locker room and around the league. Wellwood and Little were pleasant surprises as the contributed major offensive production this past season. New addition Olli Jokinen will only help the offensive numbers for the team this season.
The problem is the defense and goaltending. Defenseman/winger Dustin Byfuglien seems more concerned with scoring than playing defense. His 51 points were a tremendous offensive boost to his team. As a number one defenseman though, you hate to see his minus 8 rating. Tobias Enstrom is probably the best all around defenseman they have (33 points, plus six) and a bright spot on the blue line for Winnipeg. Ron Hainsey also had a nice season posting 10 points and a plus nine rating.
After those three though, it's a circus for the Jets on defense. Zach Bogosian will be out four to six months after wrist surgery. Grant Clitsome played poorly on defense last year after being acquired from Columbus. He scored 17 points for the club, but his minus 9 rating doesn't exactly inspire confidence.
Mark Stuart finished last year with a minus four rating and 98 penalty minutes to go along with his 14 points.
Unproven Paul Postma will probably get the first crack at trying to fill the 6th and final defensive spot. He had good offensive numbers in the AHL last season (44 points), but really struggled defensively posting a minus 14. He played in three games for the Jets last season and will be baptized by fire this year with the injury to Bogosian.
Which brings us to the goaltender. If your defense struggles to play defense, you had better hope that your goaltender is a lights out performer on a night-to-night basis. Unfortunately for Ondrej Pavelec, he hasn't reached that level yet.
Pavelec posted a winning record (29-28-9) but his goals against average (2.91) ranked him 39th in the NHL. His save percentage was a respectable .906, but he allowed the most goals of any goalie in the entire league (191). He faced the 5th most shots in the league last season.
If the Jets are going to make a run, two things have to happen: they have to score at a record clip to make up for their defensive deficiencies and they must get better goaltending from Pavelec or replace him with someone who will perform at a higher level.
The way it stands now, I have the Jets missing the playoffs. But, all of that can change if their goaltending situation gets sorted out.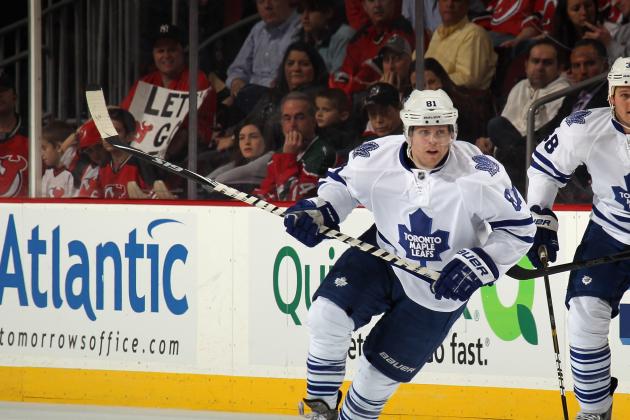 Bruce Bennett/Getty Images
Unfortunately for the Leafs, Kessel can't save goals for the squad this season.
Read Winnipeg Jets.
Repeat the process.
Toronto can put the puck in the net. They just can't prevent that from happening to them.
Toronto finished 10th in the league in goals scored (2.8 per game). But, they finished 29th in the league in goals allowed (3.2 per game).
Again, it is tough to win games when, on the average, you are outscored.
Phil Kessel is a superstar point producer. Joffrey Lupul oozes offensive talent. Mikhail Grabovski is a consistent point producer. Tyler Bozak has gotten better each year he has been with the club. Look out for Nazem Kadri to help out should he stick around once the roster has been solidified. He excelled at the AHL level last season and has been impressive in his stints in the NHL. Big things are expected from the 21 year-old forward
An "X" factor offensively is newly acquired winger James Van Riemsdyk. The mercurial forward might be asked to shift to center this year to anchor the top line with Lupul and Kessel. If he can live up to his potential, Toronto can be even more potent and scary than they already are at the offensive end.
Their defense is geared around offense. Dion Phaneuf is solid two-way defenseman who likes to get physical. Their other three defenseman in the top two pairs are offensive defensemen: John-Michael Liles, Jake Gardiner and Carl Gunnarsson. This poses significant problems for the back end, which coincidentally is where the Leafs need the most help. Mike Komisarek should be the 5th defenseman and Cody Franson should be the 6th and final defenseman to earn significant playing time.
All four of the aforementioned defenseman had minus ratings last season. That is not good if you are seeking to prevent more goals from entering your net.
In net, the Leafs will go with unproven James Reimer. Reimer had a very tough season last year. After a promising rookie campaign in 2010-2011 in which he posted a 20-10-5 record with a 2.60 goals against average and a .921 save percentage, Reimer took a step backwards last season. Reimer suffered a concussion last season, but when he played, his numbers were less than stellar. He posted a 14-14-4 record last season with a 3.10 goals against average and a .900 save percentage.He will need to rebound from his sophomore slump and play outstanding in net if the Leafs have any hope of making the playoffs.
If the Leafs make a move for a starting net-minder (Roberto Luongo), this outlook could all change. But, if their roster remains the same as it is now, look for the Leafs to miss the playoffs again.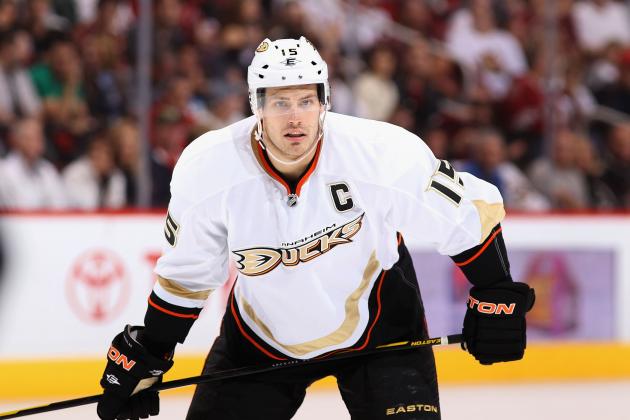 Christian Petersen/Getty Images
Getzlaf will need to put a saddle on and carry the Ducks to the Playoffs this season.
The Anaheim Ducks have one of, if not the best, forward lines in all of hockey. Corey Perry, Ryan Getzlaf and Bobby Ryan are all extremely talented, even if they underperformed last season. All three put up decent offensive numbers (Perry- 60 pts.,Getzlaf and Ryan- 57 pts.), but lower than they have posted in previous seasons. All three players had over 70 points in 2010-2011.
If the Ducks top line is underperforming, then their whole team is in trouble. The Ducks still count on a couple of old stalwarts to produce consistent points. 42 year-old Teemu Selanne and 37 year-old Saku Koivu were amongst the leading forwards on the scoresheet and in ice time.
After the aforementioned players, the Ducks don't have much offensive talent. You have to think that a reduction in point production will come from Selanne and Koivu. The hope offensively for the Ducks is that their top line can be the fear inducing spectacle it once was.
On defense, the Ducks are counting on some older, less speedy vets to shore up the defense. Sheldon Souray was brought in from Dallas where he put together a solid season (21 points, plus 11). He is a threat from the blue line on special teams which will only help their 21st ranked power play.
Bryan Allen was also brought in from Carolina to provide stability in defense. He had a consistent season last year with the Hurricanes (14 pts., minus 1) and will help shore up the back end.
Toni Lydman and Francois Beauchemin will have to provide leadership and a veteran presence to this Ducks team. Both have played with the franchise for over two years now and will be counted on to right the ship in front of Jonas Hiller.
The two young defenseman Luca Sbisa and Cam Fowler have shown glimpses of brilliance in their brief careers. Fowler's offensive gifts are very apparent, but the 20 year-old needs to be more defensively conscious and improve on his minus 28 rating from last season.
Sbisa, 22, also showed offensive talent and will get a chance to play on the power play with Souray or Fowler as the season progresses. Both young defensemen will be counted on to try to help the offense score but not at the fate of giving up needless goals.
Jonas Hiller needs to be a difference maker in net for the Ducks. He had an average season last year, although his workload was unreal. Hiller played in 73 games for the Ducks posting a 29-30-12 record with a 2.57 goals against average and a .910 save percentage. The numbers are respectable, but if the Ducks are going to make a run at the playoffs, he needs to be better.
The Ducks front office is to blame for the mess this team is in. They needed to bring more offensive balance to a team that struggles to score goals aside from its top line and Selanne. With the front office trying to move Bobby Ryan, it could be even worse for Ducks fans who will miss the perennial 30-goal scorer's output throughout the season.
The Ducks play in a very competitive division that saw three teams make the playoffs last season and 4th place Dallas make major additions in the offseason to prep a playoff run. Unfortunately for Ducks fans, there will be no playoff run for the team this season.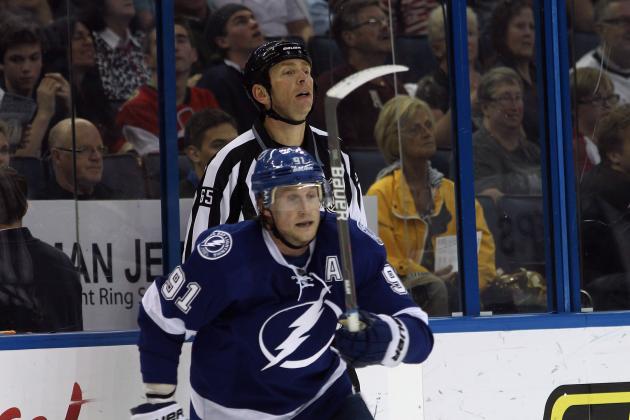 Bruce Bennett/Getty Images
Stamkos will have to be even better than his magnificent performances last season to get his Lightning into the playoffs this season
The Tampa Bay Lightning are banking on an unproven goaltender to lead them to the promised land this year. This can be seen only as a positive move after the Lightning finished dead last (30th) in the league this past season in goals allowed (3.4 per game).
There is not a player this season with more riding on his performance than Anders Lindback. The former Predators netminder spent the last two years in Nashville as an understudy to All-Star Pekka Rinne. The 6'6, 203 lbs. goalie is built the same way Rinne is and their styles are similar. Lindback didn't have great numbers for Nashville in a backup role last season. The 24-year-old Swedish goaltender posted a 5-8-0 record with a 2.42 goals against average and a .912 save percentage. The franchise has taken a huge risk installing him as the number one goalie, placing enormous pressure on his shoulders to carry this team forward.
The Lightning spent quite a bit of money in the offseason to try to solidify the defense and bolster their high profile offense.
Big money acquisitions Matt Carle and Sami Salo are set to join Eric Brewer, Mattias Ohlund and Victor Hedman as a solid first five defensemen for the 'Bolts. The 6th spot will be given to Marc -Andre Bergeron once he is fully healed from back surgery that he had in March.
If the Lightning can prevent pucks from flying in their net with reckless abandon, then there is some hope; their offense is prolific. Steven Stamkos has shown that he is in the top five players in the league when it comes to offensive talent. Martin St. Louis still has some gas left in his tank and produced at his usual level last season. Teddy Purcell has shown a knack for scoring important goals all the while improving every season in a Tampa uniform. Ryan Malone and Vincent Lacavalier still are scoring at near a 50-point-per-season clip for the Bolts.
Offense is not the problem for Tampa Bay. They finished last season ranked 8th in the league in goals scored (2.8 goals a game).
I think there is a ton of pressure on Lindback to perform and I don't know if he is ready to handle it yet. Cam Ward showed he was ready during his first true action with Carolina back in 2005-2006, but his story is so very rare. There is precedent here, but I think that the Lightning will fall just short in their quest to make the playoffs this season.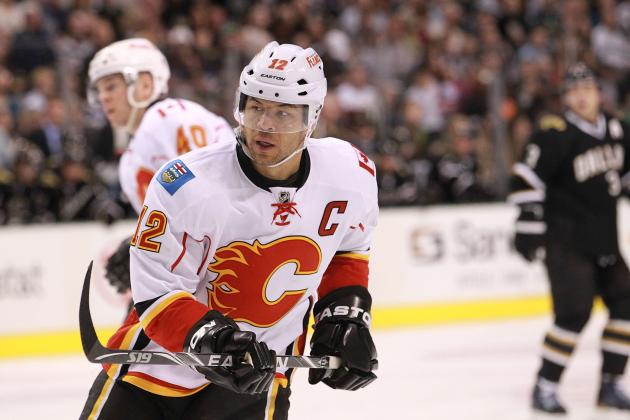 Ronald Martinez/Getty Images
Jerome Iginla needs to have a banner year for the Flames if they are to make the playoffs in 2012-2013
While their neighbors in Alberta are looking towards the future, the present looks a little dim for the Calgary Flames. Coming off of a decent season last year, Calgary missed the playoffs by five points. The problem with the Flames is that they didn't do anything dramatic to improve their chances going into next season.
In the offseason, Calgary added Jiri Hudler from the Detroit Red Wings. Hudler is coming off of a career season in which he scored 27 goals. Hudler netted a deal of $4 million a season, but will have a difficult time duplicating those numbers in Calgary.
The other top-end forwards on the Flames are all over 30-years old. Jerome Iginla is still fairly dangerous although his numbers last year took a serious dip. His 67 points were 19 less than the previous season as his age (35) is beginning to catch up to him.
Alex Tanguay is 32 and was a solid point producing forward in his twenties for Colorado. His 49 points was also a dip in production of close to 20 points even though he missed some games last season.
Mike Cammaleri and Lee Stempniak are injury-prone and not consistent enough point-producers to get the fans in Calgary excited. Mikael Backlund was a big disappointment last season.
The Flames lack the physicality up front to battle many of the Western Conference's tougher teams. Curtis Glencross is physical enough and Iginla has some fight left in him, but many of the other forwards on the team are skillful, softer forwards that would excel with a man advantage rather than at even strength.
On defense, Jay Bouwmeester and Marc Giordano anchor the blue line and continue to be a solid top-two defense tandem that any team in the league would be proud to have. Their two-way play makes them dynamic and fun to watch for this Flames team.
Dennis Wideman has a career offensive season for the Washington Capitals last season, scoring 48 points. He finished with a minus eight rating though, low for a defenseman with so many points.
Chris Butler, Cory Sarich and T.J. Brodie (if healthy) will probably fill out the rest of the top six defensive spots for the Flames. Those three leave a lot to be desired if the Flames hope to protect an aging goaltender in Mikka Kiprusoff.
Kiprusoff had a tremendous season for Calgary and kept them in the playoff hunt as the season wound down. The 35-year-old Finnish net-minder posted great numbers last season. He finished with a 35-22-11 record in 73 games with a 2.35 goals against average and a .921 save percentage. The problem that he faces is a porous defense that didn't seem to improve defensively in the offseason. Wideman is a nice addition, but his value is on the offensive end. It is tough to imagine that Kiprusoff can continue to repeat the heroics in net that have marked his career as he slowly ages.
The Flames lost two physical forwards this offseason in Olli Jokinen (team's 2nd leading scorer last season) and David Moss (oft-injured, but physically gifted). You add in that the team's best players are getting older and young help isn't on the way, and I see another season for Calgary that ends without the playoffs.